Picking the United States Starting XI to Take on Russia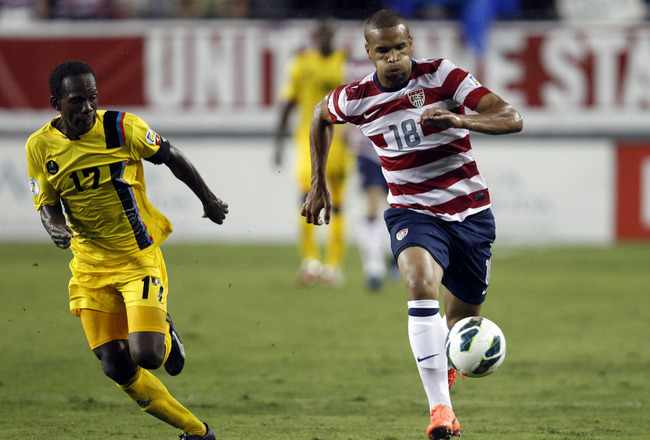 Matt Stamey-US PRESSWIRE
Today, USMNT head coach Jurgen Klinsmann announced a roster of 20 players that he has called in to face Russia in Wednesday's friendly.
The roster includes Tim Howard, Sean Johnson, Nick Rimando, Carlos Bocanegra, Geoff Cameron, Timmy Chandler, Maurice Edu, Clarence Goodson, Fabian Johnson, Michael Bradley, Mix Diskerud, Josh Gatt, Joe Gyau, Jermaine Jones, Sacha Kljestan, Danny Williams, Juan Agudelo, Jozy Altidore, Terrence Boyd, Herculez Gomez.
So, out of that 20, who should make the starting XI?
Goalkeeper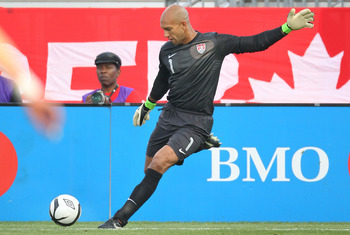 Tom Szczerbowski/Getty Images
If Brad Guzan had been called in, it might have been a good idea to give him the start and let him get some international experience.
But since he wasn't and Tim Howard was, the job is Howard's.
On a side note, it is a bit surprising that Nick Rimando got the call-up after a full MLS season and suffering a broken nose a week ago in the first leg of the Real Salt Lake-Seattle Sounders series.
There's no doubt that Rimando is an absolute warrior and a top-class keeper; it just seems some rest might have been in order.
Right Back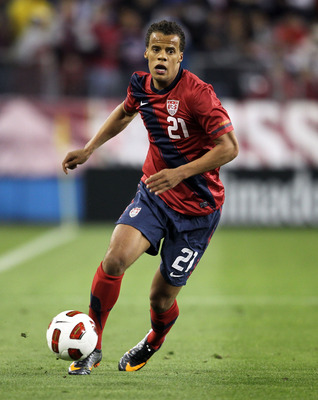 Andy Lyons/Getty Images
With no Steve Cherundolo or Michael Parkhurst on the roster and really only one right back called up, the job goes to part-time USMNT player Timmy Chandler.
Chandler has been a divisive figure among USMNT fans as of late. After showing great promise in early 2011, Chandler was conveniently unavailable for the 2011 Gold Cup, which would have cap-tied him to the U.S.
Then, after appearing in more friendlies in the early part of Jurgen Klinsmann's tenure, Chandler was again unavailable for the World Cup qualifiers this summer, which again would have cap-tied him to the U.S.
The call-up for another friendly, instead of a cap-tying match, has immediately roused the suspicions of many diehard USMNT fans who are either afraid Chandler will bolt to the German national team as Giuseppe Rossi did to the Italian national team years ago, or are unwilling to forgive Chandler's previous convenient absences.
Chandler tried to alleviate some of USMNT fans' fears, telling U.S. Soccer today:
"I understand that a lot of people in the USA may be unsure because they think I have said [I'm committed] in the past. All I can say is that I am clear in my head about the commitment moving forward. This was about me being ready to accept the responsibility of being a part of the National Team and everything that goes with it, and now I am ready. I hope I will get chances in the future. I am in 1,000 percent."
Nonetheless, barring injury, he will be in the starting XI come Wednesday.
Center Backs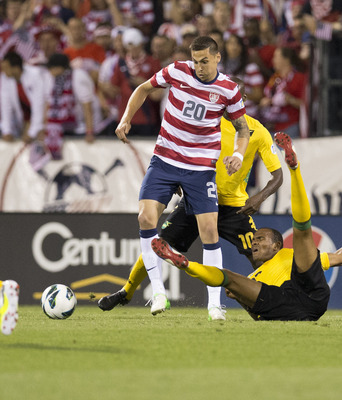 Greg Bartram-US PRESSWIRE
The default starters at center back are Geoff Cameron and Carlos Bocanegra. And, if Jurgen Klinsmann is going to be experimenting with his midfield and forwards as this roster most likely will force him to do, it might be best to keep the back line as stable as possible.
A second option would be to give Maurice Edu another run at center back, a position he played against Mexico in the August friendly and once against Poland during the Bob Bradley era.
Edu, who has only seen the field once for Stoke City so far this season, may be fighting for his USMNT life at this point. Center back, long a position notoriously short of depth for the USMNT, may be where Edu can make his mark.
The big question regarding center back is: Why didn't some other options get called in?
Carlos Bocanegra is nearing the end of his career, Geoff Cameron, while promising, has shown he still is not 100 percent ready for top international competition, and Clarence Goodson is a stopgap measure, at best.
This friendly would have seemed like a perfect time to call in a prospect like John Anthony Brooks, or a player who has not had a chance yet with the USMNT, like Zak Whitbread.
Left Back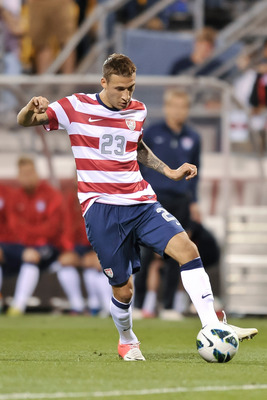 Jamie Sabau/Getty Images
Unless he gets hurt in training, it will be Fabian Johnson.
On a side note, Klinsmann only called up two outside backs, so if either of them go down, it could get very interesting for the USMNT.
Holding Midfielder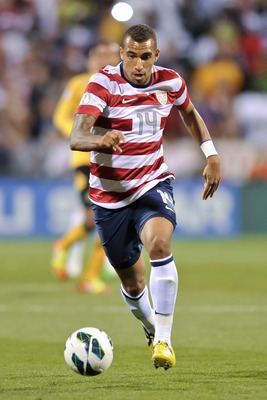 Jamie Sabau/Getty Images
How Klinsmann arranges the center of the midfield is the biggest question facing the U.S. heading into the match.
The obvious choices would be either Danny Williams or Jermaine Jones.
Williams has looked good for the USMNT since being moved to his preferred holding midfielder position and has been getting regular starts in the Bundesliga this season for Hoffenheim.
Jones might get the call simply because his brand of tough (some would say dirty) tackling is what the U.S. will need taking on a skilled Russian side that will probably have much more of the ball than the U.S. will.
The third possibility could be Michael Bradley. While Bradley has more recently been put in a box-to-box role, a role at which he excels, Bradley is an excellent holding midfielder and may be asked to stay home more than usual, especially if the U.S. lines up in a 4-2-3-1, 4-2-2-2 or 4-2-1-3.
Center Midfield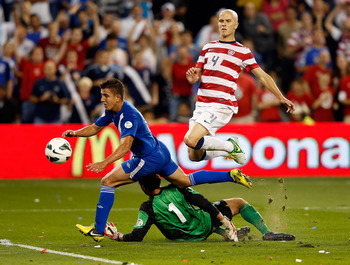 Jamie Squire/Getty Images
If Jurgen Klinsmann sticks with his more recently preferred 4-1-3-2, expect Danny Williams or Jones to take the holding role while Michael Bradley is given more license to go forward and orchestrate the attack.
However, if Klinsmann goes with a more conservative two holding midfielder set, Klinsmann could opt to go with Bradley and either Williams or Jones as the holding combo and insert Sacha Kljestan or Mix Diskerud as the attacking midfielder.
Outside Midfielders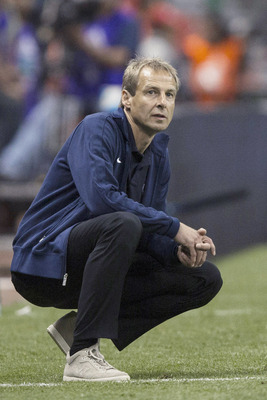 Miguel Tovar/Getty Images
If Klinsmann sticks with the 4-1-3-2, the most likely outside midfielders would be uncapped youngsters Joe Gyau and Josh Gatt, a pair of pacey wingers who American fans have been dying to see with the full national team.
However, it seems unlikely that Klinsmann would throw both youngsters into the fire, and with the forwards Klinsmann called in, it seems more likely the American manager will go with a three-front.
Forward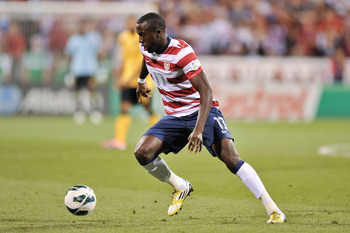 Jamie Sabau/Getty Images
The four forwards Klinsmann called in are all exciting players for the USMNT.
Gomez brings a lot of recent experience, hard work and great runs.
Altidore, at only 23 years of age, is the most experienced international and has also been on fire in the Eredivisie this season, not only scoring goals but doing so in spectacular fashion.
Terrence Boyd is also an exciting prospect who brings strength, energy and a fantastic presence as a target forward. Boyd is also a very strong technical finisher and knows how to time his runs into the box to perfection.
Juan Agudelo has fallen off the USMNT radar since his meniscus tear during Olympic qualifying and had a rough season this year with Chivas.
If the U.S. were to go with a three-front, Agudelo would likely be the odd man out.
Who Didn't Get Called In?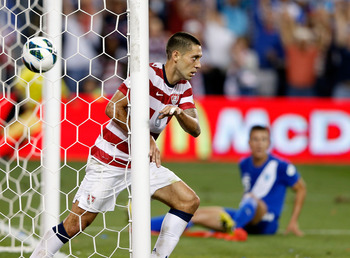 Jamie Squire/Getty Images
There were a few names that USMNT fans would expect to see that weren't called in.
Landon Donovan's LA Galaxy is in the midst of an MLS playoff run.
Kyle Beckerman may be getting time to recover after a long MLS season, or maybe Klinsmann has finally realized he is not international quality.
Steve Cherundolo was reportedly injured in Hannover's game on Sunday.
Clint Dempsey, Michael Parkhurst and Graham Zusi are all likely getting rests after long stretches of games over the past few months.
Joe Corona, Edgar Castillo and Club Tijuana made the Liga MX playoffs in Mexico.
Brek Shea recently had foot surgery and will be sidelined for the next three months.
Follow me on Twitter @AmerTouchline
Follow me on Facebook www.facebook.com/AmericanTouchline
Keep Reading

United States (National Football): Like this team?