Michigan Football: 5 Keys to Game vs. Iowa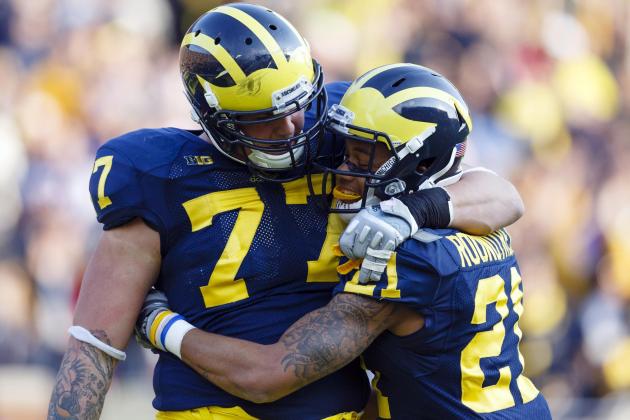 Rick Osentoski-US PRESSWIRE

Most people think that Michigan should be able to handle Iowa pretty easily on Saturday. Is that a fair assessment?
Iowa has struggled mightily this season, currently sitting at 4-6 with hopes of a bowl game fading fast. On the other hand, it will be Senior Day for Michigan, a very emotional time for everyone involved.
It will be even more so, though, as Denard Robinson's injury has sidelined him lately.
Here's an in-depth look at the Hawkeyes, including some of the biggest aspects and keys that will decide this game.
Begin Slideshow

»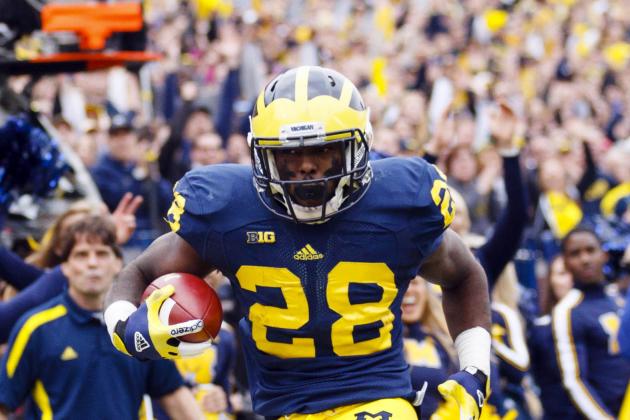 Rick Osentoski-US PRESSWIRE

Michigan's offensive line has arguably been the most disappointing part of the team this season, as it has seemingly gotten worse as the season goes along.
That is a huge reason none of the Michigan running backs has had any success. Fortunately, this Iowa run defense is nothing special. It ranks a very mediocre 61st nationally.
Just about the only D-linemen putting up solid numbers for Iowa is surprisingly Joe Gaglione. Gaglione has really come on in his senior year, as he currently has nine tackles for loss and five sacks. In fact, his five sacks is tied for fourth in the conference.
However, none of the other starters on the D-line strike much fear into opponents. Dominic Alvis, Steve Bigach and Louis Trinca-Pasat are the other starters, with Darian Cooper, Mike Hardy and Carl Davis all seeing plenty of time as well.
The linebacking corps is pretty solid for Iowa. Christian Kirksey, James Morris and Anthony Hitchens are all juniors, and all three of them rarely come out of the game.
This Michigan offense should at least be able to run the ball somewhat effectively. Fitz Toussaint ran for 92 yards against a very good Northwestern run defense, so hopefully he can build on that effort.
Assuming Gardner plays the whole game at quarterback, we will likely see almost every snap taken from under center, as this offense tries to pound the ball down Iowa's throats. Seeing that style of offense again would be a gorgeous sight.
Advantage: Michigan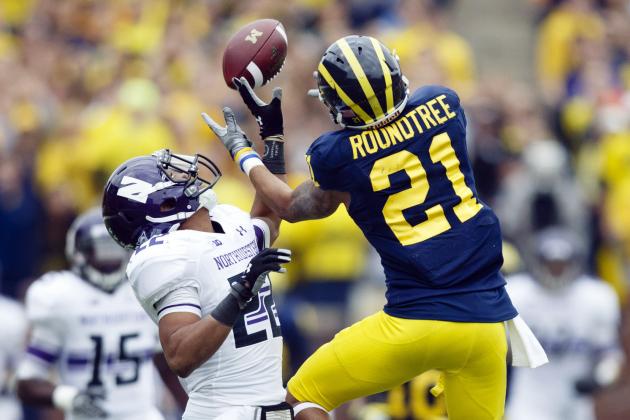 Rick Osentoski-US PRESSWIRE

With Gardner at quarterback, Michigan has seemingly found a new and energized passing attack. Gardner threw for 234 yards against Minnesota, and then came back and threw for 286 against Northwestern.
He looked very solid doing it, too, as all of his passes were basically right on the money.
Like its run defense, this Iowa pass defense is very average as well. It ranks 51st nationally and gives up 225 yards a game through the air.
Micah Hyde is very good at one corner spot, but again there really isn't anybody else to be concerned with. We'll see B.J. Lowery and Greg Castillo opposite Hyde, and Tanner Miller, Nico Law and Tom Donatell manning the safety spots.
This Iowa secondary allows opponents to complete 62 percent of their passes, which is the highest percentage of any team in the Big Ten. If there is a bright spot in this Iowa secondary, it's that it intercepts a lot of passes.
The Hawkeyes have nine as a team, which is third most in the Big Ten. With the way Gardner has been throwing the ball, though, this passing attack should continue to be successful when it does decide to throw.
Advantage: Michigan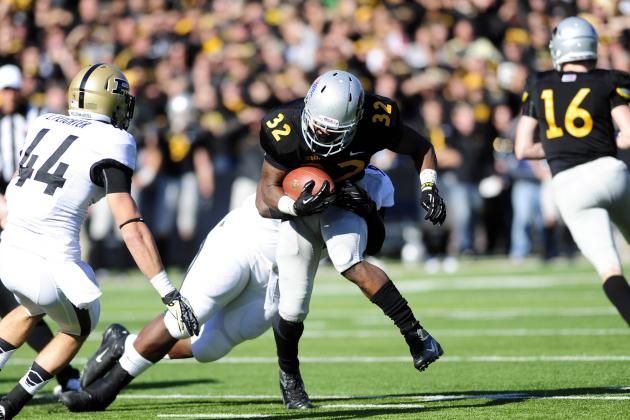 Byron Hetzler-US PRESSWIRE

There is no question here what the story is when talking about Iowa's rushing attack: injuries.
Iowa has had a long list of departures and injuries at running back over the past year or so, which has led to complete chaos at the position.
With that being said, all that chaos disappeared when Mark Weisman emerged from nowhere and tore up the Big Ten throughout October. Of course, he got hurt though too.
Damon Bullock, who has also missed plenty of time with injury this season, is the current starter. He has only ran for three touchdowns and is averaging a dismal 3.8 yards per carry. A lot of that is the offensive line's fault, though.
Greg Garmon is another back that has seen plenty of time this year also, but of course injuries have affected him as well.
This Iowa rushing attack ranks 101st nationally and is second worst in the Big Ten. Plus, Michigan's run defense is growing and maturing every single time they play.
The run defense had a terrible game against Northwestern, but the main reason was because it was facing a spread zone read attack that it doesn't see very often. I'm not making excuses for it (its performance was ridiculous), but it's not like this unit has taken a step back or anything.
I have all the confidence in the world that this Michigan front seven will bounce back and absolutely suffocate this abysmal Iowa running game.
Advantage: Michigan
Byron Hetzler-US PRESSWIRE

What a disappointing senior season it has been for James Vandenberg. After having a great touchdown-to-interception ratio of 25-to-7 last year, his numbers have taken a nosedive this year.
Vandenberg is completing only 56 percent of his passes, and he has only thrown five touchdowns this season! In fact, he has thrown more interceptions than touchdowns, as he has six picks.
Even though he's the clear leader of this offense, some fans called for his benching at midseason. Not surprisingly, it never happened.
Vandenberg does have two solid receivers to work with in Keenan Davis and Kevonte Martin-Manley. In fact, both guys have just under 50 catches and each of them have just over 540 receiving yards; both numbers are pretty impressive.
However, there's a big dropoff at receiver after those two. Jordan Cotton is probably the next best receiver, but he hasn't done much. Freshman Tevaun Smith is seeing more time as well.
The tight ends are a solid group, as C.J. Fiedorowicz leads the way. He stands 6'7" and has 31 catches for 278 yards on the year. Fiedorowicz is easily one of the best tight ends in the Big Ten. Zach Derby, Jake Duzey and Ray Hamilton all see time at tight end as well.
Even though this Michigan secondary got torched against Northwestern, expect it to bounce back in a big way. As long as Davis, Martin-Manley and Fiedorowicz are held in check, this group has nothing to worry about.
The depth at receiver for Iowa is so bad that there really isn't anyone who might step up and have a big day if one of the top two guys are contained.
Iowa throws the ball 33 times a game, exactly the same amount of rushing attempts it averages per game. It wouldn't be surprising if Iowa tried to beat Michigan through the air, especially if the rushing attack is shut down early.
Michigan has the advantage in this category, but not by a huge margin.
Advantage: Michigan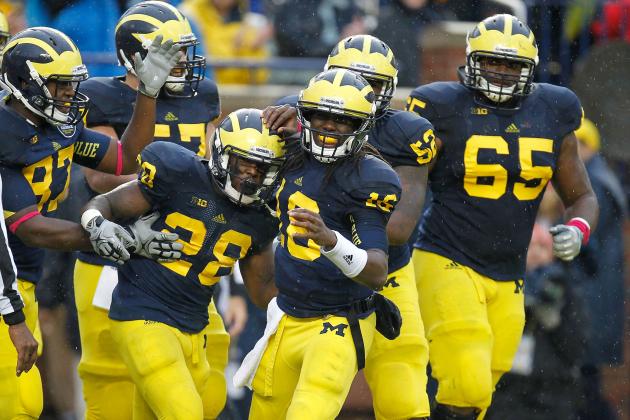 Gregory Shamus/Getty Images

What a sad and emotional day it will be for these seniors when they take the field on Saturday. This group of men have been through so much in their time here at Michigan, but it will all be coming to an end now.
It will be especially saddening if Denard Robinson isn't able to play. It's really a shame this injury happened when it did, seeing as how he has meant so much to this program over the last few years.
Will the emotional pregame ceremonies hinder Michigan's play on the field, or will it motivate them to play better?
This game might be close for a bit, but Iowa is just too weak for this to be a game late in the second half; Michigan should definitely wind up pulling away fairly easily.
Expect a dominating defensive performance and for the offense to have a decent amount of success moving the ball on this mediocre Iowa defense.
As fans, we better make sure to enjoy this one a bit more than usual; it has been a great honor to watch this group of seniors over the years. As they suit up for the last time in front of the home crowd at the Big House, they will leave this school knowing their legacy will leave a lasting impact and that Michigan is better off because of it.
Prediction: Michigan 31, Iowa 14