Dolph Ziggler: 7 Ways to Steal the Show and the WHC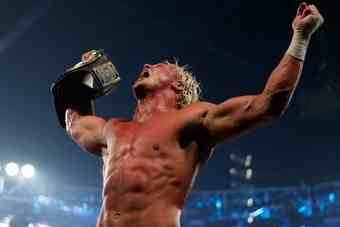 Ever since Dolph Ziggler's famous win at Money In The Bank, the IWC has wondered longingly as to when the Show Off will finally cash-in his shiny blue briefcase.
A man many consider to be the most athletic and exciting performer on the WWE roster, many expect the former Spirit Squad member to successfully win the World Heavyweight Championship sooner rather than later.
With just over six months remaining before the coveted contract expires though, and a monstrous Big Show as the current champion, the question now must be when, and even if, Vickie Guerrero's special client will finally be able to be able to obtain the blue brand's signature title.
As a long-time fan of professional wrestling, I've now seen every MITB winner cash-in via some form or another. What I would like to see however, is the Show Off to really live up to his name and give us a title win which truly steals the show...
The following slideshow will count down the seven most interesting scenarios, in which Dolph could theoretically cash-in his Money In The Bank Contract.
Thanks for Reading!
Begin Slideshow

»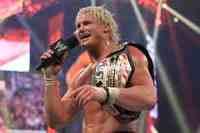 This Sunday, Dolph Ziggler will captain a team of five heel superstars against Mick Foley's team babyfaces—originally billed to take on Team Punk-Heyman.
This new rivalry makes little to no sense, other than that the WWE needed a heel to head up Punk's team, after the WWE Champion was randomly thrust into a triple-threat championship bout, just one week after being announced in a traditional 5v5 elimination match.
But hey, this is WWE we're talking about, and as we all know by now, plans will, and invariably do, change..
So what if this Sunday, Dolph really proved his salt, and not only became the Sole Survivor of his match, but also managed to cash-in his Money In The Bank contract the SAME night.
Pulling double-duty is an impressive feat in any context, but defeating five fan favourites and then managing to win a World Title from a monster like Big Show or Sheamus, would well and truly steal the show this Sunday.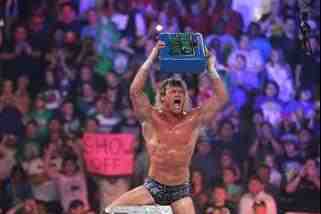 Correct me if I'm wrong, but every MITB cash-in has so far been won or lost in a straight-forward one-on-one singles match—with all but one being decided via a clean pinfall victory for the challenger.
To me, a clean pin is not befitting of Ziggler's character.
In my opinion, the Show Off should make history with his victory by winning the Title with some kind of gimmick in place.
Whether it be a Cage, Ladder or even Last Man Standing match, I would personally prefer to see an outcome where Ziggler could win the strap, without even having to touch his opponent.
Imagine a KO'd Sheamus having a cage lowered around him, while a crafty Ziggler entered the ring, rang the bell and walked straight back out of the door. A win which would personify the HEEL's cocky persona.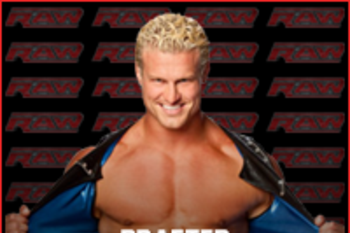 Something we've never seen before; can a superstar find a way to cash-in his briefcase for the OTHER world title?
Admittedly, the MITB contract supposedly states that the blue briefcase contains a shot at the World Heavyweight Championship belt, but this is WWE, why not have a twist where Dolph Ziggler manages to find a way to cash-in against the WWE Champion? (with Vickie as Managing Supervisor, it's possible!).
Or, my personal preference, Ziggler to appear on RAW following a brutal championship match, with his briefcase painted Red, cashing-in and being allowed to win the title via a technicality—albeit an extremely flimsy one.
A comedy cash-in of this nature would not only be entertaining, but something which the Show Off could really have to smirk about.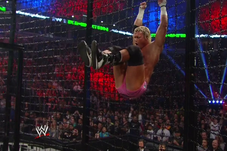 Many people have been clamoring for it for a long time - the end of the Brand Extension.
Having two World Titles has been a particularly contentious issue over the past few years, so I say let's nip this in the bud now, and go back to the days of an Undisputed World Champion.
How do we get there?
Judging on DZ's 2012 performance, he HAS to be involved in next year's Elimination Chamber match.
To fantasy book, I would have the WHC match first on the card with someone like Randy Orton coming out victorious.
Post-match he gets assaulted by the likes of Big Show (because hey, he hates everybody apparently). Cue Dolph Ziggler who cashes in, and becomes the new World Heavyweight Champion.
Later in the night, one of the competitors in the WWE Title match, is taken out backstage—someone dispensable like Kofi Kingston.
Just as it appears the match will go ahead with only five men, DZ hits the ring as the surprise replacement opponent.
There you have it, Dolph grabs a dicey win and becomes Undisputed champion in one night, a la Chris Jericho.
The next night, Ziggler brags about his achievement and berates Y2J, only for the arena to cut to black...
Elimination Chamber done. Wrestlemania set. Book It WWE!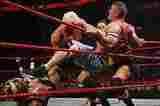 The comparisons and links between Dolph Ziggler and Ric Flair have been made countless times, and many expect a returning Flair to mentor the Show Off, on his inevitable return to WWE.
What better way to emulate the Nature Boy than to win the World Title in the Royal Rumble match itself, by outlasting 30 other superstars.
A cocky Ziggler could claim to pay homage to his mentor, by challenging the champion to defend his belt in the match with a winner-take-all scenario—an outcome also meaning the bleach blonde superstar, would not have to find a way to pin the much larger champion, The Big Show.
A gesture—and win—of this magnitude would give legendary status to Ziggler, and really consolidate his reputations as the most exciting superstar professional wrestling.
Staying close to the Royal Rumble timeline, what if Ziggler decided to really shake things up and cash-in his briefcase against a celebrating Dwayne "The Rock" Johnson on RAW, the night after a hard-fought victory over CM Punk.
It would give the People's Champion his deserved tenth World Title reign, but also award Ziggler with the moniker of the first man in the PG Era to truly topple the Great One, giving him massive heat in the process.
Sure CM Punk fan boys may pop a blood vessel, at the thought of his 400-plus day reign to be ended only for the title to change hands twice in 24 hours, but what better way to further story-lines going into Wrestlemania season, than with an upset that would get the whole world talking..?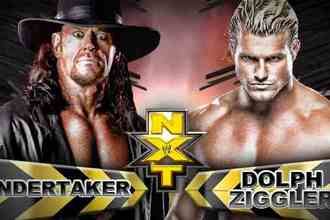 What if the unthinkable happened and Dolph Ziggler waited until Wrestlemania 29 to cash-in his briefcase?
And WHAT IF at the very same time, The Undertaker was the man holding the World Heavyweight Championship?
See where I'm going with this..?
Now this scenario is admittedly almost impossible, but Dear God, what a way to steal the show than by ending the greatest Streak in sports history.
Imagine Taker in a brutal war with the likes of Brock Lesnar, bloodied, battered and unable to stand in victory, only for the Show Off to enter and beat the Dead Man.
Even if Undertaker were not holding the belt, an even bigger twist would be for Ziggler to use the briefcase to cash-in purely for a shot at ending the Streak—as was mooted that the winner of the 2012 Royal Rumble may have potentially chosen to do.
While many may feel Taker's Streak should (and won't) ever end, what better way to create a mega star than to have Dolph Ziggler create history by beating the Legend on his home turf.
Thanks again for reading!
Please feel free to leave any comments or suggestions below...