The Iowa Offense Under Greg Davis: What Went Wrong and Can It Be Fixed?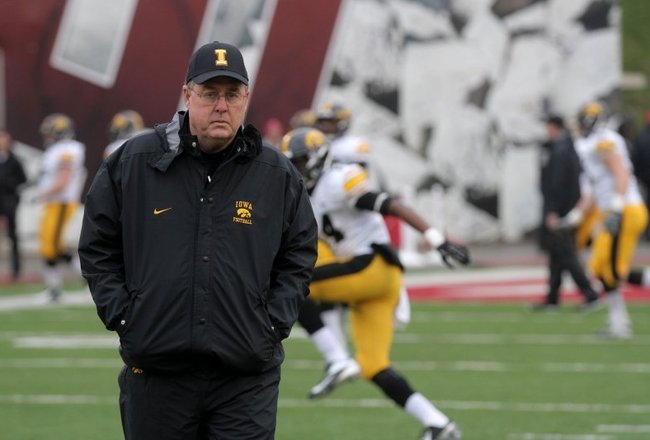 Via David Scrivener of the Iowa City Press-Citizen

With the recent news (per ESPN) that Greg Davis, at least to the best of Kirk Ferentz's knowledge, will stay on as Iowa's offensive coordinator (OC), Hawkeye fans are scratching their heads.
The only other OC under Ferentz had been Ken O'Keefe. Under O'Keefe, the Iowa offense was rarely impressive. Usually, it was mediocre, with one or two notable seasons, as well as two or three poor seasons.
However, this year, as Jon Miller of Hawkeyenation pointed out, the Hawks "had arguably the worst offensive season of an offensively challenged Ferentz era."
Iowa ranked 114th in the nation in scoring offense, 117th in total offense, 98th in rushing (yards per carry), 116th in passing efficiency and tied for 115th in yards per passing attempt.
And that was with a returning starter at quarterback, a quality field goal kicker and a plus-12 turnover margin.
As for that returning starter, James Vandenberg had a respectable 2011, throwing 25 touchdowns to seven interceptions and finishing with 138.44 efficiency rating. In 2012, he fell apart—at least, as far as statistics are concerned—throwing seven touchdowns, eight picks and a 107.72 rating.
Even worse, those that watched the Hawkeye offense got a crash course in boring and uninspired play-calling.
Following a particularly bad call in the Nebraska game, ESPN's Adam Rittenberg tweeted,
That's a shameful call by Greg Davis on third-and-4. Just pathetic. #NEBvsIOWA

— Rittenberg/Bennett (@ESPN_BigTen) November 23, 2012
In short, it can't get much worse for the Iowa offense.
The question is, if Davis is to come back, what went wrong and is this offense salvageable?
The Greg Davis Resume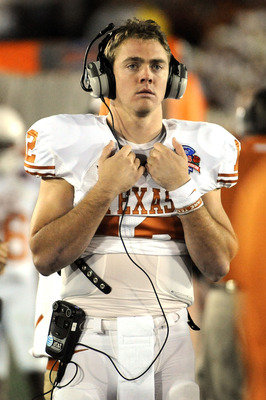 Harry How/Getty Images
Greg Davis has been an offensive coordinator for five different programs—1992-93 Arkansas, 1994-95 Georgia, 1996-97 North Carolina, 1998-2010 Texas and currently with Iowa.
His time at Arkansas was something of a disaster, with his Razorbacks scoring fewer than double digits eight times over the course of 22 games.
His two years in Georgia were up and down.
On the other hand, his stretch in North Carolina was an unequivocal success.
Nonetheless, his 12 years in Austin were his big resume builder.
Between 1999 and 2010 (1998 stats are unavailable on the NCAA archival site), the Longhorns were a top-10 scoring offense six of 12 times. Ten of 12 years saw Texas in the top 20.
Davis achieved results with Chris Simms, Major Applewhite, Vince Young and Colt McCoy—quarterbacks with notably different styles—and adjusted his offense accordingly.
It is true, being in Texas, he had a great deal of raw material to work with. On the other hand, there are plenty of 5-star players in the country who turn out to be busts, as well as plenty who don't turn into Heisman contenders (as McCoy and Young did).
Rivals' No. 2 quarterback in 2008 didn't complete 50 percent of his passes this year, and that was with a coach who has a track record for developing quarterbacks. Iowa fans certainly remember Rivals' No. 3 quarterback in 2006. And Penn State fans are still scratching their heads over No. 2 in 2004.
Greg Davis, a 41-year veteran, may be overrated, and he probably doesn't deserve boatloads of credit for the success he had with the Texas offense—given all that Texas talent—but he does deserve some credit.
The Greg Davis Offense AKA the Offense Davis Wants to Run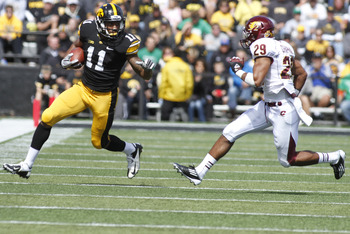 Matthew Holst/Getty Images
During spring practices, offensive line coach Brian Ferentz tweeted,
Big day of practice today. Time to continue working a little no-huddle! #PlayFast

— Brian Ferentz (@CoachBFerentz) April 4, 2012
This confirmed what many Hawkeyes fans wanted to know—how much of Greg Davis' offense would Ferentz incorporate into what he wanted to do? At the time, it seemed like Ferentz was taking in quite a lot.
As for that offense, Davis wants to extend the game by running a lot of plays (by Iowa standards). He wants a horizontal offense—as Hawkeye fans know by now—and he wants to set up the run with the pass and not vice versa.
He wants his offense to maintain a quick tempo, and he wants fast receivers who catch the ball running at full speed. He'd prefer a spread-out field to a lot players in the backfield. His quarterback is ideally dual-threat and is deadly accurate within the zero to 10-yard range. Said quarterback does not have to have a gun or be able to throw an accurate long ball. Every skill-position player is a threat to gain yardage.
He also asks more from his skill position players than Ken O'Keefe did, but if his offense is run correctly, it takes some pressure off the offensive line.
Does any of that, aside from the horizontal offense, sound like Iowa's offense this year?
James Vandenberg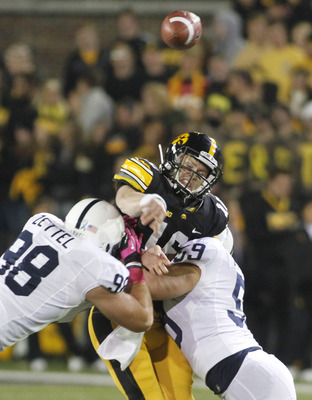 Matthew Holst/Getty Images
His career is over, and Hawkeye fans wish him well in medical school. He was a great Hawkeye, a great representative of the university and football program, and, by all accounts, a great teammate, but we can all say it: He was not a great quarterback, and he never was a great quarterback, even before Davis arrived.
In his final four performances of 2011, he had an efficiency rating of 112.96. And that was with Marvin McNutt as his top target, three NFL-draft worthy linemen in front of him and garbage-time touchdowns to bolster his stats in two of the four games. Furthermore, he only played one elite defense in those four contests.
That said, JVB was not as "bad" a quarterback as he was this year.
Moreover, as has been typical with Iowa quarterbacks under Ferentz, and as I pointed out after Ricky Stanzi graduated in 2010, Vandenberg became constricted as his career progressed. It was not that he regressed in the truest sense. Rather, it was as if he was scared to make a mistake.
Consider the Vandenberg who had his first start in Columbus in 2009. That JVB wasn't great, but he didn't play scared. Quite the contrary, he played as fearlessly as a redshirt freshman in hostile territory could have been asked to play.
One gets the idea that the fear of making a mistake has been ingrained into him through years in Iowa's system.
Certainly, this is not hard to believe knowing Kirk Ferentz's conservatism, and it is a sentiment that has done Iowa quarterbacks no favors.
The Receivers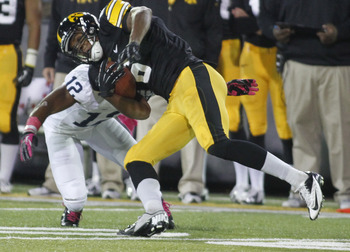 Matthew Holst/Getty Images
Kirk Ferentz has historically operated with the mentality that he will never be able to field three high-profile receivers at one time. This explains his program's lack of a reliance on the receivers.
As Hawkeyenation recently detailed, there is logic in his thinking.
If a program is to play to its strengths, Iowa will always be able to recruit solid offensive linemen. After all, the prototypical farm boy shares the same frame as the prototypical offensive lineman, and the state of Iowa has farm boys en masse. In effect, a rush-heavy offense that relies on a strong offensive line makes sense for the Hawkeyes.
However, Davis' scheme, as previously detailed, prefers speedy receivers, a fact about which Davis (per Marc Morehouse of the Ceder Rapids Gazette) has been vocal. He wants those receivers to catch short passes while running at full speed. In effect, a three-yard out, if accurately thrown, should automatically be at least a six-yard gain, as the defender making the tackle will likely get dragged for a few yards due to the receiver's momentum.
Regardless of any of the receivers' struggles this season—and there were plenty—it is difficult to say where this leaves Ferentz.
Either he commits to recruiting the type of receivers Davis wants or he adjusts his offense to work without those types of receivers, but it has to be one or the other.
What Happenend to the Tight Ends?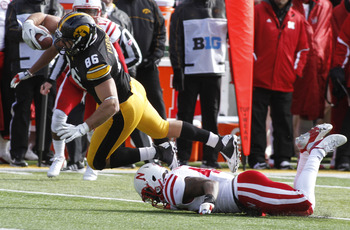 Matthew Holst/Getty Images
This summer, it seemed that Greg Davis couldn't say enough about junior tight end C.J. Fiedorowicz.
He told CBS Sports, "There are not a bunch of guys anywhere that are that size, that can run and catch and do all of those things. C.J.'s got a chance to be an outstanding player."
He also said (via Marc Morehouse of the Cedar Rapids Gazette), "This is only 39 springs I've been in and I've never had a tight end like C.J. with his size and ability to play at the line of scrimmage and also stretch the field."
In effect, it was only fair to assume that Fiedorowicz and the Hawkeye tight ends would flourish in the new offense.
Unfortunately, it didn't go down that way.
C.J. Fed and the other Iowa tight ends all but disappeared until the final two games of the season. At that point, as the Cedar Rapids Gazette Mike Hlas noted,
RT @tomfornelli Greg Davis just discovered CJ Fiedorowicz in practice this week.

— Mike Hlas (@Hlas) November 17, 2012
In the final two games, Iowa tight ends accounted for 18 receptions and 185 yards. The 6'7" Fiedorowicz got his first, and only, touchdown catch of the season in the Hawkeyes' 10th game of the year.
What happened? Where was this phenom that Davis raved about all summer?
Iowa will not only bring Fiedorowicz back, but also three other quality tight ends, including to-be-junior Ray Hamilton and to-be-third-year sophomores Jake Duzey and Henry Krieger-Coble.
This should be a productive group, provided the offense uses them creatively—see Penn State and Stanford for ideas on how to use multiple tight ends effectively—and doesn't wait until the 11th game of the season to target them.
Adjustment to the New Scheme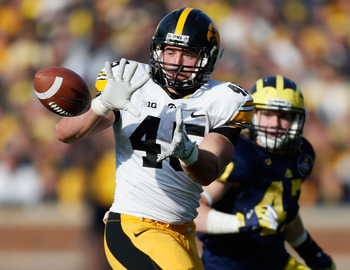 Gregory Shamus/Getty Images
As has been mentioned numerous times, this year, the Iowa offense saw a new scheme for the first time in 14 years.
Unfortunately, that scheme change caused palpable problems, especially for the quarterback and receivers.
The question is, was that scheme change so drastic that it should have caused a collapse of the offense, and is a collapse of the offense acceptable in a transitional year?
In answer to the first question, no. Iowa did not go from its old offense to a version of Oregon's or Urban Meyer's offense. This was not a night-and-day change of the Lloyd Carr-to-Rich Rodriguez variety.
Secondly, the following are some offenses that transitioned to a new scheme in 2012, with the team's national scoring offense ranking in parentheses: Texas A&M (4), Ohio State (20), Arkansas State (26), UCLA (t-31), Penn State (64). All improved minimally to tremendously from 2011 to 2012.
It is also true that Kansas (115), Auburn (116) and Illinois (122) worked with new schemes this season, but the point is a new scheme does not have to be tantamount to a major transition, especially when the transition itself is not earth shattering.
The transition plays and played its part, but it is not an excuse for a collapse.
Injuries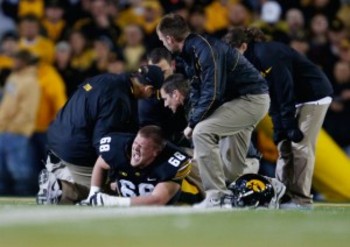 Via Brian Ray of the Cedar Rapids Gazette
The Penn State game—Iowa's seventh contest of the season—was particularly backbreaking.
Not only did the Hawkeyes get embarrassed at home, but they lost two of their best offensive linemen for the season.
Left tackle Brandon Scherff went down with a broken leg, and right guard Andrew Donnal suffered a knee injury.
On top of that, every running back on the Iowa roster was injured at some point during the season, and fullback Brad Rogers struggled with health issues all year long.
That said, injuries are a part of football. They affected the Hawks, but the Iowa O wasn't any more beat up than any other offense in the conference or country.
Whatever the problems with the Hawkeye offense, injuries were not an acceptable excuse.
Same Old, Same Old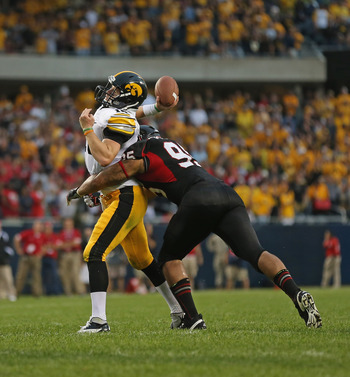 Jonathan Daniel/Getty Images
People criticize Kirk Ferentz for his conservatism, and rightfully so, but over last two years, he has gone for it on fourth down and blitzed more than he has in the past. This year, he even tried to score multiple times at the end of the half.
As Iowa blog Blackheartgoldpants detailed, those stabs at aggressiveness—at least as it concerned the two-minute offense—didn't work out.
In fact, the last time a true two-minute offense—as opposed to a hurry-up offense ala 2011 Pitt—scenario worked for the Hawks, to the best of my memory, was 2009 Michigan State.
It is hard to say how often the two-minute O has failed since then, but it has been over 20 times.
I don't know what the typical success rate of a two-minute offense is—I'm not sure those statistics are readily available—but judging by empirical evidence, I'd guess it's at least in the 20 to 25 percent range.
The two-minute offense is a viable part of football, as much as goal-line and short-yardage situations. Along with time management, the two-minute offense is and has been a chronic problem for the Hawkeyes.
As it's taken place over the span of two different offensive coordinators, seven different quarterbacks and countless other offensive players, one thing is evident.
These are not Greg Davis' problems. These were not Ken O'Keefe's problems. These were not James Vandenberg's problems.
These are Kirk Ferentz's problems, and in the 15th year of his tenure at Iowa, he needs to commit to fixing them.
How Much Influence Did Kirk Ferentz Have?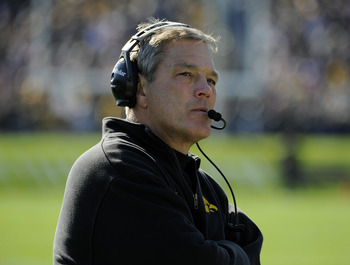 David Banks/Getty Images
All summer there had been talk of the hurry-up, high-tempo offense, and then...(cue the crickets).
Ferentz has a history of dipping his toe into unfamiliar waters and quickly pulling out.
The offense that Davis wanted to run was not the offense Hawkeye fans saw in 2012. Rather, it was a mish-mosh of Ferentz/O'Keefe and Davis.
Davis' ideal offense has been previously detailed. The offense Ferentz wants to run is probably similar, if not identical, to the Ken O'Keefe O—shorten the game, limit mistakes, run first, play action off the run, send receivers downfield and feature tight ends. The fullback, of course, is part of the offense, but he functions as more of a roving blocker than an offensive weapon.
Kirk Ferentz's ideal quarterback is less of a playmaker and more of a game manager. His most important function is to protect the ball and direct the offense via audibles.
Perhaps the most telling offensive stat for the 2012 Hawkeyes was the number of plays run.
The most plays the Iowa offense ran in any one game was 82 in the first game of the season. In the second game, the Hawks ran 70 plays. Game three saw 71 plays.
Through the final nine games Iowa averaged 63.3 plays per game, despite being behind in the majority of contests.
In other words, the season started with perhaps a 50/50 split of the two offenses, but it gradually veered back to the Ken O'Keefe offense sans the downfield passing. The end result was a Frankenstein-esque disaster.
Based on where the Hawks started and what Davis inferred in various interviews before the season, one can guess that he wound up with a good deal less freedom than he might have hoped.
If there is one thing this season has taught us, it is that this is Kirk Ferentz's team from top to bottom.
In Sum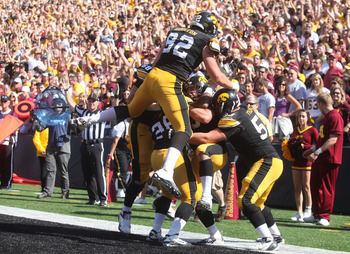 Matthew Holst/Getty Images
This year, there was some element of it being a perfect storm for offensive collapse. Everything had to go wrong for 2012 to turn out as it did, and almost everything did go wrong (the kicker was solid and the running backs didn't get fumblitis, so not quite everything went up in smoke).
The problem is that some—in fact, many—of the things that went wrong were controllable, and that concerns the coaching.
2001 and 2002 aside, Iowa has never had a dominant offense under Kirk Ferentz, but it has rarely been as bad as 2012, and it has certainly never been as boring.
Ferentz has always been a defense-dominant coach, and in years when the defense hasn't been able to carry the team—2005, 2006, 2007, 2011—the Hawkeyes have finished with a mediocre record. Ferentz can opt to continue this tradition, but it places an undue amount of pressure on said defense, not to mention the special teams. Also, if he does embrace mediocre offensive play, then the offense will at least have to get back to a mediocre level.
On the other hand, if Ferentz decides to expect more from the offense, then he will have to allow Greg Davis the freedom to run his offense.
As Blackheartgoldpants recently pointed out, if there is to be the potential for offensive success, Ferentz will have to commit to a new offense that he is not entirely comfortable with. If he is willing to accept mediocrity, he has to commit to the 1999 to 2011 Ken O'Keefe offense. There can be no in between.
In between, regardless of the talent on the team, will consistently have the same or similar results as this year.
Keep Reading

Iowa Hawkeyes Football: Like this team?