BCS Rankings: Comparing the Top 5 Teams to Ice Cream Flavors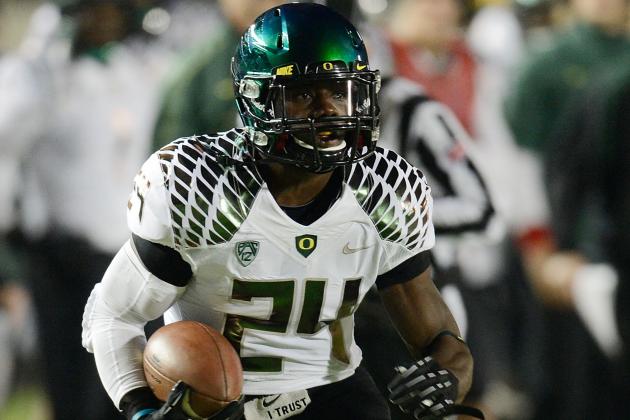 Thearon W. Henderson/Getty Images
Kenjon Barner
If you're reading this, you probably love college football.
And if you are a product of evolution, you probably like ice cream as well.
After a largely uneventful weekend of college football (apart from the amazing finish in Tuscaloosa), we are dealing with an unsurprising and almost anticlimactic batch of BCS rankings.
But don't let that kill the fun. As the season winds down, let's think outside the box and consider the top contenders from a new perspective.
Thinking about these squads' ice cream counterparts is only logical.
Let's begin.
Begin Slideshow

»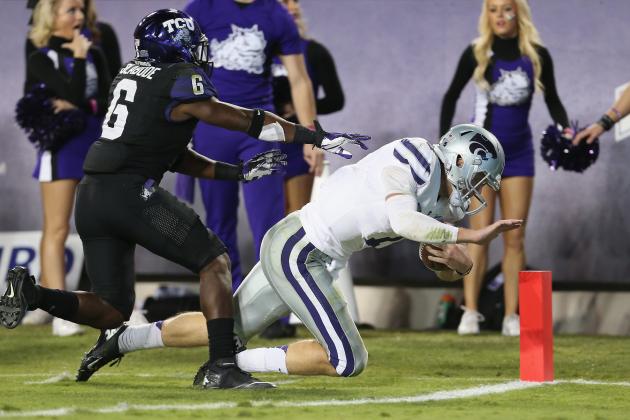 Ronald Martinez/Getty Images
Collin Klein
Sure, vanilla is a great flavor, but it just...lacks something. It gets the job done and doesn't disappoint, but we could all use a little more flavor.
You could say the same about Kansas State football this season. Sure, the Wildcats have executed on the field, riding Collin Klein's steady leadership and crisp fundamentals to a perfect 10-0 record. The Wildcats topped Oklahoma in Norman, took care of a Jekyll and Hyde WVU squad in Morgantown and held on to beat TCU last Saturday.
Granted, Bill Snyder is one of the best coaches in college football history, and his team is poised to book its ticket to South Beach as long as it continues to do its job. But the Wildcats are anything but flashy.
With both K-State and its ice cream counterpart, you know what you're going to get: a reliable and steady institution.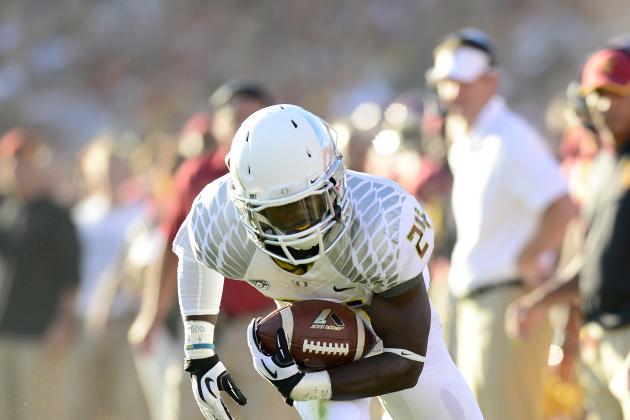 Robert Laberge/Getty Images
Kenjon Barner
Oregon, on the other hand, has put on a high flying fireworks show that, to our amazement, refuses to end. Clad in their spectacularly diverse uniforms that would probably make passing extraterrestrials do double takes in their spaceships, the Ducks have scorched the opposition all season, averaging an astonishing 54.8 points per game.
Sherbet, meanwhile, has always been in a class of its own. No ice cream is as colorful or tastes as exotic as sherbet, and it's a great choice if you're seeking a novel flavor. Similarly, who doesn't love watching the Ducks late on a Saturday night? The time difference, sparkling uniforms and blazing offense makes for a delicious combo.
Before long, we'll probably see Oregon don sherbet-colored uniforms. It seems they've tried everything else.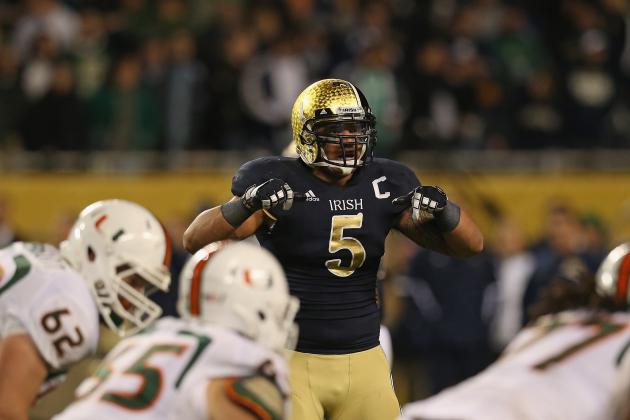 Jonathan Daniel/Getty Images
Manti Te'o
What a storybook season for the Irish so far. Four wins by a total of 16 points, a nail-biting triumph over Stanford and an insane triple-overtime escape over Pittsburgh leave Notre Dame an unblemished 10-0 with two games remaining. Funnily enough, one of the least stressful wins for Brian Kelly and Co. was a 30-13 statement against Oklahoma in Norman, complete with a Heisman-esque interception by Manti Te'o.
2012 has been anything but a breeze for Everett Golson and his team. In fact, one could call the campaign a "rocky road" for multiple reasons. Apart from the near-losses to Stanford, Pittsburgh and tight finishes against BYU and Michigan, among others, the Irish have played largely shutdown defense. Te'o leads a stout unit that yields a nation's best 11.1 points per game. Without a doubt, Te'o and Co. create a rocky road for opponents, reminiscent of the delicious chocolate, marshmallow and nut confection.
Watching the Irish play while enjoying a bowl of Rocky Road ice cream would be great way to spend a Saturday.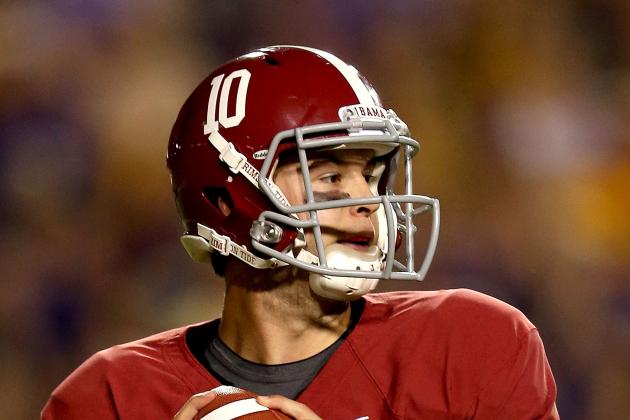 Matthew Stockman/Getty Images
A.J. McCarron
Chocolate and Alabama. Both conjure ideas of tradition, star power and a huge share of time in the spotlight.
Despite succumbing to "Johnny Football" and the determined Aggies, Bama still has a chance to play in the national championship. The Crimson Tide have been in the spotlight all season, and Nick Saban's squad has managed the burden very well. There's no shame in a tough, hard fought loss to a very capable football team.
No one can deny the dazzling and near-miraculous comeback A.J. McCarron orchestrated in Baton Rouge on Nov. 3. Overall, Bama has outscored its opponents 370-111. And if the Tide win out and top high-ranked Georgia in Atlanta, they will have a legitimate argument to play for the BCS title.
Don't ever count out Alabama, or chocolate. Both have built traditions too grand and too deeply rooted to ignore. And although there are other flavors and teams, you can't deny greatness when you see it.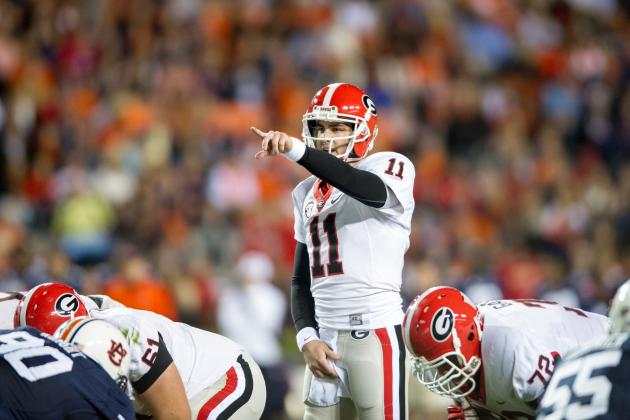 Michael Chang/Getty Images
Aaron Murray
The Bulldogs have put on a remarkable performance this season. They have scored at least 37 points in seven of 10 games, and their only blemish came at the hands of South Carolina in Columbia. Although it came by four touchdowns, the loss only energized the Dawgs. UGA went on to beat previously unbeaten Florida before pasting Ole Miss and Auburn by a combined score of 75-10.
Consider all that for a moment.
Now think about cookie dough ice cream. It's one of the best tasting flavors there is, but only in moderation. You need a break from it eventually.
Then look at Georgia's first five games as a figurative cookie dough binge. They averaged more than 48 points per game and dazzled.
Then came the 35-7 loss to South Carolina. Let's consider this loss the hangover from eating too much cookie dough.
After that, the Dawgs recovered (due to the 29-24 win over Kentucky), and now they look dominant again.
The question is, when will this binge end: in Atlanta against (probably) Alabama? Or beyond?