Pros and Cons of Cardinals Pulling off a Trade for Asdrubal Cabrera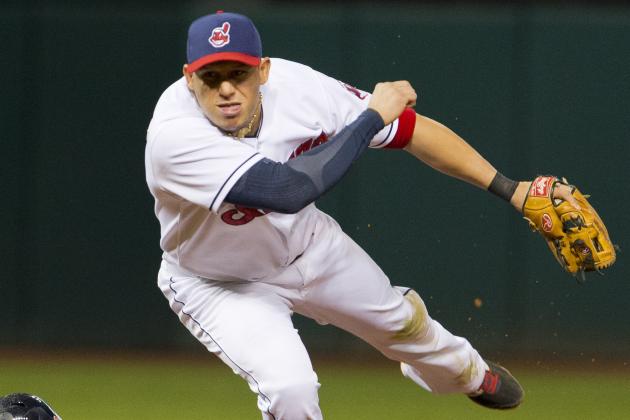 Jason Miller/Getty Images
Cabrera would set the Cards at short for the foreseeable future.
The St. Louis Cardinals have been a perfect five-for-five in deploying a different Opening Day shortstop every year since parting ways with 2006 World Series Most Valuable Player David Eckstein.
That list of luminaries would be Cesar Izturis in 2008, Khalil Greene in 2009, Brendan Ryan in 2010 (and batted second), Ryan Theriot in 2011 and Rafael Furcal this past year.
A hole hasn't been this tough to fill since the Exxon Valdez ran aground.
And the odds are good St. Louis will make it six years in a row next summer as Rafael Furcal, already a huge injury gamble, is coming off a major elbow injury with no timetable for recovery.
Sure, the club will look at late-season savior Pete Kozma next spring. If he somehow comes close to approximating the ridiculous .952 OPS he produced in 26 games this past season, the club may tab him to start. But with a career minor league OPS of .652 over six seasons, it's hard to put much faith in that happening.
Any fantasy baseball geek can tell you how poor the talent depth is at shortstop, and every general manager knows how well-stocked the Cardinals pipeline is with young, quality arms.
So the hot stove is fully stoked and already burning with juicy trade rumors.
Fan forums have linked the Cardinals to a number of intriguing shortstops including the oddly named Elvis Andrus and the marvelously side-burned J.J. Hardy.
But the trade that seems to make the most sense, in terms of both a long-term solution for the Cardinals and much-needed top pitching prospects for the other club, is a trade for the Indians' Asdrubal Cabrera.
The St. Louis Post-Dispatch's Joe Strauss has already confirmed a trade for Cabrera is a real possibility, so let's examine the pros and cons should John Mozeliak end up pulling the trigger.
Begin Slideshow

»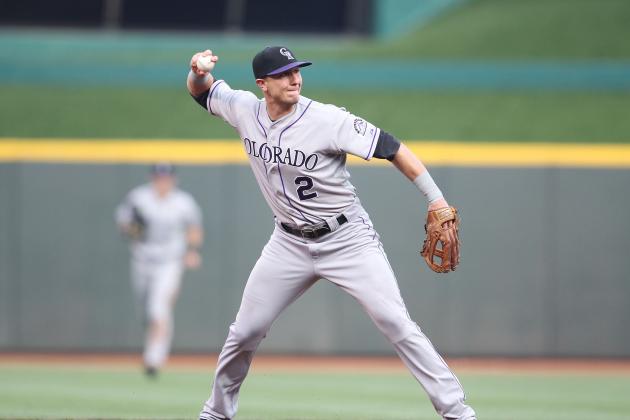 Andy Lyons/Getty Images
Troy Tulowizki is a perennial All Star...when healthy.
When you're a buyer, it doesn't matter how much you love the object of your desire; it always comes down to the price tag.
That is where the discussion will start and end, if and when John Mozeliak gives Indians GM Chris Antonetti a call.
Cabrera is owed $6.5 million in 2013 and $10 million in 2014 which takes him through age 28. That's a chunk of change, especially in these fiscally responsible times.
Neither Mozeliak, nor Walt Jocketty before him, ever had the green light to take on 8-digit contracts easily.
But considering the Cardinals gave creaky 34-year old Rafael Furcal $13 million over two years, Cabrera has to look like an absolute bargain.
Even if the Cards do end up acquiring Cabrera, they will end up spending $13.5 million on the shortstop position next year and just $10 million in 2014 when Furcal's contract is complete.
$23.5 million over two years for All-Star quality production at shortstop is a fair price to pay to solidify the best lineup in the National League.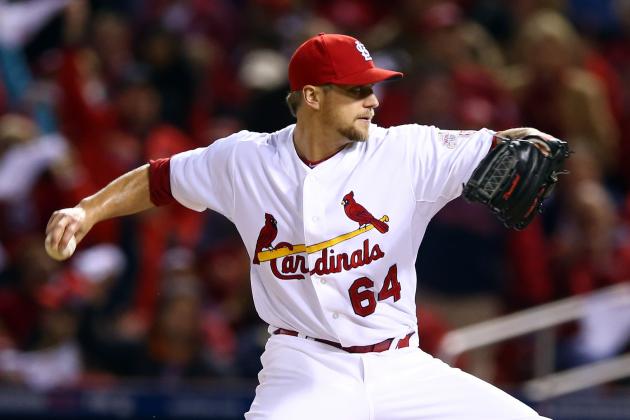 Elsa/Getty Images
Trevor Rosenthal is as hot a commodity as his triple-digit fastball.
Baseball-Reference.com's player similarity list is always a fascinating read.
Let me throw some pitcher names both past and present at you—Wade Miller, Rich Harden, Josh Johnson, Francisco Liriano.
Four starters who were all hot pitching prospects early in their careers. At one time, they could have probably fetched a very nice MLB-level return. Two of them have actually been All-Stars.
Out of 33 seasons represented by these four talented individuals' careers, collectively, can you guess the number of 200-inning seasons they had?
Just two.
Not just two of the four pitchers. Two out of 33 seasons represented by pitchers who were all considered elite prospects at one time.
Miller threw 212 innings in 2001 and Johnson threw 209 IP in 2009.
The Cardinals lost starters Jaime Garcia and Chris Carpenter for large portions of the 2012 season. Where would they have been without their young guns who were ready for ML duty?
Lance Lynn and Joe Kelly did yeoman's work for much of the season. If they had faltered, the club had Shelby Miller and Trevor Rosenthal waiting in the wings.
If a trade for Cabrera requires two or more of the above-mentioned Cards' pitching prospects, that may be too much too pay.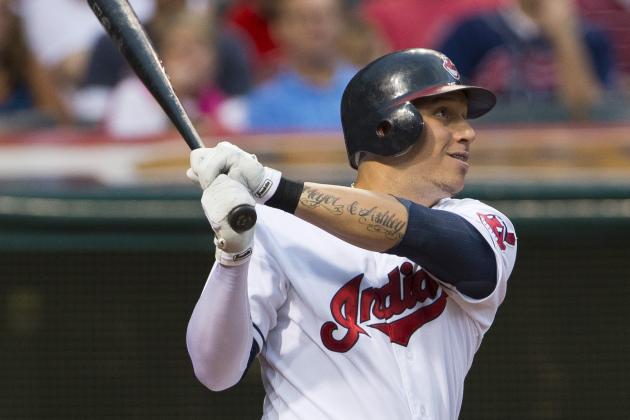 Jason Miller/Getty Images
Cabrera's switch-hitting would help balance the Cards' lineup.
I don't know who first said a baseball player's peak begins at age 30, but I would bet you one of Yadi Molina's gold gloves it was an agent.
Back in February, sports writer extraordinaire Joe Posnanski charted over 1,000 seasons in baseball history that produced a 6.0 WAR rating or better, which is easily an All-Star season and in some cases, an MVP season.
He charted those seasons by age, and the curve clearly shows that players' peak years are between ages 25 and 29, with ages 26-28 being the best.
If the Cards acquire Asdrubal Cabrera, they will be getting two of these prime years and can make him a qualifying free agent offer when he's 28 without fear of imminent decline should he choose to accept.
Cabrera's 2011 season was excellent. It came close to Troy Tulowitzki's best, producing a .273 average with 25 HR and 92 RBI. Even in a down year in 2012, he still produced a 3.0 WAR rating and even increased his on-base percentage a few points.
Best of all, the Cardinals will get an All-Star talent without the seemingly "mandatory" seven- or nine-year contract attached to it.
One of the reasons Mozeliak didn't give Albert Pujols a 10-year contract was precisely so he could acquire a two-year deal like Cabrera's and not give it a second thought.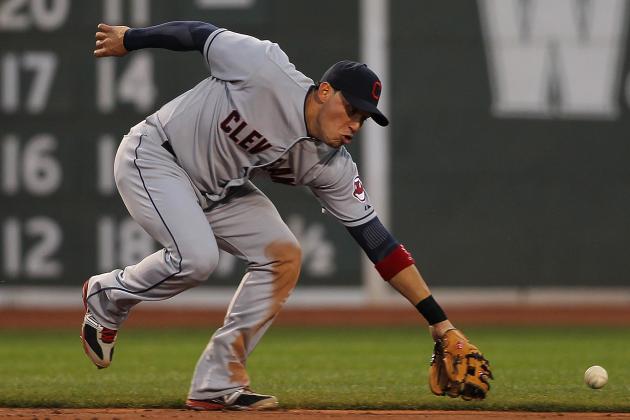 Jim Rogash/Getty Images
Cabrera may have to move to third base in the future.
Cardinal fans know all too well that Brendan Ryan remains one of the best defensive shortstops in baseball. The 2012 season was no exception.
He led the majors in UZR (14.7) finishing just ahead of another glove-magician, Clint Barmes, who had a 14.4 rating according to Fangraphs.
Two other trade targets also appear near the top of the rankings: J.J. Hardy (11.4) was third and Elvis Andrus was fifth (8.8).
Where do Cardinal fans find both Rafael Furcal and Asdrubal Cabrera?
Why, near the bottom, of course. It seems every silver cloud must have a grey lining.
Furcal made some terrific plays early in 2012 while his health was cooperating. But he still struggled, at times booting the ball and even failing to make the average play as the season wore on.
And Furcal's -8.6 UZR was slightly better than Cabrera's (-9.0) last year.
With a changing of the guard in the Cardinals' front office, the team seems more open to trading offense for defense at shortstop. Khalil Greene and Ryan Theriot are good examples.
But their pitchers will tell you off the record that the poor middle defense has been a huge burden on the pitching staff the past two years. Cabrera, though young, may not remedy that.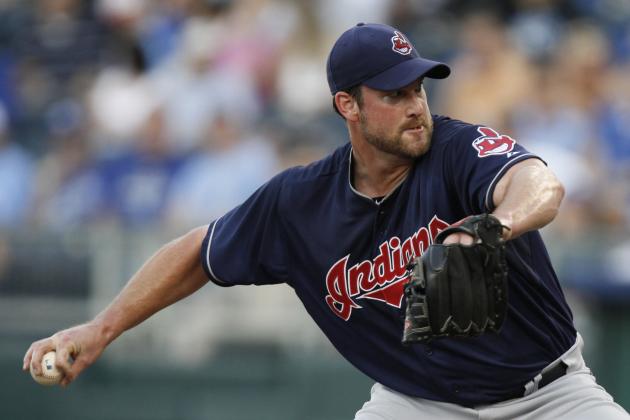 Ed Zurga/Getty Images
Derek Lowe won't lead the Indians' rotation in anything in '13.
Guess which team in the majors finished with the third-worst ERA from their starters at 5.25?
If you guessed, "Not the Cardinals" you win a prize. If you guessed the Cleveland Indians, I have a Bob Uecker bobble-head with your name on it.
While the Cards have a hole at short and cannot trust Pete Kozma to continue his Ernie Banks impression, they are in the catbird seat in filing this need.
Cleveland has a surplus of players at short including veteran Mike Aviles who is just now in his first year of arbitration eligibility and will make far less than Cabrera. To the ever cost-conscious Indians, that is a huge factor.
Aviles is no doubt a decent placeholder for Francisco Lindor, who could be ready in a year or two. He already has a good handle on the strike zone with a .352 OBP in his first full pro season, and will likely add 20-homer power to his game as his 175-pound frame fills out.
The Cardinals' pitching prospects are light years ahead of the last batch of hurlers the Indians picked up from St. Louis, which even includes their current All-Star closer Chris Perez.
In this dance, the Cardinals clearly have the trophy. They need not give up the farm to help the Indians out.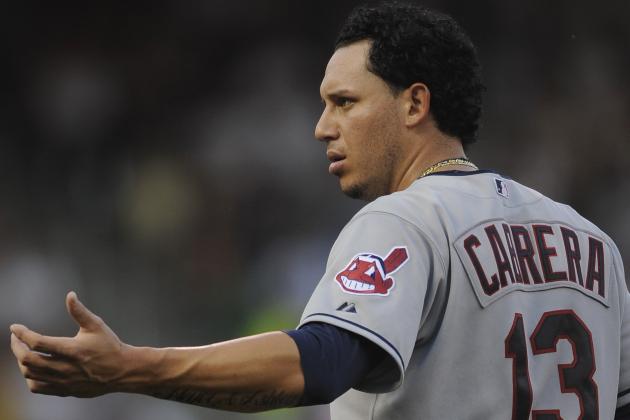 Hannah Foslien/Getty Images
Cabrera has a history of fading in the second half.
One last red flag Cabrera bears is the fact that his bat has fallen off greatly in the second half of the baseball season, both this year and last.
If it's any consolation, his defense has always been poor and has actually improved slightly each of the last three years.
If the Cards are getting Asdrubal for his bat, they don't need another Carlos Beltran situation: a good first half, leading to a meaningless All-Star selection, and then a second half where he dresses up as the Invisible Man—just in time for Halloween, no less.
This year he generated a .286/.364/.467/.832 slash line in the first half followed by a .251/.305/.371/.676 second half. The batting average you can live with, but the drop in walks and power is extreme.
Similarly in 2011, he produced a terrific .293/.347/.489/.836 first-half, but disappointed down the stretch (.244/.310/.419/.729).
The Cards may have already made up their mind about taking the plunge with Cabrera, but they should probably monitor his trips to the donut shop.