New York Rangers: 4 Reasons Rick Nash Could Regret His Time in Europe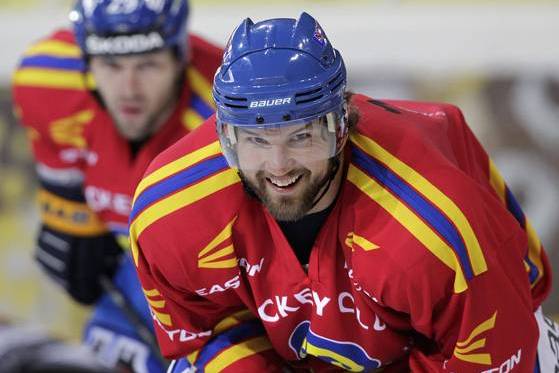 Photo: Arno Balzarini, AP
Rick Nash decided early on that he would be spending his lockout overseas. As early as September 17 it was being reported that Nash and his buddy Joe Thornton would be making their return to the Swiss giants HC Davos.
For most players, playing overseas is the best option. After all, players need to make a living, and furthermore, the prospect of not seeing any competitive game action for an entire year can shift a player's progress into reverse.
But that doesn't mean everything about heading overseas will be ideal for a player. Especially when it comes to a player who recently joined a new team; like Nash.
Given the current circumstances, I'm sure Coach Tortorella believes Nash heading to Davos is making the best of a bad situation. But there are a number of things that could make this bad situation even worse.
I'm here to tell you why Nash to Davos could be a bad thing, especially if there is a shortened season.
Begin Slideshow

»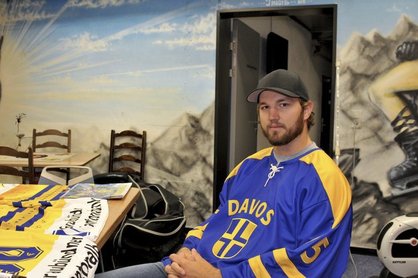 Photo: Kristian Kapp
This one's obvious.
It's the fear of every NHL club that has players currently overseas. What's even more worrying is that if a player like Nash is injured during the lockout, he cannot receive treatment from his NHL club. Injury is a massive risk in these circumstances.
Nash already had a scare almost immediately following his joining of Davos. Luckily his shoulder was fine and he only missed a couple of days. But hockey creates a ridiculously unpredictable environment.
With the game being played at such a high tempo in such a confined space, coupled with the size and strength of the modern day player, there is literally little or no control over whether a player gets injured in a game or not. And while the owners try and nickel and dime the players for anything they can get, the chances of Nash, and any other player for that matter, getting injured wearing another team's jersey remains uncomfortably high.
Could you imagine the uproar if Nash were to get seriously injured with Davos and then the lockout ended? In a shortened season, that would be a catastrophe for the Rangers. It's good for Nash to get that valuable game action, but as long as he's there there's going to be that massive injury cloud lurking above his head.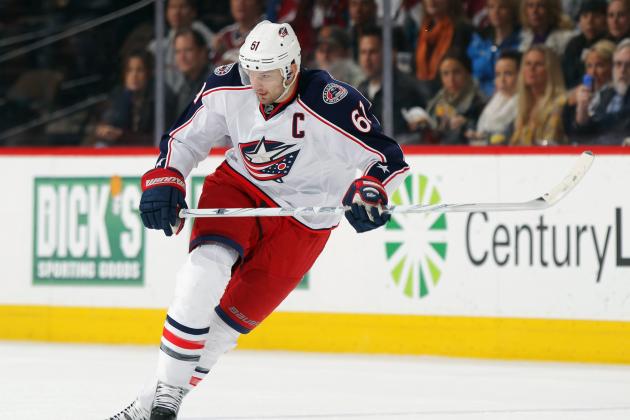 Doug Pensinger/Getty Images

It's well known among hockey fans in North America that European hockey leagues use a larger ice surface.
The size increase is seen in the width; where the NHL requires their rink be 85' wide, the International Ice Hockey Federation (IIHF) has a 100' mandate. The length requirement is 200' for both governing bodies.
What does this have to do with Rick Nash? Well, we all know he's immensely skilled, and when given the opportunity to burn past a player, he certainly will take it. The wider surface will present him with that opportunity much more so than if he was playing on the more narrow NHL surface. For Nash, and many other offensively skilled players, this could present some problems when readjusting to the NHL game.
Readjustment can take some time. Going from an wider hockey rink to an NHL rink, the first thing you notice is that the wide lanes are gone. And that's exactly what Nash will see when he returns from Switzerland.
Nash is an elite talent; chances are he won't seriously struggle because of this. But if there is a half season this year, and players see roughly a week or two between their time in Europe and their return to the NHL, the readjustment period for Nash could be both longer and more well documented.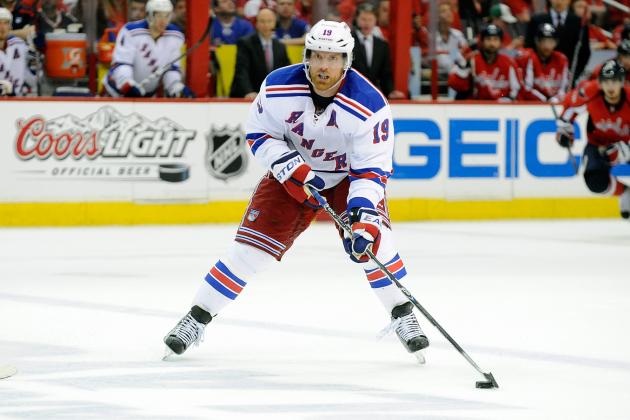 Greg Fiume/Getty Images

All I'm saying here is, if I was Rick Nash, I think I would want to spend some time with my centerman before the season started.
There are plenty of players who've remained home to workout with teammates informally during the lockout. Some of the advantages of doing so include maintaining familiarity with teammates and keeping the team spirit alive, two things that could be beneficial to many players and teams if there is to be a shortened season played.
As it currently stands, if an agreement is reached in the near future to save the season, Nash and Richards would basically be thrown onto the ice in hopes that sparks will fly soon there after. Things like that don't happen often, and in a potential 40-game season, the Rangers can't really afford to wait for two of their top three forwards to cook up some magic.
If Nash didn't just join the team this summer, then going overseas would be a no-brainer. But when so much of the Rangers' season depends on how Nash and Richards gel, I'm not sure he made the right decision to go play in a foreign country, on a larger ice surface and with a different centerman.
Columbus is very different from New York City.
You know what else is very different from New York City? Davos, Switzerland.
For players, moving to a new city can be difficult. Chances are they've only been to their new home a handful of times before with a previous club, and aside from their teammates, they don't know anybody in town.
For Rick Nash, going from a small U.S. city, to an even smaller European city, to the largest city in the U.S. is going to take some time, to say the least.
If the lockout cancels the entire season, well then this won't be a problem. He'll have all of next summer to adapt to his new home. But, again, if a shortened season is in the cards, adapting to New York City is yet another thing Nash is going to have to do on the fly.
It's a funny thing because fans see hockey players on the ice, and typically, nowhere else. Sometimes it's easy to forget that these are real live people who have families and personal lives they need to tend to. When a player enters a slump, the uproar from fans immediately follows, but we rarely think about the player's personal life and what may be affecting them off the ice.
So in many cases, it's important for a player to get settled and comfortable so they have a clear head when heading onto the ice.
To be fair, Nash has probably already spent some time in New York. But will he be able to fully adapt on short notice so that he feels comfortable with his new surroundings if this wretched lockout is to end in the near future?