Manchester United: Power Ranking United's Top Comeback Victories This Season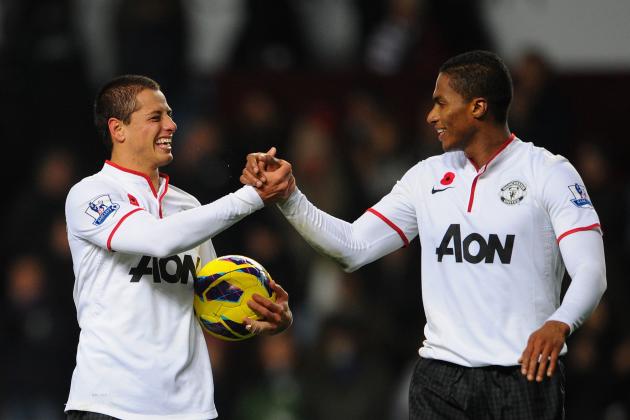 Michael Regan/Getty Images

Manchester United have come from behind to win eight matches this season—their most recent of which being a 3-2 victory against Aston Villa on the weekend.
The Red Devils have only played 15 matches this year—meaning that more than half have seen the Manchester club come from a losing position to record victory.
They've done in both the Premier League and Champions League alike, and whilst they haven't always been the most confidence-inspiring or calming performances, they have been truly remarkable comebacks and victories as a result.
What have been the most memorable and important come-from-behind wins of United's season so far? Read on and find out.
Begin Slideshow

»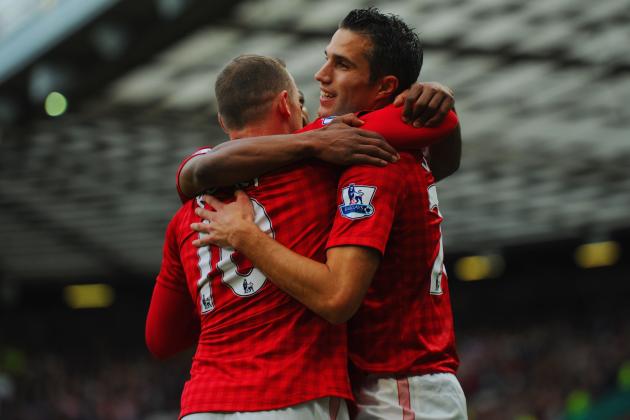 Michael Regan/Getty Images

Date: 20th October, 2012
Venue: Home
Fixture: Premier League
Final score: 4-2
We kick off our list with United's 4-2 victory over Stoke City earlier in the season which saw the Potters take an unlikely 1-0 lead courtesy of Wayne Rooney's own goal in the 11th minute.
However, the England international would make up for his error with a goal and an assist to bring United back into command of the match, with Rooney, Robin van Persie and Danny Welbeck running riot over the Potters' defense in the second half.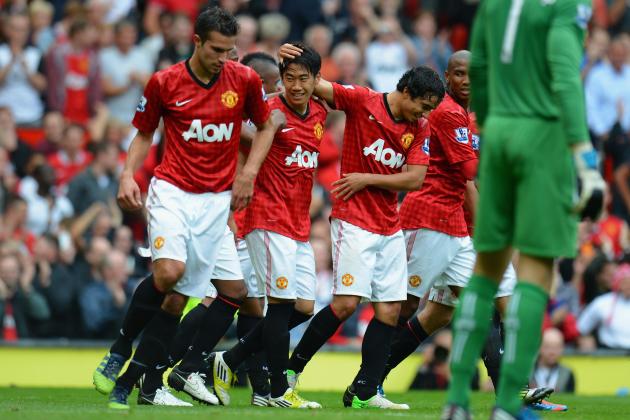 Shaun Botterill/Getty Images

Date: 25th August, 2012
Venue: Home
Fixture: Premier League
Final score: 3-2
The match itself will most likely be remembered for Robin van Persie's first ever goal for Manchester United, but the Red Devils did have to come from behind to beat Fulham after an early Damien Duff goal had given the away side the lead after just three minutes of play.
Van Persie's volley just minutes later would level the score before goals to Shinji Kagawa and Rafael da Silva would ensure the Red Devils finished with three points, and their first win the 2012/13 English Premier League season.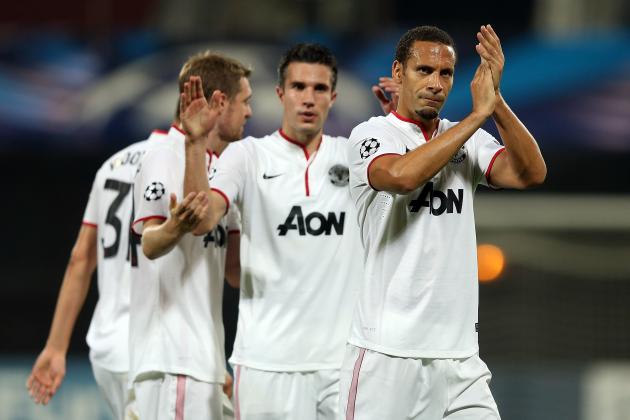 Julian Finney/Getty Images

Date: 2nd October, 2012
Venue: Away
Fixture: Champions League
Final score: 2-1
Playing their first away fixture of the 2012/13 UEFA Champions League campaign, United got off to the worst possible start when Pantelis Kapetanos gave the home side a 1-0 lead after just 14 minutes of play—sparking fears about a possible repeat of last year's humiliating group stage elimination.
However, the Red Devils would storm back to the lead thanks to a brace from Robin van Persie—both of which were fantastic finishes after dazzling work from Wayne Rooney.
United would win back-to-back Champions League matches to find themselves clear on top of the group and in with a good chance of qualifying for the knockout stages.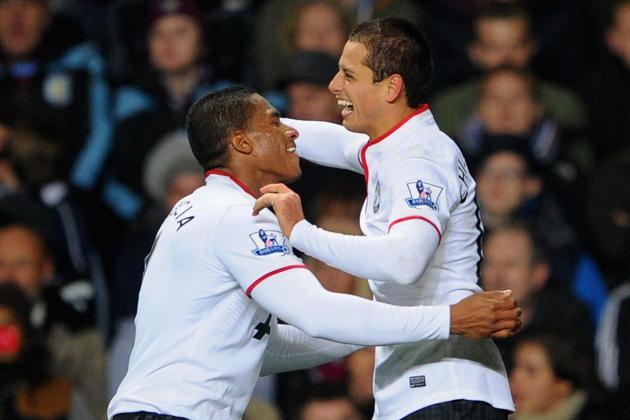 Michael Regan/Getty Images

Date: 10th November, 2012
Venue: Away
Fixture: Premier League
Final score: 3-2
Coming on as a substitute at half time, Manchester United striker Javier Hernandez was the star of United's recent comeback victory against Aston Villa—netting two (or three) goals to give the away side all three points and continue their lead on top of the league table.
Earlier goals from Andreas Weimann had given the Villans an improbable two-goal lead, but after striking in the 58 minute, Hernandez drew United level with a shot that was eventually credited as an own-goal to Aston Villa defender Ron Vlaar.
The Mexican international would then net the game-winner with just three minutes remaining of regular time—sparking wild scenes of celebration right across Manchester.
The Red Devils had won five in a row in the English Premier League and continued their reign on top of the table because of it.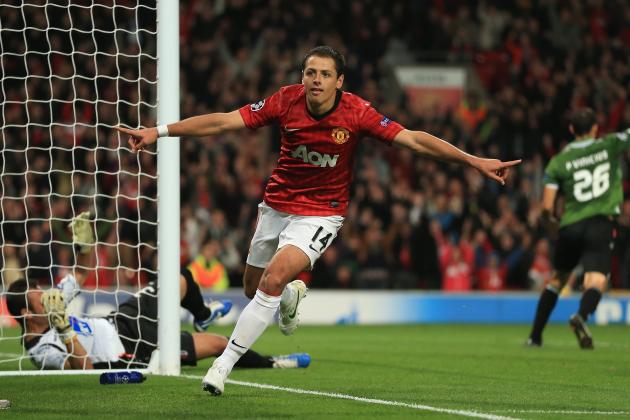 Richard Heathcote/Getty Images

Date: 23rd October, 2012
Venue: Home
Fixture: Champions League
Final score: 3-2
It would be that man again, Javier Hernandez, who would be the savior for Manchester United after an early brace for Alan had put Sporting Braga up 2-0 after just 20 minutes.
The away side were dominating United in all aspects of the game, but Hernandez's goal in the 25th minute seemed to give the home side confidence that they could come from behind to record victory once more in the Champions League.
Defender Jonny Evans netted a 62nd minute equalizer before Hernandez found the game winner in the 75th minute—proving his worth to United's squad once more.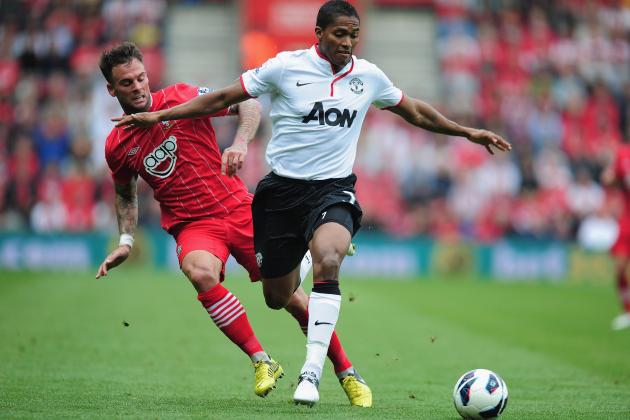 Jamie McDonald/Getty Images

Date: 2nd September, 2012
Venue: Away
Fixture: Premier League
Final core: 3-2
Out of all of United's comeback victories, their 3-2 win against Southampton in the Premier League ranks near to the top in terms of how late they left it to score their goals.
Saints striker Rickie Lambert put the home side in front after 16 minutes, though Robin van Persie would level the scores minutes later. Southampton would then pull in front in the second half and looked likely to record a famous victory in the Premier League—leading 2-1 at home with just five minutes to go.
Enter Van Persie once more.
The Dutch international scored in both the 87th and 90th minute to record his first hat-trick for his new club and a famous victory for his side—leaving it until the waning moments of the game to pull off a very unlikely win given the scoreline just five minutes earlier.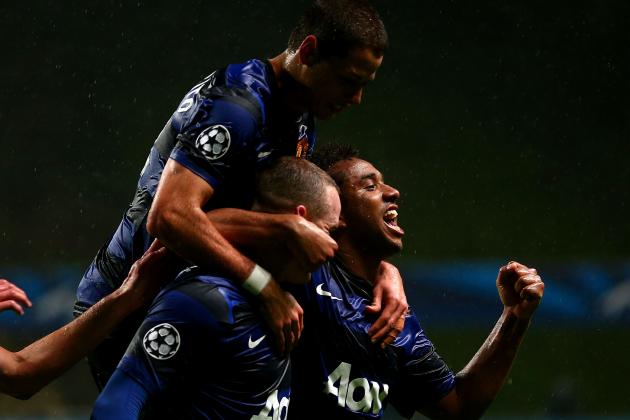 Clive Rose/Getty Images

Date: 7th November, 2012
Venue: Away
Fixture: Champions League
Final score: 3-1
United would also pull off a "leaving it very late to find the winner" result against Sporting Braga in their most recent Champions League match, with the home side holding a 1-0 lead up until the 80th minute, where Robin van Persie's goal cancelled out Alan's earlier penalty.
Wayne Rooney would then step up to the penalty spot just four minutes later and, having missed a penalty just days earlier, hammered home the Red Devils' second goal in the pouring rain.
Javier Hernandez would add a third goal in stoppage time to give United a memorable win, but most importantly (which is why it ranks to so high), send the Manchester club through to the knockout stages of the UEFA Champions League.
The heartbreak of last year would not be happening once again.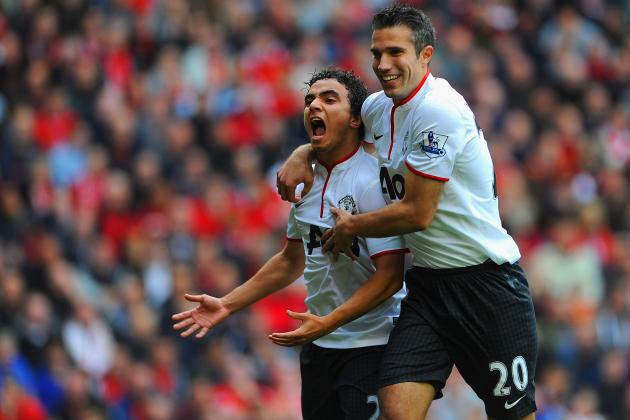 Michael Regan/Getty Images

Date: 23rd September, 2012
Venue: Away
Fixture: Premier League
Final score: 2-1
United's greatest come-form-behind victory this season has to be their 2-1 victory over Liverpool at Anfield in the Premier League.
Not only do you have to consider the rivalry and hatred between these two clubs, we also had the Hillsborough tragedy fresh for Liverpool fans and the Patrice Evra-Luis Suarez incident to think about, also. Simply put, Liverpool had a lot to play for.
Jonjo Shelvey was sent off in the first half for a tackle on Jonny Evans—which only made the Merseyside club more determined—and they would eventually take the lead through Steven Gerrard just after half time.
But the Red Devils would not lie down and a phenomenal goal from defender Rafael Da Silva on his wrong foot leveled the scores midway through the second half.
United were then awarded—albeit controversially—a penalty for a foul on Antonio Valencia with just ten minutes to go. The tension was there, the pressure was there, and Robin van Persie drove the ball home to record an emphatic victory for United.
There are few things better than beating Liverpool in the eyes of Manchester United. Coming from behind to do it? Well that just makes it all the more sweeter.
What has been United's best comeback victory this year?
Comment below or hit me up on Twitter: Follow @dantalintyre