Liverpool Transfers: Why Klaas-Jan Huntelaar Would Be Good Fit for the Reds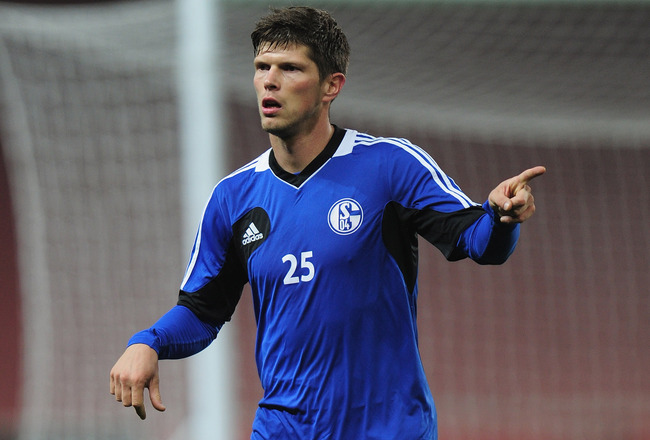 Shaun Botterill/Getty Images
One of Europe's most admired goalscorers is reported to be available for transfer this January window. Klaas Jan Huntelaar is on the watch-list of several teams—including Liverpool, who clearly need an addition or two in the final third.
Both the Mirror and ESPN have reported that the Reds have more than just a passing interest in the Dutch striker, who is said to be available for anywhere between £6 million and £10 million.
Liverpool certainly do need someone to add to their goals tally and fit in with Brendan Rodgers' preferences of playing—but is Huntelaar the man they need?
As Liverpool's scouting team are no doubt doing with dozens of other players, let's examine what makes the Schalke forward the right fit for Liverpool, and in what ways he might be less of an attractive proposition.
Goals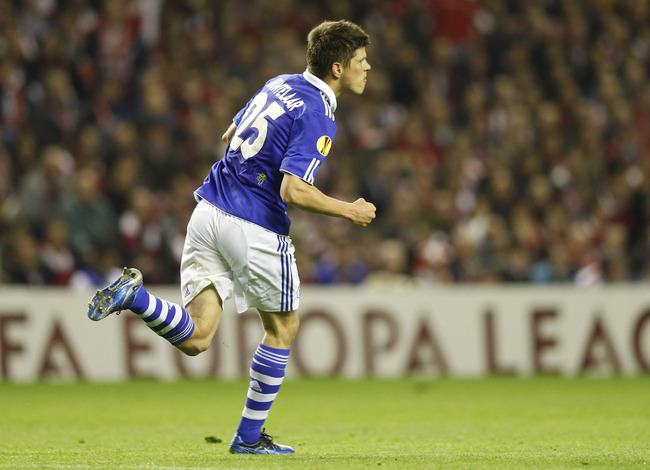 Angel Martinez/Getty Images
Let's start with maybe the most important aspect of any final third player that Liverpool look to bring in.
Luis Suarez is scoring goals for the Reds, but not many other players are. Certainly not on a regular basis, anyway.
Klaas-Jan Huntelaar knows where the goal is; that much is self-evident. He has long been regarded as a reliable source of goals for whichever team he plays for. Despite not having quite proven himself a first-team starter over an extended period at the biggest teams he has joined—AC Milan and Real Madrid—he nonetheless finds the net with impressive regularity.
Huntelaar has totalled very close to 200 league goals in less than 300 league matches. Twenty-nine of them came last season as he hit more than a goal per game over all competitions for Schalke.
This season he has not yet been so prolific in the Bundesliga, scoring three times in 11 games, but his overall record of eight goals in 16 matches can hardly be considered out of form either.
Movement Around the Penalty Box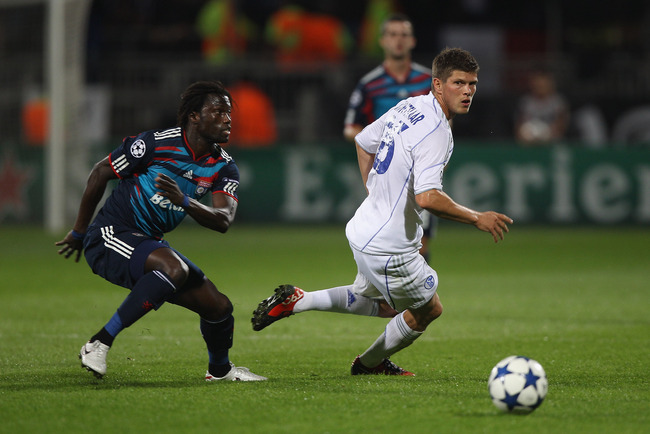 Michael Steele/Getty Images
Statistically intangible—unless someone's counting offside decisions—but very much evident when a player has it: movement in and around the 18-yard box is one of the most important areas for a team to excel if they have hopes of creating quality goalscoring chances.
Huntelaar is a natural at this part of his game; his instinctive manner of finding space in a packed defence or just drifting off the shoulder of the defender makes him a nightmare to mark.
He isn't blessed with blistering pace, but finding that extra half a yard to be able to get the shot away from close range has served Huntelaar rather well over the past decade or so.
Other players might bring more tricks, flair or acceleration to Liverpool's attack. Huntelaar simply knows where the goal is, and how to put himself in a position to make the most of chances which fall his way.
History with Luis Suarez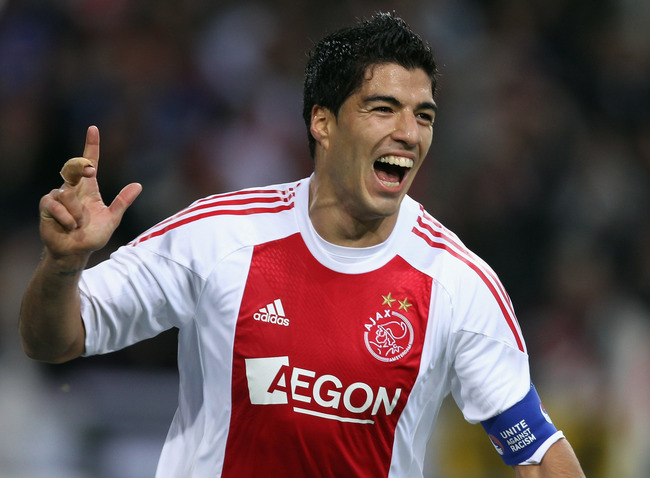 Bryn Lennon/Getty Images
An interesting side-note rather than anything significant to the decision, but Luis Suarez and Klaas-Jan did indeed feature in the same Ajax side together for a spell before the Dutchman left.
The pair worked well together initially, though both have grown considerably as individuals in their styles and ability of play since then.
Nothing is certain in football, least of all rejuvenating an old striking partnership. Nothing is to say that they would even be playing in the same formation, let alone the team approach, that brought success first time around.
But having players who know that they can play together is a good start for a forward pair, and something which might make settling into the club easier for the potential new arrival.
Relative Reduced Cost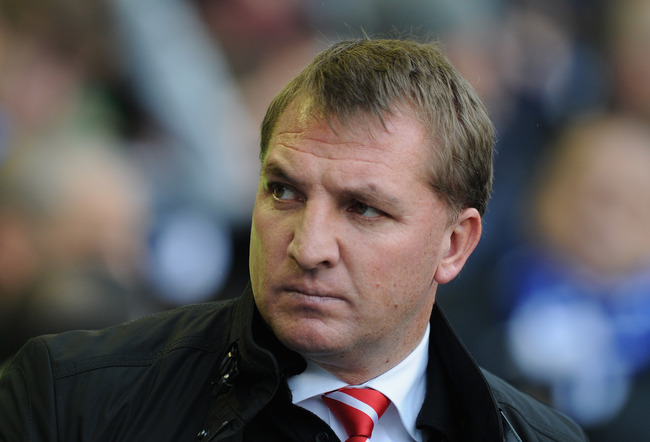 Chris Brunskill/Getty Images
Klaas-Jan Huntelaar has so far made transfers during his career totalling almost £60 million, the latest of which was two-and-a-half years ago for a little more than £12 million, moving from AC Milan to Schalke.
His transfer market value is stated at £17.5 million.
Huntelaar's actual price, should he move in January, might be around half that amount. His contract with the German club will have only six months left to run, at which point he would be free to leave on a Bosman transfer, with Schalke receiving no incoming fee.
£8 million or so is hardly a drop in the ocean to the majority of us. Even for Premier League football sides, it is not a valuation to be sniffed at. But given his previous transfer history and the expected cost these days of a striker capable of scoring 20 goals, it is a comparatively attractive price tag.
Immediate Availability and Position of Strength for Buying Club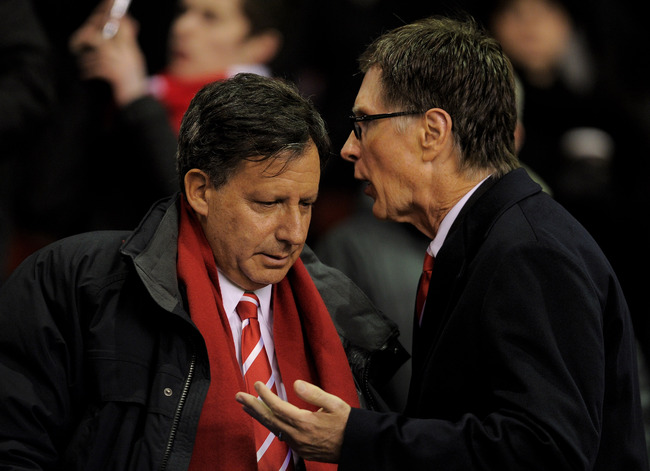 Michael Regan/Getty Images
Related to the transfer's cost is the position of power that the buying club, in this case Liverpool, would be in.
Fees can be inflated in the January transfer window as clubs are loath to lose their better players without the possibility of bringing in replacements. The short length of the window can also contribute to making clubs panic and overpay to bring in names and numbers.
In this case though, if Schalke do not close a deal to bring in some money for Huntelaar during January, they face the very real risk of losing a £15- or £20-million striker for free in the summer.
Of course, the same notion puts the striker himself in a position of power over the signing club when it comes to negotiating the contract terms—he could feasibly ask for higher weekly earnings in the summer if a team is saving the £8 million or so that Liverpool would have to pay Schalke.
Disadvantages?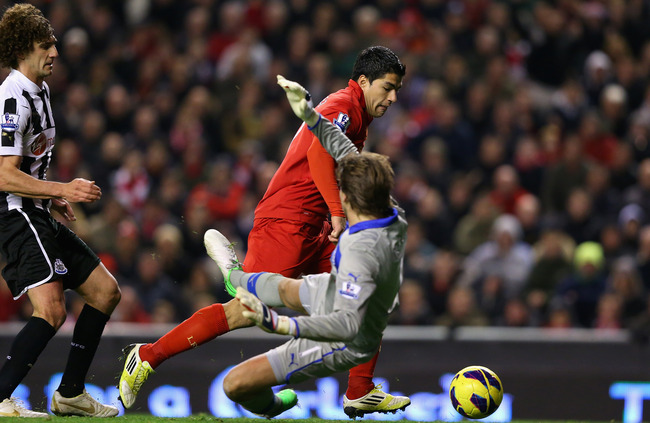 Alex Livesey/Getty Images
Is it all rosy then? Clear-cut, obvious, a no-brainer?
Of course not. Transfers rarely are.
There are obvious downsides to any deal with any player, and Huntelaar is no different. For starters, he has never played in England. While this is not necessarily significant given his experience in other countries, Liverpool really need someone to come in and hit the ground running.
Huntelaar is also an out-and-out striker, not a second forward or someone comfortable playing from the wing.
If he joins, he joins to play as the club's No. 9, the go-to man for goals and chances.
At present that role falls to Luis Suarez, and he has done really rather well at it, notching eight league goals already this season. Would Suarez's own excellent form continue if he was forced to switch roles?
Finally, the Dutch striker is 29 years old. While far from a veteran, he is an experienced player who would be far and away the oldest player to join the club since Brendan Rodgers took over.
It has not yet become clear whether the Reds will consider bringing in players close to the age of 30, as evidenced by the non-signing of Clint Dempsey in the summer.
Nothing is decided yet—that much seems certain—with regards to Liverpool's winter transfer dealings. Like any other one, the possibility of bringing Klaas-Jan Huntelaar to the club has plenty of positives, but also potential hazards.
The Reds generally have a good record in January transfers over the past half-dozen years. The likes of Suarez, Daniel Agger, Martin Skrtel, Alvaro Arbeloa and Javier Mascherano have all joined in the winter.
It's up to Brendan Rodgers and his team of scouts now, to make the right decisions in order to continue that trend and to improve the team and squad significantly for this season's challenge in the Premier League.
Keep Reading

Liverpool: Like this team?