7 Improvements the Seattle Seahawks Must Make During Bye Week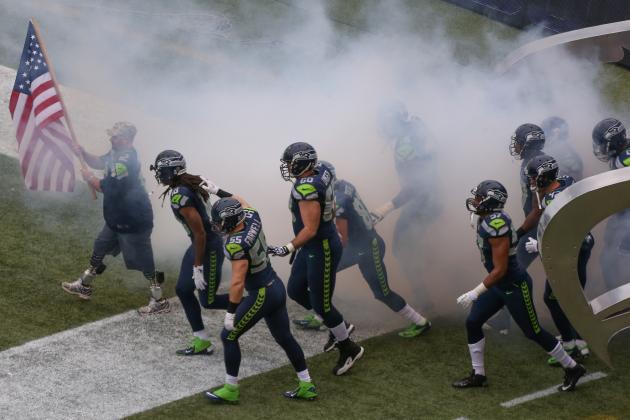 Otto Greule Jr/Getty Images
The Seahawks need to emerge from their bye week with a few improvements.
The Seattle Seahawks get their bye week late in the 2012 season. While an extra week isn't enough time to make major changes, Pete Carroll and his staff will be able to work with their players in several key areas.
The Seahawks (6-4) are primed to make a playoff run. The toughest part of their schedule is over; four of their last six opponents have losing records.
Seattle hasn't had their bye after Week 8 since 2000. They've routinely had their down time in Week 4 or 5. That is often a great time for a young team to have a break, as adjustments can be made with most of their season remaining.
While Seattle is one of the youngest teams in the NFL, their bye is hitting at a perfect time. They have worked through most of their issues and the team will benefit from the rest.
But Carroll and his staff need to give some focus to the following seven areas.
Begin Slideshow

»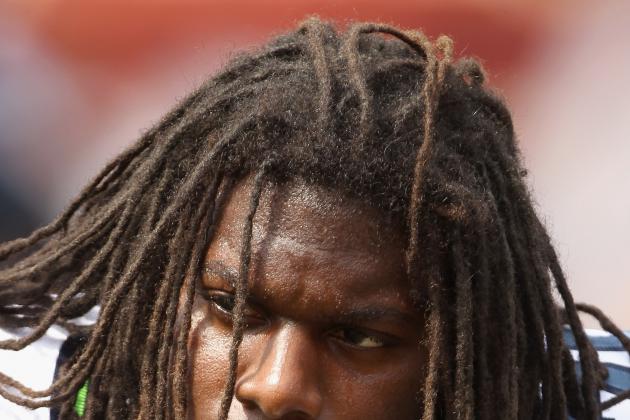 Ezra Shaw/Getty Images
James Carpenter has missed the last two weeks with a concussion.
The biggest advantage to having a bye week late in the season is that it allows players to heal up before the season's stretch run.
Seattle is light-years ahead of where the team has been in recent seasons relative to injuries.
At this point in 2011, every offensive lineman had missed at least one start. James Carpenter and John Moffitt were on injured reserve and players like Sidney Rice and Mike Williams were struggling through injury issues before joining the aforementioned players on IR.
The 2012 roster has been healthy for the most part. Moffitt has missed more starts than he's made and Carpenter and K.J. Wright are currently out with concussions.
These injuries fall well short of where the team has been.
Seattle is playing well with the few reserves they have in the lineup, but they will be even better if their missing players can take the field at full-strength.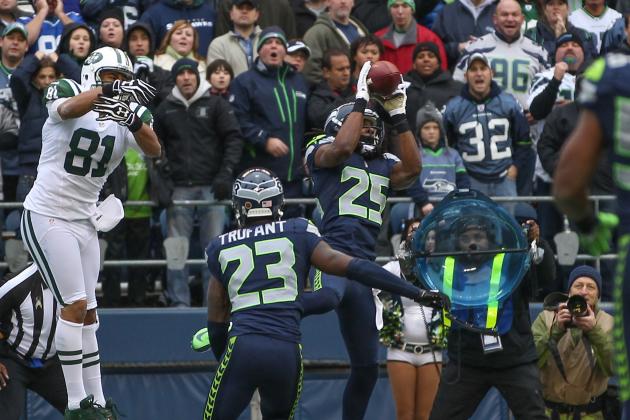 Otto Greule Jr/Getty Images
Richard Sherman took the interception lead (4) over Brandon Browner with this pick on Sunday.
This point was a lot sharper prior to Sunday's game than it is now, but Seattle hasn't been forcing turnovers at the same clip in 2012. They are currently on pace for 14 interceptions, compared to 22 last season.
The team was on pace to match last season's nine fumble recoveries, but collecting two on Sunday helps that cause.
Brandon Browner had a pair of interceptions returned for touchdowns last year, good for half of the team's output. But Seattle has yet to register a defensive score this season.
Seattle already puts a lot of focus on getting the ball during practice. They need to give turnovers a little extra attention this week to see if they can get their defense competing with the offense for points scored.
After all, the offense and special teams have given up more points than the defense in three different games this season.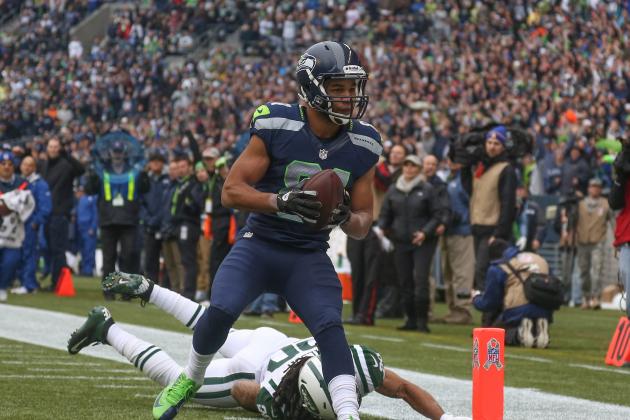 Otto Greule Jr/Getty Images

For the most part, the Seahawk receivers have been very good at catching the ball. They've had few dropped passes this season.
But the drops have been costly. The game in Arizona turned on the receivers not being able to catch one of four different passes in the end zone.
Seattle also let a game slip away in San Francisco in part because they couldn't hold onto the ball.
Shoring up this area of the offense will make the team quite competitive down the stretch.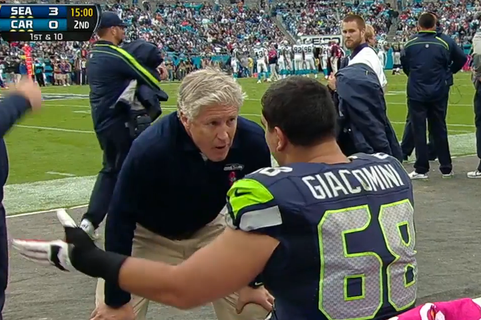 Still image courtesy of video on NFL.com.
Seattle has been much better in recent weeks relative to flags, but there is still room for improvement.
The Seahawks had seven penalties for 45 yards against the New York Jets and four for 49 yards the prior week. Their Week 8 road loss saw just two accepted penalties for 10 yards, showing what the team is capable of accomplishing.
Penalties for hard, aggressive play will often be overlooked, but false starts at home and some of the dead ball fouls the team had earlier in the season simply can't happen.
The coaching staff needs to keep this issue as a priority to avoid a relapse.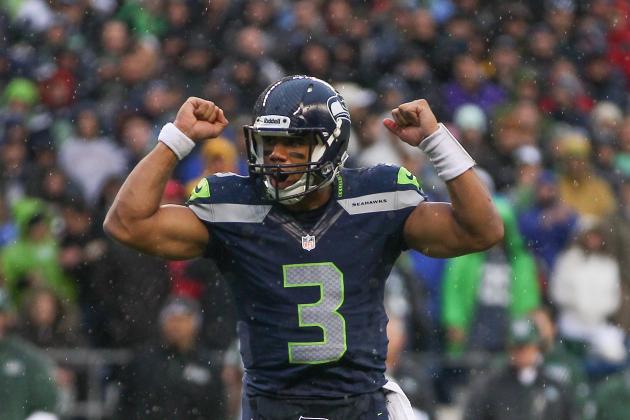 Otto Greule Jr/Getty Images

Wilson doesn't appear to have the same flexibility as many other quarterbacks relative to changing plays at the line of scrimmage. Audibles have been few and far between this season.
It is time to give him a bit more control.
There is little doubt that Wilson is steadily getting better control of the offense and making quicker decisions. To reach the offense's potential, Wilson needs to be freed up to make changes at the line.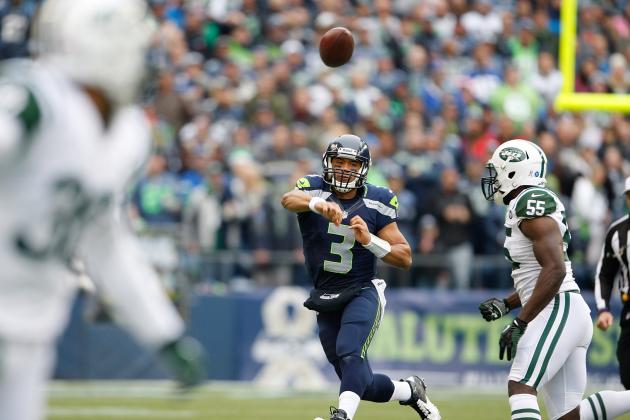 Kevin Casey/Getty Images

Wilson has been progressing every week and the offense is becoming more productive. But the ground game is still a bigger percentage of the offense than it needs to be.
In the early games there weren't many instances of Wilson throwing the ball deep. He also struggled to find open receivers.
There has been significant improvement in these areas. Wilson clearly is getting a better grasp of the offense.
Seattle needs to spend time adding to the offensive arsenal over the next two weeks. The team will have more games where Wilson needs to lead a last-minute scoring drive to win.
Having full use of the playbook will make it easier for the Seahawks to excel.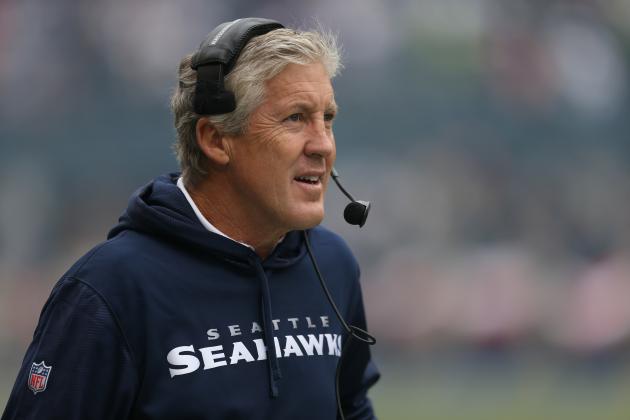 Otto Greule Jr/Getty Images

Seattle has been two very different teams at the Clink vs. in hostile territory.
There isn't a lot the Seahawks can do to fix the issue in Week 11, but there are a few steps they can take.
Coming out of the bye, Seattle takes on the Miami Dolphins and Chicago Bears on the road. They aren't likely to spend the entire week away from Seattle, as Thanksgiving falls between the games, but the flexibility of the extra week does allow them to travel to Miami a few days early.
A win against the Dolphins should give the team a confidence-boost that would carry over for their game in Chicago.
The Seahawks are in a position where playoff seeding could matter. Winning their next two games would keep them in the mix to win the NFC West.
Darin Pike is a writer for Bleacher Report's Breaking News Team and a Featured Columnist covering the NFL and the Seattle Seahawks.