Kentucky Basketball: What Can We Expect from Jarrod Polson Moving Forward?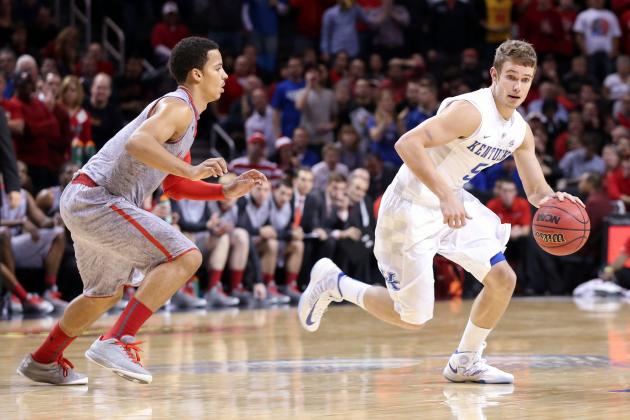 Anthony Gruppuso-US PRESSWIRE

Mark Turgeon had no idea who Jarrod Polson was on Nov. 9. He does now. The former walk-on led the Kentucky Wildcats over the Maryland Terrapins, 72-69. Polson was unheard of outside of Lexington before that game. Will we hear from him again?
With Ryan Harrow out for Kentucky's showdown with the Duke Blue Devils on Nov. 13, that seems like a very real possibility.
Polson won't be called upon to score double figures every night. Don't expect him to make 80 percent of his shots every game, either.
What we can expect from Polson is for him to be a reliable, mistake-free floor general. He did not turn the ball over against Maryland, a very important statistic considering mistakes often go hand-in-hand with youthful teams.
In this article, you'll find quotes from Paul Ables, Nick Nafpliotis and myself regarding Polson, reactions from the Maryland game, Kyle Wiltjer's surprising game and more.
You'll also see our game predictions for the upcoming week (Duke on Nov. 13 and Lafayette on Nov. 16).
Each week, your Kentucky Basketball Featured Columnists will be having a discussion regarding the state of the basketball team. We'll discuss and predict each game in detail, along with any other major storylines for the week.
Begin Slideshow

»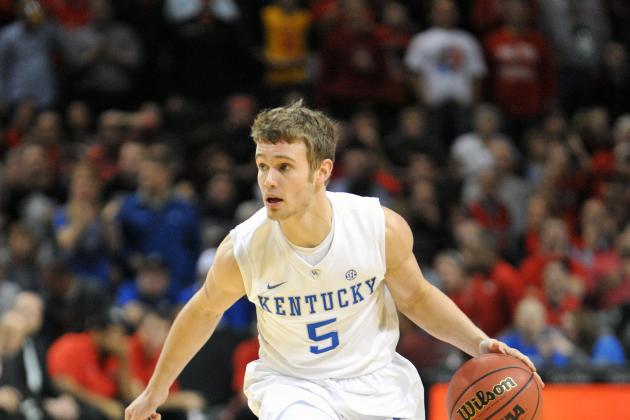 Jason Szenes/Getty Images

Matt Overing
I'd love to see Polson average over 20 minutes per night. He's certainly capable of being a low-risk, low-reward type player for John Calipari, whether he starts in place of Ryan Harrow or if he comes off of the bench.
Depending on how Harrow returns to the rotation after the Duke game will go far in showing just how much Polson will play this season. If Harrow can reach his first round potential, Polson's minutes will be limited. At worst, though, I think he has earned playing time on a nightly basis.
Nick Nafpliotis
Possibly. The kid has a great head on his shoulders and more quickness than he gets credit for, but probably not enough to stay with the top guards in the country. He does, however, gives Kentucky a legitimate eighth man, which is not something that we were expecting going into the season.
It will be especially helpful to have him have the type of game he did against Maryland when the Wildcats face Duke. The Georgia Dome will be a circus-like atmosphere and those freshman are going to need as much of a veteran presence as they can get.
Paul Ables
Short answer? No.
In all honesty, I believe that Polson can solidify a spot in Calipari's rotation, which isn't easy to do. Harrow doesn't appear to be an absolute stud at PG so I think there will be minutes for Polson. He is a smarter, less turnover-prone player with high IQ and a good motor.
He won't score 10 points very often anymore, but I think he will become the team's eighth man, which is pretty incredible to say. Granted, I'm not sure how much of that is because of Polson's talent and how much is because Harrow hasn't locked down the PG position.
Anthony Gruppuso-US PRESSWIRE
Alex Poythress
Matt Overing
Aside from Jarrod Polson's unseen emergence, Kentucky looked surprisingly young. Defense has always been a trademark for John Calipari teams, but this team didn't show it. Maryland received wide-open looks all night, rebounding was porous and effort was hit-or-miss.
It's early, and this team is young, but I doubt these struggles will be fixed overnight. Alex Poythress might worry me the most—he just looks timid. If he's confident, Kentucky is a much scarier team.
Nick Nafpliotis
There are a lot of things that we can learn to live with in regards to the youth on a Calipari team: turnovers, poor free throw shooting, etc. Getting out-hustled on the boards like they did is not one of them.
Kentucky has to do a better job rebounding. With the way Duke runs their offense from the perimeter, they stand to destroy Kentucky on the offensive glass if that doesn't improve.
Paul Ables
I am extremely pleased with the overall performance of the team.
Maryland played extremely well and looks like a contender in the ACC. Their frontcourt really demolished Kentucky, which is a short-term concern. But this Kentucky team will be fine by conference play.
I loved the games that Polson and Wiltjer put in. Wiltjer was my player of the game with 19 points, six rebounds and three blocks, which is how he has to play game in and game out.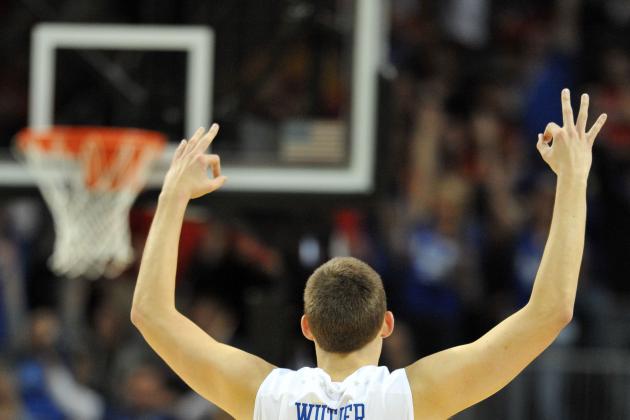 Jason Szenes/Getty Images

Matt Overing
Kyle Wiltjer is already an enigma in my mind. He was talked up in the offseason but looked like the same ol' Wiltjer (slow and skeptical) in the preseason. Then, he comes out and shows his offensive versatility against Maryland and grabbed six rebounds.
He played 24 minutes against Maryland, and I doubt he'll continue to be so productive if he doesn't play more.
Nick Nafpliotis
I think his great performance happened against Maryland because he had to be great. It was exciting to see his potential, but at the end of the day, if Wiltjer is the Wildcats' top scorer every game, Big Blue Nation is in trouble.
Wiltjer is a great all-around player on offense, but I still think that Goodwin is easily Kentucky's best scoring option right now.
Paul Ables
Wiltjer is probably the favorite to lead the team in scoring this year. He has always been able to score buckets, so that isn't my concern with him.
For me, the concern with Wiltjer is if he can continue to stuff the stat sheet the way he did against Maryland. To see consistent minutes, I think Wiltjer needs five-seven boards, two-four assists and a block/steal every game.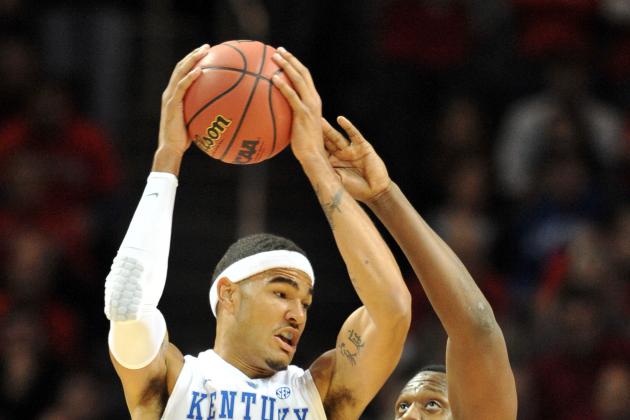 Jason Szenes/Getty Images

Matt Overing
I think it's got to be leadership. Jarrod Polson won't be stepping up on a nightly basis. So who does?
Julius Mays showed the most emotion on the court against Maryland, and simply based on experience, he's the leader.
I'll be looking to Alex Poythress to step up. He may be young and he may not have the personality to lead, but he needs to play better, mainly by fouling less. He's a matchup nightmare, but to create mismatches, he needs to stay on the court.
Nick Nafpliotis
Communication. Right now the team isn't talking to each other on either end of the floor.
On offense, that comes down to the point guard position. Harrow has to be more vocal to get the offense to run the way that it needs to.
Defensively, communication is the key to fighting through and defending screens, bringing help, etc. This is a typically problem with a young team, but it's still a concern, especially early on in the season.
Paul Ables
The point guard spot is a big worry for Kentucky. Ryan Harrow has yet to really lock down the starting point guard role and is unproven as a whole.
No one knows how good he will be, and until he shows us that he can be a consistent floor general, the point guard spot will be weak. Also, Jarrod Polson is fine as a backup but will be exposed against better competition. For once in John Calipari's tenure, point guard is a big worry for Kentucky.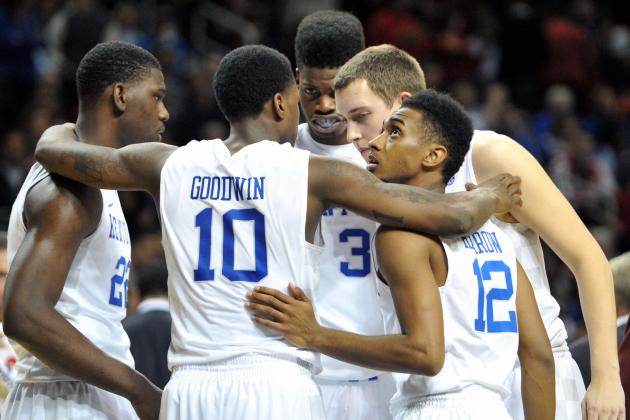 Jason Szenes/Getty Images

Matt Overing
Duke is nearly everything that Kentucky isn't this year. They know their roles. They are deep in the backcourt. They are experienced.
For those reasons, I think Duke will find a way to win. They only went eight players deep against Georgia State, meaning depth may not be a Blue Devil advantage. If Duke can't shoot in the Georgia Dome (something that is a very real possibility), Kentucky wins.
I have Duke over Kentucky 76-66.
Kentucky will roll Lafayette, 81-60.
Nick Nafpliotis
As much as it pains me to say it, I think Kentucky loses to Duke by 8-10.
It's too early in the season for the Wildcats to be prepared for a team of their experience and talent level. Duke 74, Kentucky 66
Kentucky beats Lafayette 88-74.
Paul Ables
I think Kentucky will play a really close game with Duke and UK definitely have a chance to win the game.
But I don't expect UK's rebounding woes to be fixed in just one game, so I expect Duke's frontcourt to do well in that area and expose the Wildcats on the boards. UK keeps it close but Duke's experience and size will lead them to victory. Duke 75, UK 70.
Kentucky beats Lafayette 90-64.