5 Reasons the St. Louis Cardinals Need to Rebuild Their Rotation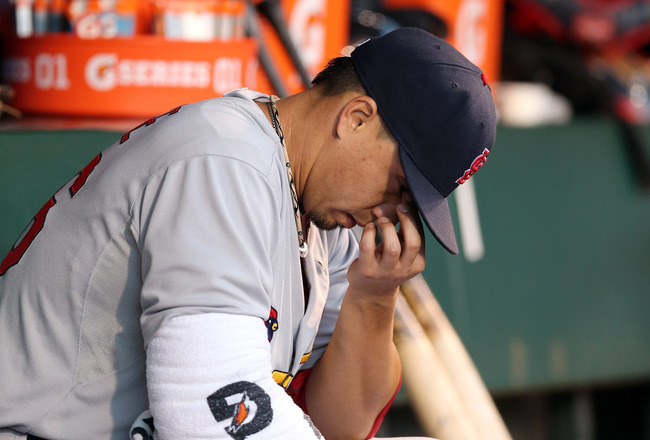 The Cardinals blew a 3-1 lead in the NLCS and fell short of a chance at repeating as World Series Champs.
Christian Petersen/Getty Images
The St. Louis Cardinals need to think about rebuilding their starting rotation immediately.
This statement may seem overly harsh considering the Cardinals fell just one game short of their second straight World Series berth.
The Cardinals snuck into the playoffs, beat the Atlanta Braves in a one-game playoff and defeated the NL's best Washington Nationals in a dramatic Game 5 comeback, before squandering a 3-1 series lead to the San Francisco Giants in the NLCS.
However, the 2011 World Series Champs need an overhaul of their starting staff.
If they want to contend again in 2013, they must look at the issues plaguing the current staff and attempt to fix them.
Age
The St. Louis arms are not getting younger.
Ezra Shaw/Getty Images
Chris Carpenter turns 38 in April and went through more arm trouble for much of the 2012 season before defying the odds and making a late season return.
He is no certainty to give the Cardinals 150-200 innings.
Adam Wainwright is 31 years old, but missed all of 2011 with an injury and didn't look his usual self in 2012.
After a 16-3 2012 campaign during which he anchored the staff, Kyle Lohse seems to make sense as a part of the Cardinals' future. However, he is 34 and now a free agent after turning down an offer from the Cardinals in search of more money.
Lohse's last two years (30 wins) in a Cardinals uniform have been outstanding, but his 118-108 record with a 4.45 career ERA doesn't command the big bucks he's expecting.
If the Cardinals want to contend in 2013, they may need to groom some young arms or consider signing younger free agents.
Not Sold on Young Members of Staff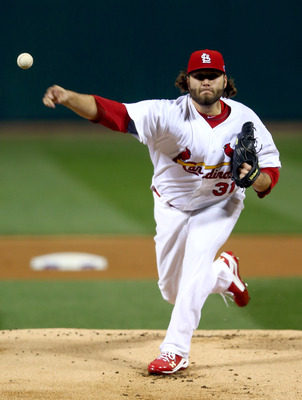 Despite winning 18 games in 2012, Lynn is far from a surefire ace for St. Louis.
Elsa/Getty Images
In Lance Lynn's first full year as a starter, he was an All-Star and won 18 games. What's the problem, you ask?
Lynn was also demoted to the bullpen in late August to work out his struggles.
While the 25-year-old rejoined the rotation in the middle of September and regained form to close the regular season, he struggled when it mattered the most in the playoffs.
He was relegated to bullpen duty against Atlanta and Washington, yielding three earned runs in just 3.2 innings pitched. In two NLCS starts against the Giants, he failed to make it out of the fourth inning in both starts and lost a Game 5 that kept San Fran's hopes alive.
Jaime Garcia was plagued by injuries in 2012, making only 20 starts and pitching only two innings in the playoffs due to a rotator cuff strain.
The 26-year-old has proven to be a solid starter in his three-year career, but the Cardinals have to be worried about his health.
With question marks surrounding these two young starters as well as the older guys, the Cardinals have to start doing their homework and build a staff that can withstand the long haul.
To Keep Up with the Other NL Contenders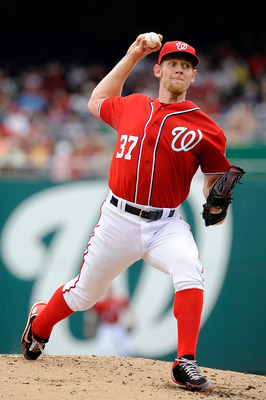 One has to wonder if the Nats would have taken down the Cards if they had Stephen Strasburg.
Patrick McDermott/Getty Images
Beware, Cardinals fans.
The Nationals will have Stephen Strasburg in the postseason in 2013.
This could spell huge trouble for the Cards, who may not have been so lucky had Strasburg been on the mound in Game 5 of the NLDS.
Strasburg returns to an excellent young rotation with the likes of him, Cy Young contender Gio Gonzalez and Jordan Zimmerman leading a staff and team looking for redemption.
The Giants return the likes of Matt Cain, Madison Bumgarner, Ryan Vogelsong, a rejuvenated Tim Lincecum and Barry Zito as they try to defend their World Series crown.
Cain pitched the Giants into the World Series with a Game 7 win.
Simply put, the Cardinals do not have a Matt Cain on their staff. They do not have the one guy they can trust to win a big game.
The Braves will be led by Kris Medlen and a strong staff next season. The Phillies are looking to rebound from a rough 2012 with Roy Halladay, Cliff Lee, and Cole Hamels all healthy and ready to go.
Simply put, the top arms on other teams are better.
To Complete a Team Ready to Win Now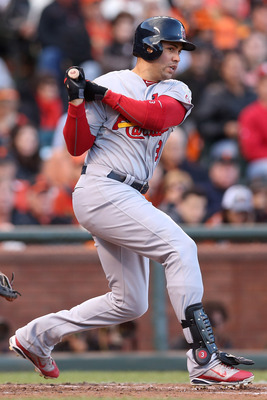 Beltran was an All-Star in his first year with the Cards.
Christian Petersen/Getty Images
Make no mistake, this offense is good enough to win now.
Yes, they were limited to one run over the final three games of the NLCS.
However, they have a good blend of veteran leadership and talent in Carlos Beltran and Matt Holliday, mixed with younger players who are rising stars in David Freese and Allen Craig.
They do not expect a regression in 2013.
Mike Matheny's club expects to be back in the same position in 2013, but it must first fix a pitching staff that had a 1.36 WHIP in the playoffs.
Pitching Wins Championships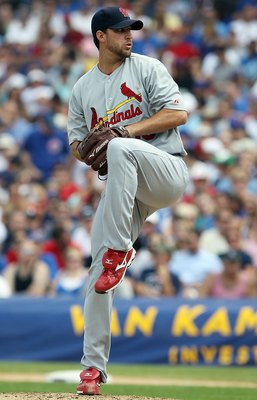 Wainwright was not the same pitcher in 2012.
Jim McIsaac/Getty Images
It may sound extremely cliche, but it couldn't be more true of what happened in 2012.
The Cardinals surrendered 20 runs in the final three games of the NLCS while only scoring one run.
The Giants went on to the World Series and completely shut down a potent Detroit Tigers offense, limiting them to just five runs in a four-game sweep
Even if the Cards had advanced to the World Series, there is no way they would have limited the Detroit offense in the manner San Francisco did.
Carpenter and Wainwright are not their old, dominant selves, and the Cardinals don't seem entirely sold on Lynn and Garcia to win big games in the future.
Keep Reading

St Louis Cardinals: Like this team?