Alabama Football: Winners and Losers from the Week 11 Game vs. Texas A&M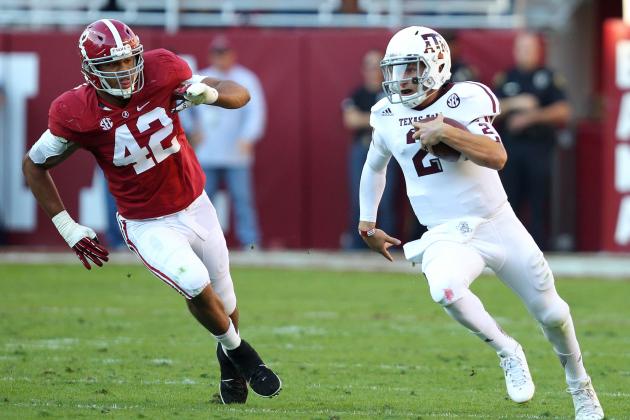 Mike Zarrilli/Getty Images

Well, after getting out of Baton Rouge relatively unscathed, the Alabama Crimson Tide finally ran into a problem they could not overcome Saturday night.
Freshman sensation Johnny Manziel and the Aggies built an unthinkable 20-0 lead in the first quarter and held off a furious Alabama comeback attempt in the waning moments to upset the top-ranked Tide.
To say that the capacity crowd at Bryant-Denny Stadium left disappointed would be an understatement. Insanely loud during the fourth-quarter rally, the volume went immediately silent as Alabama was called for encroachment to give the Aggies the first down they needed to seal the deal.
As always, there is good and bad that comes out of every game. Here are some of the winners and losers from the Texas A&M game.
Begin Slideshow

»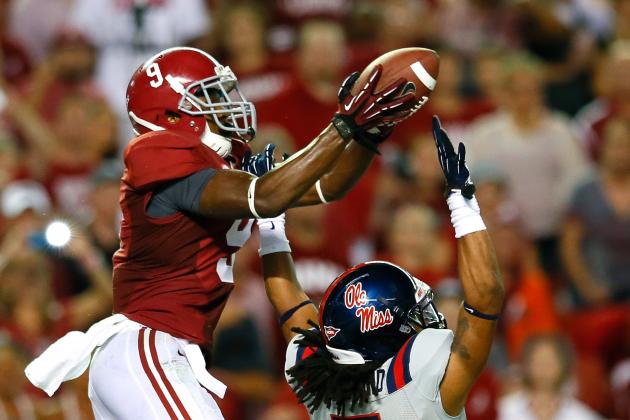 Kevin C. Cox/Getty Images

When Alabama lost Julio Jones to the NFL two seasons ago, the search was on for the next, well, Julio Jones. Amari Cooper is the man the Tide was searching for.
After shooting blanks against LSU, Cooper came up huge when the Tide needed him most Saturday night.
He tallied 136 yards on six catches, including a 54-yard touchdown that kept Alabama in the game midway through the fourth quarter. Cooper got behind his defenders twice in the last quarter, racking up big yards for the Tide.
Cooper has a tremendous set of hands and also appears to know exactly where he needs to be in reference to sideline and first-down yardage. At this rate, he is sure to break many Alabama receiving records before his work here is done.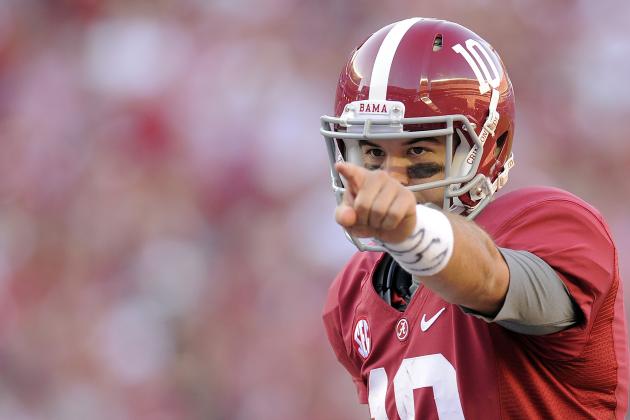 John David Mercer-US PRESSWIRE

This one is tough to call. Yes, McCarron threw his first two interceptions of the year and, yes, one of them was not his fault.
He did lead a furious comeback and finished the night 21-of-34 for 309 yards and a score on top of the two picks.
Having said that, and after just watching the game again on replay, McCarron missed on many of his throws.
McCarron under-threw two passes in on the last three drives that surely would have been touchdowns if they were on the money.
A 50-yard completion to Cooper would have been a touchdown if he didn't have to slow down for it. Instead, T.J. Yeldon fumbled on the next play.
Then, on the last drive, McCarron was just short on a 54-yard completion to Kenny Bell that would have given the Tide their first lead of the night. Instead, Alabama was unable to convert from inside the red zone and the game slipped away.
It was a valiant effort, but when Alabama needed it the most, his arm came up just short.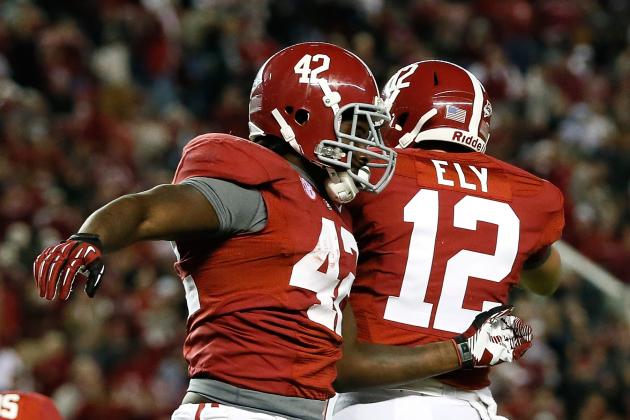 Kevin C. Cox/Getty Images

Eddie Lacy got off to a slow start this season and many were already touting Yeldon as the feature back in waiting. But now that he is healthy, Lacy is proving why he was atop the Tide depth chart from the start.
Lacy tallied 127 total yards Saturday, gaining 92 yards and a touchdown on 16 carries. He also caught a season-high four passes for another 35 yards.
The bruising Alabama back took it right to the Aggie defense and kept the 'Bama offense balanced long after it fell behind 20-0. Why he wasn't given the ball more on that last series is quite the mystery.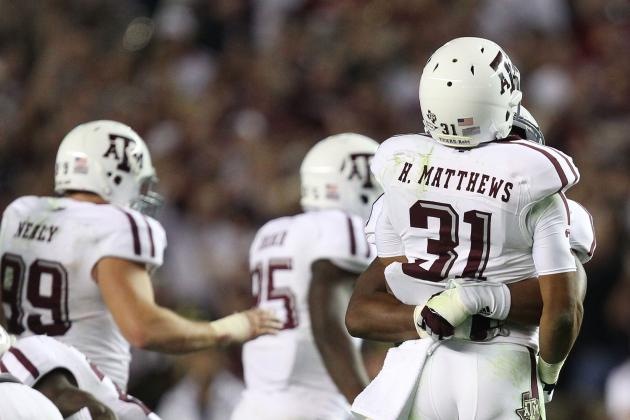 Mike Zarrilli/Getty Images

Yeldon struggled to be effective for the second consecutive week, gaining just 29 yards and a touchdown on the night.
Most importantly, for the second week in a row, Yeldon was unable to hold on to the football, fumbling at the end of his best run of the night with just over nine minutes to go, negating the 50-yard pass from McCarron to Cooper.
We know he is still a freshman and that he has as much talent as anyone on the field, but Yeldon is going to learn that protecting the football comes long before guts and glory at Alabama.
There is no doubt that he will get his fumbling woes worked out, but on this night he cost his team in a big way.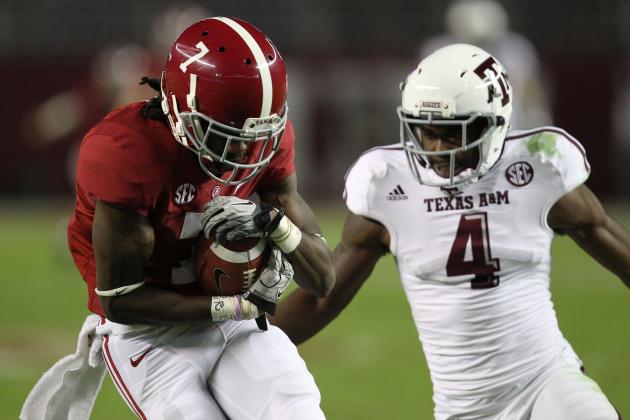 Mike Zarrilli/Getty Images

Even though McCarron came up a little short on a pair of long passes late in the game, it was refreshing to see him connect on three passes of over 50 yards in the game.
McCarron, the so-called "game manager," has struggled at times to connect with open receivers downfield in his tenure as Alabama quarterback.
Saturday, he gave future opponents a little something to think about by hooking up on bombs with both Cooper and Yeldon. Again, it was not quite enough against Texas A&M, but it is a good feeling to know that Alabama has this weapon at its disposal.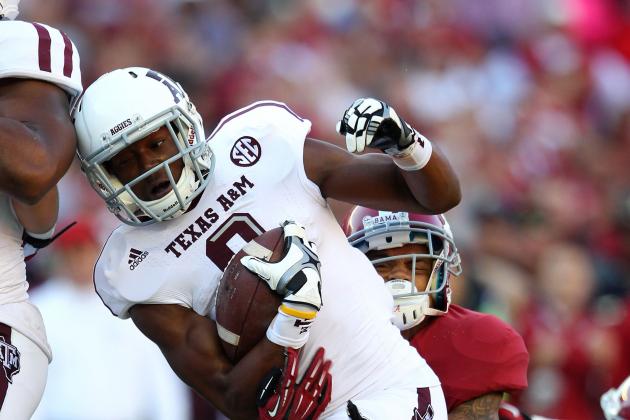 Mike Zarrilli/Getty Images

Alabama had been near the top of the nation in third-down defense all season until it ran into LSU last week. For the second week in a row, the Tide struggled to get the defense off the field Saturday night.
Johnny Manziel looked like a butterfly at times and squirmed, wriggled and ducked his way out of many potential Aggie losses. He led the A&M defense by converting on 11 of 18 third-down attempts.
This not only extended Aggie drives, but it helped them to wear down the Tide defense early and set the tone for the entire game.
Because of this, the Alabama defense was on its heels for most of the night and Manziel took full advantage of it.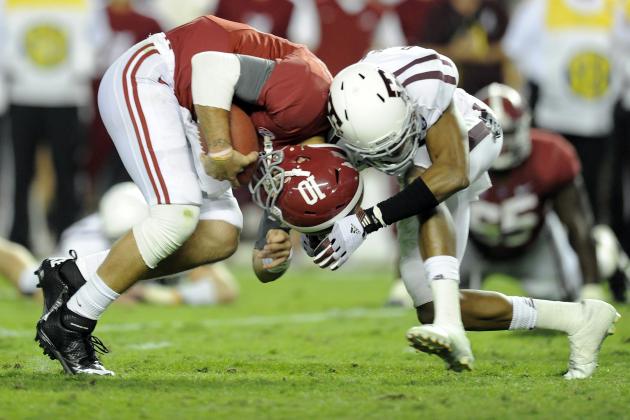 John David Mercer-US PRESSWIRE

It feels like this was almost meant to be.
Bear Bryant coached Alabama after Texas A&M. So did Gene Stallings. Dennis Franchione left Alabama to coach at Texas A&M.
The 1988 so-called "Hurricane Bowl" has not been forgotten by either team.
Although this was only the fifth meeting between the two schools, Alabama and Texas A&M just has a certain ring to it. And now that the Aggies are in the SEC and will be facing Alabama every season going forward, this rivalry is off to a roaring start.
Alabama will not soon forget what the Aggies did to it this past weekend and, as if there were not already enough big-time rivals on the Tide's annual schedule (Tennessee, Auburn, LSU), this game now finds itself as one of the most anticipated of 2013 already.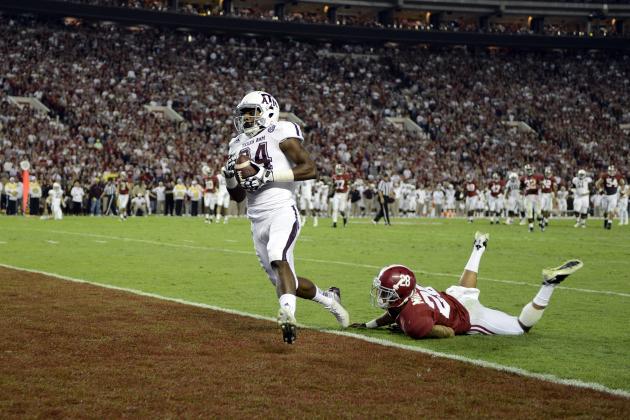 John David Mercer-US PRESSWIRE

Alabama, after the loss to Texas A&M, now finds itself ranked No. 4 in the latest BCS poll released Sunday night.
It will first have to win the remaining regular-season games against Western Carolina and lowly Auburn. This will place the Tide in the SEC Championship Game where it will face No. 5 Georgia.
A win against the Dawgs will mean that the Tide has done everything they can to help themselves. The rest is up to other programs.
Two of the three remaining undefeated teams must lose for Alabama to return to the title game.
The best chances for this to happen would be Baylor beating Kansas State (unlikely), Oregon losing to either Oregon State, Stanford or USC (very possible), and Notre Dame falling to USC (very possible).
So there is still a chance for the Tide. It sure would have been an easier road, though, if the Aggies would have let Alabama score that last touchdown.
Follow @bryanpowers14