Oregon Football: Winners & Losers from the Week 11 Game vs. California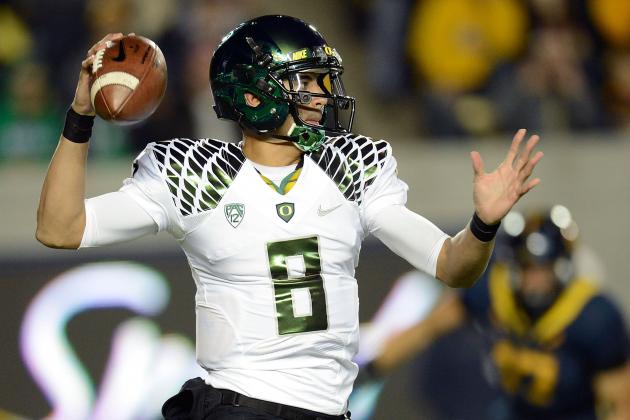 Thearon W. Henderson/Getty Images

Was Saturday night's Oregon vs. California game an intriguing battle, or just another stop on the Ducks' road to the big prize?
It was both.
The California Golden Bears refused to play the role of victim that so many of Oregon's other opponents have. Yet, in the end, they were the latest victim of the Ducks' high-flying offense and tough, gritty defense.
This game was loaded with interesting back stories which, naturally, produced several winners and losers on the night.
Begin Slideshow

»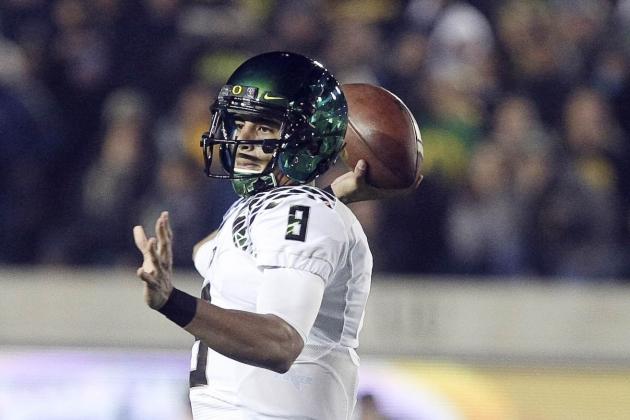 Kelley L Cox-US PRESSWIRE

Oregon's redshirt freshman quarterback won the hearts of Duck fans months ago with his assured play and calm, cool demeanor.
On Saturday, he won the hearts and minds of casual observers all over the country. Mariota had a helluva game against Cal, tying the Oregon school record of six touchdown passes in a single game.
Six TD passes is certainly impressive, but what stands out is Mariota's box score: 27 of 34 passes for 377 yards, with no interceptions and no sacks. Tack on six rushes for 42 yards, and it adds up to an amazing performance by the Oregon QB.
Understandably, the day following Mariota's game shown nationally on ESPN (although with many East Coast viewers undoubtedly in their PJ's), there is the beginning of a Mariota buzz. Here is a Rob Moseley tweet you might enjoy:
Seen at least two Heisman "ballots" so far today, from @dennisdoddcbs and @sn_greenberg, that include Marcus Mariota. Buzz is building.

—Rob Moseley (@DuckFootball) November 11, 2012
One last note on Mariota: As of Nov. 11, he leads the country in passing efficiency. Oregon fans knew the dude was cool; now the whole country knows it.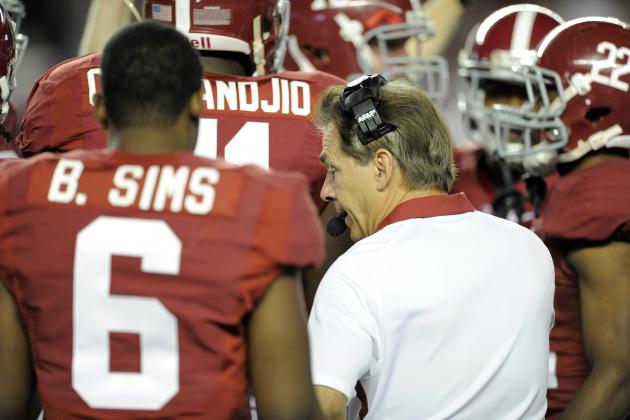 John David Mercer-US PRESSWIRE

After Texas A&M's stunning upset of Alabama Saturday afternoon, the Crimson Tide needed some help from both the Cal Golden Bears and the Horned Frogs of TCU.
To quote Mick Jagger "You can't always get what you want."
Alabama's loss was a double defeat for the Tide when Oregon and Kansas State both won over tough opponents. BTW, if you didn't enjoy that Alabama vs. Texas A&M exciting game, then you don't care much for college football. It was a heart-stopper, especially, I assume, in the states of Oregon and Kansas.
Alabama's loss would have been less dramatic if the Cal Bears had found a way to knock off the Ducks. It's just heartbreaking for the Tide, she said in her most sarcastic voice.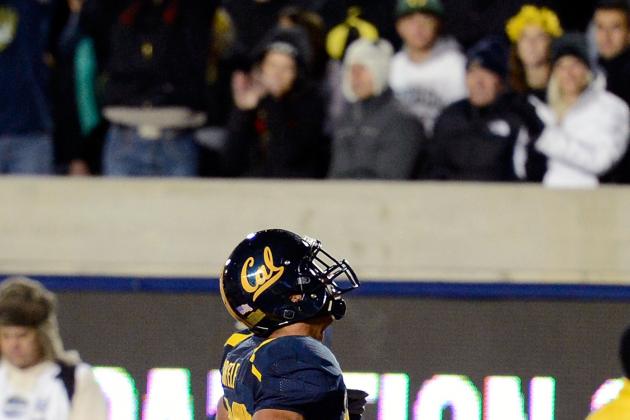 Thearon W. Henderson/Getty Images

Golden Bears' running back Isi Sofele was ripping the Ducks' D to shreds until head coach Jeff Tedford, inexplicably, decided to start passing the ball instead of running it.
Go figure.
Sofele had 134 yards on 15 carries, and was just a little tank (5'8", 200 lbs.) out there. In fact, Cal out-rushed Oregon overall 236 yards to 180. I don't remember the last time that happened. Part of it was due to Kenjon Barner's injury, but still.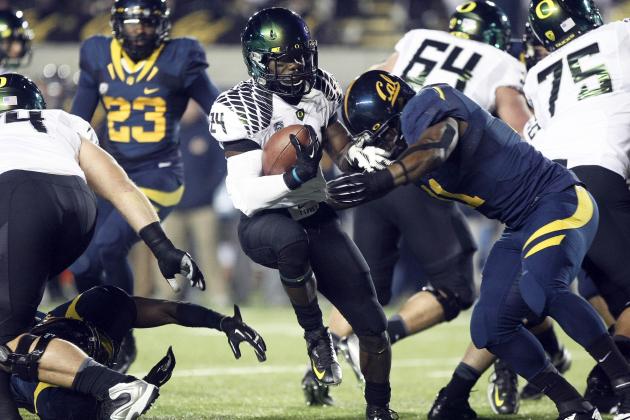 Kelley L Cox-US PRESSWIRE

Through no fault of his own, Kenjon Barner ends up in the Loser's category this weekend. The entire national audience saw the obvious pain Barner was in, as the ESPN cameras showed Barner grimacing on the sidelines, and then followed him into the locker room.
Talk about your bad timing.
Barner was basking in the glow of national attention and major Heisman Trophy buzz after his stunning performance the week before against the USC Trojans at the L.A. Coliseum. All he had to do was bust out a couple of big runs, and add a good three-figured yardage total to his season stats.
But Cal loaded the box exceptionally well, and held Barner in check most of the night. He did eke out 65 yards rushing and 35 receiving, for a tidy 100-yard game, but his performance must be considered subpar.
Sadly for Duck fans, some of Kenjon Barner's luster wore off this week.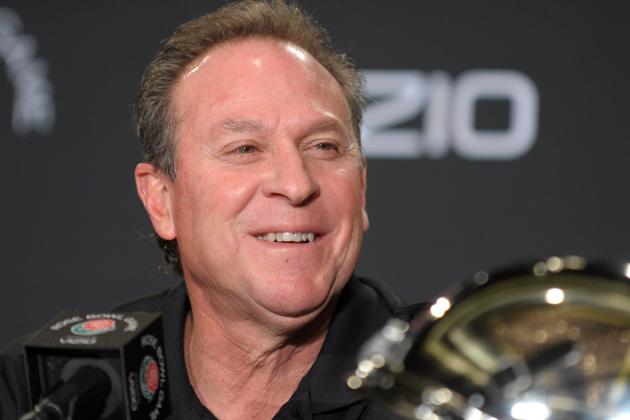 Kirby Lee-US PRESSWIRE

Your entire defensive line is annihilated with injuries for a game that has major BCS implications. Your starting safety—who is himself a replacement for gone-for-his-college-career John Boyett—leaves the game in tears with a nasty-looking knee injury.
No problem, if you are Oregon defensive coordinator Nick Aliotti.
Somehow, Aliotti cobbled together a brilliant defensive game-plan that limited the Golden Bears to 17 measly points on their home field. We know that Oregon has depth and prides itself on inserting the next in line when the guy ahead of him goes down.
But this still felt like a smart effort by a worn down Ducks' defense, and you have to credit Aliotti for thriving in what must have been a very hairy week.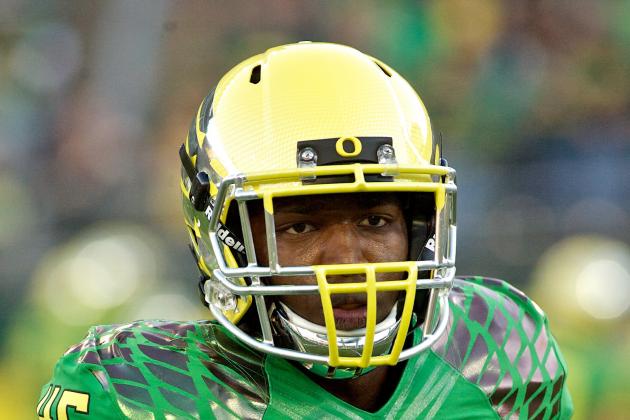 Craig Mitchelldyer/Getty Images

I couldn't find a photo of linebacker Michael Clay in action against the Golden Bears. That's a crying shame because Clay was everywhere on the field in this game.
You have to figure that Clay and his two compatriots at linebacker, Kiko Alonso and Boseko Lokombo, knew going into the Cal game that the Ducks were short-handed on the defensive line. Clay, in particular, was terrific in covering the gap from the missing defensive starters.
He had a team-high 12 tackles, six of them solo. Without Clay's solid effort, the outcome of this game might have been different.
Let's also give a big Oregon shout-out to freshman tackle Arik Armstead. Armstead had only two tackles, but his pressure on Cal QB Allan Bridgford that led to an interception by Boseko Lokombo, was one of the key plays of the game.
I will always remember Armstead running full-speed at Bridgford with his lengthy arms up and his huge body about to smash the QB. I would have thrown the interception too; anything to get rid of that ball before Armstead arrived.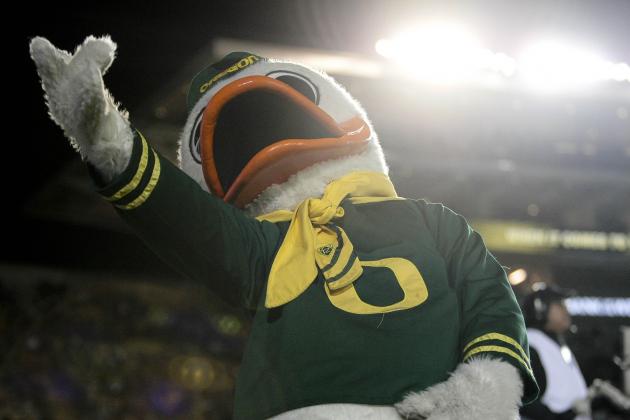 Kelley L Cox-US PRESSWIRE

The BCS may still end up with a clunker of a BCS National Championship Game on January 7 in Miami. But with three teams with substantial traveling fanbases still undefeated, they have a better chance after this weekend.
Two of the three teams remaining at the top play exciting, fan-friendly football, and the third team has more national fans than the Pope. Or, should that read "has the Pope as a fan?"
Whatever. If both Alabama and Oregon had lost in Week 11, there would have been much gnashing of teeth at BCS headquarters.
Safe for another week, mighty BCS.
Kay Jennings is a member of the Football Writers Association of America.