Full Report Card Grades for Nick Foles' 2012 Debut with Philadelphia Eagles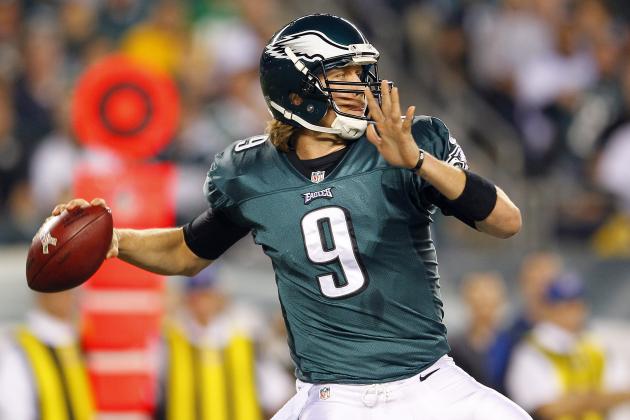 Rich Schultz/Getty Images

When Michael Vick left Sunday's game against the Dallas Cowboys, the Philadelphia Eagles turned to a much-hyped rookie in Nick Foles.
Foles fell far below expectations of the QB that many Eagles fans were clamoring to see. He failed to lead Philadelphia to a win or make smart, accurate decisions throwing the football.
Still, there were flashes of potential from Foles that cannot be ignored, and his final stat line reads as follows: 21-of-31 passing for 218 YDS, 1 TD and 1INT.
Here we will give full report card grades for the key areas of Foles' performance.
Begin Slideshow

»
Rich Schultz/Getty Images

In the second quarter, Nick Foles threw a slant route that was nearly intercepted and taken back for a touchdown. In the fourth quarter he did throw an interception to Anthony Spencer, but it was wiped off the board due to a Morris Claiborne holding call.
The moral of the story?

Foles' stat line is somewhat misleading when it comes to the accuracy department. The Eagles kept most of his throws short-to-intermediate, but Foles took some scary chances that nearly cost him on multiple occasions.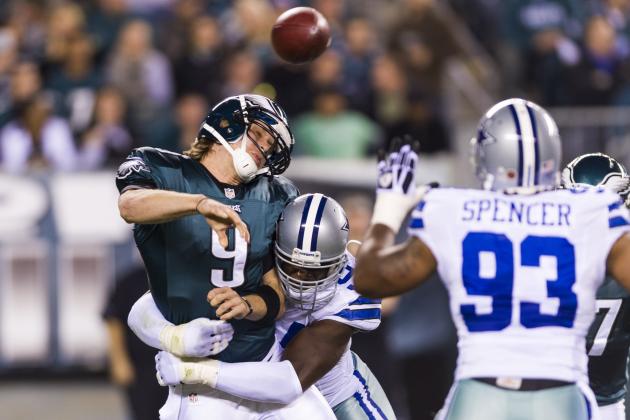 Howard Smith-US PRESSWIRE

Say what you will about Foles' decisions with the football, but he looked surprisingly comfortable in the pocket.
Announcers Joe Buck and Troy Aikman made repeated references to Foles' ability to stand tall as players like DeMarcus Ware and Anthony Spencer put constant pressure in his face. Bad throws did not rattle him and neither did an assortment of Dallas blitz packages.
Was Foles perfect?
Clearly not, but being composed in his first game of real NFL action was not an issue.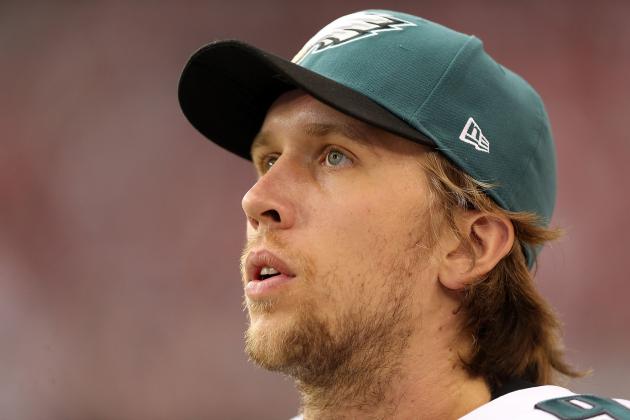 Christian Petersen/Getty Images

Nick Foles' moustache does not figure into his decision-making grade, but perhaps it should.
At any rate, Foles made repeated bad decisions, and it eventually cost Philadelphia courtesy of a Brandon Carr interception in the fourth quarter.
Foles was behind receivers on slant routes, and Dallas made him pay by using safety help over the top of cornerbacks in man coverage.
Also, Foles repeatedly failed to throw into small windows.
It is easy to hit Jeremy Maclin when he is wide open in the end zone, but tight coverage was a serious issue for Foles.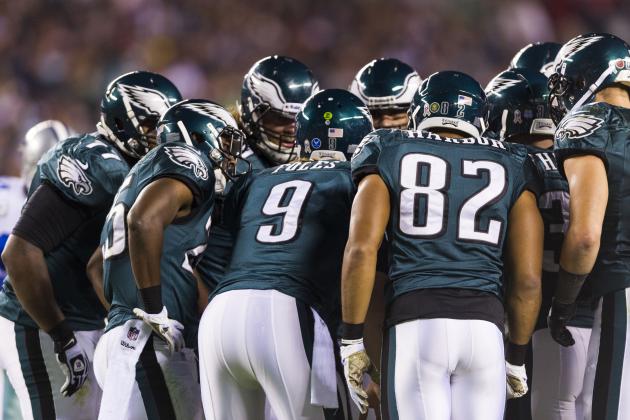 Howard Smith-US PRESSWIRE

The aforementioned "pick-six" thrown to Brandon Carr came early in the fourth quarter as Philadelphia was attempting to rally in the game.
Foles did not step up when the biggest opportunity presented itself. On the next possession, down 14 points, he hit Cowboys DB Orlando Scandrick right in the hands on what should have been an interception. The drive stalled shortly thereafter.
Philadelphia had numerous chances to make a charge late in the game, but failed to put together any kind of consistency offensively.
Foles tossed in a fumble with under one minute to go for good measure. It was not really his fault, but stung nonetheless.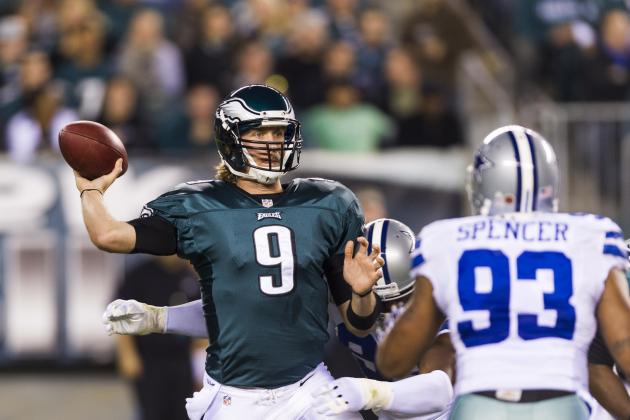 Howard Smith-US PRESSWIRE

Nick Foles' performance could have certainly been much worse than it was, but the fact remains that Foles did not put Philadelphia in a position to win the game.
Yes, he threw one deep touchdown to a wide-open Jeremy Maclin, but that was the exception to a multitude of bad decisions that dominated his performance.
When Foles was smart, he was lethally accurate, moving the chains and looking like a competent NFL quarterback. The problem was that those instances were overshadowed by silly mistakes.
If a QB can turn around the Eagles season, it is not Foles.