Texas Football: Winners and Losers from the Week 9 Win over Iowa State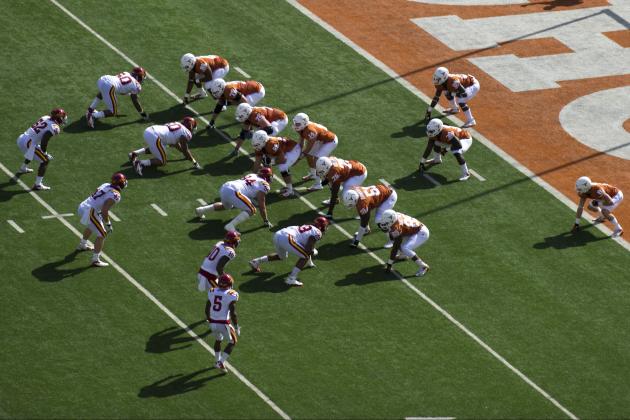 Cooper Neill/Getty Images

Honoring the memory of former head coach and legend Darrell K. Royal, the AP No. 18 Texas Longhorns really found their stride in blowing out the Iowa State Cyclones 33-7. And it was not even that close.
The Longhorns dominated the offensive and defensive sides of the ball from start to finish thanks to David Ash's new-found ability to complete the long ball and the defense's second truly good game in a row. With 4-2 now a distant memory, the Longhorns have a very realistic shot at their first 10-win season since 2009.
Here are the winners and losers from the Saturday's statement win over the Cyclones.
Begin Slideshow

»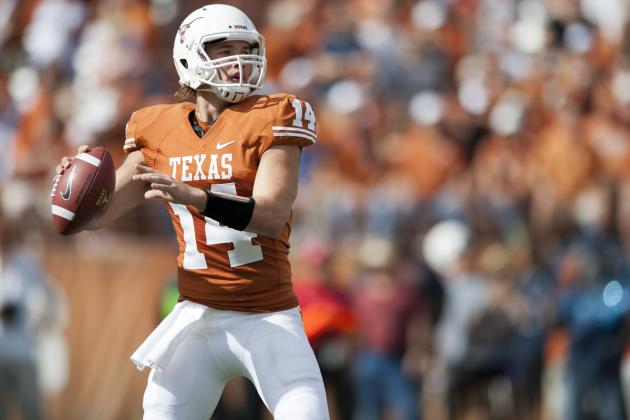 Cooper Neill/Getty Images

Continuing his strong rebound after a miserable performance at Kansas, sophomore quarterback David Ash had one of his best games of the season against the Cyclones.
Not only did Ash throw for a career-high 364 yards, but he was very accurate in completing over 80 percent of his passes and was dead on with his 61-yard touchdown to Mike Davis. In fact, the young signal-caller did not throw his first incomplete pass until the final five minutes of the first half. All of this against an Iowa State team that was allowing just over 20 points per contest coming into this matchup.
Ash had his misses and was helped at times by his receivers, especially Jaxon Shipley, but the numbers don't lie in this game. Ash's response to being pulled against Kansas has been very impressive and shows a huge leap in his development as the leader of this football team.
The real test for Ash is still coming when he goes on the road to face Kansas State, but his performance against two pretty stout defenses these past two weeks says a lot about how far he has come as a player.
Tim Heitman-US PRESSWIRE

The only blemish on Texas' impressive victory over the Cyclones has to be the special teams. And to put it to a player, Penn State-transfer Anthony Fera continues to be downright bad at kicker.
Brought in to make up for the graduation of nail-driver Justin Tucker, Fera just has not been what the Longhorns bargained for. He missed a PAT, had a field goal blocked despite a perfect snap and was pulled in favor of freshman Nick Jordan.
Jordan made both of his attempts, so Fera's struggles are not as disconcerting as they would be otherwise, but you have to believe Mack Brown is going to be reluctant to go to his kickers in a close game.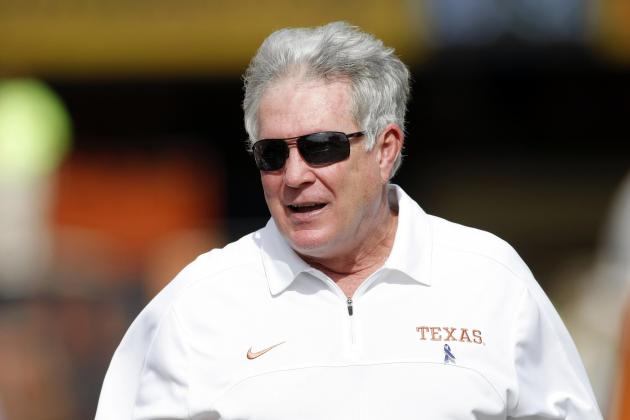 Brett Davis-US PRESSWIRE

Special teams aside, the entirety of the Texas coaching staff deserves some praise for dismantling a conference foe for the second week in a row.
Offensive coordinator Bryan Harsin had called a great game from booth and turned a tribute to Royal's Wishbone offense into a spectacular 47-yard throw back. And the Manny Diaz-led defense held only the opposition under 300 yards of total offense for the second time this season, giving up only 64 yards in the second half. And Stacy Searels' offensive line has been dominant for the past two games.
The jury is still out on whether Diaz makes it until last season, but the rest of this coaching staff should return intact next season after the way this season has been turned around.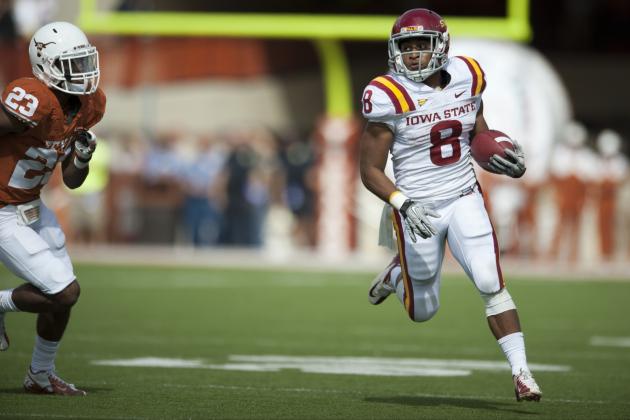 Cooper Neill/Getty Images

You know your team played well when you have to complain about kick coverage, but that unit is definitely cause for concern on this Longhorn team.
These guys made some nice plays early in the season, but the Longhorn kick coverage unit has been bad ever since the beginning of conference play. They gave up returns of 41 and 33 yards during Saturday's contest and have been constantly putting the defense in difficult situations. Even more frustrating, it is a direct result of missing tackles.
It did not cost the Longhorns in this game, but little things like kickoff coverage could mean the difference in winning and losing in these final games, and especially against Kansas State. This group needs to be better, and it starts with finishing tackles.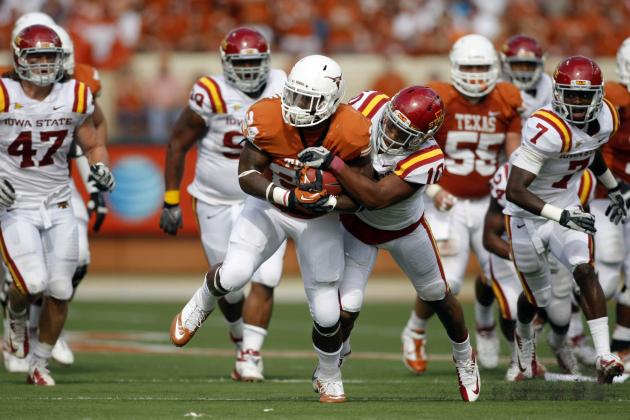 Brett Davis-US PRESSWIRE

With freshman Johnathan Gray emerging as the team's best overall runner and the multitude of other players that see carries in this Texas offense, sophomore Joe Bergeron picked a great time to perform like he did against the Cyclones.
The bruising back carried the ball 12 times for 86 yards and was noticeably wearing out would-be tacklers. And if by some miracle the first man was able to get Bergeron to the ground, he certainly paid for it when the big sophomore lowered his shoulder.
Since his size and punishing style of running set him apart from the rest of the Texas ball-carriers, Bergeron was probably not in any danger of being scrubbed out by Gray or Brown's return from injury. But it is still a great sign to see him picking up big chunks of yards like he did on Saturday.
Bergeron's physicality and the fact that people just get sick of having to tackle him come the second half make him very valuable in the final games of the season. Here is hoping he keeps it up and closes out the season on a strong note.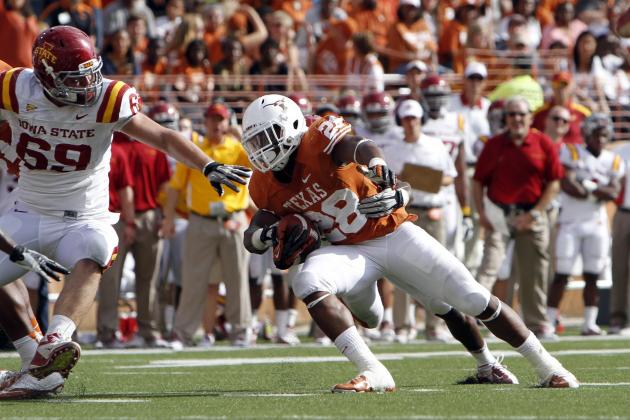 Brett Davis-US PRESSWIRE

With Johnathan Gray continuing to improve and Joe Bergeron's dominant performance on Saturday, it seems sophomore running back Malcolm Brown could be the odd man out for the 'Horns.
Brown did have 10 carries against the Cyclones, but they went for only 31 yards and were mostly after the outcome was already determined. Meanwhile, Bergeron and Gray each gained over 75 yards on the ground and averaged over five yards per carry in doing so.
This likely means that Brown, arguably the team's best runner before he went down with an injury, could be the third wheel in this loaded Texas backfield. It also does not help that Brown also fights four specialty players for carries in Daje Johnson, D.J. Monroe, Jaxon Shipley and Marquise Goodwin.
The coaches certainly will want to get Brown more involved in this offense, but the fact remains that there is only one ball and he has yet to separate himself from Texas' other ball-carriers.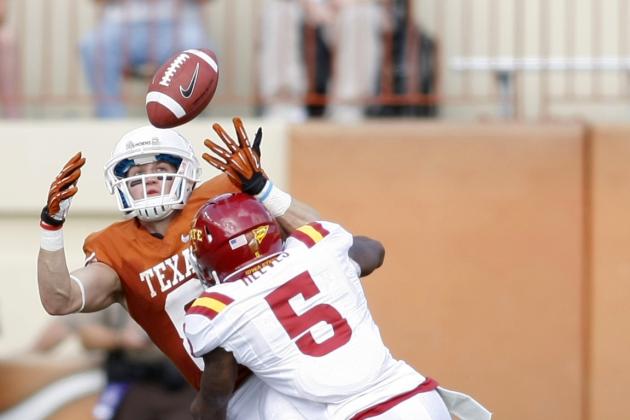 Brett Davis-US PRESSWIRE

Mike Davis may be getting a lion's share of the credit for the improvement in Texas' downfield passing game, but sophomore wideout Jaxon Shipley had a great game against the Cyclones.
Finishing with eight receptions for 137 yards, Shipley proved his worth as a possession receiver on Saturday. Shipley's glue-like hands and ability to navigate the middle of the field open up the field for the big-play receiver Davis while also giving Ash a receiver that can move the chains. And he also showed off some his well-known versatility on the throw back to Ash out of the Wishbone.
If Shipley and Davis continue to play at this level, it will do wonders for Ash's development and this team's chances at winning out these final games.