Oklahoma State Football: Winners & Losers from the Week 11 Game vs West Virginia
Richard Rowe-US PRESSWIRE

The Oklahoma State Cowboys piled onto the recent woes of the West Virginia Mountaineers with a 21-point drubbing that highlighted the issues Dana Holgorsen's team has had this season. Despite the bad fortune of the Mountaineers, there were some major winners that came out of this game.
Of course, there were losers as well. From the West Virginia defense and special teams to Dana Holgorsen himself, this Mountaineer program has many issues to fix if it wants to salvage any part of the 2012 season.
The Cowboys came out smelling pretty good, especially considering that they were required to start their third-string quarterback, Clint Chelf. Sophomore receiver Josh Stewart was a major part of the Cowboy effort, giving Chelf a security blanket that could be counted on.
This was a major Big 12 matchup. It may not have been as close as many expected, but no one could say it was not entertaining.
Begin Slideshow

»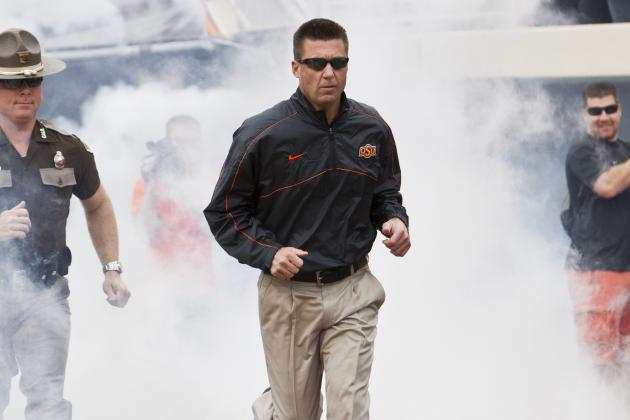 Richard Rowe-US PRESSWIRE

The biggest winner that came out of Oklahoma State's 21-point victory over West Virginia is the Big 12 conference. The Mountaineers' recent slide might seem like nothing but bad news for the conference, considering that a team that was considered a national title contender a few weeks ago now has four losses.
However, what this slide proves it that the national perception of the Big 12 is flawed. It is obvious now that all of the preseason pundits' predictions of West Virginia as the Big 12 Champion were completely off base.
The struggles by both TCU and West Virginia have proven that the Big 12 is not an easy conference to compete in. It is not the Big East nor the Mountain West, and this Cowboy victory is further proof of that.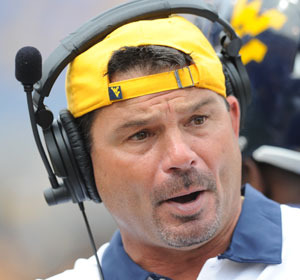 Courtesy of WVUSports.com
For anyone who does not know or remember, Joe DeForest was an assistant on the Oklahoma State coaching staff for 11 years, serving as the defensive backs coach and special teams coordinator for the Cowboys in 2011. This season, he made the move to Morgantown to become Dana Holgorsen's defensive coordinator.
Considering the poor performance by the West Virginia defense, this game would make DeForest a loser regardless of his history. The fact that this beating came at the hands of his old employer just adds insult to injury.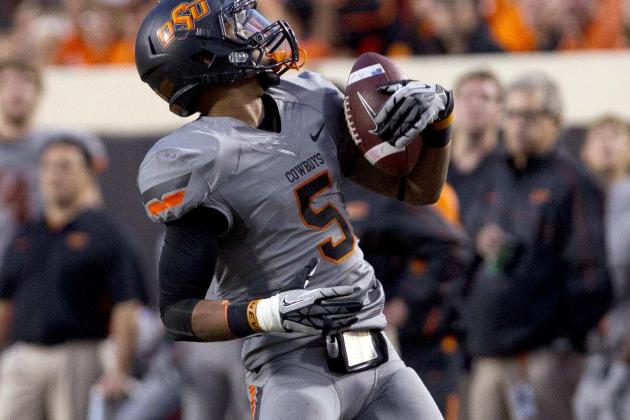 Richard Rowe-US PRESSWIRE

Josh Stewart is taking his place as the next great Cowboy wide receiver this season, and the West Virginia game was his most impressive performance yet. The sophomore caught 13 passes for 172 yards and two receiving touchdowns. He also ran the ball one time for 46 yards and a score.
I have been writing for months now that Stewart is the best player on the Cowboy offense other than running back Joseph Randle, and in this game Stewart proved me right and then some. He was the best player on the field for Oklahoma State against West Virginia. The ultimate irony: Dana Holgorsen played a large part in recruiting him to Oklahoma State two years ago.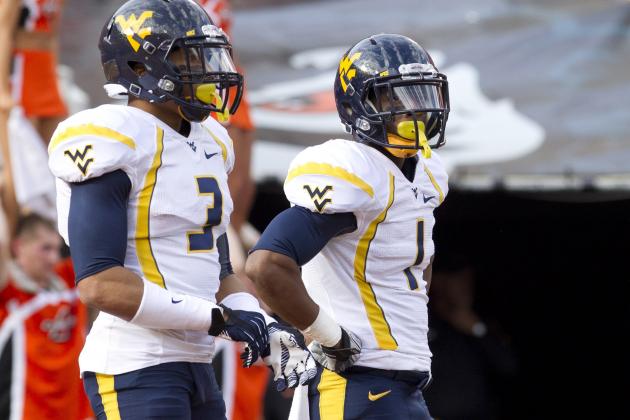 Richard Rowe-US PRESSWIRE

Even those of us who have been watching football all our lives probably saw special teams gaffes from West Virginia that we had never seen before. The squib kick that the Cowboys recovered within the Mountaineer 20-yard line was bad, and the muffed punt the Cowboys recovered was probably even worse. Tavon Austin has animated in urging his teammates to stay away from the ball, but apparently he did not get his own message.
Then there was also the fact that Mountaineers' normally lethal return game was completely stifled by the Cowboys. As a team, West Virginia averaged only around six yards per punt and kickoff return. These turnovers and poor returns completely lost the field position battle for West Virginia.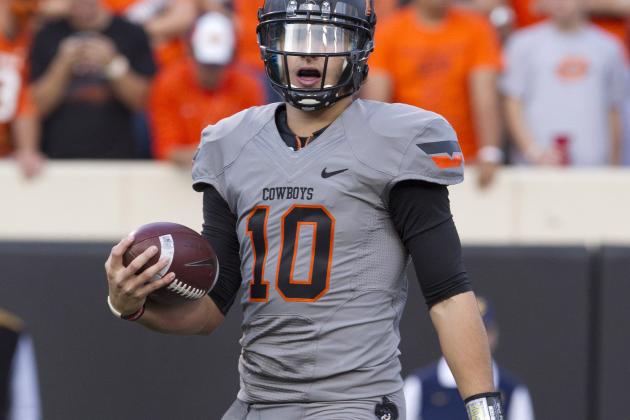 Richard Rowe-US PRESSWIRE

Clint Chelf did not look like a quarterback who had been beaten out by two freshmen in the spring. He looked like a comfortable veteran who was just doing his job, and that certainly makes him a winner.
The junior had never started a game in his career before the matchup with West Virginia, but he certainly did not show it. He completed 22 of 31 passes for 292 yards and four touchdowns with just one interception that was probably not his fault. The Cowboys could not have asked for a better performance, especially considering how little Chelf has actually played in his college career.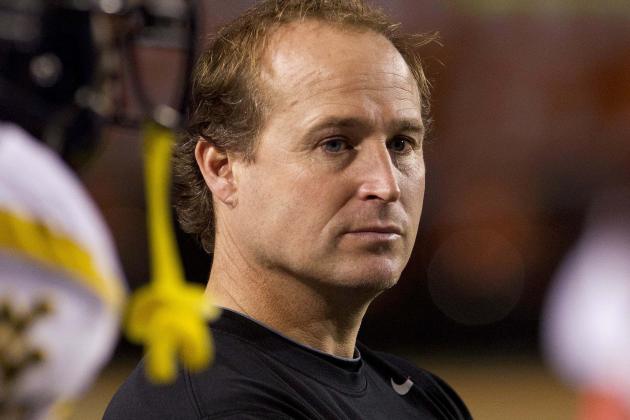 Richard Rowe-US PRESSWIRE

Obviously, any time a head coach's team loses, it makes the coach a loser as well. But this game meant a little more to Dana Holgorsen. He will not admit that, but it is true.
Who could blame him? Everyone wants to impress and even get the best of their former employers and colleagues. You could tell as Holgorsen walked to midfield to shake Mike Gundy's hand that he was extremely unhappy about losing in Stillwater.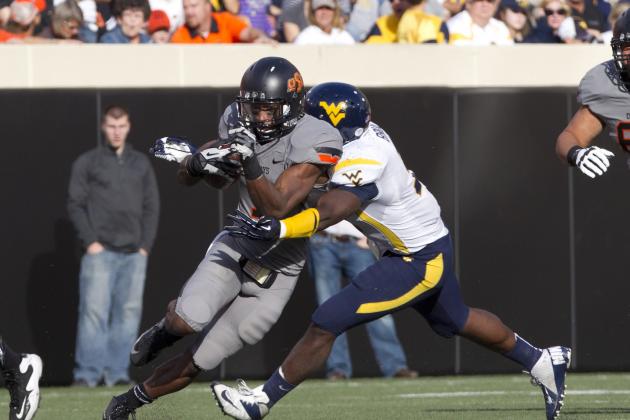 Richard Rowe-US PRESSWIRE

The similarity of the offenses that West Virginia and Oklahoma State run is well-documented and obvious to even the most novice viewer. That is not surprising considering that Dana Holgorsen installed both offenses. However, there is a major difference between the two.
The Cowboys are among the nation's best at running the ball. In this matchup, they outrushed the Mountaineers by 73 yards on the ground, almost doubling their opponent's rushing total. Despite running very similar plays, the Cowboys know how to rush the ball, and not just with speed. They use power formations to get yardage.
The Mountaineers have not shown the ability to do that, even against the Big 12's "soft" defenses. Whether it is the coaching of offensive coordinator Todd Monken and offensive line coach Joe Wickline or the talent the Cowboys have, something is going well for them in the running game.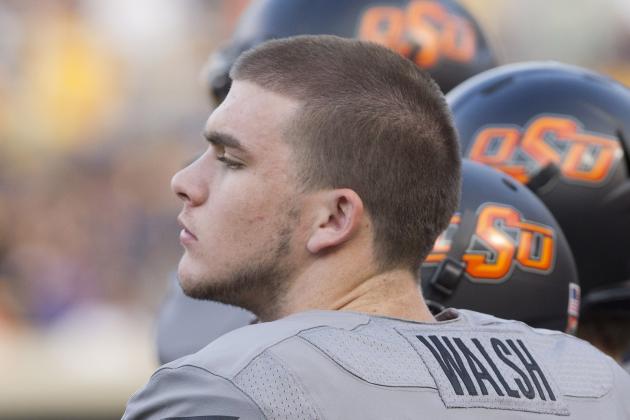 Richard Rowe-US PRESSWIRE
Backup quarterback J.W. Walsh
The Oklahoma State quarterback situation took another interesting turn with Clint Chelf's fantastic performance against West Virginia. Mike Gundy and offensive coordinator Todd Monken had indicated that they believed they had three capable quarterbacks. The good thing about Chelf's performance is that he has proven them correct.
However, his success also makes the quarterback situation even murkier, as the Cowboys will likely have three quarterbacks return for next season who have shown themselves to be capable starters. The question of who will start between Chelf and Wes Lunt also lingers for the rest of the 2012 season.
This quarterback controversy is an interesting talking point, but it does not seems to be much of an issue inside the locker room. Gundy and his staff appear to be steadfastly decided that Lunt is the best quarterback on this team. However, that does not mean that J.W. Walsh and Chelf are out of the picture just yet.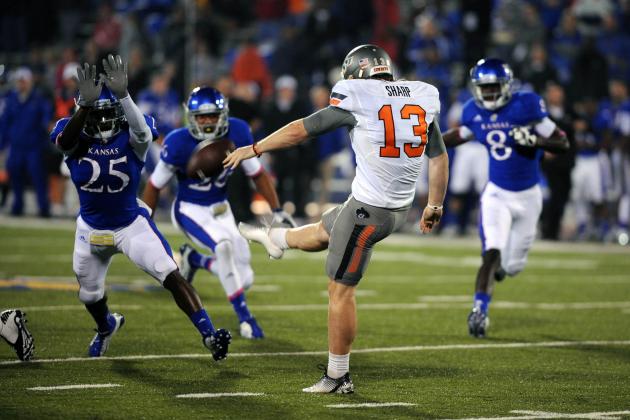 John Rieger-US PRESSWIRE

For better part of the 2012 season, Tavon Austin was making a big case for himself as Big 12 Special Teams Player of the Year. While he still may win it, the reigning owner of that award did his best to state his case head-to-head on Saturday.
Quinn Sharp was nearly perfect against West Virginia. He averaged 43.4 yards per punt, pinning three of five inside the Mountaineers' 20-yard line. Sharp also nailed both of his field-goal attempts and did a great job of preventing Austin from getting big returns on kickoffs. His squib kick resulted in a turnover, and six of his kickoffs were touchbacks.