Notre Dame Football: Winners & Losers from the Week 11 Game vs. Boston College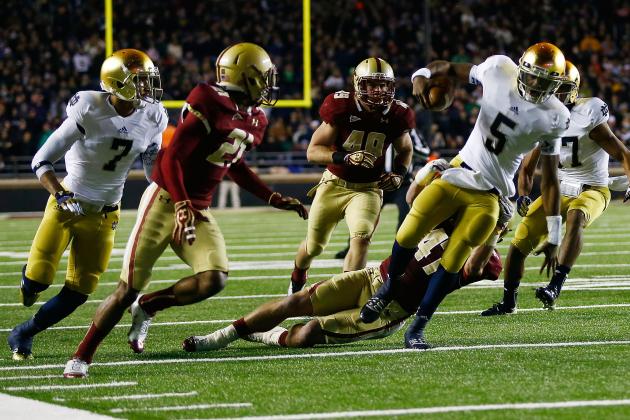 Jared Wickerham/Getty Images

Notre Dame defeated Boston College on Saturday evening at Alumni Stadium in Chestnut Hill, Mass., but the individual winners and losers have been decided upon nearly 24 hours later.
After a good night's sleep and a handful of hours of rumination, I've chosen the individual winners and losers from the Irish's 21-6 victory over the Eagles.
Let's have a look.
Enjoy!
Begin Slideshow

»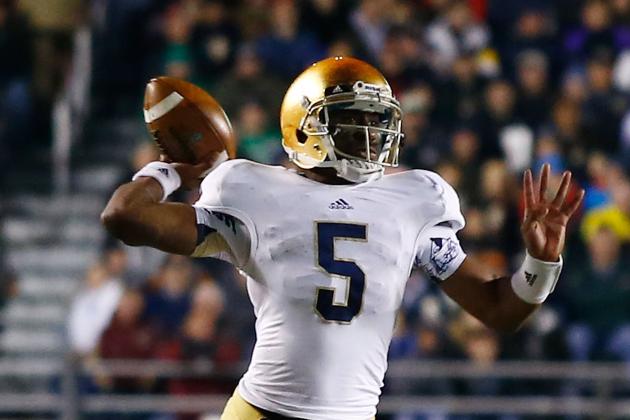 Jared Wickerham/Getty Images

As recently as last week, the thought of a quarterback controversy in South Bend was rumbling around in the collective conscience of Notre Dame nation, as Tommy Rees relieved incumbent starting quarterback Everett Golson for a spell during the second half of the Irish's triple overtime victory over Pittsburgh.
Yet Golson quieted any doubters by putting on a spectacle of a performance against the Eagles on Saturday evening, completing 16-of-24 passing attempts for 200 yards and two touchdowns. The redshirt freshman also carried the ball 11 times for 39 yards.
Golson also showed tremendous awareness by not turning the football over, though the way he carries the football like a loaf of bread continues to be a point of consternation for Irish fans.
However, based on his performance, I'd say the starting job is his to lose for the remainder of the season.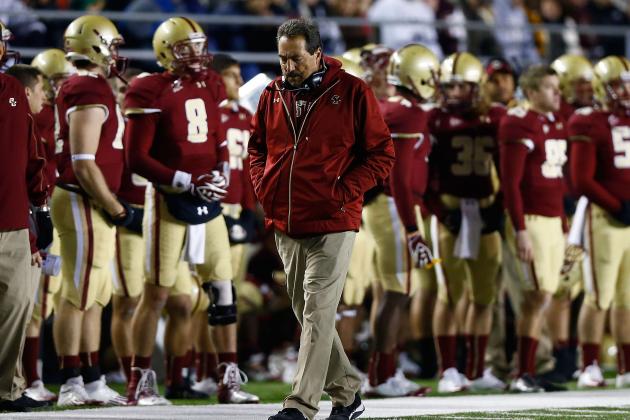 Jared Wickerham/Getty Images

Frank Spaziani's squad entered Saturday's squad at 2-7, only adding momentum to the growing rumors that the fourth-year head coach will be fired at season's end.
A victory over then fourth-ranked Notre Dame would have given Spaziani's hopes of keeping his job a shot in the arm, but the 21-6 loss did nothing but add fuel to the fire underneath his seat. The loss also gives Spaziani an overall record of 22-27 as head coach in Chestnut Hill, which simply won't cut it for Boston College athletic director Brad Bates.
And with the end of the regular season nearing, expect to see Bates make an announcement concerning Spaziani's future with the program.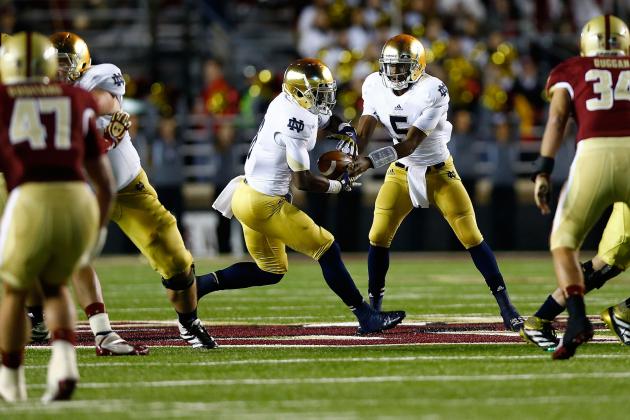 Jared Wickerham/Getty Images

Notre Dame head coach Brian Kelly has altered his offensive philosophy during his third season in South Bend, as he has emphasized a power rushing attack to make life easier on rookie quarterback Everett Golson.
That change in approach, along with Cierre Wood's two-game suspension to begin the season, has elevated Theo Riddick to Notre Dame's lead running back. The senior from Manville, N.J., was the Irish's leading rusher against Boston College, accumulating 104 yards on 18 carries.
Riddick's ability as a receiver has also played a large role in his takeover of the No. 1 running back role, which he showed on Saturday evening by hauling in four passes for 56 yards. He was also Notre Dame's second leading receiver in the game behind tight end Tyler Eifert.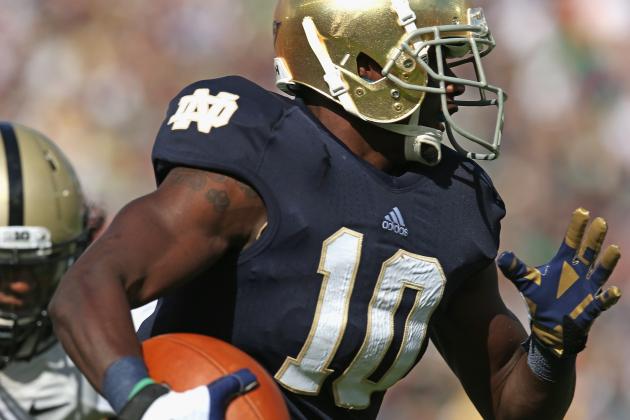 Jonathan Daniel/Getty Images

After the injury bug bit cornerback Lo Wood, safety Jamoris Slaughter and right tackle Tate Nichols, it found its way to receiver DaVaris Daniels.
The 6'2", 190-pound receiver suffered a collarbone injury that will keep him out until Notre Dame's bowl game.
Daniels underwent surgery on Sunday morning to repair the damage.
This is disheartening news for Daniels, who was on the brink of becoming Notre Dame's top target at wide receiver. as the Vernon Hills, Ill., native was the Irish's third leading receiver, with 25 receptions for 375 yards.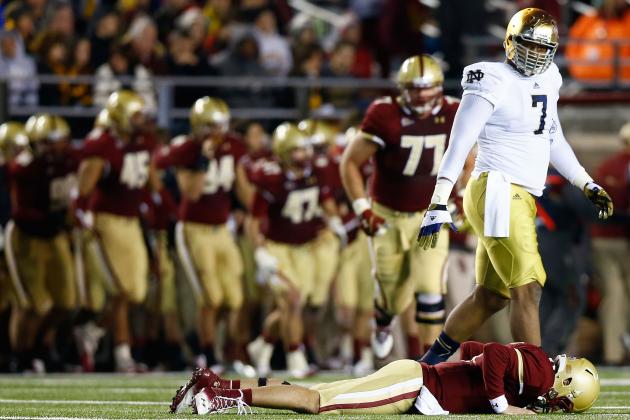 Jared Wickerham/Getty Images

The backbone of Notre Dame's run to an undefeated record has been the astronomical play of its defense.
That trend continued on Saturday evening, as Manti Te'o and Co. limited Boston College to just two field goals, becoming the first defense to keep the Eagles out of the end zone this season. That effort also moved the Irish defense into a tie for first place in scoring defense with Alabama.
Both the Crimson Tide and Irish have limited their opponents to 11.1 points per game this season.
What's the most amazing part of that No. 1 ranking in scoring defense? Notre Dame has allowed just nine offensive touchdowns through 10 games this season, two of which came in an uncharacteristic five-minute span against BYU three weeks ago.