5 Reasons Nate Robinson Is Exactly What Chicago Bulls Fans Need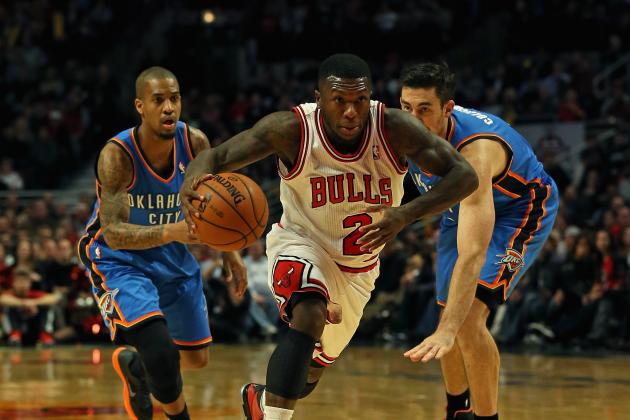 Jonathan Daniel/Getty Images

Nate Robinson is the new Bull who has garnered the most attention from the fans, and there are several reasons. Most of them are even positive.
Sure, there are times, such as when he catches the ball and starts dribbling, that he over-dribbles. Sure there are times when he takes an ill-advised shot. He has his warts, no question.
Yet, he's still exactly what the Bulls needed flaws and all. He's been a big part of why the Bulls have started off at 4-2.
Begin Slideshow

»
Nate Robinson has about three times as much personality as he does actual body. His zest and enthusiasm for the game, and for seemingly everything, make him just an enjoyable and interesting person.
He's extremely affable and has immediately become a favorite of his teammates, as well as the fans, because he does so much with so little.
There was a play in the game where Nikola Pekovich, 6'11", was off the ground and at the apex of his jump when the 5'9" Robinson inexplicably went up and outreached Pekovich to tip the ball to Luol Deng. This wasn't the typical rebound you see a point guard make. This was the littlest guy on the court out-jumping the biggest for the rebound.
Might Mouse can fly, y'all.
That, in a nutshell, is Robinson's personality. He's always managing to reach beyond what he should be able to do to accomplish what he shouldn't. That kind of heart is inspirational to the team.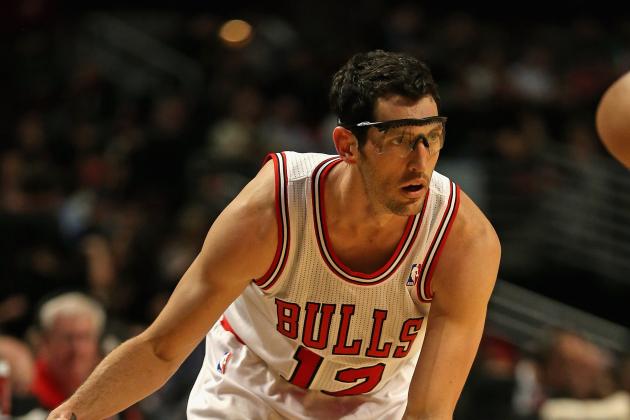 Jonathan Daniel/Getty Images

Kirk Hinrich has tweaked his hip and is listed as day-to-day. Whether he has to miss a game or two immediately isn't being reported yet, but it's a possibility. If he doesn't miss a game now, he might have to eventually. And if not for the hip, then for some other reason.
Hinrich's second stint with the Bulls has been fine so far, but he's getting older and it's not guaranteed that he's going to stay healthy.
While Nate Robinson has been on the court with the starters, he's shown he capable of running the team. He had 21 points and eight assists in a preseason start when Hinrich missed because of the same hip issue.
He's also kept the Bulls at a plus-five during the regular season while running with the starters. While he's been even more effective with the reserve unit, he has shown that he can run the team, and the Bulls need that from their backup to the backup.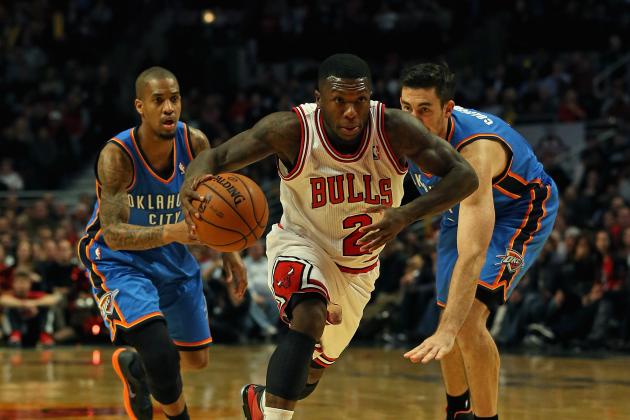 Jonathan Daniel/Getty Images

The Bulls have been struggling from deep this year, hitting on just 31.4 percent of their shots from behind the arc. Nate Robinson has been one of their few deep threats.
While they are at the barely acceptable rate of 33.3 percent, his five makes are the second-most on the Bulls and do at least give the Bulls four players that can stretch the court, with the other three being Kirk Hinrich, Luol Deng and Marco Belinelli.
The strength of the team offensively without Derrick Rose is their front court with Den, the suddenly dynamic Joakim Noah and Carlos Boozer. Having a point guard who can stop and pop from deep keeps defenses honest.
One of the great assets of having a player like Nate Robinson is hard to measure in numbers. How do you gauge energy anyway?
You can look at something like net rating, which looks at how much a team outscores their opponents per 100 possessions. The Bulls are a plus-6.8 while Robinson is on the court, compared to a plus-6.1. That doesn't really show anything about energy, though; it just shows they're a little bit better.
What's interesting, though, is that per 48 minutes they are a plus-3.2 while he's on the court compared to plus-8.2 while he's on the bench. Based on that, you might conclude they're a little bit better while he's sitting.
Either way, though, they're better than their opponents, but where I'm going with all this is pace. Why is it that when you look at net rating the Bulls are better when Robinson is on the court, but when you look at per-48-minutes it looks like they're better when he's on the bench?
The answer is energy. When Robinson is on the court, he brings energy and pushes the pace, thereby obscuring the per-48-minutes stats. The quicker pace is how he makes up the difference.
Sometimes the Bulls need that energy, and he's been excellent in that role.
In the postgame interview (above) which came following the Timberwolves game, you'll hear Nate Robinson talk about "roles."
That's what Tom Thibodeau's basketball is all about, players knowing their roles and embracing them, and you can tell from the way that Robinson is talking that he completely buys into it.
The truth is that the Bulls offense needs the role that Robinson provides. He can push the ball. He can penetrate. He can provide instant offense off the bench.
Without Derrick Rose they need it even more. His occasional drive with a little tear-drop finish is even reminiscent of Rose, as are his ridiculous hops. He's not quite as humble as Rose off the court, admittedly (that was a joke, by the way), but on the court he's just as cocky.
The Bulls need that role, and considering that he's getting paid the minimum on a non-guaranteed contract to provide it, there's no one else who can provide it better for that price. He's a little guy, but he's a big part of why the Bulls are playing winning basketball.