UFC on Fuel 6 Results: 5 Best Retirement Fights for Rich Franklin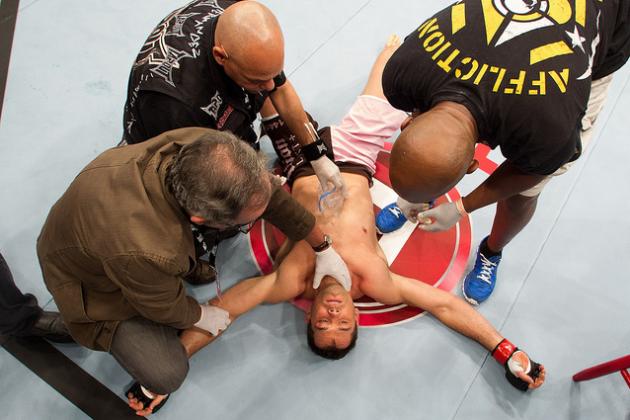 Photo by Josh Hedges/Zuffa LLC/Zuffa LLC via Getty Images
Less than 24 hours ago, Rich Franklin was separated from consciousness by Cung Le in Macau.
In the post-fight interview, the obviously concussed Franklin was unable to commit to retirement when questioned by Jon Anik. Instead, Franklin said that he has to speak with his coaches and decide where he goes from here.
Fans best know Franklin for being a company man from the beginning. He was the face of the UFC's middleweight division before being dethroned by middleweight kingpin Anderson Silva. Since then, he's stepped up whenever needed and always put on a spectacular performance.
I was taught as a child that you never end anything on a bad note. I was never allowed to walk away from the basketball gym on a missed shot. I always had to walk away on a basket.
That's what Franklin should do.
There are many fights available to Franklin in the UFC's middleweight and light heavyweight division. I recognize that he would retire with a win should he face someone like Dongi Yang.
However, the five fighters on this list all possess one thing in common: They're all "name" fighters. This guarantees that Rich walks away in a fight that maximizes fan interest.
Begin Slideshow

»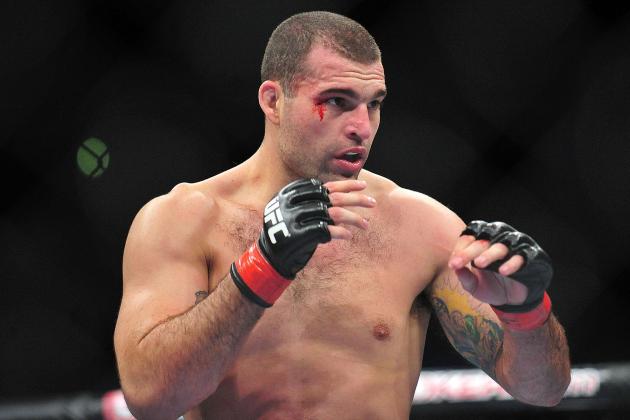 Gary A. Vasquez-US PRESSWIRE

When it comes to under-sized light heavyweights, one of the first names that should come to mind is Mauricio "Shogun" Rua. Yes, Rua is the former light heavyweight champion. And yes, he's still one of the most dynamic fighters in the division.
But has there ever been another fighter that's seemed to lack motivation to train more than Rua? Rua was known for his almost-limitless gas tank when he was ruling the PRIDE ring. He literally out-worked everyone he faced from bell to bell as they were unable to maintain his incredibly pace.
Unfortunately, that Rua seems to be long gone.
The Rua who is currently fighting in the UFC is one that looked to be physically out of shape and indifferent to finding success in the Octagon.
He tends to fight to his opponent's ability. In some cases it means that Rua fights to the absolute best of his ability. However, more often than not , it means that Rua fights down to this opponent and comes in unprepared.
He's essentially all but abandoned the jab, and instead of dynamic footwork, he's plodding when walking down an opponent.
It may not be the easiest fight for Franklin, but this one guarantees to be an absolute war. A fitting way for Franklin to end his career.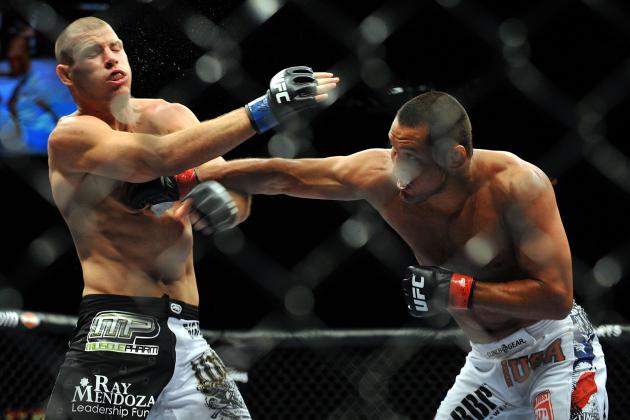 Jon Kopaloff/Getty Images

All right, I know that Rich Franklin lost to Dan Henderson way back at UFC 93 in 2009. I also know that it was an extremely close fight with many people—myself included—feeling that Franklin was the clear victor.
Many people talk about Dan Henderson and his "world-class" Greco-Roman wrestling. While he's still strong in the clinch, Henderson doesn't really utilize his wrestling all that much anymore because he's fallen in love with his striking.
He's a danger to everyone in the middleweight and light heavyweight divisions because of a right hand lovingly named the H-Bomb. That punch has ended the nights of many talented fighters and made Henderson one of the most feared strikers in MMA.
But really, if he's a wrestler who doesn't use his wrestling, and a striker with one striker, what is there really to fear about fighting Dan Henderson? He lacks any sort of footwork and his striking defense revolves around his ability to block punches with his chin.
While Franklin has to worry about the knockout punch, he should be able to out-work and out-strike Dan Henderson to a decision victory. Especially over five rounds.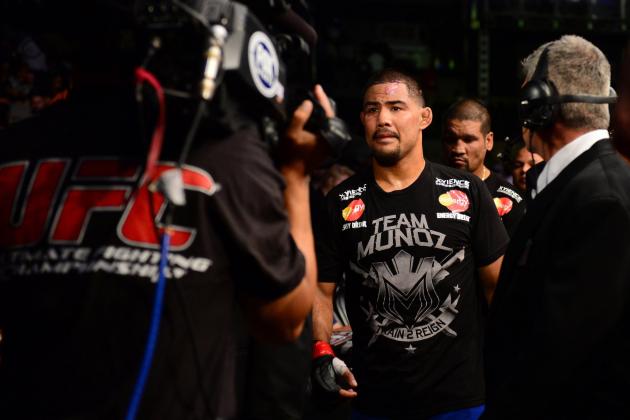 Kyle Terada-US PRESSWIRE

It was only a couple months ago when people were talking about Mark Munoz as a viable opponent for UFC middleweight champion Anderson Silva. It's crazy how a devastating knockout loss can change one's perception.
Mark Munoz is an extremely talented fighter. You'd be hard pressed to find someone in the UFC with more vicious ground and pound. It's literally terrifying whenever Munoz starts raining down punches as he's just relentless with his attack.
However, Munoz never reached his full potential.
If you've ever watched his fights, you know that his takedowns are slow and telegraphed and often from way outside of range. While he possesses heavy hands, he doesn't have the boxing or footwork to truly take advantage of his gifts.
This is a tougher fight for Rich but one that is very winnable with the proper strategy. Rich needs to avoid spending any significant time under Munoz if he has any chance of winning. Luckily, Franklin has a guard game created for just that purpose.
While he's not the easiest fight, Munoz may be the most winnable.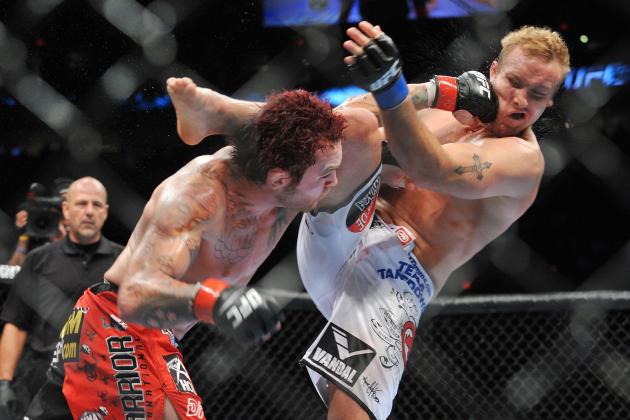 Jon Kopaloff/Getty Images

Let me say this first: Chris Leben is a dangerous fight for anyone.
Now that I've gotten that out of the way, let me tell you why a fight with Leben is perhaps the best way for Rich Franklin to retire on a win.
It is no secret that Leben possesses the type of knockout power to put an opponent to sleep at any time in a fight. We've seen him come back from the brink of defeat and knock Terry Martin out while out on his feet.
It's a huge risk and one that Rich Franklin will have to game plan for should he face Leben.
However, Leben isn't just a brawler with night stopping power. He also is a well-versed grappler who has the ability to submit anyone off his back. Coupled with his severely underrated wrestling, and Leben is one of the most well-rounded fighters in the middleweight division.
But he also has one of the lowest fight IQ's in the business, and that's how Rich Franklin would walk away with the W. A smart game-plan and footwork to avoid the big knockout punch are Franklin's keys to victory.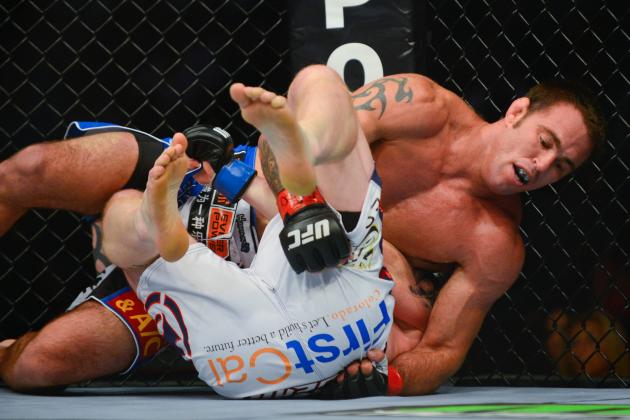 Ron Chenoy-US PRESSWIRE

The absolute safest matchup for Rich Franklin is Jake Shields.
The biggest reason that this is the best possible matchup for Rich is that there is no risk of a knockout. Absolutely none. Despite a 35-fight career, Shields' stand up is still rudimentary at best, and he's never displayed any ability to stop a fight with strikes.
Shields' biggest asset is his grappling ability yet he had difficulty when fighting Yoshihiro Akiyama and Ed Herman. Both of those fighters were able to fight off takedowns and regain their feet multiple times during their fights.
Then there's the very important fact that Shields' cardio is extremely suspect. In his time in the UFC, he's gassed out in every fight.
This all spells out a clear path to victory for Franklin. If there's ever a fight in the middleweight division that allows Rich Franklin to retire on a victory, it's one against Jake Shields.