College Hoops Makeover Part Two: Depaul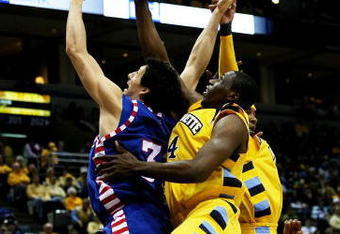 For years DePaul was the college basketball equivalent of a successful family business. Ray Meyer served as head coach for over 40 years and took the team to Final Fours 36 years apart. He coached George Mikan, Mark Aguirre, Terry Cummings, Dave Corzine and countless other stars. When he retired in 1984, his son and longtime assistant Joey was primed to continue the tradition, take over the family business if you will.
For a while, the family business underwent a seamless transition. Rod Strickland, Dallas Comegys, Tyrone Corbin and Stanley Brundy kept the Demons going as an NCAA tournament fixture for the rest of the decade, which included two Sweet 16 appearances.
But after getting upset by New Mexico State in the 1992 tournament the Demons fell on hard times. Five years later, Joey Meyer was gone. Pat Kennedy, Dave Leitao and current coach Jerry Wainwright have tried to restore the tradition to no avail. This year's edition went 9-24 and didn't win a single game in the Big East until scoring an upset over Cincinnati in the first round of the Big East tournament.
God Bless the USA?
Since the Demons made the move to the Big East they haven't come close to making the NCAA tournament, with their last appearance coming in 2004 as a member of Conference USA.
So should the Demons return to Conference USA? The only teams that seem capable of competing in the Big East are Memphis and UAB, so the Demons would have an advantage of playing easier opponents. But teams that had a decent year in C-USA don't even make a ripple on the national scene. Also, many of the other BCS conferences do feature teams that have fallen on hard times only to rise again in a few seasons. Finally, don't forget the recruiting advantage. Incoming freshmen would have to like the chance to compete on a national stage several times over the course of a season.
Sweet Home Chicago
When the Demons were at their peak their best players were from the Chicago area (Aguirre, Cummings). On their current roster, sophomore center Mac Koshwal is a local product who averaged a double-double as is Jeremiah Kelly, a freshman guard who started toward the end of the season. Next season Mike Stovall, a junior-college transfer and shooting guard, will return to DePaul and his Windy City roots.
If nothing else, Chicago is deep in talent and Wainwright's staff should maximize the amount of players available on the L-train lines.
Can They Get It Back?
Their three leading scorers (Dar Tucker, Willie Walker and Koshwal) should all be back next season and each of them averaged over 12 points a game. The problem is the rest of the roster combined for only 20 points a game. They also finished near the bottom of the league in rebounding, had more turnovers than assists and only shot 40 percent from the field.
Besides Stovall, the only confirmed recruit is an undersized power forward named Tony Freeland who will fight for every loose ball but might not have the size to be a big factor unless he switches positions.
DePaul may re-establish themselves as a national contender one day. But unless they can keep more of Chicago's best talent at home it's not likely to happen in the foreseeable future.
Next team: Virginia.
This article is
What is the duplicate article?
Why is this article offensive?
Where is this article plagiarized from?
Why is this article poorly edited?