Heisman Watch 2012: Predicting Which Players Will Make the Trip to New York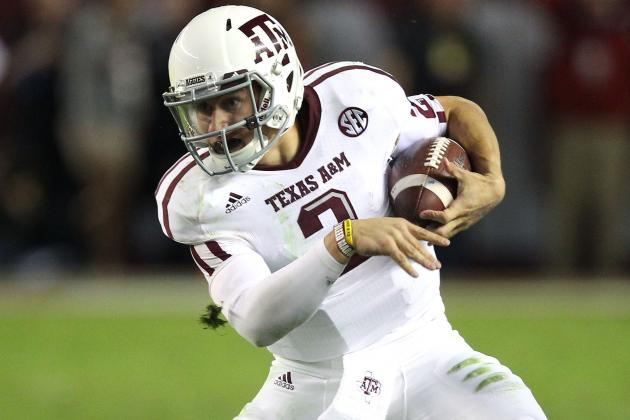 Mike Zarrilli/Getty Images

Texas A&M's 29-24 upset against Alabama not only created chaos in the BCS Championship race, but it also shook up the Heisman race.
As long as Alabama was undefeated and AJ McCarron remained efficient, he was going to be one of the candidates in New York on Dec. 8. Two interceptions and a loss later, McCarron's trip to New York is most likely cancelled.
So who took McCarron's place among the top candidates to win college football's most prestigious prize?
Can the freshman sensation, Johnny Manziel, finally get the love he deserves?
Begin Slideshow

»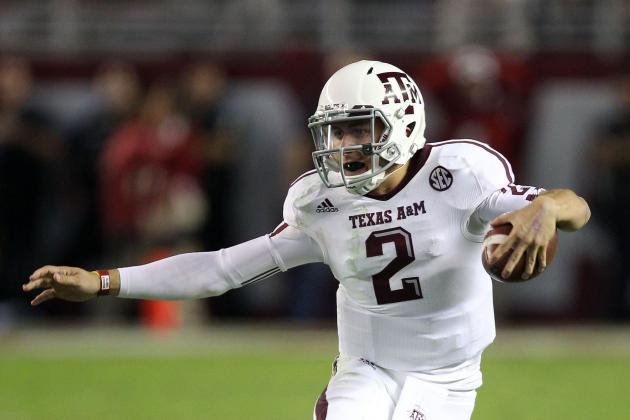 Mike Zarrilli/Getty Images

Heeeere's Johnny!
What does it take to make Manziel a true Heisman candidate? Do you want stats? Manziel is third in the SEC with 2,780 passing yards, tied for fourth with 18 passing touchdowns and leads the SEC in rushing yards (1,014) and rushing touchdowns (15).
Put those against any player in the country and see if anyone has more impressive stats.
All right, what about his team? Is he on a good team? Well, the Aggies are No. 9 in the latest AP poll and are 8-2 this season. Safe to say they're pretty good.
Finally, does he have a Heisman moment? Well, Manziel's 24-yard touchdown pass to Malcome Kennedy in the fourth quarter against Alabama could be classified as so. Seriously, what else do you want from this guy?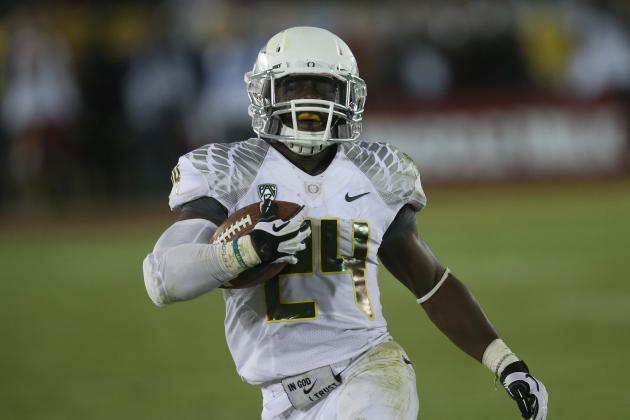 Stephen Dunn/Getty Images

Kenjon Barner is the face of the No. 1 team in the land and that goes a long way.
He's had a fantastic career at Oregon, with over 2,000 yards and 39 rushing scores.
But more importantly, he's having the best season of his career, and he's helped Oregon attain that No. 1 status.
Barner is fourth in the nation with 136 yards per game and is tied for second in the nation with 19 rushing touchdowns.
It can be argued that the running backs this season haven't dazzled fans quite like they have in years past, but Barner's numbers and Oregon's undefeated season will save him a seat in New York.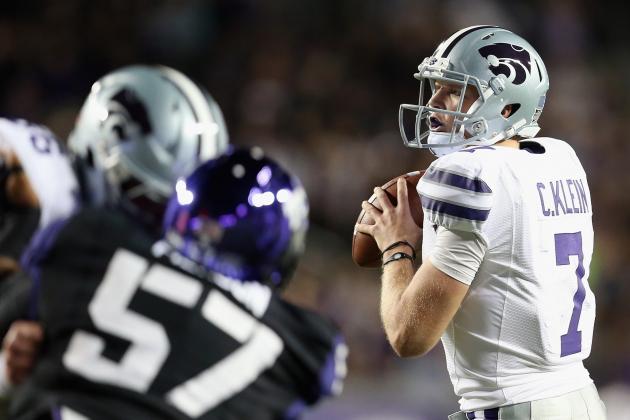 Ronald Martinez/Getty Images

Speaking of saving seats, go ahead and reserve Collin Klein one in New York.
He's easily the frontrunner for the Heisman. Klein has great stats, he's a great leader, he's on an undefeated team, he's the most valuable player in the country and now fans know he has the mental toughness to play through pain.
After questions circulated around Klein starting in the TCU game after he was injured against Oklahoma State, Klein came out in full pads and led his team to another victory.
As far as the season goes, Klein has 2,020 passing yards, 748 rushing yards and 31 total touchdowns with three interceptions.
Plus, come on, he has the coolest nickname in football.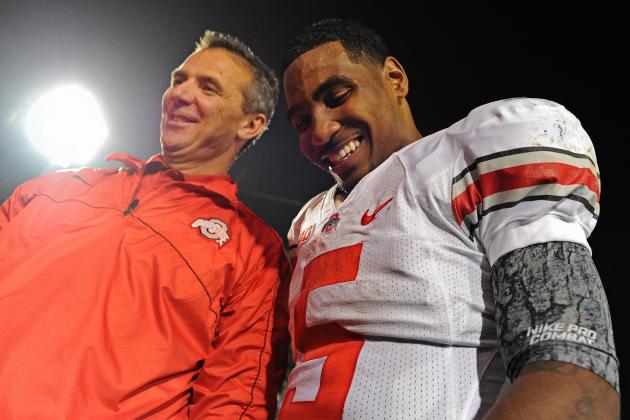 Patrick Smith/Getty Images

You have to wonder if Braxton Miller would be receiving the same amount of love Klein is if Ohio State was eligible for a national championship.
Though his numbers aren't as impressive as Klein's, he's just as valuable to his team.
Miller has 1,753 passing yards, 1,166 rushing yards, 27 total touchdowns and six interceptions.
But what he does have that Klein does not is the flash. The same type of flash that Robert Griffin III possessed last year. Simply put, he's fun to watch.
And though watching Klein bulldoze his way through defenders and launch the ball deep down the field is a great sight, watching Miller turn the football field into a dance floor is more amusing. His stats, excitability and undefeated record will propel him as a top-five Heisman contender.
Jonathan Daniel/Getty Images

Last but not least is the defensive player that captured America's heart, Manti Te'o.
That means no McCarron and no Marqise Lee. While both are deserving, Notre Dame's unblemished record is what's keeping Te'o's Heisman campaign running so efficiently.
Sure, his numbers may be dropping recently, but his six interceptions are still the best of any linebacker in the country. Add in 92 total tackles and he's a worthy candidate.
Now, are these astronomical numbers by a defensive player? Absolutely not. In fact, Tyrann Mathieu had an overall better season last year with his six forced fumbles, two interceptions and two punt-return touchdowns.
But the fact that Te'o is the face of this resurgent Notre Dame team will have him in New York with the rest of the Heisman candidates.