North Carolina Basketball: 5 Immediate Improvements the Tar Heels Need to Make
Grant Halverson/Getty Images

There is a lot of potential with this young group of Tar Heels, which means there is also a lot of room for improvement.
Roy Williams has yet to come up with a set starting five, which may play a role in their inconsistencies. However, that is still no excuse for the mental errors that are happening on the floor, especially from the veteran players.
For North Carolina to be competitive in the upcoming Maui Invitational, it is going to have to make some quick adjustments. If the Tar Heels can't get their heads straight soon, they're going to have a tough time with stiffer competition than Shaw and Gardner-Webb.
Though the list of adjustments is long, I've narrowed it to five key points.
Begin Slideshow

»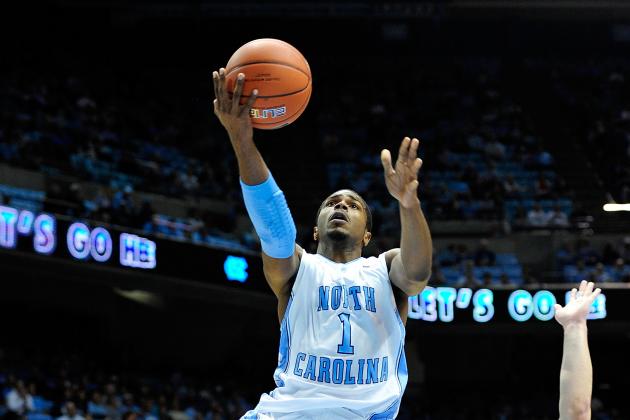 Grant Halverson/Getty Images

UNC needs to come out of the gate much stronger. Its slow starts have seemed to dictate how both teams play the rest of the game.
This group has the defensive prowess to get things going in transition and get some easy buckets on the other end. When the Heels are able to do that, it crushes their opponent's confidence.
That's what they were able to do to Duke last season, and they should have been able to do just the same against Shaw and Gardner-Webb. But they didn't.
In the first 5:30 of Friday's game, the Tar Heels only scored nine points and gave Gardner-Webb a free basket on a goaltending call against Desmond Hubert.
During that time, Marcus Paige air-balled a floater and later got caught in the air trying to pass and turned it over. James Michael McAdoo took a couple ill-advised shots and couldn't squeeze the post feed, which cost the Heels yet another turnover. Dexter Strickland looked shaky, losing his handle several times.
You're really sledding uphill when you have four turnovers in the first five minutes. And that trend continued, as UNC finished with 18. I'll get to that in a minute, though.
Roy Williams needs to find the right group of starters, because this group of Paige,Strickland, Reggie Bullock, McAdoo and Hubert isn't working.
At the least, I think it's time Joel James or Brice Johnson gets a start over Hubert.
Update: The Heels got off to a much better start against FAU. They scored 13 points in the first 5:30, which may not seem like a huge difference, but they were much more efficient.

Desmond Hubert did end up starting. He looked a little better, but his game just doesn't seem to impact the team as much as Joel James and Brice Johnson.
I still say Roy should start James and find every way possible to get minutes to Johnson. His energy and playmaking ability really seems to wear off on the rest of the squad.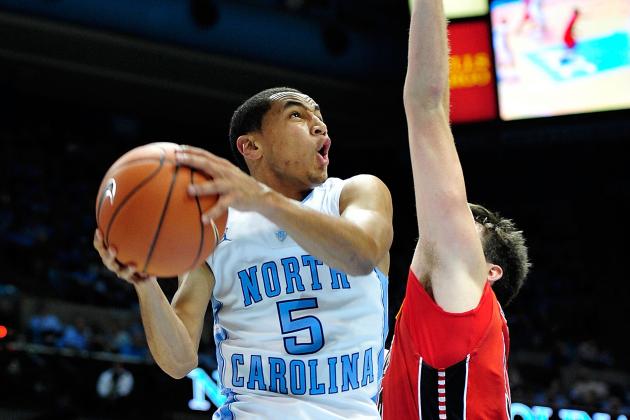 Grant Halverson/Getty Images

Most of those 18 turnovers can be attributed to poor passing by all.
Twice Marcus Paige was caught in the air trying to make a last-second decision. Both times, it resulted in a turnover.
Paige had four turnovers against Gardner-Webb, matched with an ugly goose egg in assists. Team shooting didn't help the situation, but he never seemed in the flow, either.
Because he's the point guard, Paige's mistakes are magnified. So he really needs to get better. But everyone else did their part, too.
James Michael McAdoo had four turnovers, P.J. Hairston three and Desmond Hubert and Dexter Strickland two. Reggie Bullock, Leslie McDonald and J.P. Tokoto each had one.
Most of that seemed to be the result of lazy passes with defenders in great position to steal. I don't know what was going through their heads on some of those.
Brice Johnson and Joel James were the only Tar Heels to play more than 10 minutes without a turnover.
That can't continue.
Update: The passing was better, but there is still work to do. The team finished with 17 turnovers against FAU.
The good news is Marcus Paige looked much more comfortable running the team. He finally started to penetrate, which opened up good looks for the other guys.
He did almost get busted in the air again, and a couple turnovers were the result of being indecisive.
Paige finished with six assists and three turnovers, which is much closer to what I expect from the freshman point.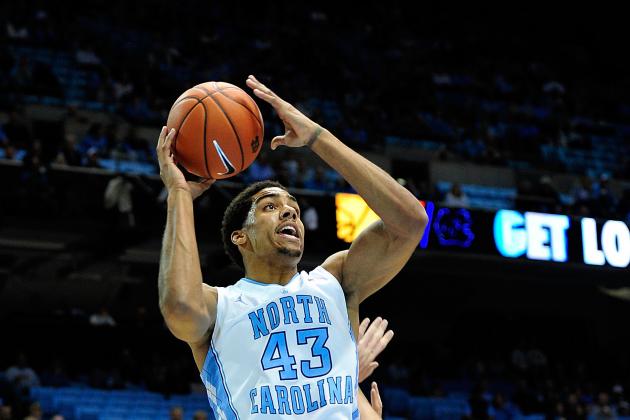 Grant Halverson/Getty Images

What we see to the left is good shot selection by James Michael McAdoo. He's balanced, in front of his defender and has a good view of the bucket.
Take those all day, my friend.
McAdoo scored 26 points, and his all-around game was outstanding. But when a player is going to take twice as many shots as any of his teammates, he needs to be selective.
Twenty attempts is a lot for a college player, and there were some bad selections in there. He had a lot of good passes, and I'd like to see a little more of that.
If McAdoo can become more selective with his shots, it will make him and his team better. He finished 10-of-20, but if he was more selective, he could have been 10-of-15 or better. And the other guys would have more opportunity to get in rhythm.
That isn't to say the other guys didn't take a few bad shots, but most of their trouble was just getting it to fall. I can't much criticize much of the team's shot selection.
But their shooting was atrocious.
Update: McAdoo still took 17 shots, but I was fine with every attempt. He was much more selective, and dished it off when he didn't have a good look.
I was truly impressed.
For more on that, feel free to read my latest on how McAdoo is rounding into a complete player.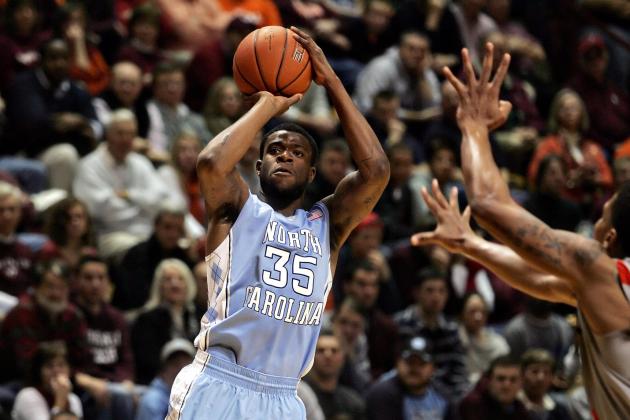 Peter Casey-US PRESSWIRE

Oh, mercy. These guys are making me look bad on my shooting predictions.
Including the exhibition against Shaw, the Tar Heels are 4-of-28 beyond the arc. And it's not like they are getting bad looks, either.
I would tell them to pull the trigger on 90 percent of the threes they have taken. But they just aren't falling.
Is this an omen of what's to come, or are they just having an extremely poor start? I still think it's just a poor start, but I can't say I'm not a little worried it's the same song and dance.
One thing is for sure, they're going to have to do a lot better to reach the 38.3 percent mark I predicted.
Most notably, the P.J. Hairston trend from last season has continued as he went 0-of-5 against Gardner-Webb and is 2-of-10 overall. Reggie Bullock and Marcus Paige are right there, too, going 1-of-6 and 2-of-6, respectively.
The more they continue to miss threes—especially Hairston—the more their confidence will decline. I'm not seeing anything wrong with their mechanics. They are just missing every chance they get.
Assistant coach Hubert Davis has his work cut out for him.
Update: The Tar Heels also improved on their threes. They went 6-of-15, which is good for 40 percent.
That's more like it.
Reggie Bullock had a great game, and the three ball was no exception. He went 3-of-4 beyond the arc.
Aside from Paige, the other guys had a good shooting day, too. Even Luke Davis dropped one.
Paige was the only other player to attempt more than two threes against FAU. He finished the day 0-for-4. He isn't taking bad shots, but it just isn't falling.
I have to believe he's going to come out of it soon. When he gets more confident in the rest of his game, I'm sure his shooting will drastically improve.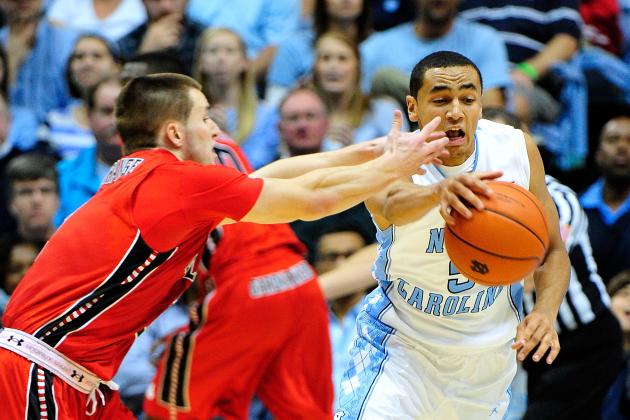 Grant Halverson/Getty Images

The saga continues.
Thus far, this has been a mirror image from last season along the perimeter. The Tar Heels are late on their switches and give help when it isn't needed.
At one point in the second half against Gardner-Webb, all five Tar Heels collapsed on one guy in the paint, leaving Max Landis wide open for a three. Fortunately, he missed the easy shot.
Gardner-Webb was 6-of-22 beyond the arc. At least 18 of those attempts were open looks, due to the same issues I laid out.
What's going to happen when they play a team that can knock down the treys?
The result could be every bit as tragic as their 90-57 loss to Florida State last season. They can't make up for opponent threes if they can't execute transition and sink their own treys.
There is an obvious lack of chemistry here. The guys simply aren't in sync, and they have no idea what their teammates are about to do.
That's how you end up with five guys covering one man.
If this trend continues against Florida Atlantic, Roy Williams may have to step back and come up with a new game plan.
I feel they should just play straight-up man defense. Forget the switches, forget the help—just stay in front of your man.
I can live with opponents occasionally getting around the edge, but I can't live with them leaving guys wide open. That's just unacceptable, especially when the offense isn't clicking.
These guys are talented enough on defense to play one-on-one. I think it's about time Williams implements that. Then he can work in switches as team chemistry builds.
Whether you agree with my strategy or not, I think we can all agree something needs to happen. And it needs to happen now.
Update: It's still a problem.
FAU took 29 threes on Sunday. That's seven more than Gardner-Webb. This could get really ugly when they play a better team.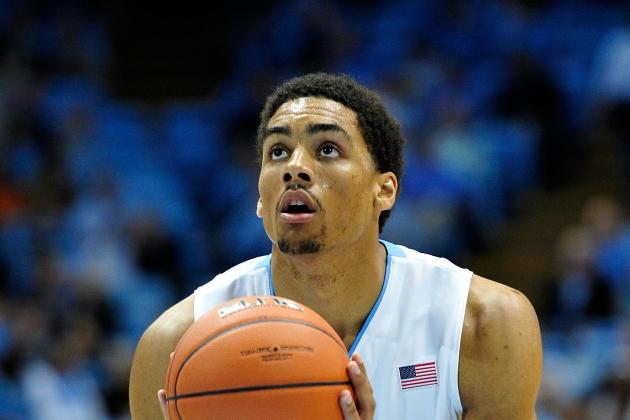 Grant Halverson/Getty Images

I don't know how I left out this slide on the original.
The free-throw shooting has not been pretty for the Heels. Through two games, UNC is shooting 45.7 percent from the charity stripe.
That's more like robbery than charity.
The good shooters simply aren't getting to the line enough. Hairston and Bullock need to get more aggressive. They only have four attempts between the two of them.
They are better than that.
Brice Johnson is currently leading the squad, at 66.7 percent. Desmond Hubert has yet to find the hole. Including the exhibition, he is 0-for-7.
James Michael Mcadoo looked like he was finding his stroke on Sunday. Don't expect him to be Tyler Zeller, but he did go 3-of-4.
Joel James has a great touch, and is definitely going to get better. He went 3-of-6, which isn't great, but his last two were perfect.
It's always good to end on a positive note.