LSU Football: 10 Lessons We Learned from the Tigers' Win over Mississippi State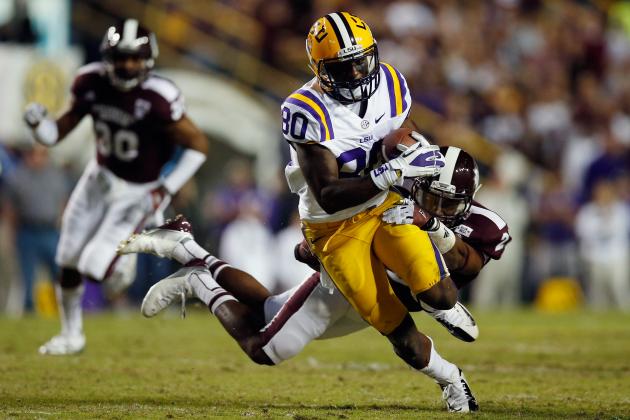 Chris Graythen/Getty Images

For the first quarter of play in Tiger Stadium Saturday night, it looked like LSU was suffering from a serious post-Alabama hangover.
Mississippi State came into Death Valley at night and put the first points on the board, becoming just the second team this season to score a touchdown on its first drive of the game against LSU.
The Tigers answered back with consecutive field goal drives, as the MSU defense held strong in the red zone.
Then, quarterback Zach Mettenberger and receiver Jarvis Landry caught fire, giving LSU the lead. MSU came back within three points twice, but the Tigers never would surrender that lead.
In the fourth quarter, two sacks and one interception in the end zone by the LSU defense sealed the victory as the Tigers jumped to 8-2 overall and No. 3 in the SEC West at 4-2 in conference play.
Let's take a closer look at the LSU win and see if we can't expand our knowledge on the 2012 Tigers.
Begin Slideshow

»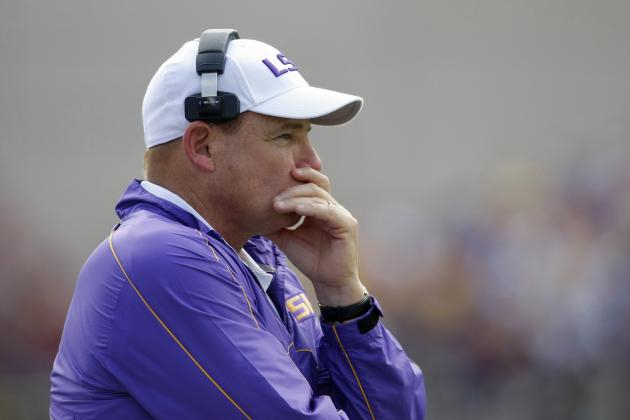 Brett Davis-US PRESSWIRE

The game was never really out of reach for Mississippi State until late in the fourth quarter. Still, the LSU faithful had long since departed Tiger Stadium for the streets of Baton Rouge, no doubt thinking of what could have been in the 2012 season.
Shortly before the start of the game, the LSU fans caught wind of Alabama's upset at the hands of Johnny Manziel and SEC newcomer Texas A&M, bringing forth mixed emotions.
Glad to see a rival fall, the fans in the stadium cheered. However, as the game carried on, fans started to realize that the 2012 season could have brought so much more.
If the Tigers had taken care of business, if they had not surrendered a lead in the final minutes of their contest with Alabama, they would have had the opportunity to defend their conference title—and perhaps they would have even had another shot at the BCS title.
Instead, all LSU fans would receive on this night was the benefit of a relatively meaningless win over Mississippi State.
Sure, any SEC win is great, but no titles will come of it, which takes the joy out of the victory (and the Bama loss) for the Tiger faithful.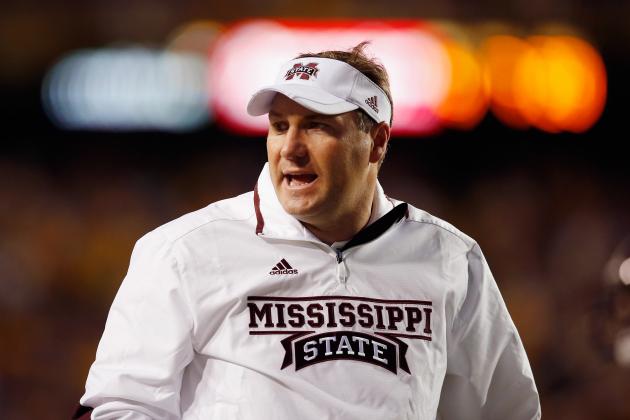 Chris Graythen/Getty Images

Mississippi State entered its game with Alabama on fire at 7-0, with its sights set on a monumental upset of the No. 1 Tide.
The Bulldogs were thumped by Alabama and then handled in the following week by Texas A&M, looking nothing like the team they were early in the year. After this, MSU was cast off as being overrated.
Dan Mullen and his team took offense to this and came out ready for a fight against a tough LSU team in an even tougher road venue in Death Valley.
MSU gave LSU about all it could handle throughout the game and showed that it is on the same level as the top teams in the SEC West. The Dawgs could have just packed it in and looked forward to next week, but instead they fought their third-straight ranked foe tooth and nail to the finish.
After two bad games, MSU looked much better in this one, which has to leave Mullen, his staff and the State fans at least slightly encouraged.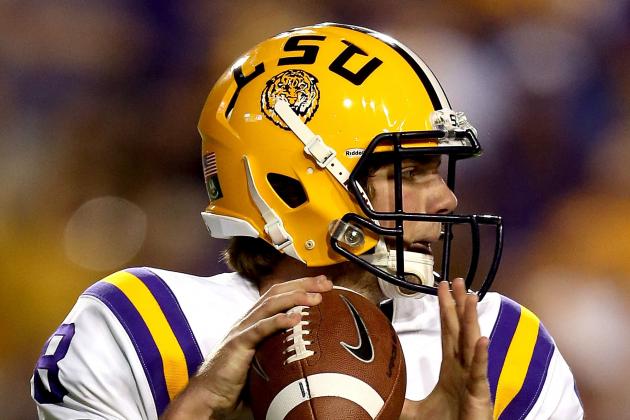 Matthew Stockman/Getty Images

The last time I actually did live coverage of LSU was back in September for the ugly win over Auburn. I have watched just about every Tigers game since then, so I've been able to see the progression of Mettenberger.
Auburn was one of the season lows, but I was surprised to see him do even worse against Texas A&M. Well, in the last two weeks No. 8 proved that the saying "things will get worse before they get better" is more than just a cliche.
He had a career game against Alabama last week and looked very good again this week. He has gone over 250 yards passing only twice this year, and both were in the last two weeks.
Early in the season, he played tight, more to avoid mistakes than make plays. This method worked out a bit, but it put too much pressure on the LSU run game and defense.
I'm not sure what happened to Mettenberger, but he has come out slinging in the last two weeks. He has a huge arm and can make just about any throw on the field when he lets himself go.
When Mettenberger is firing off laser beams like he was against MSU, the LSU offense is tough to beat.
Miles has to be looking forward to having this improved Mettenberger for the remainder of the 2012 campaign and through to next season as well.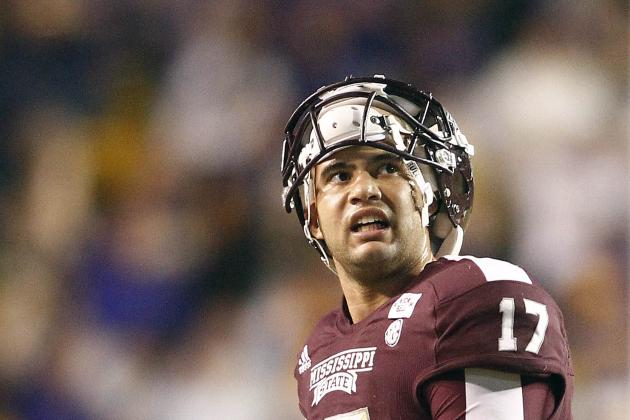 Crystal Logiudice-US PRESSWIRE

Tyler Russell really came into his own in this game as well.
The junior finished 26-of-38 for 295 yards, one touchdown and one interception when the game was all but decided.
Those numbers mark a career high in completions and yardage.
This is his first full season as a starter under center, and after seeing this performance, SEC defenses have to cringe knowing that he'll be back next year for MSU.
He currently has a 17:4 touchdown-to-interception ratio on the year, which is pretty solid considering his defensive competition.
Dan Mullen has done a great job at solidifying MSU as a legitimate SEC contender, and right now Russell is right at the middle of all of it.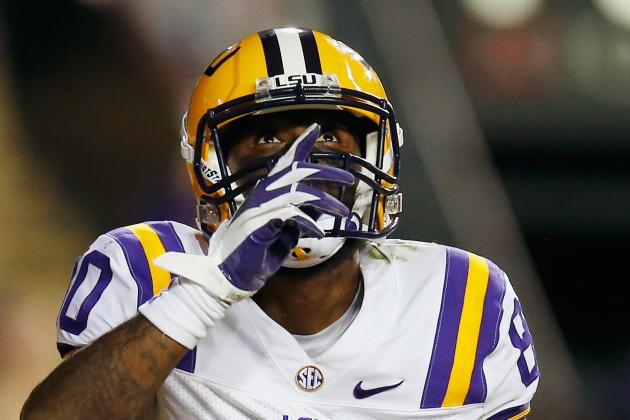 Chris Graythen/Getty Images

This has been up for debate all season at LSU.
Jarvis Landry, Odell Beckham Jr. and Kadron Boone have all had their moments as LSU's go-to receiver, but No. 80 took the lead in that race tonight.
He had about 50 percent of his season's production to this point in just one half. He registered nine receptions for 109 yards and one touchdown and was the choice target for Mettenberger all night.
Six of his receptions went for either a first down or a touchdown.
Of course, Beckham, Boone or even James Wright could be the next Tiger receiver to have a breakout game.
As it stands right now, though, Landry leads the team in receptions, and it seems like Mettenberger has a lot of confidence in throwing to the sophomore.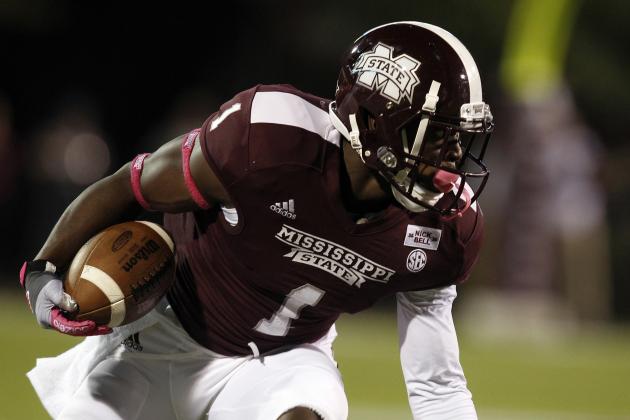 Butch Dill/Getty Images

Chad Bumphis had a great game against LSU, once again proving to be the premier receiver for Mississippi State.
However, against the Tigers, Bumphis looked like one the the elite receivers in the country.
Here's an interesting tweet from MSU assistant director of media relations, Kyle Niblett, about just how impressive Bumphis' game was :
Chad Bumphis' 140 yards is the most receiving yards by a player against the LSU defense this season.
— Kyle Niblett (@KyleNiblett) November 11, 2012
Nine receptions, 140 yards and a touchdown is impressive against any defense, but against LSU, that's just phenomenal.
Unlike Russell, the senior Bumphis won't be back next year—which must be a relief for opposing coaches.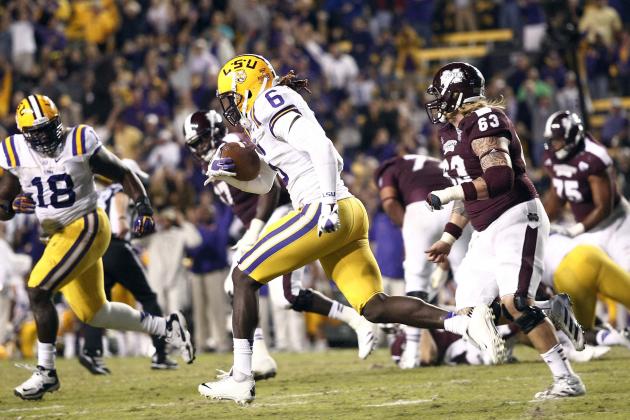 Crystal Logiudice-US PRESSWIRE

All right, maybe we already knew this. Still, LSU has been in search of its replacement Honey Badger all season long.
Finally we are learning that there really isn't one, but when guys like Loston, Tharold Simon and Eric Reid all combine to make plays, it can make up for the absence of Tyrann Mathieu.
Mississippi State had one last gasp of air left, just a few yards away from a touchdown and a six-point game, but Loston stomped that bubble of air right out.
With less than two minutes remaining in the game, Loston stepped in front of an ill-advised Russell pass, snatched it out of the air and took it the distance.
It was the one, final play LSU needed to seal off the victory over MSU.
Loston was flagged for a questionable pass interference call earlier in the game, but he made up for it with the pick-six to seal the deal late in the fourth quarter.
That was his second interception of the year, to go with 41 tackles.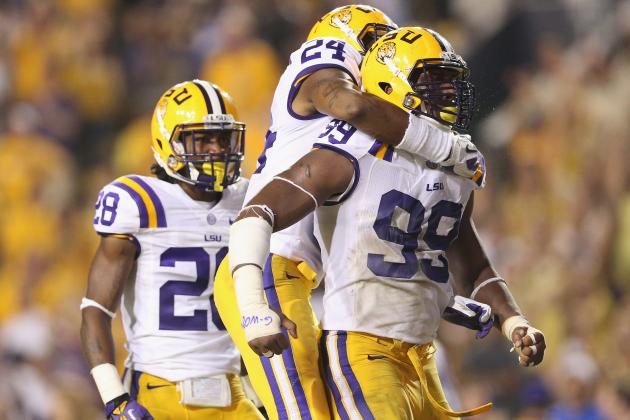 Ronald Martinez/Getty Images

All right, maybe we already knew this too, but there were still some doubters. After tonight, those doubts were erased.
The Mississippi State offensive line gave a valiant effort, giving Tyler Russell time to throw throughout the game. The big dudes up front for MSU held Montgomery and Mingo at bay for three-and-a-half solid quarters.
Then, when it mattered most, the terrifying tandem not only pressured Russell, but sacked him as well to help salt away the victory.
Back-to-back sacks on third and fourth down by these two killed a Bulldog drive in the fourth quarter.
They combined for only six tackles and the two sacks on the game, but defense is all about timing—and this tandem made plays when their team needed plays to be made.
On the season, they have combined for 57 tackles, 16.5 tackles for a loss, 10 sacks, 13 quarterback hurries, five pass breakups, a forced fumble and a safety.
I believe those numbers say enough on their own.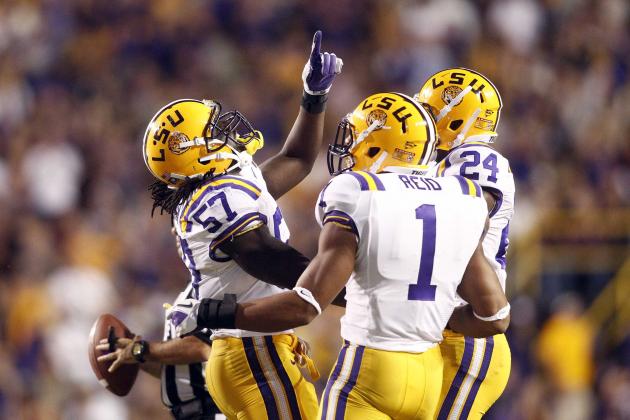 Crystal Logiudice-US PRESSWIRE

Eric Reid, Kevin Minter and Lamin Barrow once again proved that they are three of the best tacklers in college football.
LSU's three tackling leaders on the season again led the team in tackles.
Reid and Barrow each had nine tackles, while Minter had eight—two of which came for a loss. Barrow also added a fumble recovery and a pass breakup.
This performance gave them 226 tackles, 17.5 tackles for a loss, three sacks, three interceptions and two fumble recoveries on the year.
These three just eat up tackles week in and week out, which has to impress NFL scouts.
One thing is certain: You'd be hard-pressed to find a better trio of tackling defenders in the country than these three.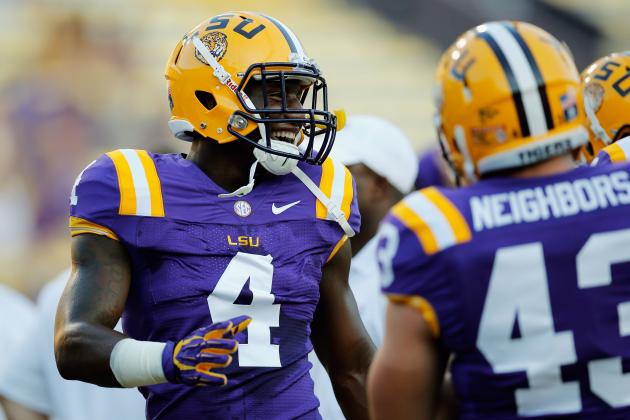 Chris Graythen/Getty Images

Alfred Blue missed another game for LSU, as it is looking more and more like he won't be back in 2012.
Without him, the LSU running game struggled a bit.
The Tigers netted 119 yards on the ground, but averaged 3.1 yards per carry. This was LSU's second-lowest rushing total of the year.
Also, this was LSU's first game since Oct. 6 vs. Florida, in which no Tiger ball carrier went over 100 yards on the ground.
With Jeremy Hill leading the way with just 48 yards, this was also just the second game in which LSU didn't have a rusher over 50 yards.
At 6'2" 220 pounds, Blue's tough running is obviously missed in Baton Rouge.
He was averaging 6.8 yards per carry when he went out—more than double what the Tigers netted against MSU.
It looked like Hill was going to be the answer after Blue's departure, but that's an awful lot to ask of a freshman. The Tigers may need another rusher like Ford, Ware or Hilliard to take on more responsibility over the end of the season.