Green Bay Packers 2012 Midseason Grades for Pack's 2012-13 Season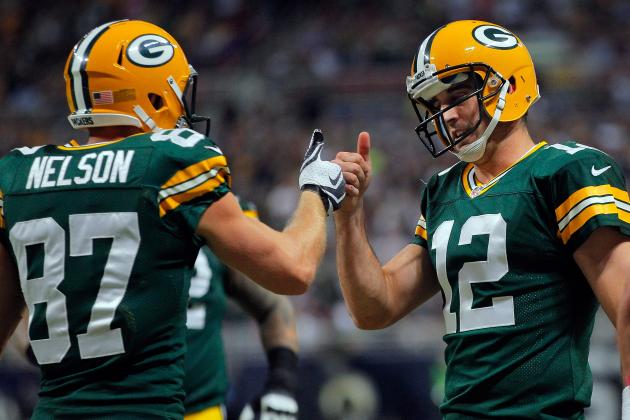 Doug Pensinger/Getty Images

With the Packers bye week upon us it is time to take a look at the first half of the season and how players have done thus far.
After a rocky start against tough opponents ( and replacement refs) the Packers are riding a four game winning streak into the bye week and are now poised to make a run at the playoffs.
With that, let us take a look at the grades for the Packers to date.
Begin Slideshow

»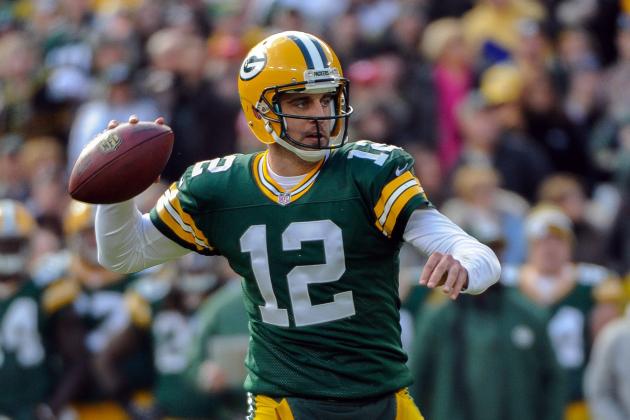 Benny Sieu-US PRESSWIRE

After what many considered a rough start to the season for the reigning MVP, Rodgers got on a roll in week six by throwing for six touchdowns and 338 yards in a rout over the Houston Texans. Rodgers has now totaled 2,283 yards along with 25 touchdowns and just five interceptions to put himself back in the MVP conversation.

Grade: A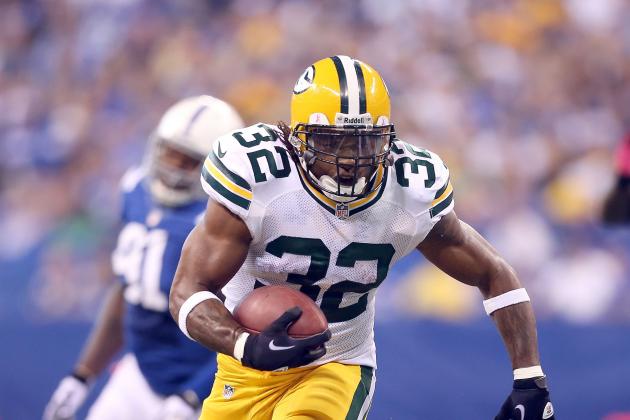 Andy Lyons/Getty Images


Cedric Benson: Cedric has added balance to the Packers offense that it sorely lacked the last couple years. Benson is not an explosive back, but he consistently gets positive yardage. A foot injury has put Cedric out for the next few weeks; however, he may be exactly what the Packers offense needs to make a late run in the playoffs.
Grade: C+

Alex Green: Green has shown flashes of being the explosive back the Packers were hoping for when they drafted him. He has lacked consistency in his game but currently leads the Packers in rushing with 272 yards. His 3.1 yards per carry definitely leaves something to be desired.
Grade: C-

John Kuhn: Like many Packers, Kuhn has struggled through some injuries this year. He has continued to be an important part of the Packers offense in terms of lead blocking and pass protection. The Packers' ability to run the football begins and ends with John Kuhn.
Grade: B-

James Starks: James started the season injured and was a healthy inactive until the injury of Cedric Benson. He has just recently begun to see more rotation in the offense.
Grade: Incomplete

Overall Running Back Grade: C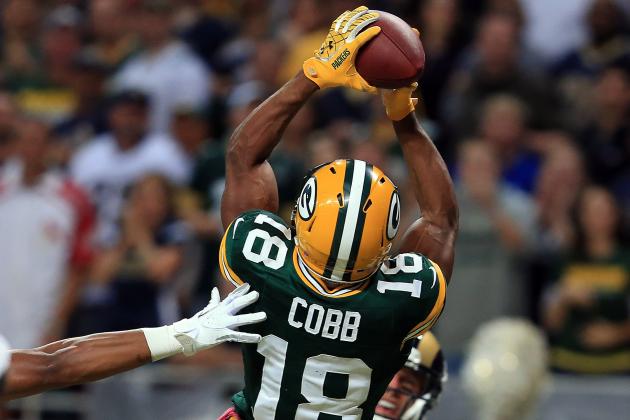 Doug Pensinger/Getty Images


Randall Cobb: Randall has emerged as a vital part of the Packers offense. He currently leads the team in catches with 45 and also has 500 yards receiving and six touchdowns. Whether he is lined up outside, in the slot or in the backfield, Cobb has proven to be a dangerous weapon that defenses have to be aware of.
Grade: A-

James Jones: Just as Packer fans began to clamor for James Jones to be traded, James took his game to another level this year when Greg Jennings went down with an injury. James leads the team with eight touchdown catches and also has 40 catches for 462 yards.
Grade: A-

Jordy Nelson: Jordy continues to be the team's deep threat this season. Though he has missed the better part of the last two games, he still leads the team in receiving yards with 532. Jordy also has 40 catches and five touchdowns. Jordy has become an indispensable part of the Packers passing attack.
Grade: B+

Greg Jennings: Greg has only played in three games this season while battling a groin injury. The Packers hope to have Greg back in the next couple of games.
Grade: Incomplete

Donald Driver: While most expected Donald to be less involved in the offense this year, I don't know if anyone could have seen him being this uninvolved. On the season, Driver has just seven catches for 65 yards. While Driver is valuable in his leadership and experience, it is disappointing to see his career wind down like this.
Grade: D

Jarrett Boykin: Jarrett is just starting to see playing time in the last three games. He has been able to contribute some on special teams.
Grade: Incomplete

Overall Wide Receiver Grade: B+
Bob Levey/Getty Images

Jermichael Finley: Jermichael Finley is a rare combination of size and speed that is difficult for a defense to game plan for. He is too fast for a linebacker and too big for a safety. But opposing defenses have not been the problem for Finley. The best defense against Finley continues to be himself. After leading the league in highest drop percentage last season, Finley is among the leaders again. Mental errors on blocking assignments have led to his ineffectiveness as well. Finley has been phased out of the game plan over the last five weeks, bringing in just 10 catches for 84 yards over that span.
Grade: D

Tom Crabtree: Crabtree has emerged as the top blocking tight end on the Packers roster. He has also managed to find the end zone three times, two of them on plays over 25 yards.
Grade: C+

D.J. Williams: With all the hype prior to the season about Williams being more involved in the offense this season, his production has been a huge disappointment. Williams has just four catches for 37 yards on the season. Mental lapses and drops have led to fewer opportunities for D.J.
Grade: F

Overall Tight End Grade: C-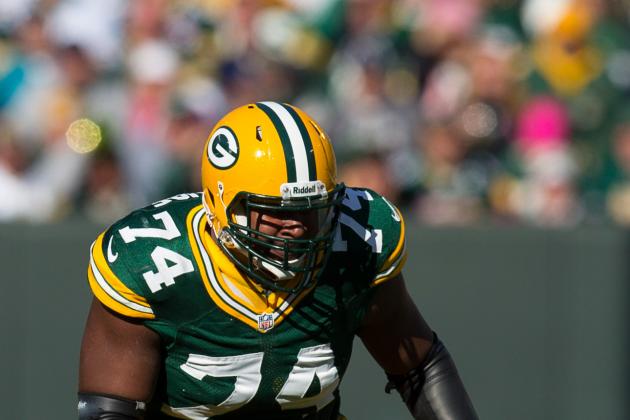 Jeff Hanisch-US PRESSWIRE


Marshall Newhouse: Marshall has emerged as the most consistent member of the Packers line. His play as the full-time left tackle has been a big relief for the Packers. There are still things to improve on for Newhouse. Specifically, sealing the edge against speed rushers has given him trouble.
Grade: B+

T.J. Lang: T.J. continues to be a great lineman for the Green Bay Packers, helping to protect Rodgers' blindside year in and year out. T.J. is a plug and play lineman week in and week out.
Grade: B+

Jeff Saturday: Jeff has been an adequate stop gap for the Packers this season after Scott Wells left town. Past his prime, Jeff has trouble getting off the line against faster defensive linemen. Jeff's run blocking has been average; however, his pass blocking leaves something to be desired. Jeff has definitely started to show his age.
Grade: C

Bryan Bulaga: The former first rounder has struggled mightily this season. Bryan's inability to hold his own against pass rushers is only overshadowed by his horrific run blocking. The Packers have only averaged 2.5 yards per carry when running toward Bulaga. This is one of the worst averages in the league according to Football Outsiders.
Grade: D

Josh Sitton: Sitton has done an admirable job holding his own playing between Saturday and Bulaga. While his pass blocking has been inconsistent, he has been much better than the players around him.
Grade: C+

Overall Offensive Line Grade: B-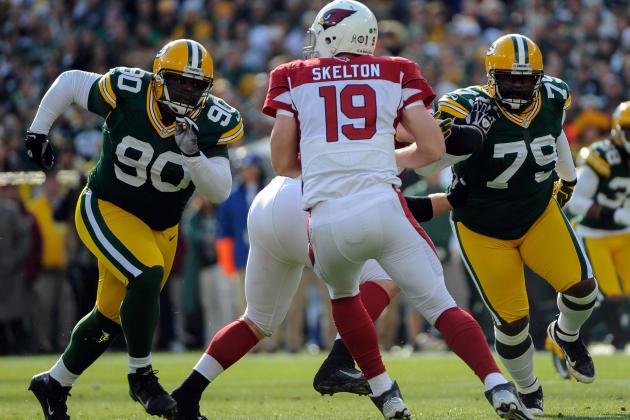 Benny Sieu-US PRESSWIRE


Ryan Pickett: Pickett has been excellent in gap control, closing running lanes effectively. Pickett leads the Packers defensive line with 29 tackles.
Grade: B-

Mike Neal: Mike was suspended for the first four games of the season and is still working his way back into the rotation. Neal has two sacks in the five games he's played.
Grade: C+

B.J. Raji: B.J. has been dealing with injuries and hasn't looked quite like the B.J. Raji we're used to seeing week in and week out. With only nine tackles and no sacks on the season, Raji still isn't looking 100 percent.
Grade: D

C.J. Wilson: With the absence of Mike Neal for the first four games, C.J. Wilson took the opportunity to show the coaches that he was capable of holding his own week to week on the front line. Wilson leads the defensive line with 2.5 sacks.
Grade: B-

Jerel Worthy: Jerel has shown good potential so far this season and has stepped up when called upon. He has managed two sacks in his limited rotation.
Grade: C-

Overall Defensive Line Grade: C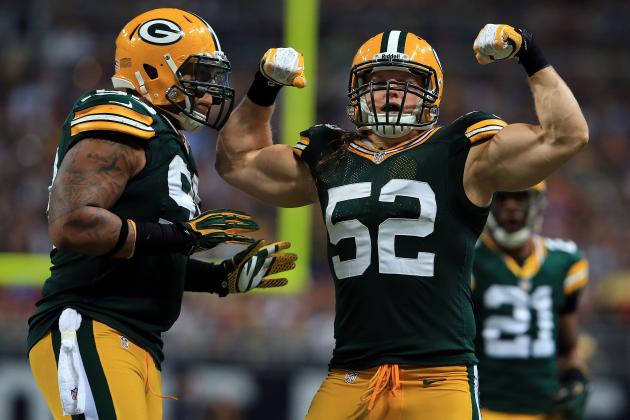 Doug Pensinger/Getty Images


Clay Matthews: The perennial Pro Bowl linebacker is having another great season. Clay already has nine sacks on the year and has caused havoc on opposing offenses. If he continues to play this way, Matthews will be a defensive player of the year contender for sure.
Grade: A

Erik Walden: Erik has played well this year thus far. He has provided consistent pressure on opposing quarterbacks. Even though he has just one sack, he has been causing problems for opponents.
Grade: C+

A.J. Hawk: With Desmond Bishop out for the season, Hawk has provided the leadership in the middle of the field for the Packers. Hawk leads all Packers linebackers with 66 tackles. A.J. has been a strong presence around the line of scrimmage, stopping plays before they have a chance to develop.
Grade: B-

Brad Jones: Brad has done a nice job filling in in the middle of the field. While he will never have the strength to be a tackling machine like you would prefer in the middle, Brad has played well enough to keep the middle from being a liability.
Grade: C

Nick Perry: Perry played well in his limited opportunities this season. Although he lacks coverage skills, he and Matthews could be quite the pass rushing tandem in the future. With his season cut short by a wrist injury, he will only play six games this year, finishing with two sacks.
Grade: C

Overall Linebacker Grade: B-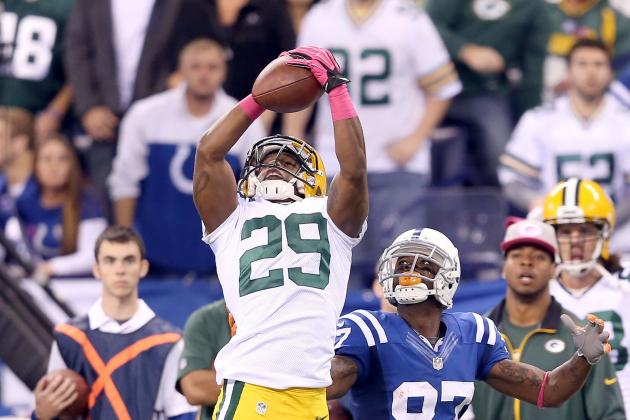 Andy Lyons/Getty Images


Tramon Williams: Tramon has been the rock for the Packers secondary this season. Tramon consistently lines up against opponents' top wide receivers. Tramon leads Packers corners with 43 tackles and 11 pass deflections.
Grade: B

Casey Hayward: In the first half of his rookie season, Casey Hayward has shown incredible potential. He has already moved himself into the starting lineup across from Tramon and leads the team with four interceptions. With his size, ball skills and cover skills, Hayward has the potential to be a shutdown corner in the NFL.
Grade B+

Sam Shields: With the emergence of Hayward, Shields has seen less opportunities in base formations. Shields seems to be on a consistent downward trend in skill set since 2010.
Grade C-

Davon House: In limited opportunities, House has shown the ability to cover opponents in a one-on-one situation. Davon has the potential to grow into a solid second or third corner.
Grade: C+

Overall Cornerback Grade: C+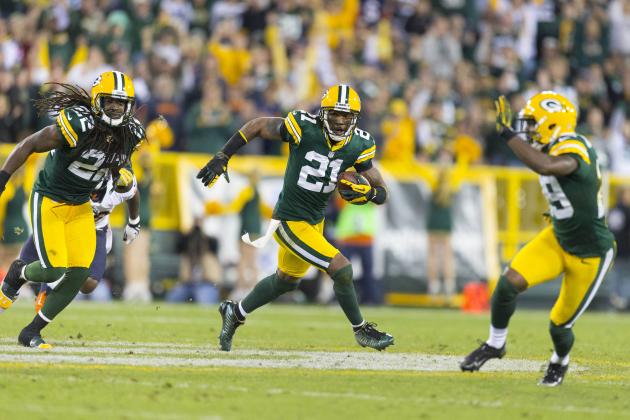 Jeff Hanisch-US PRESSWIRE

Morgan Burnett: Morgan has emerged into a leader on the Packers secondary. He currently leads the Packers defense with 67 tackles. While being a strong tackler, Burnett does take poor angles when pursuing opposing wide receivers.
Grade: C

Charles Woodson: Woodson has not lost a step since making the full-time transition to safety this season. While his sacks and picks are down from what we're used to seeing, he is still flying around the field like the Woodson of old. Woodson will miss some time with a broken collarbone suffered a few weeks ago.
Grade: B-

M.D. Jennings: Jennings is a vicious-hitting, solid tackler that is making the most of his time on the field. He showed great character after the "fail Mary" play and bounced back well from it. Jennings' best football is in front of him.
Grade: C-

Overall Safety Grade: C+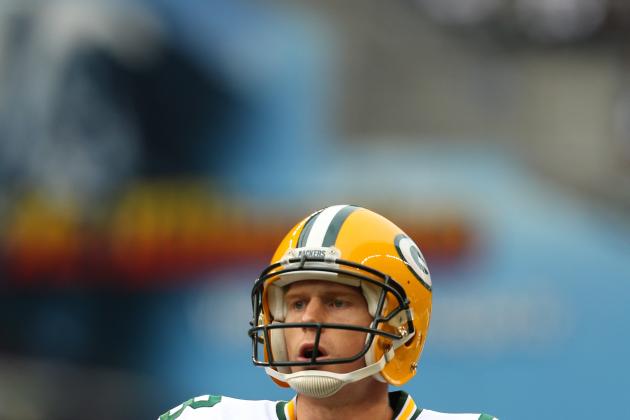 Kevin Casey/Getty Images


Mason Crosby: Nothing makes me cringe more than seeing a kicker get a long-term deal. Money goes up, field goal percentage goes down. Thus is the case with Mason Crosby. Not only is he missing kicks, he looks like he doesn't remember how to kick and is trying to fake it until he figures it out. Mason has the lowest field goal percentage of all kickers currently working. The only person with a lower percentage is Billy Cundiff and he is currently searching for employment.
Grade: F

Tim Masthay: As bad as Crosby has been, Masthay has been equally as good. Tim is currently leading the league in kicks inside the 20 while still maintaining a respectable punting average. As much as I like Tim though, I don't want to see him throw any more passes.
Grade:A-
Randall Cobb: Randall has over 700 return yards so far this season along with a touchdown. That is not the greatest part—he has zero fumbles. It appears for now that Cobb has cured his case of the dropsies.
Grade: B+

Jarrett Bush: Bush continues to be one of the top special teams men in the NFL. While his opportunities on defense have not been consistent, he continues to be at the top of his game on special teams.
Grade: A-

Overall Special Teams Grade: C+