Michigan Football: 10 Things We Learned from Wolverines' Win vs. Northwestern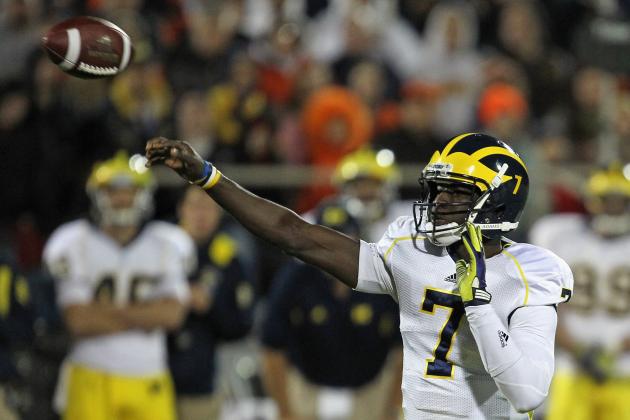 Jonathan Daniel/Getty Images
Michigan isn't perfect, but it's fine with Devin Gardner as quarterback.
Devin Gardner isn't polished yet, but he's more than capable of leading the Michigan Wolverines while star quarterback Denard Robinson nurses a damaged ulnar nerve in his right elbow.
For the second consecutive week, Gardner guided Michigan (7-3, 5-1) to victory, with the latest being Saturday's 38-31 overtime thriller over the Northwestern Wildcats (7-3, 4-3) at The Big House in Ann Arbor.
Gardner threw for a career-high 298 yards and accounted for three touchdowns, all but ending Northwestern's hopes of winning the Big Ten Legends Division and keeping Michigan in the hunt alongside the Nebraska Cornhuskers.
The Wildcats' duo of quarterback Kain Colter and running back Venric Mark was as advertised. Both played a vital role in their team's success, accounting for 282 total yards of offense (Mark had 126 return yards, too) and a pair of scores.
Quarterback Trevor Siemian completed 6-of-7 passes for 87 yards and two touchdowns. Northwestern's offense was more effective through the air with Siemian running the show.
Michigan linebacker Kenny Demens made a game-changing play with a monstrous 4th-and-2 stop of Tyris Jones in overtime, a play that sealed the victory and sent the Wildcats packing for Evanston.
Here are 10 things we learned from this game.
Begin Slideshow

»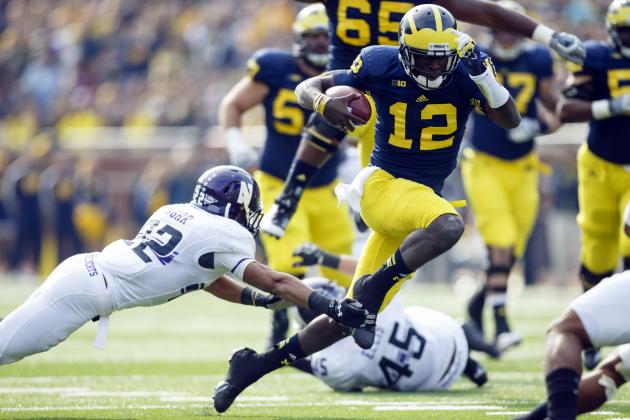 Rick Osentoski-US PRESSWIRE
Devin Gardner breaks for a run against Northwestern.
Without Denard Robinson, the Wolverines lack a certain punch. But it's not a deal-breaking type of punch lacking.
That's not saying Devin Gardner is the reason, either; it's saying that Robinson's injury has Michigan's offense forcing itself to adapt to a new quarterback.
Make sense?
There probably won't be 60- and 70-yard runs each game from Gardner, but for what he lacks in the Robinson Department, he makes up for with a decent arm.
Gardner's career-high 298 yards and two touchdowns on 16-for-29 passing were impressive. He looked great when throwing for 234 yards this past Saturday against Minnesota.
Gardner is a good quarterback, no debate there. He's not hurting Michigan, that's for sure.
We'll touch on a couple specific aspects of his game, but we learned—if we didn't know it already—that Michigan can function, even compete for a Legends title, with Gardner at the helm.
No worries there.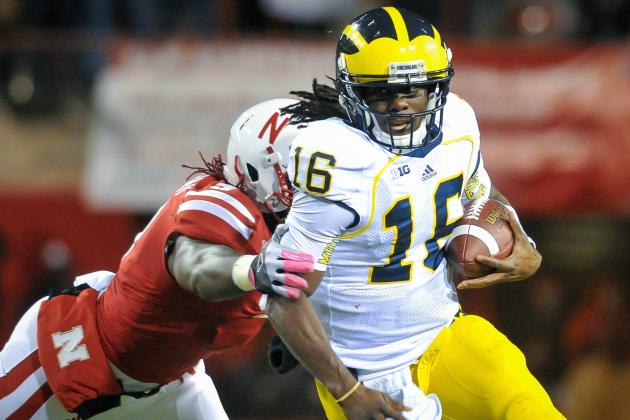 Eric Francis/Getty Images
Michigan's Denard Robinson is dealing with ulnar nerve problems in his right elbow.
Michigan's choice not to start Denard Robinson makes sense if Robinson is seriously injured. But if he's not, sitting the best player on the roster is a poor decision.
For two straight weeks, Robinson has sat on the sidelines. He doesn't look all that great wearing a hat and headset, either. Nor does he appear content being a "coach" instead of a contributor.
Injuries like Robinson's are tricky, but not impossible to recover from. Michigan is probably erring on the side of caution in an effort to avoid damaging Robinson any further. Too early of a return could mean permanent damage.
The Wolverines are playing it by ear, it sounds like.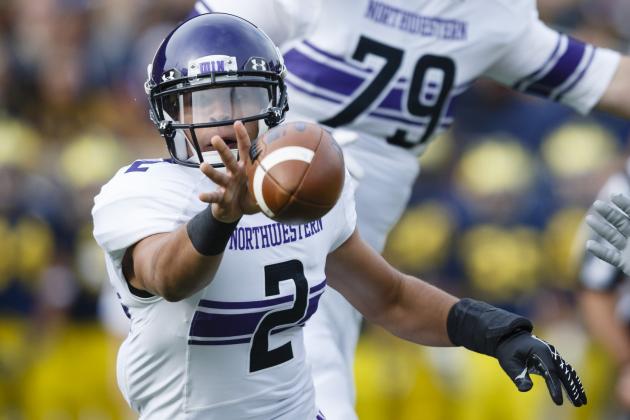 Rick Osentoski-US PRESSWIRE
Northwestern's Kain Colter played well Saturday against Michigan.
He'll have another year to show that he can guide the Northwestern Wildcats to a Big Ten title.
And that's a good thing for Kain Colter, because the Wildcats probably aren't doing it this year, especially not after dropping Saturday's game to Michigan.
However, Colter will be a star as a senior. He's a star now, but give it time, more big games and reputation-boosting plays, and Big Ten followers will constantly have the name "Kain Colter" in their discussions.
Colter rushed for 82 yards and threw for 96 with a touchdown in the loss, but he kept the Wolverines' defense honest with five- and six-yard bursts and smart choices on option-pitch plays (which we'll touch on later in the slideshow).
Michigan knew Colter would be hard to handle, and it did an admirable job of containing him.
But his counterpart was another story.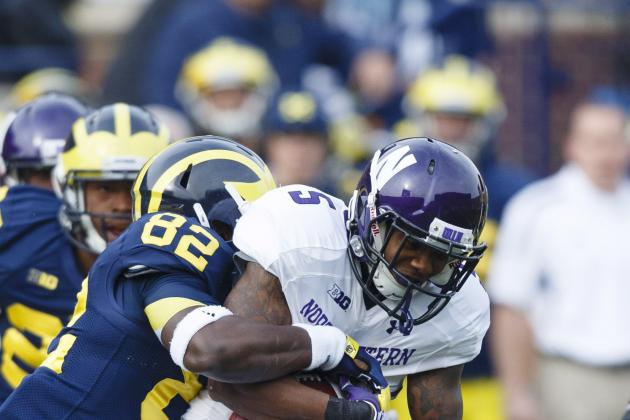 Rick Osentoski-US PRESSWIRE
The problem: Venric Mark. The solution (s): Not many available.
Just how does a team stop a guy like Venric Mark?
Is he the Big Ten's new Keshawn Martin?
So far this year, Mark has scored twice on punt returns, once from a pass and 10 times rushing. He's versatile.
And he was a problem Saturday for Michigan.
Mark extended his 100-yard game streak to four straight. He's rushed for at least 100 yards in all but three games this season and entered Saturday as the nation's 11th-leading rusher with 1,057 yards.
He ran for 104 against the Wolverines, scored once and broke out for a 30-yard gallop. Oh, and he topped it off with 126 punt-return yards on four attempts.
He's a bad dude.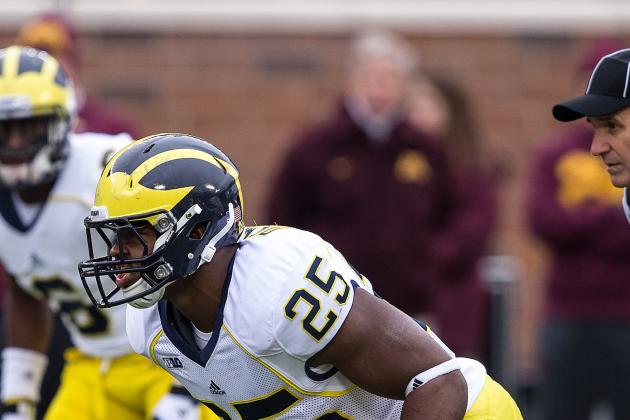 Jesse Johnson-US PRESSWIRE
Michigan linebacker Kenny Demens makes plays
A defense can carry momentum from one single play all the way through the rest of the year.
Kenny Demens' road-blocking of Tyrius Jones on 4th-and-2 in overtime is a perfect example of that.
Michigan's top-10 defense has to be respected, not only because of a secondary that's developing into one of the best in the Big Ten, but because of guys like Demens, a fearless and timely tackler.
Michigan can remember that overtime stop by Demens and use it as a model of how not fold under pressure.
Demens' tackle on 3rd-and-7 with just minutes to play in the first half halted a Northwestern drive and forced a punt.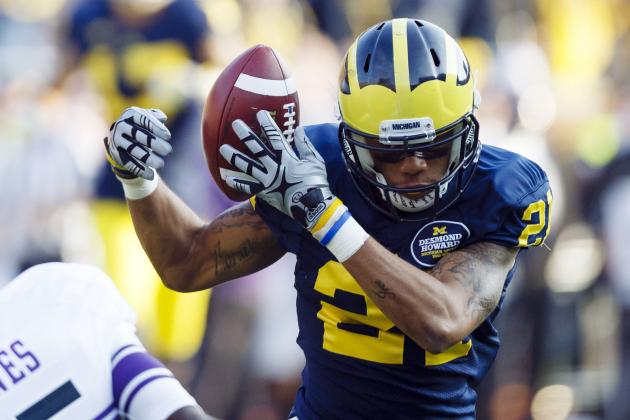 Rick Osentoski-US PRESSWIRE
Roy Roundtree hauls in a surefire highlight-reel catch against Northwestern.
Roy Roundtree's production hasn't been much this year, but he does stick his neck out to make catches.
That's respectable.
Michigan fans should thank him.
Roundtree's 50-plus-yard circus catch gave Michigan the opportunity to kick the game-tying field goal and send Saturday's game against Northwestern into overtime.
He also caught a 24-yarder from Devin Gardner, who was in danger of taking a safety prior to letting the ball go.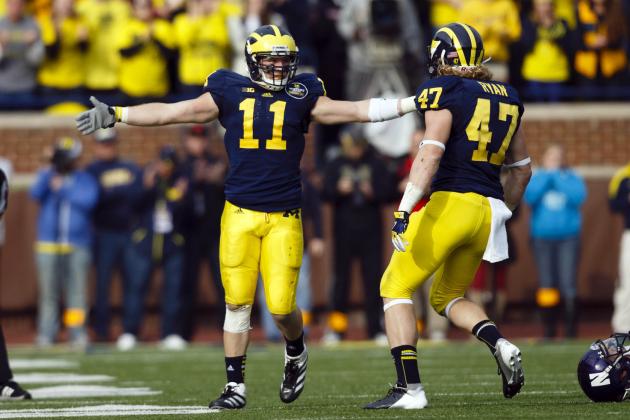 Rick Osentoski-US PRESSWIRE
Jordan Kovacs wanted a win Saturday, and he showed it.
Jordan Kovacs is a hard-hitting safety.
He may not be recognized as a brutal receiver slayer, but he's been known to make a charging tackle or two.
Northwestern quarterback Kain Colter found that out during a blitz that sent Kovacs unimpeded straight to the pocket on 3rd-and-9 in the fourth quarter.
Kovacs stopped a drive from being extended. The Wildcats punted and Michigan lived happily ever after.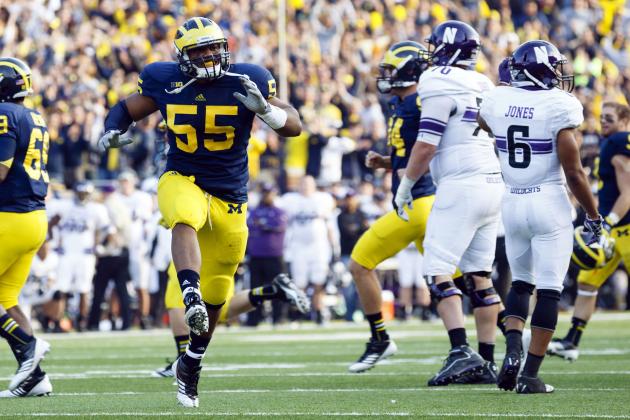 Rick Osentoski-US PRESSWIRE
Run, Jibreel.
This play didn't impact the game.
It didn't result in a turnover, that I know. Remembering which down it was on is a problem, but I know it was in the first quarter.
Either way, Jibreel Black's pursuit of Kain Colter impressed me. I had no idea Black, a 6'2", 260-pound defensive end, was so light on his feet. He nearly had Colter in-bounds, but made a push to get the elusive quarterback out of bounds.
It was a good play. I recommend that you "YouTube" it—if it's there, of course.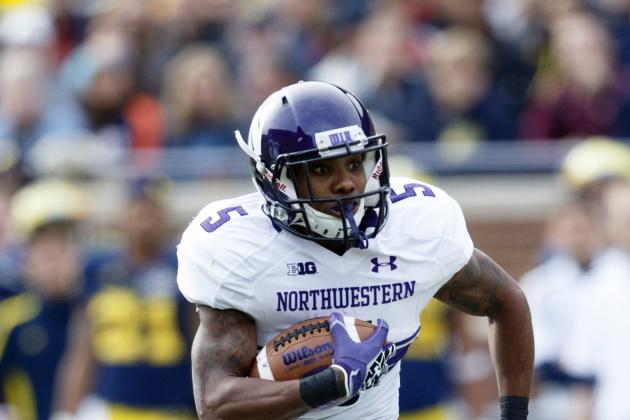 Rick Osentoski-US PRESSWIRE
Venric Mark is one of the country's top running backs
Michigan hasn't had much of a problem—other than against Alabama and maybe Air Force—containing opposing running backs.
The Wolverines stopped Minnesota's Donnell Kirkwood and Michigan State's Le'Veon Bell, so what was the big deal about Northwestern's Venric Mark?
Mark had his time, but the Wolverines stood tall against the rest of the Wildcats' rushing attempts. However, the option pitch wasn't friendly to Michigan's defense.
Northwestern got 11 yards on a pitch to Mark and worked in a few other shorter, but effective runs into the mix.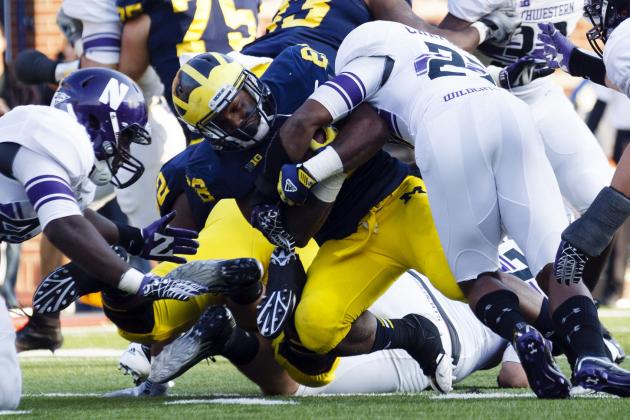 Rick Osentoski-US PRESSWIRE
Fitz clawed his way for 92 yards against Northwestern.
A season-high 92 rushing yards has to be a good feeling for Fitz Toussaint.
He's been wildly inconsistent this season, but Toussaint had close to a breakout game Saturday against Northwestern.
He scored on a 28-yard pass from Devin Gardner and helped the Wolverines sustain drives with runs that were still full of dance moves. The lack of north-south running has been frustrating, but Toussaint looked kind of close to what he was last year.
Kind of.
Follow Bleacher Report's Michigan Wolverines football writer Adam Biggers on Twitter @AdamBiggers81.