Iowa Hawkeye Football by the Numbers Following the Loss to Purdue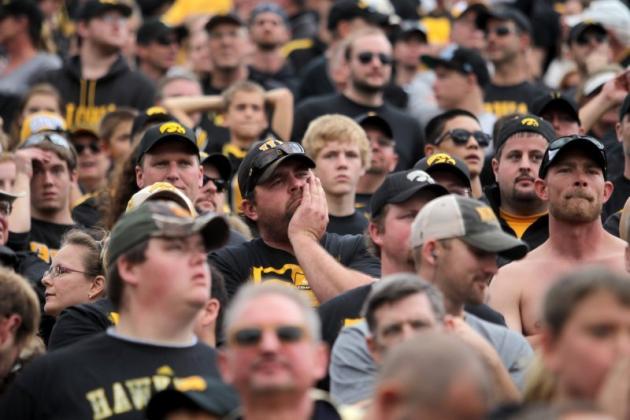 Via Benjamin Roberts of the Iowa City Press Citizen
The Purdue Boilermakers did everything they could to hand the Iowa Hawkeyes the win—unforced fumbles, missed field goals, undisciplined penalties—but the Hawks weren't biting. They lost and the whole team, especially the coaches, deserved the loss.
In effect, Iowa dropped to 4-6. Its bowl hopes are all but smashed and morale in Iowa City is lower than it's been in over a decade.
Odds are good that Iowa will lose its next two—a roadie against Michigan and a home game against likely division-champion Nebraska. These are the only 2012 games the Hawks will play against ranked teams.
Provided things shake down that way, Iowa will have lost six in a row to end the season. The last time that happened was 1999—Kirk Ferentz's first season in Iowa City.
Moreover, the Hawkeyes will end this year with a losing record in the once impenetrable Kinnick Stadium, also a first since 2000.
But the ugly numbers don't end there.
Begin Slideshow

»
Matthew Holst/Getty Images

One of the keys to Ferentz-ball is consistently coming out on the positive side of the turnover battle.
In many of their best seasons under Ferentz, the Hawks have been amongst the top teams in the country in turnover margin.
In 11-win 2002, Iowa was 12th in the country with plus-1.15. In 10-win 2004, the Hawks were sixth in the country with plus-1.08.
On the other hand, this year, Iowa is plus-1.10, which is first in the Big Ten and tied for 13th nationally.
In six-win 2007, Iowa was a respectable 22nd in the country with plus-.67. In disappointing 2010, Iowa was plus-1.00—third in the Big Ten and tied for seventh in the country.
Moreover, in 11-win 2009, the Hawks were a mediocre plus-.15, which was sixth in the Big Ten.
Obviously, turnovers are bad and gaining extra possessions via turnovers is good, but maybe Ferentz places too much of an emphasis on turnovers in this hyper-offensive age.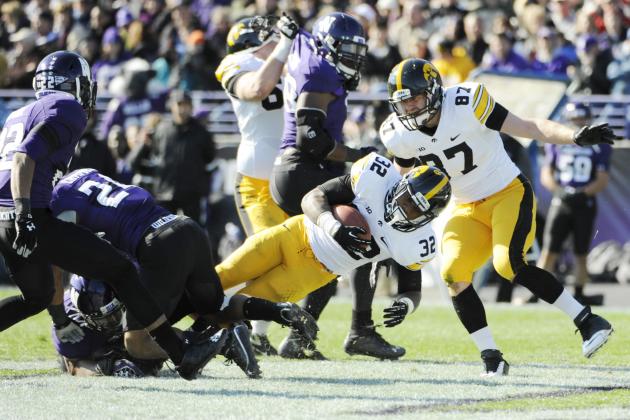 David Banks/Getty Images

...is the number of defenders in the box that the Iowa offense looks at when it brings out its heavy package.
The heavy package is when the offensive personnel includes a tailback, fullback, two tight ends on the line, one receiver split out wide, along with the quarterback and five offensive linemen.
This year, the Hawks have consistently sent out the heavies in 3rd-and-short situations and have consistently fielded inside rushing plays out of it.
The last time it has worked—the last time it has resulted in a first down—was against Iowa State, which was the second game of the year.
Much of that stretch was before top offensive lineman Brandon Scherff and running back Mark Weisman went down with injuries.
Yet, the offense keeps running it.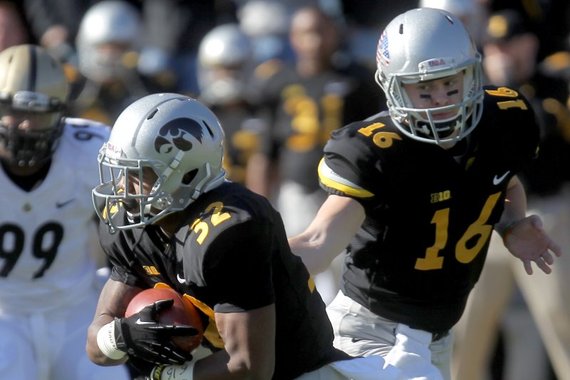 Via Benjamin Roberts of the Iowa City Press Citizen
A Cover 0 is when the defense is in full-on man coverage, no deep zones and typically at least one, if not more than one man blitzes.
As with Indiana, Purdue kept handing Iowa a Cover 0 defense, which is an invitation for the offense to throw any number of quick, high-payoff passes.
Nevertheless, Iowa kept looking at Cover 0 and kept running into the teeth of the Boilermaker defense. It's difficult to say if it was awful play-calling or awful audibles at the line, but the end result was consistently the same: zero or lost yards.
On one such play early in the third quarter, James Vandenberg audibled into a play over right guard, redshirt freshman Austin Blythe. He was tasked to block 310-pound Purdue defensive tackle Kawann Short, who is inconsistent but has first-round NFL talent.
Blythe couldn't handle Short, which led Eddie Podolak, the Iowa radio color commentator, to note, "You're asking somebody to do something that's impossible to do."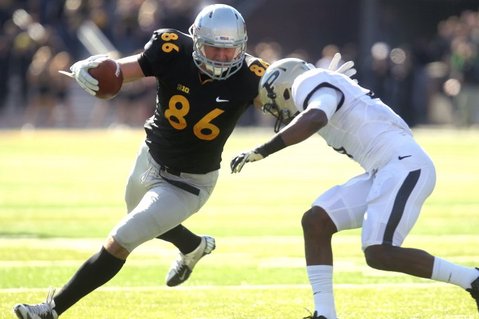 Via Benjamin Roberts of the Iowa City Press Citizen
Heading into the Purdue contest, Iowa had gone 14 quarters without an offensive play that went for longer than 25 yards.
At the 5:00 mark of the first quarter, a play-action on 3rd-and-1—on which Purdue only had 10 men on the field—resulted in a 26-yard completion to tight end Zach Derby.
The Hawkeyes are currently 10th in the conference and tied for 101st nationally in plays from scrimmage that go for 20 yards or longer.
They are also 10th in the conference and tied for 102nd nationally in passing plays of 20 yards or longer.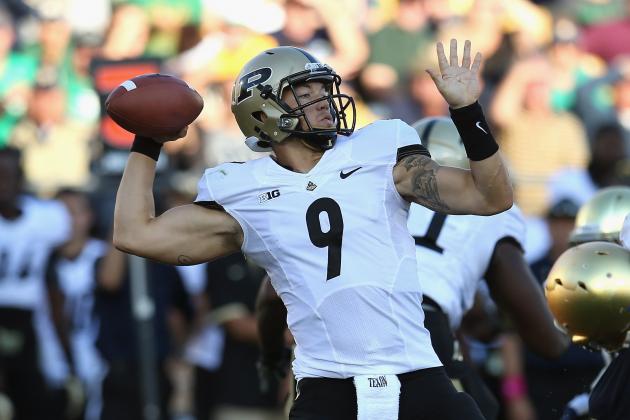 Jonathan Daniel/Getty Images

That is the number of healthy anterior cruciate ligaments Purdue quarterback Robert Marve currently has.
He is a sixth-year senior that previously suffered two torn ACLs.
Earlier this year, he tore the ACL a third time (per ESPN). After missing two games, Marve opted to finish his career playing on one ACL (per CBS Sports).
You wouldn't know he was playing on one healthy knee based on the way he regularly dodged Iowa pass-rushers. He even managed 14 yards on four carries—including a 17-yard scamper.
Not that he resembled Cam Newton in terms of mobility, but honestly, the guy was playing on one knee and Iowa could barely get a hand on him.
Via Benjamin Roberts of the Iowa City Press Citizen
That is a rough estimate of the number of tackles Iowa has missed over the last four games.
During the Purdue game, Iowa's tackling issues prompted a tweet from the Big Ten Network's Tom Dienhart:
Do the #Hawkeyes wanna tackle? #B1G

— Tom Dienhart (@BTNTomDienhart) November 10, 2012
In some fairness, middle linebacker James Morris was playing with both of his thumbs taped. Also, it is safe to assume that weak-side linebacker Anthony Hitchens had some health issues, as he left the game early in the third quarter.
On the other hand, if they weren't able to do fundamental things like wrap-up tackling, then they shouldn't have been in the game.
Nevertheless, as is typical for Kirk Ferentz, he blamed the problems on "execution" (via Hawkeyesports.com).
However, at some point, the problem isn't execution. The problem is it's not being taught.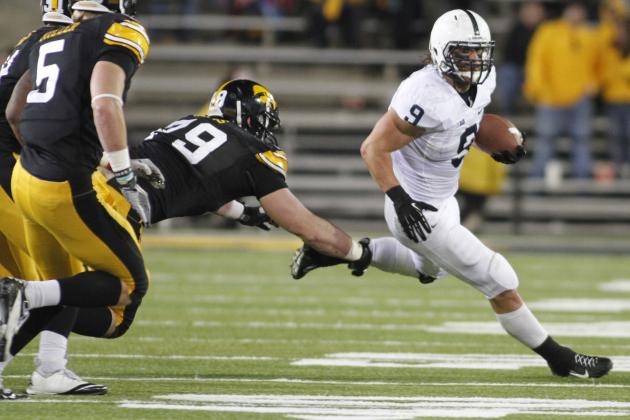 Matthew Holst/Getty Images

That is the number of sacks Iowa has recorded this year, which is last in the Big Ten and tied for 11th in the country.
Hawkeye fans knew the young, inexperienced and undersized defensive line would be weak this year, but it would be nice if Kirk Ferentz and defensive coordinator Phil Parker had some sort of plan B up their sleeves. Perhaps, blitzes or stunts or something, but there has been nothing, and when there are deviations from the norm, the players typically look lost.
This lack of pressure has played a large part in Iowa's issues on third down. The Hawks have allowed opponents to convert a Big Ten-worst 42.28 percent.
Over the last four games, opponents have converted well over 50 percent of their third-down opportunities.
No matter what the distance, quarterbacks have sat comfortably in the pocket and had plenty of time to scan the field. Even Rod Woodson or Deion Sanders could only maintain coverage for so long, and Iowa has neither Woodson nor Sanders in its backfield.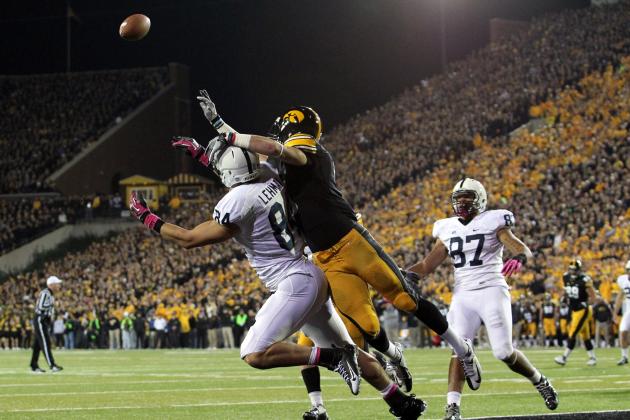 Reese Strickland-US PRESSWIRE

This ranks 10th in the Big Ten.
Put simply, the bend-don't-break scheme doesn't work if the defense regularly breaks.
The defense might as well throw some high-risk schemes into the mix if it is going to get burned anyway.
Mike DiNovo-US PRESSWIRE

...is the approximate number of dropped passes Iowa has had this season.
James Vandenberg has taken the brunt of the blame for the offensive woes, and he hasn't been good.
However, his pass catchers have set new lows for poorly run routes, lack of separation and, above all, dropped passes.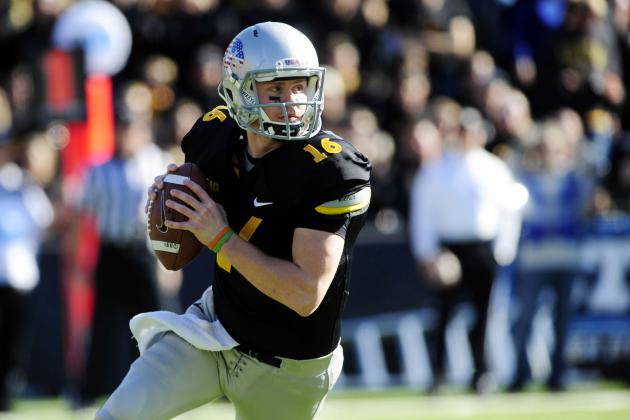 Byron Hetzler-US PRESSWIRE

That is what Iowa's scoring offense is averaging through 10 games this year.
This ranks 10th in the Big Ten and 104th nationally.
Further consider that the Hawks have had one kickoff return and four defensive returns that have gone for touchdowns. In other words, those are points that the scoring offense gets credit for but doesn't deserve.
At this point, as Hawkeye Gamefilm pointed out,
Iowa's best offense is the hanky in the officials pockets.Also threw it deep, drew a flag.Good things happen when you go vertical vs man cov

— Hawkeye Gamefilm (@hawkeyegamefilm) November 10, 2012
Furthermore, Iowa ranks 121st in the country with five touchdown passes.
All of the teams with fewer or about the same amount of touchdown passes as Iowa are either option offenses—such as Army—starting a freshman quarterback—Southern Miss—or have a new coach and thus are learning an entirely new offensive system—Kansas.
Finally, as has been pointed out numerous times over the last few weeks, the Hawkeyes are the only FBS team in the country for which only one quarterback has a passing attempt.