Put Up Or Shut Up: Mavericks, Jason Terry Can't Seem To Do Either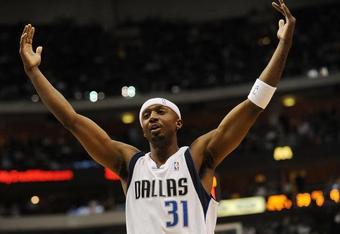 Sunday's matchup between the Lakers and the Mavericks went from a blowout into a debacle in a pretty short period of time. After the Lakers bombed Dallas for a 15 point lead, Jason Terry went nuts in the third quarter from beyond the arc (in large part because he had been left so wide open you had to question if he had been diagnosed with leprosy).
From there the 15 point lead evaporated into a six point deficit, and for the first time in awhile, you got the impression that things may just turn out alright for the Mavericks after all….for about five minutes.
We all know what happened then. The Lakers responded to the Dallas spark and saved themselves from an embarrassment that should have never even been close to happening in the first place.
I'll be the first to admit that the Mavericks made about as big of a statement Sunday afternoon as any losing team possibly could make, but along the lines of watching that game, I clearly must have missed something.
For Dallas, cashing checks that their...er...wallets can't handle is about as new as steroid abuse in the WWE, but I still couldn't help but find myself annoyed by Terry's surprising post game remarks. When he was asked about the possibility of meeting the Lakers in the first round Terry had this to say:
"If it's the team we have to face down the line, we're confident we can make it a knockout series."
Translation: "Because we were able to rally all the way back from a sizeable deficit, it doesn't matter that we lost the game. We've shown that Los Angeles won't be able to handle us in a seven game series. Remember when we were the number one seed a few years back? We tied for the fourth highest win total in all of NBA history (67) only to be upset by the 42-win Warriors in the first round. It's our turn to be Cinderella now."
While his remark wasn't of the most hate inspiring bulletin-board materials we've seen this year from any perspective, there's a thing called humility. Usually it's considered appropriate after a loss, regardless of what took place during the game.
Besides, ever since the somewhat controversial trade that allowed the Lakers to acquire Pau Gasol from the Memphis Grizzlies on the 1st of February last year, the Dallas Mavericks have amassed a grand total of zero wins in the six games the two teams have played against each other.
Although he went about it the wrong way, I'm all for Terry trying to get his team fired up.
Even with a four game lead over 9th seed Phoenix and only 6 of their remaining 15 games on the road, where they've posted a miserable 16-19 record, the Mavericks will need all the fire they can get, after all they're no strangers to catastrophic letdowns. Terry just better hope he doesn't bring on more heat than his team can handle in the process.
If I recall correctly, the Mavericks don't deal with Heat too well.
This article is
What is the duplicate article?
Why is this article offensive?
Where is this article plagiarized from?
Why is this article poorly edited?

Dallas Mavericks: Like this team?