7 Value Free Agents the Cincinnati Reds Should Chase This Winter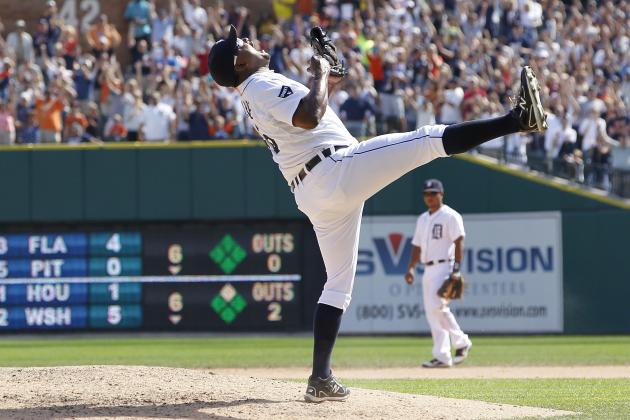 Leon Halip/Getty Images

The Cincinnati Reds are fresh off an NL Central Championship.
However, a bitter loss in the NLDS has them looking to add pieces to make another run at a World Series.
The Reds' winter wish list includes a leadoff hitter, an outfielder and a possible closer in case the team moves forward with converting Aroldis Chapman into a starter.
The Reds' wish list gets complicated when you look at their stipulations.
Cincinnati needs an outfielder, but only for one year. Super-prospect Billy Hamilton is on track for a 2014 debut so any outfielder the Reds sign needs to be done by 2014, or willing to play left field as well.
The team also need to sign the players that fill their needs, while conserving money for other free agents.
Though the Reds are unlikely to make a huge splash in free agency, there are some players that can come at a great price who are certain to fit the team's wants and needs.
Begin Slideshow

»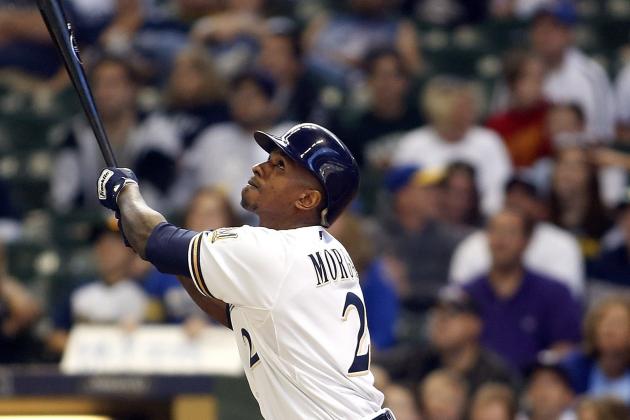 Mark Hirsch/Getty Images

Nyjer Morgan can bat leadoff, play all three outfield positions, and the Reds can fill multiple needs by signing him.
Morgan is a bit of a head case but he won't be expensive and could likely be had with a one-year-deal.
"T-Plush" had a rough 2012 campaign where he slashed just .239/.302/.308 with only 12 steals.
However, the career numbers for Morgan prove why the Reds should look his way.
In his six seasons, Morgan owns a career slash line of .280/.341/.364 with 162 game averages of 20 doubles, eight triples, three home runs, 36 RBI, 78 runs and 33 steals.
The addition of Morgan would give the Reds their leadoff batter and given his position flexibility, he could start every day and/or spell players at the corners on their off days.
Morgan comes with a hell of a personality but under a manager like Dusty Baker, he could have a wonderful season with the Reds.
If the Reds do in fact sign Morgan, he'd likely only get one or two seasons as a stop-gap until speedy super-prospect Billy Hamilton is ready for a call-up.
Morgan made just $2.35 million in 2012 and the Reds could expect to pay roughly the same amount making him a huge value for a small-market team.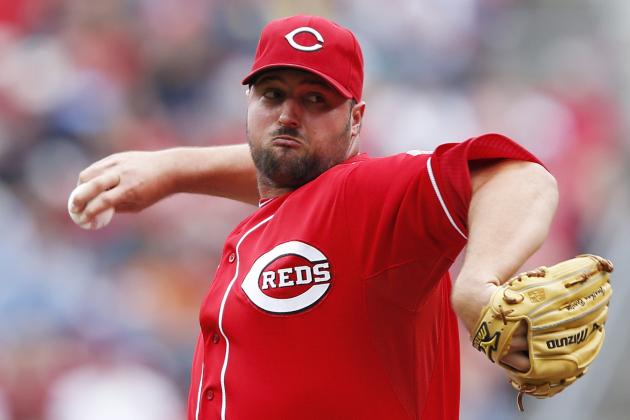 Joe Robbins/Getty Images

One player the Reds are already interested in bringing back is Jonathan Broxton.
Broxton had been a closer since taking over the Dodgers closing job in 2009 and with the Reds looking to to add a closer, Broxton could be a good fit for the Reds.
In his short time as a closer, Broxton pitched to a 17-15 record with a 3.19 ERA, 1.25 WHIP and season averages of 23 saves, 60 strikeouts, 21 walks and 52 innings pitched.
Broxton's ERA and WHIP are slightly unattractive but he did convert on 82-percent of his save situations.
The best news about Broxton is that he's gotten better since returning from a 2011 injury that kept him sidelined for the majority of that season.
In 2012, Broxton pitched the first half of the season with the Royals.
In his 35 appearances, Broxton compiled 35.2 innings pitched and converted on 23 of 27 opportunities while allowing a 2.27 ERA and a 1.40 WHIP with 25 strikeouts to just three walks.
Although he only saved four games for the Reds, Broxton has a proven track record as a closer. At 28 years old he has age on his side in negotiations, but he shouldn't go for any more than $8 million per year.
If the Reds were comfortable with signing Ryan Madson to a one year, $8 million dollar deal, they should be willing to bring in Broxton for 2-4 years at roughly $6-7 million a year.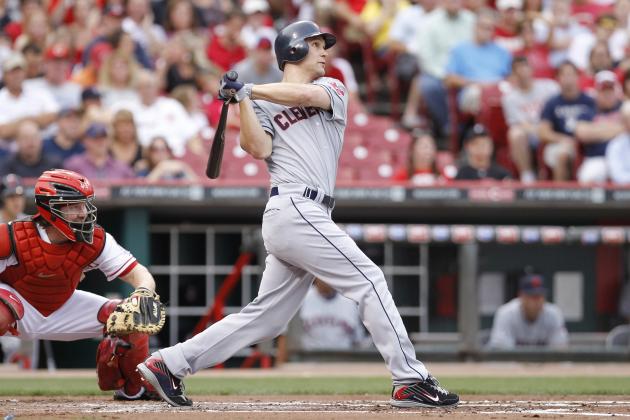 Joe Robbins/Getty Images

Grady Sizemore has a laundry list of injuries in his career but that could work in the Reds' favor.
After missing the entire 2012 season due to injury, the 30-year-old outfielder is looking to find his way back into the big leagues with a new squad.
The Reds could probably bring Sizemore in for a one year, $1-2 million contract, and if he doesn't pan out then they've hardly wasted anything.
Both his 2010 and 2011 seasons were cut short due to knee injuries. However, after an entire season off, Sizemore could return and be a productive member of the Reds lineup.
Remember, this is the same guy who between 2005 and 2008 averaged .281/.372/.496 with 27 home runs, 29 steals 41 doubles and 160 games played.
If he could do anything close to the numbers fans became accustomed to seeing, Grady would be a steal on the open market and a huge hit in Cincinnati.
The Reds need an outfielder and a leadoff hitter. Drew Stubbs isn't cutting it, but a healthy Grady Sizemore definitely could.
If the Reds are truly shopping on a budget, Sizemore has the highest potential of any outfielder in the proverbial bargain bin.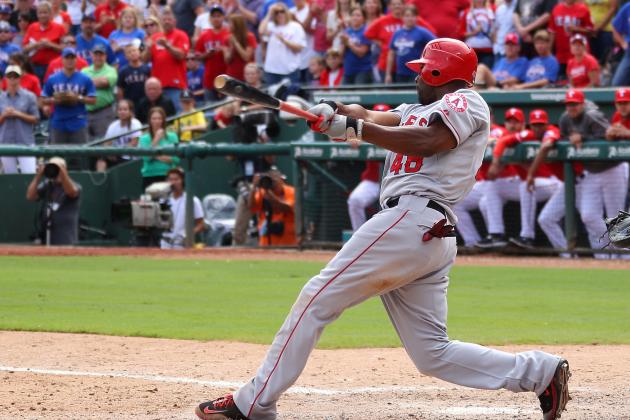 Rick Yeatts/Getty Images

Torii Hunter is another candidate for a one-year-deal that should be on the Reds' radar.
Though he'll turn 38 during the regular season, Hunter is still a productive player and could serve as a good veteran presence in the team's clubhouse.
Aside from the declining speed, much of Hunter's game has held up well as he's aged.
In 2012, Hunter slashed .313/.365/.451 with 16 home runs, 24 doubles, 92 RBI and 82 runs scored.
While Hunter's speed and power have dipped, his impact both at the plate and in the field have not.
By trade, Hunter is a center fielder, however, he will play right field as well. In 2012, his fielding percentage was equal to the league average (.984).
Additionally, his RF/9 of 2.05 was higher than the 1.99 league average and his RF/G of 1.90 was slightly lower than the 1.98 league average.
While I'm sure Hunter would love a multi-year deal, he's not likely to get it given his age.
That's an attractive option for the Reds who need to be shrewd with their signings.
Signing Hunter would give the Reds enough contractual flexibility to sign a closer if the team is truly interested in moving Chapman to the starting rotation.
They'll need to make signings like these in order to conserve money for other players.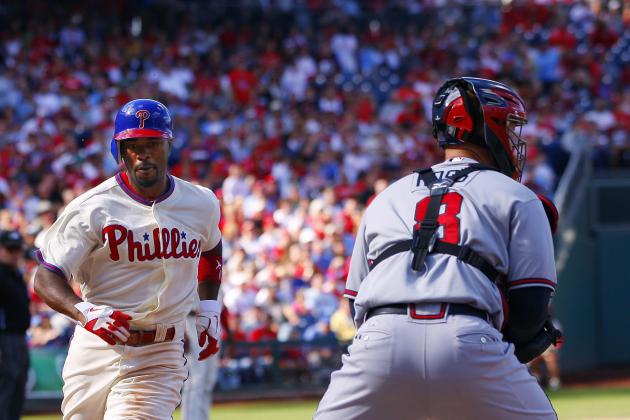 Rich Schultz/Getty Images

The Reds were linked to the Phillies in multiple rumors around the trade deadline this season. This leads me to believe that Pierre is still a potential target for them.
Pierre's career numbers are enough to make any Reds fan gush. With a career slash-line of .297/.346/.363 and season averages of 19 doubles, seven triples and 45 stolen bases, Pierre would be the best leadoff hitter the Reds have had since Ryan Freel.
2012 was another successful season for Pierre. He slashed .307/.351/.371 with 37 steals.
Pierre is an incredibly selective hitter who struck out only 23 times in 130 games last season.
In 162 games, Reds leadoff batters struck out a total of 148 times with a .208/.254/.327 slash line.
Needless to say, Pierre would be a welcome addition to the top of the Reds lineup.
Cincy needs a player who can set the table for the middle of order.
Now that Drew Stubbs has finally fallen out of favor with Reds management, Pierre could bring some ability and excitement back to the one-slot in the lineup.
Pierre had a good 2012, but he's not as sought after as players like Michael Bourn, Angel Pagan and Josh Hamilton.
This will help the Reds, who are likely in the market for a one-year-deal paving the way for Billy Hamilton in 2014.
34-year-old Juan Pierre is just what the Reds need and he could come to Cincinnati for a one year, $3 million deal.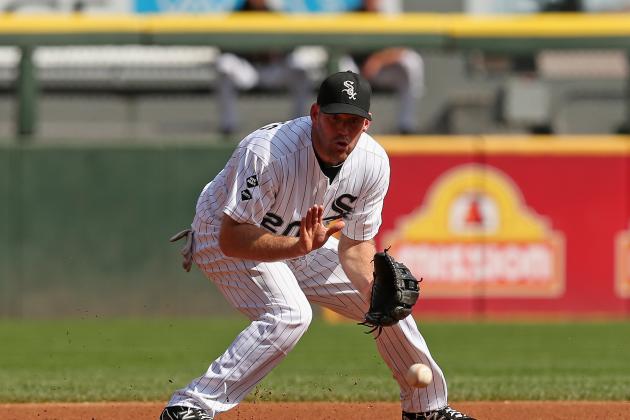 Jonathan Daniel/Getty Images

One unexplored option includes bringing in a third baseman and bumping Todd Frazier to left field.
Frazier played the bulk of his games in the minors as a left fielder and posted a fielding percentage of .985 with a RF/G of 1.90. Both of these values are right in line with Major League averages over his seasons with the Reds.
If the Reds are willing to let Frazier play left field, Kevin Youkilis could be a cheap option for the Reds.
I've been an advocate of signing Youkilis since April (check that article out) and he would fit well in the Reds lineup.
Youkilis may have struggled in 2012 but one would be silly to think that the debacle in Boston didn't play a role in that.
After moving to Chicago, Youkilis batted .236/.346/.425 with 15 home runs, 46 RBI and 47 runs scored.
Reds fans may cringe at that batting average but it looks to anomaly in Youk's career. "The Greek God of Walks" holds a career slash line of .283/.384/.482 and 162 game averages of 23 home runs, 39 doubles, 96 RBI, 102 runs scored and 83 walks to 125 strikeouts.
If Youk can revert to his pre-2012 form, he could be another Ryan Ludwick type of signing for the Reds.
He would replace Ludwick's production and having him fourth in the lineup gives the Reds the option of Brandon Phillips at the top of the lineup. Signing Youk effectively eliminates two needs with one deal.
Youk was born and raised in Cincinnati, went to college at the University of Cincinnati and stated earlier this season that if he weren't playing in Boston, he would want to play in Cincinnati.
If the Reds could get Youkilis at a 2-3 year deal worth around $6-8 million a year, he's a strong possibility for the team.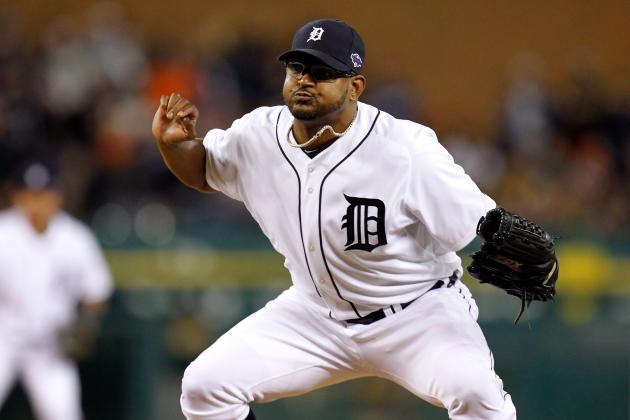 Gregory Shamus/Getty Images

Jose Valverde could be the ultimate bargain of the 2012-2013 offseason.
After a horrible 2012 campaign where Valverde had the worst all-around numbers in his career as a closer, Valverde will likely come very cheap with few years attached.
In 2012, Valverde converted on 88% of his save attempts (35-40). However, the problem was with his ERA (3.78), WHIP (1.25) and strikeout (48) numbers.
If Valverde's regular season was horrible, his postseason was atrocious. Valverde appeared in four games pitching just 2.2 innings while allowing nine earned runs on 20 hits and a walk.
Now that's the bad news about Valverde.
The good news is, he's been one of the most consistent closers in the game leading up to that season.
Between 2007 and 2012, Valverde pitched to an 18-21 record with a 2.97 ERA and 1.17 WHIP and converted on a whopping 90-percent of save opportunities.
Valverde covered the same time period with season averages of 66 strikeouts, 27 walks, 38 saves and 66 innings pitched.
In those six seasons, Valverde had four seasons of 35 or more saves including three seasons of 40-plus. In 2011, Valverde was a perfect 49 of 49 in save opportunities.
Generally speaking, that type of ability doesn't vanish overnight.
With the Reds' budget constraints, beggars can't be choosers and "Papa Grande" could be had for 1-2 years with an annual salary of around $6 million per year.