Bears vs. Texans: 10 Keys to Victory for Chicago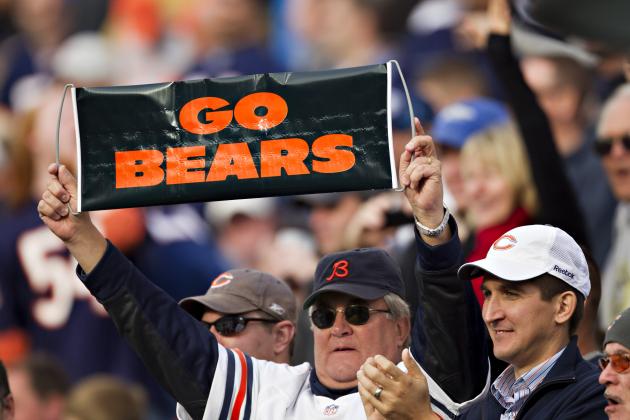 Wesley Hitt/Getty Images

The Chicago Bears have a big test ahead of them this weekend, one that they have not seen the likes of yet this season. On Sunday night the Houston Texans come to Chicago, in hopes of proving to the world that the Bears don't deserve the 7-1 record and first-place sitting in the NFC North.
The Bears, on the other hand, will be trying to show the world that they are for real, while at the same time showing everyone that Houston is nothing more than a fad—a team that looks good for a bit but cools off in a big way after that hot start.
All eyes will be on Chicago this Sunday night, and there are a few things that the Bears must do to prove to everyone watching that they are for real this season.
Begin Slideshow

»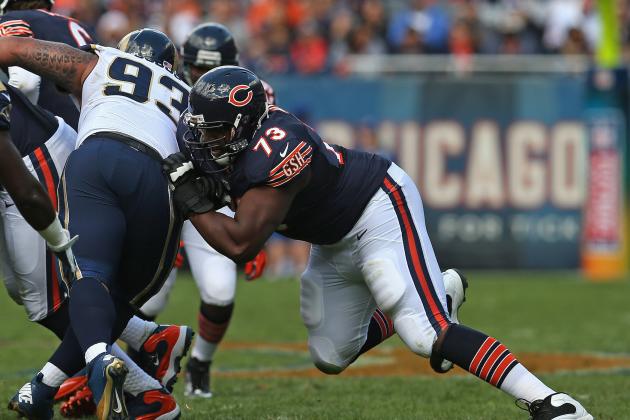 Jonathan Daniel/Getty Images

It's no secret that the offensive line in Chicago has been cause for concern this season, perhaps the only major cause for concern up to this point.
Against the Green Bay Packers, Chicago did not get the job done on the offensive line, and Clay Matthews had a field day smashing Cutler to the ground time and time again, with nobody able to stop him.
The line of the Bears hasn't been perfect since then, but they've done enough to get the job done, and yet there's somebody down in Houston by the name of J.J. Watt waiting to get his hands on Cutler and give him flashbacks of Week 2.
If the Bears want to win this game, it has to be won in the trenches by the offensive line. They have to push harder, dig deeper and ultimately want to protect Jay Cutler more than Houston wants to wreck him. If they don't, well we all saw what happened earlier this season.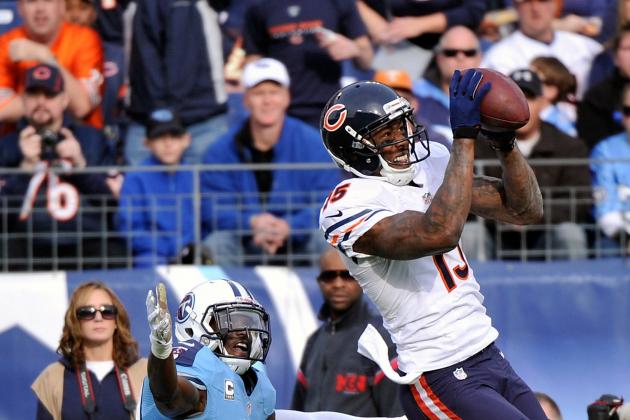 Frederick Breedon/Getty Images

Brandon Marshall is an excellent wide receiver, one who is headed back to the Pro Bowl this season and is having one of the best seasons of his life.
Jay Cutler is an excellent quarterback when he can find Marshall, and when the two are connecting all opposing teams can do is sit back and enjoy the show, like when the two combined for 122 yards and three touchdowns in Tennessee last weekend.
There are other receivers on the team, however, and once teams start to figure out that all they have to do is double-team Marshall every play, Cutler better have a backup plan ready or else the team is going to have a tough time winning on Sunday.
Marshall is great, and opposing teams know that, so there better be somebody else ready to step up when Marshall isn't open.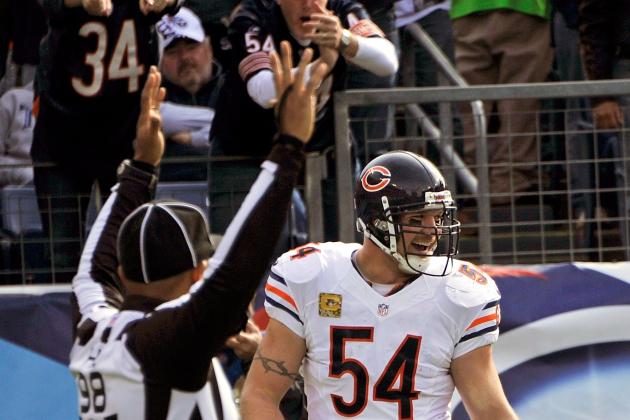 Frederick Breedon/Getty Images

The main reason that the Chicago Bears have been so successful this season is their defense—that's no breaking news. It's also not shocking that the Bears have set a team record already this season for touchdowns by a defense, and they're about to break the national record as well.
So what can Chicago do on defense to beat Houston? It's simple really—keep on doing whatever it is that makes them so good. Keep creating pressure, forcing the opposition to make mistakes and capitalizing on those mistakes when they're made.
If the Bears can shut down Foster and force Schaub to throw the football, that's when the ball hawks on Chicago's defense go to work, and that's when Chicago gets the victory.
Frederick Breedon/Getty Images

The Bears have the best looking defensive unit they have had in a very long time right now, and a big part of that is due to the pressure that they get up the middle of the line. In the first slide, it was mentioned that the game can be won, or lost, in the trenches. Well for Chicago on defense, that's where the game is won.
Take a look at what happens when they get pressure on quarterbacks like Matt Stafford or Tony Romo—mistakes are made. The Bears have 25 sacks this season, coming from players like Julius Peppers to Henry Melton, and a lot of that has to do with the pressure everyone else is getting on the quarterback.
Everyone from linemen to linebackers to corners are getting in on the action, blitzing teams and forcing them to throw in the white towel.
If the Bears want to win against Houston on Sunday, they're going to have to continue to get pressure from everyone on defense and force mistakes from Matt Schaub.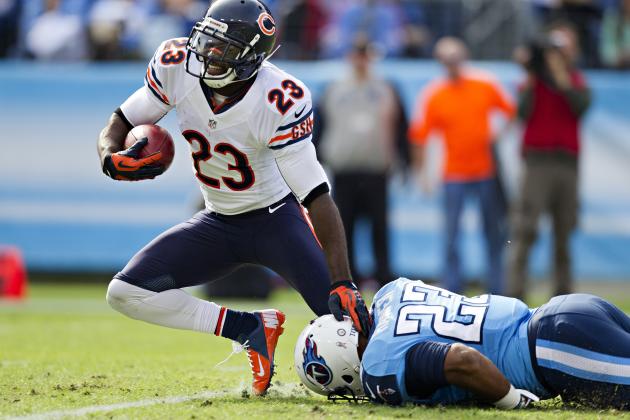 Wesley Hitt/Getty Images

Last week, Devin Hester broke free for a 44-yard return, the longest and most exciting one he has had this season. This week, the Bears are going to need more of the same out of Hester to stay in the game.
At times, the offense is going to stall against Houston, and at times the defense is going to slip up and allow a touchdown or two. It's those times that the Bears need to see Hester like he was in 2006, running all over teams and forcing them to punt away from him, giving the offense great field position every time they took the field.
A punt return for a touchdown gives a team so much momentum, not to mention it putting the team ahead on the scoreboard or bringing them back with one play.
The Bears force lots of three-and-outs, and they will force some against Houston as well. If Devin Hester can turn those failed drives by Houston into touchdowns for Chicago, the Bears will have a good time on Sunday night and will leave victorious yet again.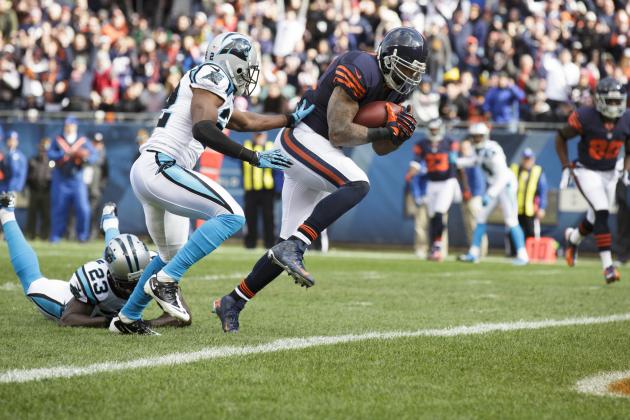 John Gress/Getty Images

Every week we mention how dynamic the running game is for Chicago with Michael Bush and Matt Forte in the backfield, and yet the Bears still continue to drag their feet on the rush game.
When the Bears run the ball, it opens up the offense and Jay Cutler is free to throw the ball deep with his cannon of an arm, and we all know what happens from there. The point is that it all starts and ends with the run game.
The Bears must force Houston and J.J. Watt to stop Matt Forte and Michael Bush, because if they try passing and it fails, Houston will just blitz all night and the Bears won't be able to run the ball at all. If Chicago can establish the run early on in this game, the offense will be wide open for Chicago, and they won't have a very hard time winning this game.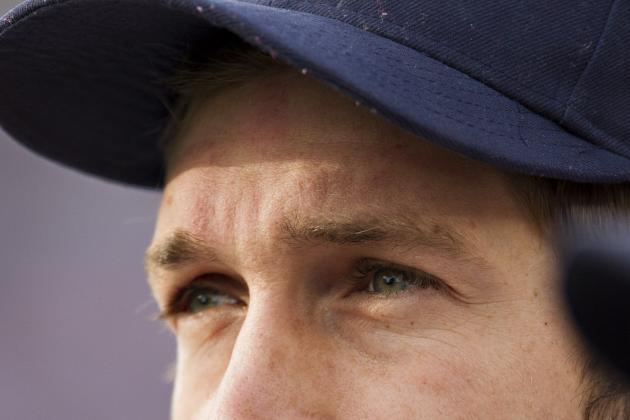 Wesley Hitt/Getty Images

It's been established that a fiery quarterback is better than a dull one, and that the Bears would rather have a guy under center who cares too much and yells occasionally than a guy who keeps his mouth shut and watches the team fall apart.
That being said, Cutler needs to keep his head on straight (or do the best that he can) while playing Houston on Sunday Night Football this weekend.
Cutler cares about his team, his teammates and his fans. He wants the Bears to do well; heck he even said in an interview on ESPN's Mike and Mike in the Morning that he "wants to end his career as a Bear." Sometimes, though, he has a weird way of showing his care, and his teammates can get irritated by it.
Everyone knows that Cutler can go off when he's being hit and the Bears are losing, but in this game he is going to need to keep his attitude in check when reminding his teammates what it is they're playing for. The fiery attitude can stay, it's fun to watch actually. But when it's time to get going, Cutler needs to remain calm and do his job to help the Bears walk away with a victory on Sunday.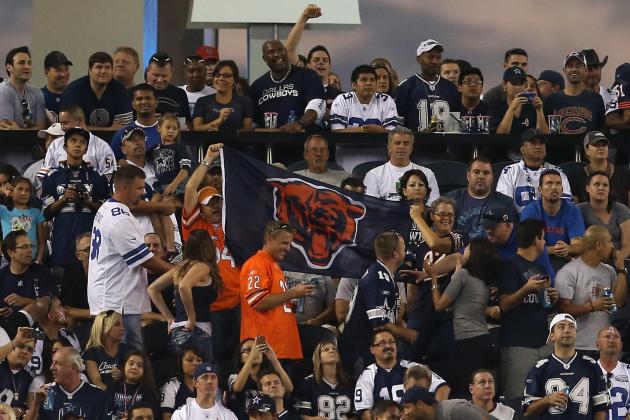 Ronald Martinez/Getty Images

Bears fans always make their team feel like they're at home, no matter where they happen to be playing that weekend. That being said, there's no place like home, especially Soldier Field at night in the middle of November. Remember what happened to New Orleans when they came to Chicago for the NFC Championship game?
The Bears will be under a lot of pressure, at home under the lights against a fellow one-loss opponent and everyone watching on national television. Pressure can be nerve wrecking. However, the Bears have used it to their advantage ever since Lovie smith took over, and this weekend should be no different.
The Bears will have the whole world watching as the Texans come to town, and it's going to be important that the Bears win. Lovie has done a good job in the past of keeping his team calm and under control, and this weekend should be no different.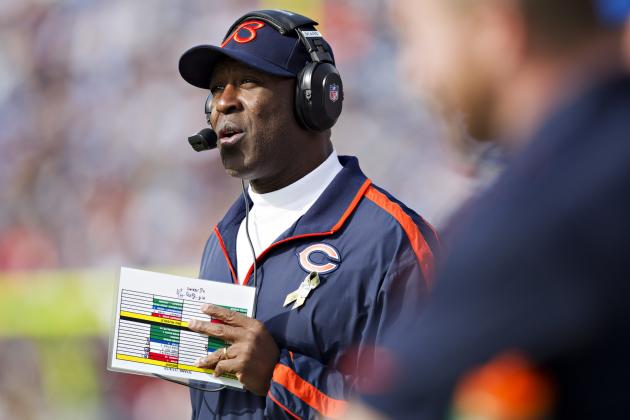 Wesley Hitt/Getty Images

The Bears have had instances this season so far where penalties have really set them back on a drive and they were not able to score as a result of it.
That stuff may have been okay playing the likes of Jacksonville and Detroit, but that won't fly with a Texans team that makes you pay for every little mistake you make.
The Bears need to be smart on Sunday night, not making the same stupid mistakes that get them into trouble time and time again. False start, holding, block in the back—penalties that shouldn't be committed and can be easily fixed by tightening up and playing smart football.
Chicago doesn't need to be flawless. They don't need to make friends during this game, and they don't need to be nice and kind. They need to be mean, playing with a vengeance like they're fighting for a playoff spot. All they need to do is be smart about it, and not beat themselves while trying to beat Houston.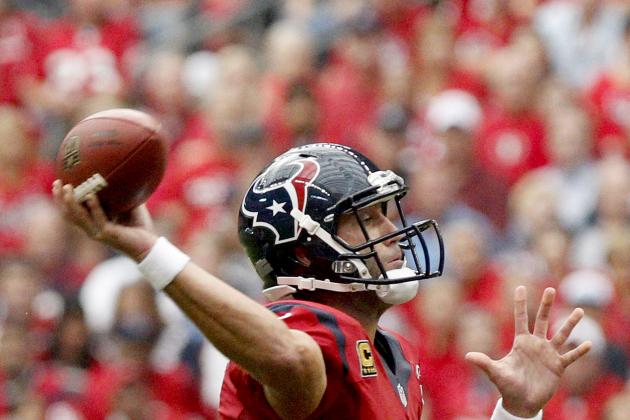 Thomas B. Shea/Getty Images

Matt Schaub has put up pretty impressive numbers so far this season, throwing for almost 2,000 yards and 12 touchdowns through eight games this season. Those numbers should have an asterisk next to them, though, because Schaub hasn't had to play the defense of the Chicago Bears.
The Bears have plenty of game film on Schaub, and they have been studying him all week. One thing the Bears do better than any other team in the NFL is reading quarterbacks, they can tell who a quarterback is going to throw to and when. The end result is Tim Jennings getting yet another interception, or Brian Urlacher with another touchdown on defense.
If the Bears want to win this game on defense, they are going to need to read Matt Schaub all game long. They need to get inside his head and force him to throw exactly where they know he is going to throw, where they will be waiting with open arms to intercept that pass and run it back the other way for six points and a victory in the name of the Bears.