Oscar: Why Chelsea Youngster Has Been Star of the Champions League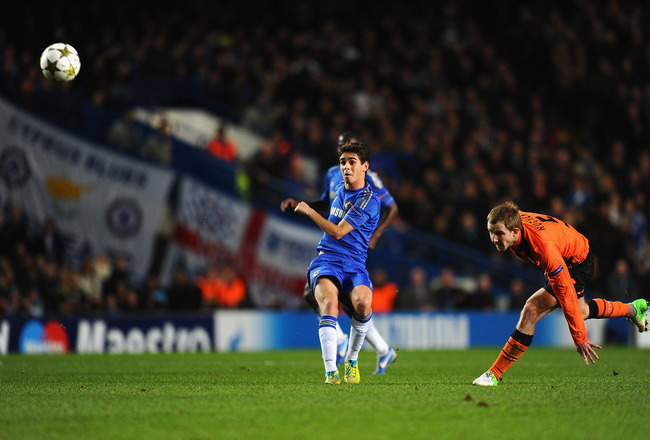 Mike Hewitt/Getty Images
Since his transfer to Chelsea this past summer worth approximately £25million, much has been written about the Brazilian youngster. Many felt that he would struggle to adapt his game from the Brazilian Serie A to the more physical English Premier League due to the different challenges presented and his waif-like build.
Having been compared to compatriot Kaka and German star Mesut Ozil, coupled with the fact he inherited the number 11 shirt from the Champions League winner and Chelsea legend Didier Drogba, Oscar had a heavy weight of expectation on his shoulders after arriving at Stamford Bridge.
In need of a rest following a magnificent performance at the London 2012 Olympic Games, he started his first Premier League games from the bench. After being handed his full debut against Juventus in the Champions League, the young star immediately impressed, scoring both Chelsea goals—the second of which could make grown men weep with its beauty.
After such a sensational start, Oscar cemented his place in the attacking midfield three, joining Eden Hazard and Juan Mata. The trio link up wonderfully and play some very aesthetically pleasing football, appearing to have an almost telepathic awareness of each others' positions on the pitch.
Whilst Oscar has helped in the creation of several goals for Chelsea in the Premier League, he has been brighter in the Champions League. Following his goal against Shakhtar Donetsk, Mario Balotelli tweeted "Oscar: Face like a baby, foot like a cannon."
That reason, and the five that follow in this video slideshow, are why he will be the star of this season's UEFA Champions League.
THAT Goal vs Juventus
Top quality goal, right in the top corner. He couldn't have made that ball do any more in the air as it bent, twisted and dipped on its path to its finish just inside the post. A truly wonderful goal worth watching again and again. Perhaps even again, if the mood takes you.
THAT Goal vs Shakhtar Donetsk
It takes a true goal scorer to see this as a scoring opportunity. It takes a certain kind of confidence to take the shot on having seen it, and almost unbelievable talent to guide it into the net from that distance.
Oscar combines these traits, resulting in this stunning lob of the 'keeper from just outside the centre circle. Another one worth watching repeatedly, especially if you ever begin to question the purpose of football in your life.
International Skills
This video is what Chelsea fans saw of the youngster once it had been confirmed he was on his way to Stamford Bridge.
After injuries to more experienced attacking midfielders on the Brazilian national team, Oscar was called up to the senior squad and has since become a fixture in the famous yellow shirt, keeping his place ahead of his now-fit compatriots. This is no mean feat for a 21 year old.
The Attacking Trinity
Juan Mata shared his creative midfield duties with a variety of players in the 2011/12 season, but has found himself lining up next to Oscar and Eden Hazard more often than not this year. There were questions as to whether three players with such similar styles could work together, with many suspecting that they would cancel each other out.
Those doubters could not have been more wrong, as between them they have either scored or created over 82% of Chelsea's goals since August. There's a new name in attacking football, and that name is Mazacar.
A Player's Player
With even Balotelli on his side, you'd be hard pressed to find anyone in the footballing world right now who could find a bad word to say about Oscar, apart from maybe a Tottenham Hotspur fan who wished they'd got there first, or the perennially grumpy Sir Alex Ferguson, who doesn't like anyone much.
This video features interviews with fellow Brazilian-in-blue David Luiz and Chelsea's goalkeeper Petr Cech following the Champions League tie with Juventus, the one where he scored THAT goal.
Keep Reading

Chelsea: Like this team?