Rashad Evans vs. Antonio Rogerio Nogueira: Head-to-Toe Breakdown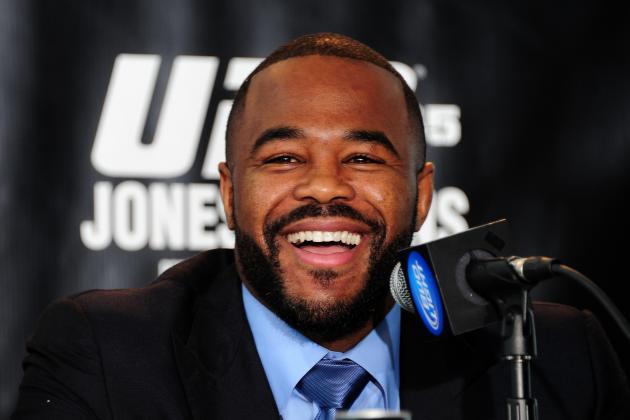 Scott Cunningham/Getty Images

Rashad Evans and Antonio Rogerio Nogueira will meet inside the Octagon in a light heavyweight showdown in early 2013.
Both fighters will be coming off lengthy layoffs.
Evans has been out of action since April when he suffered a unanimous decision defeat to UFC light heavyweight champion Jon Jones, and Nogueira has not entered the Octagon since December 2011.
The winner of the fight will likely move into the top five in the light heavyweight division. It will be an important fight for the hierarchy of the division.
How do the two men compare to one another in a head-to-toe breakdown? Let's find out.
Begin Slideshow

»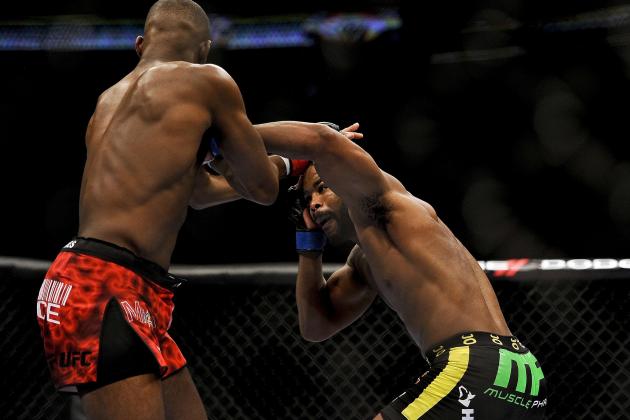 Paul Abell-US PRESSWIRE

Both men like to exchange on their feet.
Nogueira was a bronze medalist at the Pan Am Games in boxing. He showed how dangerous his striking can be in his UFC debut with a knockout performance over Luiz Cane.
Fans have had the privilege of watching Evans' striking evolve over his career. From where he was on The Ultimate Fighter to now is night and day. His footwork and head movement are excellent. He also possesses devastating power in his strikes.
Evans holds a slight striking advantage because of his speed and power. He is athletically superior to the Brazilian and it will show on the feet.
Edge: Evans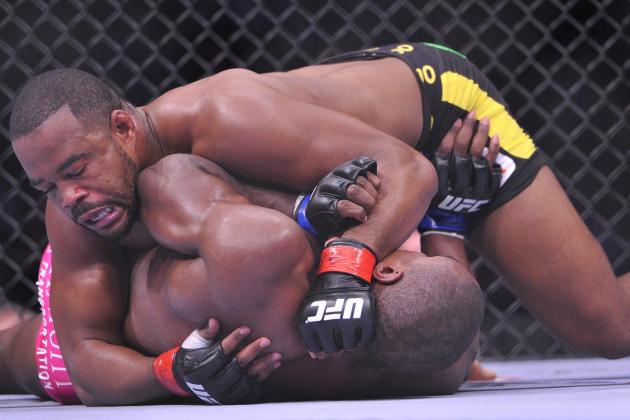 Mike Dinovo-US PRESSWIRE

The fight's most interesting category is grappling—Nogueira's jiu-jitsu against Evans' wrestling.
Should Nogueira get on top of Evans, the fight will take on a whole different outlook. That is not where the former Michigan State Spartan wants to be. However, it will be very difficult for Nogueira to take him down.
When Evans met a superior wrestler and takedown artist in Phil Davis, he dominated. Why? MMA wrestling is different. Evans has been able to take down most of his opponents and has avoided submissions on the ground.
Can he avoid Nogueira? I believe so.
From the top position, Evans will be able to do what he does best, and that is control his opponent.
Edge: Evans
Tom Szczerbowski-US PRESSWIRE

Submissions are solidly in favor of the Brazilian. Nogueira jiu-jitsu may have the opportunity to shine once again.
Evans' jiu-jitsu is underrated, but he prefers to ground-and-pound while on the mat. He has not submitted an opponent since his first two MMA fights.
On the other side of the Octagon stands one of the best in the division.
Nogueira hasn't tapped anyone in over three years, but the threat is still there. He has not forgotten his bread and butter. Without question, he holds the edge here.
Edge: Nogueira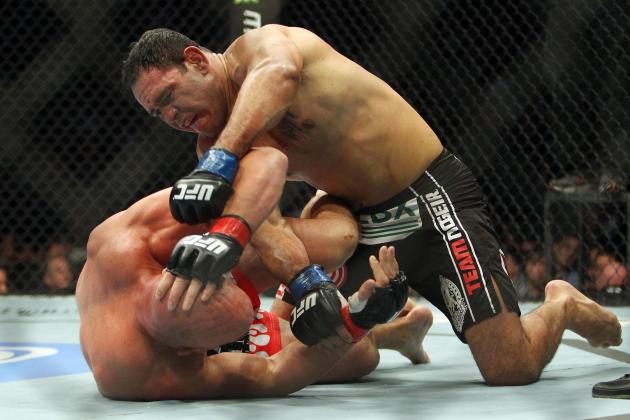 Tom Szczerbowski-US PRESSWIRE

Evans' X-Factor: Winning the Striking Exchanges
Evans will have a speed advantage on the feet, and he should use it. Get in and get out. If he can make this a stand-up affair and not risk taking it to the ground, he can take this fight with ease.
Nogueira's striking is more diverse than his brother's, but he is still primarily a boxer. Evans has more tools to work with to go along with his speed and power advantage.
The Blackzilian is a smart fighter who gives himself the best opportunities to win, and keeping this fight on the feet does that.
Nogueira's X-Factor: Can He Achieve Top Position?
A big key to his success in this fight will be getting top position, but can he? That's the big question.
He does not have to take Evans down to get it. Should Evans take the fight to the mat, he can sweep the former UFC light heavyweight champion and take it that way. Evans' base may not allow that.
From on top, Nogueira can utilize his ground-and-pound and try to open Evans up for a submission. A win would go a long way for his championship chase. He will likely have to be on top at some point to achieve a victory.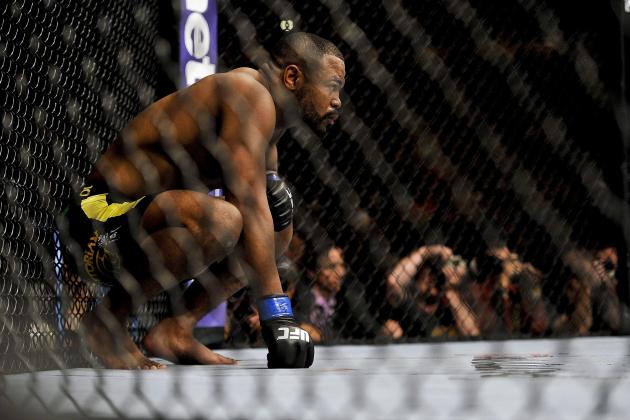 Paul Abell-US PRESSWIRE

This is Evans' fight to lose.
He has more paths to victory than Nogueira, but it will be a tough fight.
I believe Evans will keep this fight on its feet for the majority of the time. He will score more points and do significant damage to Nogueira. Later in the fight, he will take the fight to the mat and a tired Nogueira will not be able to pull off a sweep or submission.
From on top, Evans will punish Nogueira until the referee is forced to step in and save Nogueira.
Evans will get the win and have a lot of options for his next opponent. He will remain towards the top of the division and one of the best mixed martial artists in the world today.
Prediction: Evans defeats Nogueira by TKO in the third round