NHL Lockout: Top 10 Reasons San Jose Sharks Fans Should Blame Gary Bettman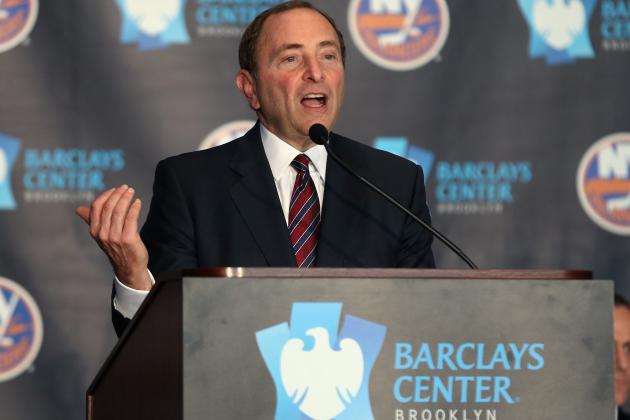 Bruce Bennett/Getty Images
Gary Bettman was on hand for the New York Islanders announcement of a future move to Brooklyn
Almost two months after the old collective bargaining agreement (CBA) expired, the NHL lockout drags on.
Before Deputy Commissioner Bill Daly and NHLPA special counsel Steve Fehr met informally Saturday, November 4, there had been two-and-a-half weeks without so much as a single face-to-face meeting. Even with the first of three consecutive days of meetings completed Tuesday, a lost season became the 2:1 favourite by Bovada.
The NHL had to cancel the Winter Classic, the biggest regular-season event on the docket. Since they lost a meal ticket scheduled for January 1, it seemed unlikely the owners would pay equal money for game before then when they gave up more than equal revenue.
With negotiations to be continued for a fourth day in a row Friday, November 9, there is reason for optimism. But since the two sides seem to have agreed to stop negotiating through the media, no information about progress or proximity is available.
Either way, the lockout could hurt some teams more than others. The San Jose Sharks best defenceman Dan Boyle admitted the window is closing to San Jose Mercury News beat-writer David Pollack last month, though his window might be more closed than some others as its senior player.
If Boyle knows it, so do the Sharks teammates and management. The contract expiration dates themselves suggest several players have fewer than 20 months left playing in teal sweaters.
That is why it is unlikely that those Sharks fans count on are behind this lockout. There are plenty of people to blame, but as the one who champions the hard-line owners position, Commissioner Gary Bettman should get the heat on this one. These are the top 10 reasons why.
MJ Kasprzak is the original community leader for the San Jose Sharks on Bleacher Report and a paid columnist for Examiner.com covering the team as well as Bay Area Christian issues.
Begin Slideshow

»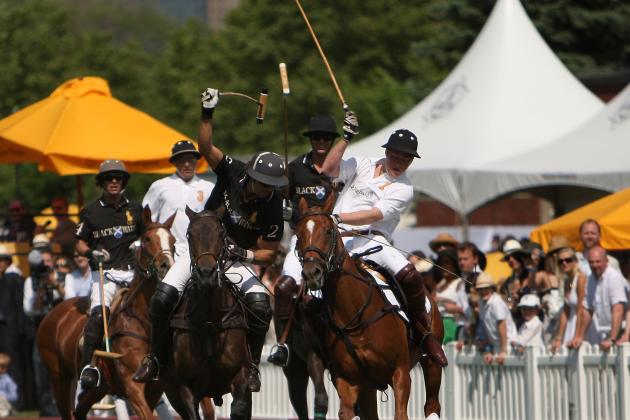 Spencer Platt/Getty Images

If you think players are spoiled millionaires, you should see the ones paying their salaries.
Some NHL players make about $500,000 per year. Despite also getting per diem for food on the road, they have expensive lives because of limited time at home, sometimes needing to maintain more than one home.
No one should be crying for them, but there are some people reading these blogs that are wealthier than some players. And even the poorest owner is much wealthier than even the highest-paid player.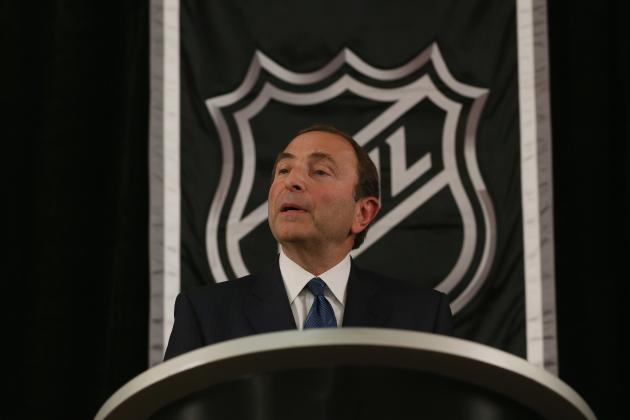 Bruce Bennett/Getty Images

This is the second NHL lockout in eight years and the third of Bettman's tenure as NHL Commissioner. Out of three CBA negotiations.
A lockout is not a last resort to Bettman. It is a first step to serious negotiations. And the hard-line owners love him for it because it works, doubling his pay since the last lockout.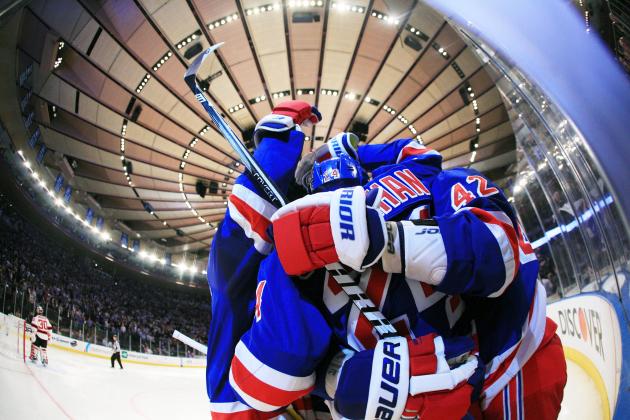 Bruce Bennett/Getty Images

NHL owners are crying about lower-revenue teams losing money while one-third of the league is raking in money hand over fist. Rather than ask the players for some of their share of league revenue, wealthy owners could carry less profitable franchises themselves.
There is a reason the player values are being driven up—teams are willing to pay those salaries. They have only themselves to blame for the market they set.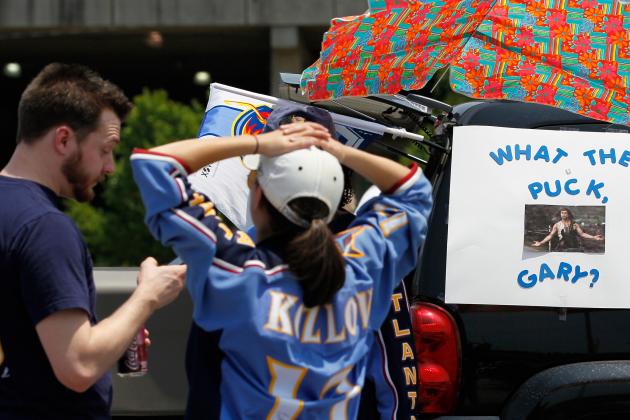 Kevin C. Cox/Getty Images

Bettman has himself to blame for some of the lost revenue in the NHL.
He stuck with struggling markets in Atlanta, Phoenix, Nashville and Miami that were a big black hole for revenue, while Canadian cities campaigned for teams they had a better chance of supporting. In fact, most of the teams losing money do it almost every year.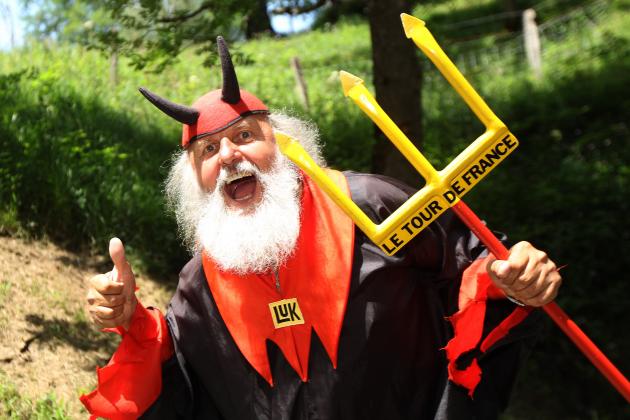 Bryn Lennon/Getty Images

Maybe it is the short-cop syndrome. Maybe Bettman is compensating for something else lacking now or in his childhood. But the way this man abuses power has to make Lucifer himself smile.
Bettman's decisions cannot be overridden without a three-fourths majority vote. He controls the vote of the league-run Phoenix Coyotes. All he needs is seven teams that want to play hardball like he does and gridlock ensues that would make the U.S. Senate cringe.
In the true spirit of a dictatorship, there is no free speech among owners' ranks. No NHL employee may talk about the lockout or negotiations in general. There is no knowing who the hard-liners are, but if there were 20 teams that wanted to take the deal and Bettman blocked it, we would have no way of knowing that.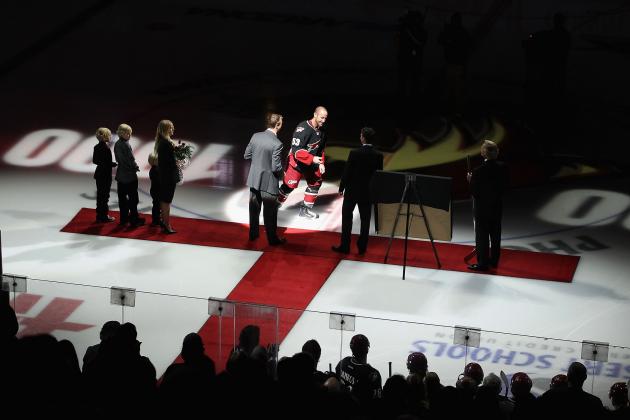 Christian Petersen/Getty Images

Even franchises that lose money go up in value exponentially. When the increased equity is borrowed against or cashed in on, that money is not shared with players.
Owning a team is a privilege many wealthy men are willing to pay for. And even if you lose $20 million per year, your share increases in value double that. Owners concerned with money should cash in on their investment, and let those willing to pay for the privilege take the financial losses.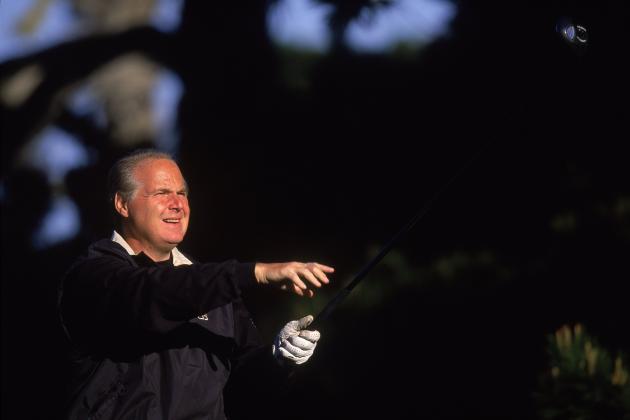 Craig Jones/Getty Images

Some people make promises all the time that they have no intention of keeping. You expect it from those connected to politics, like Rush Limbaugh promising to leave the country if his guy lost. You expect better from your employer.
NHL owners did it this offseason when they signed players to contracts for lengths they would seek to nullify and salaries they would seek to rollback. They wanted players to accept a one-quarter pay-cut from the contracts they legally agreed to pay—for the second time in eight years.
Fans rightfully dislike holdouts from players that are under contract. The lockout is a league-wide holdout of paying contracts, and last time the season was canceled, owners got out of one year of their deals, too.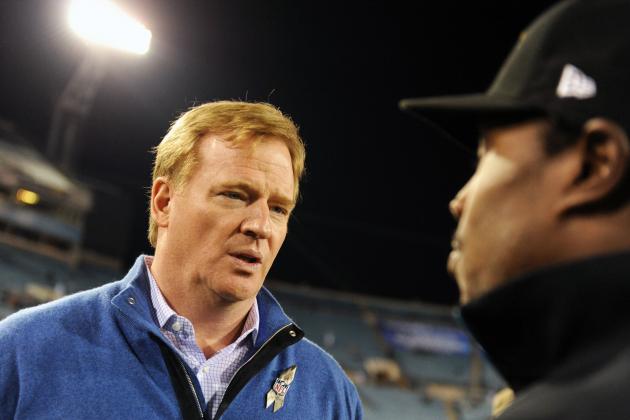 Al Messerschmidt/Getty Images

When the NFL took pay away from their players, they cut their workload. They also honoured the contracts they signed and increased other benefits. But they have liberal revenue sharing that also helps prevent franchises from being in the red.
The NHL does not believe in giving back. They are offering no benefits, reductions in travel or practice time. They alone, among the major sports leagues, get to limit the revenue they share with players, making their 50-percent share actually higher.
They want the longest period of restricted free agency and have the best deal on draftees with the entry-level contracts. No other league gets to limit the length of contracts like the new CBA is likely to bring owners.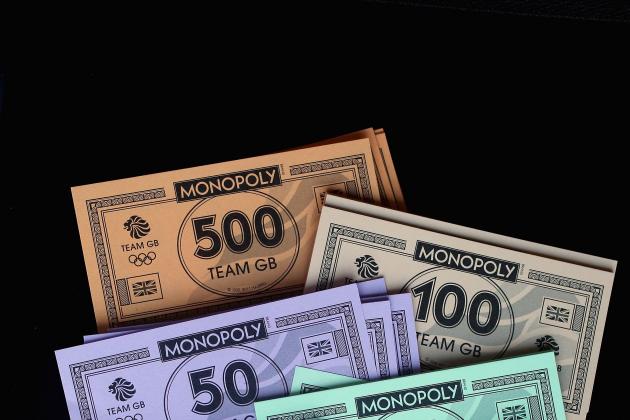 Oli Scarff/Getty Images

Professional sports leagues are among the most valuable commodities in the world. The NHL is one of the top-five leagues in the world.
Despite this already elite free-market status, owners are often exempt from laws. Efforts by players to enforce the labour laws that apply to other industries in certain regions of Canada that have NHL franchises failed.
They can limit player options from the start of a player's career through drafts, prevent them from reporting to work without compensation and put other barriers to player earnings that could be anti-trust violations.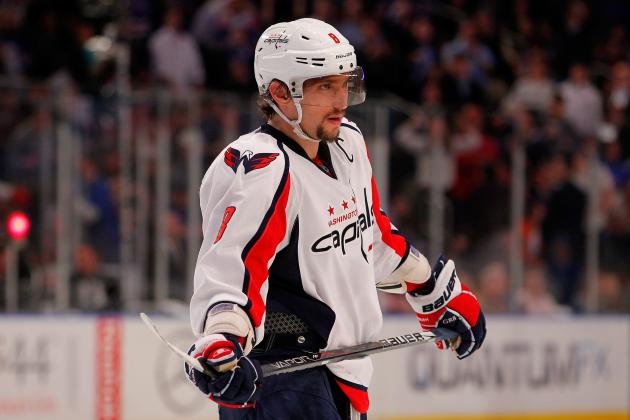 Paul Bereswill/Getty Images

Many of the top NHL players are renting out their services overseas during the lockout. Some have vowed never to come back if they have to accept less than they signed for.
If the NHL loses even Alexander Ovechkin alone, they have diminished their product. If an elite player loved around the world is no longer in the league, it hurts the game. If he takes a few dozen players with him, the NHL has a true rival that is not easily viewable from North America.
Bettman is risking diminishing the quality of play to keep rich owners from having to help the poorer teams they need to play to make money. Fans that have endured more than those of other leagues should not have to risk those losses for the sake of as few as eight people.