Tennessee Titans vs. Miami Dolphins: 10 Keys to the Game for Miami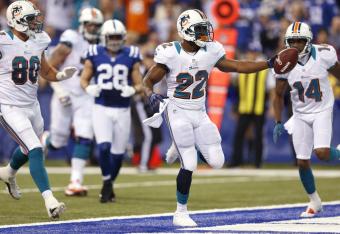 Joe Robbins/Getty Images
The Miami Dolphins will be looking to bounce back from their narrow loss last week against the Indianapolis Colts.
The Dolphins showed improvement in various aspects, especially on offense. However, they looked extremely vulnerable in the defensive secondary. They allowed Andrew Luck to throw for a rookie-record 433 yards while giving up multiple big plays, including a 36-yard touchdown from Luck to T.Y. Hilton.
Miami's top-notch defense also struggled on third downs. They went into the matchup having one of the best third-down defenses, but they did not show it against the Colts. They allowed Indianapolis to convert 13-of-19 attempts on third down.
Miami now faces a struggling Tennessee Titans squad that is coming off a blowout against the Chicago Bears. The Titans come into this game with a mediocre offense and a weak defense. Miami needs to be careful not to overlook this game. On paper, they are the favorites, but this might be a trap game. With a short week following the game, Miami needs to make sure they win this matchup.
Here are 10 keys to the game for the Dolphins to come out on top.
1. Exploit the Titans Secondary
The Titans currently rank 27th in passing defense, giving up just over 273 yards per game. Ryan Tannehill proved he can lead the Dolphins offense through the air last week when he threw for 290 yards against the 11th-ranked passing defense.
If he is as accurate and aggressive as he was against the Colts, the Dolphins will be able to put up major yards through the air.
2. The Dolphins Secondary Needs to Show Up
The Titans secondary is pretty bad. However, the Dolphins secondary is worse. The Dolphins rank 30th in passing yards allowed, giving up just over 298 yards per game. Last week against the Colts, the secondary was non-existent, which allowed the Colts offense to move the chains without many problems.
Tennessee won't come to Miami with the same passing offense as the Colts, but if they play as poorly as they did, they will be in for an extremely long day.
3. Protect Ryan Tannehill
Against the Colts, Tannehill was harassed by their defensive line, even after Robert Mathis was taken to the locker and was unable to return. Tannehill was sacked twice, but was hit four more times and hurried multiple times more. Everyone on the line struggled, forcing Tannehill to be flushed out of the pocket on almost every play.
4. Running Game Should Be Used More
Miami's running game showed improvement from the last couple weeks where they have struggled. Reggie Bush had an explosive 18-yard touchdown, showing signs that his knee might not be bothering him much anymore. The Dolphins racked up 87 yards against the Colts, but the backs only carried the ball 17 times.
Miami needs a more balanced offense to be more effective, and they should establish the run throughout the game against the Titans.
5. Offensive Line Can't Have Costly Penalties
Not only was the offensive line unable to protect Tannehill, but they were called for costly penalties at key moments in the game.
Mike Pouncey was called for two false starts when the Dolphins had the ball around midfield. He was called for his second false start on the Dolphins' last drive when they were down three with less than four minutes to go. Jake Long was also called for a couple holding penalties, including one on fourth down during the Dolphins' final drive. He let Dwight Freeney get by him, and his only escape was to hold him.
The offensive line has to be consistent throughout the game and alleviate the referees from throwing yellow flags.
6. Can Charles Clay Show Up for a Second Straight Game?
Charles Clay didn't necessarily have a big game against the Colts, but he did score the Dolphins' only passing touchdown.
The Dolphins know Clay is a matchup nightmare for opposing defenses and hope this was a glance of what Clay can actually do. He is an extra weapon in Miami's lack of arsenal. Tannehill can really benefit from a consistent Clay in the passing game.
7. Chris Johnson vs. the Dolphins Run Defense
Chris Johnson had an awful beginning to the season, but he has picked up his level during the last four games. He has rushed for 91, 195, 99 and 141 yards respectively.
On the other hand, Miami has one of the best rush defenses in the league. They are giving up almost 84 yards per game, which is good for third. Miami's defense hasn't allowed a 100-yard rusher for 22 consecutive games and will look to keep the streak alive against Johnson and the Titans.
8. Will Sean Smith Rebound?
Before the game against the Colts, Sean Smith was having a good season. People questioned if he would be able to succeed as the No. 1 cornerback after the team traded Vontae Davis. And he had been proving people wrong until he stepped foot in Lucas Oil Stadium.
Smith appeared to be lost on the field; he was not only outplayed by Reggie Wayne, but he was also outplayed by T.Y. Hilton and Donnie Avery.
He also failed to make two easy interceptions that could have turned the game around. Smith looked far from being a top cornerback, and it may have cost the Dolphins the game.
9. Ryan Tannehill Must Continue to be Efficient
Ryan Tannehill has six interceptions this season. However, three of those were against the Houston Texans in his first regular-season game. He has not thrown an interception in his last four games and has been extremely efficient.
If the offensive line can give him enough time to throw, Tannehill should have a big game and carry the Dolphins to victory.
10. Which Reggie Bush Will Show Up?
As opposed to Chris Johnson, Reggie Bush had a tremendous start to the season and cooled off after the knee injury he suffered against the Jets. In the three games that followed, he averaged a measly 2.6 yards per game. However, in his last two games, Bush has averaged almost 4.2 yards.
Bush needs to show up this week in order for the Dolphins to be successful in balancing the offense and not putting the game on Tannehill's shoulders.
We have seen what Bush can do when he's playing well and what he can do when he's not. I'd rather see the former.
This article is
What is the duplicate article?
Why is this article offensive?
Where is this article plagiarized from?
Why is this article poorly edited?

Miami Dolphins: Like this team?