Nebraska Football: 5 Keys to the Game vs. Penn State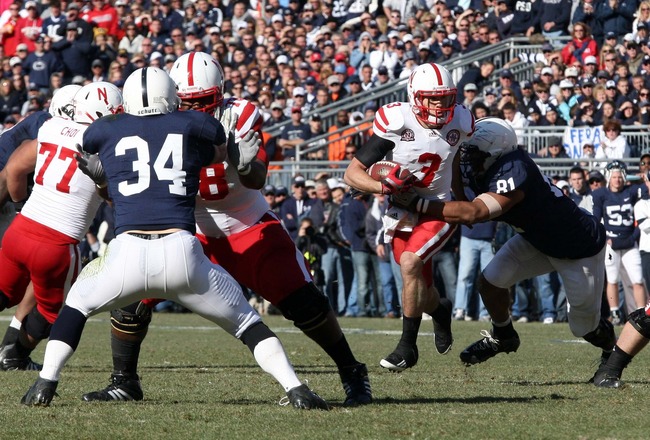 Rob Christy-US PRESSWIRE
On Saturday, Nebraska will face Penn State in Lincoln. Last week, Nebraska pulled out another miracle victory, beating Michigan State in East Lansing 28-24 on a last-gasp touchdown pass from Taylor Martinez to Jamal Turner.
Meanwhile, Penn State comfortably defeated struggling Purdue, 34-9, in West Lafayette. This matchup of divisional crossover rivals is the first return for Penn State to Lincoln since 2003, when Nebraska won 18-10.
Nebraska is in first place in the Legends Division, and controls its own destiny to reach the Big Ten Championship. So here are the five keys for Nebraska to win and keep the reins of the division title firmly in its grasp.
Survive the First Quarter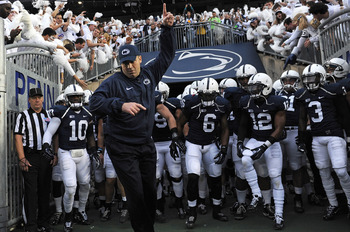 Patrick Smith/Getty Images
Penn State's remarkable resurgence has been keyed on starting strong. In the last seven games, Penn State has outscored its opponents by a combined margin of 62-3.
So for Nebraska to be successful, NU will need to weather the early storm.
Balance the Offense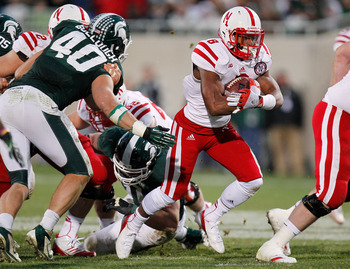 Gregory Shamus/Getty Images
Penn State's defense is relatively balanced, ranked 40th nationally in pass defense and 24th nationally in rush defense.
Nebraska has the benefit of weapons running and throwing, so it will be important against a balanced defense like Penn State to avoid becoming one-dimensional and forcing the Lions to defend the whole field.
Heat Up Matt McGloin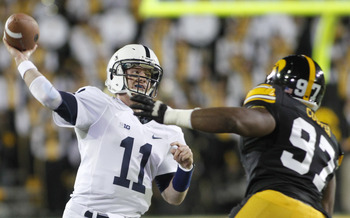 Matthew Holst/Getty Images
Lions quarterback Matt McGloin has been a revelation for Penn State in 2012. Last year, McGloin had a 54.1 percent completion rate and averaged 130.9 yards per game passing. This year, McGloin has increased his completion rate to 62.1 percent and his average passing yards per game to 270.2 yards. Clearly, the arrival of Bill O'Brien and his New England Patriots style offense has been a huge help to McGloin.
But McGloin is definitely not a dual-threat quarterback. If Nebraska, which leads the Big Ten in sacks, can get pressure on McGloin, it will be more likely to have success against the Penn State offense.
Wear the Lions Out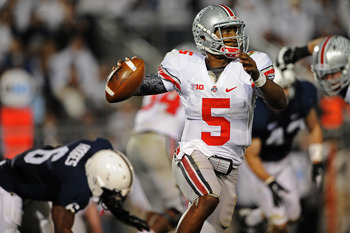 Patrick Smith/Getty Images
When the crippling sanctions as a result of the Jerry Sandusky case were levied on Penn State, many thought it would mean the end of the Lions as a competitive football program for years to come. And in the future, with the scholarship and recruiting limits in place, that may well be true.
But in 2012, Penn State still has NFL talent on its roster, and its starting players are competitive with any squad in the Big Ten.
The problem for Penn State is in its depth. The Lions only have 67 scholarship players on their roster, meaning that it will be hard for them to compete with a deeper team like Nebraska for four quarters.
Against Ohio State, the closest team to Nebraska in terms of talent level Penn State has played, the Lions were tied with the Buckeyes 7-7 at halftime. But Ohio State scored 21 points in the third quarter, taking advantage of a tiring Penn State squad to pull away and win comfortably in the second half.
Nebraska, to be successful against Penn State, needs to follow that blueprint.
Decrease the Drama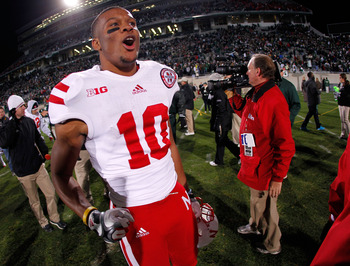 Gregory Shamus/Getty Images
Sure, the come-from-behind wins against Wisconsin, Northwestern and Michigan State were a lot of fun to watch. Sure, they were exciting, and will help keep the Children of the Corn warm through a long winter after the football season.
But the fact remains that, when a team lives on the edge like Nebraska has, it only takes one slight mistake to turn an exciting win into a heartbreaking loss. Yes, the comebacks have done wonders for Nebraska's confidence. But Nebraska would be well served to avoid the drama and use its superior depth in talent to pull away and win comfortably in the second half.
If you'd like to contact Patrick to schedule an interview, provide feedback or get advice on which type of chocolate goes best with fresh fruit (spoiler alert: dark), then send an e-mail to patrickrunge@gmail.com.
Or, you could always...Follow @patrickrunge
Keep Reading

Nebraska Huskers Football: Like this team?