10 Things We Have Learned About the Toronto Raptors Early in the Season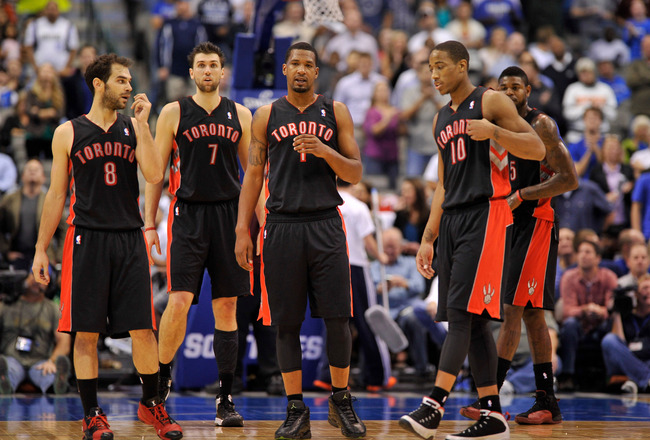 Jerome Miron-US PRESSWIRE
As early in the game as it may be, what have we learned about the Toronto Raptors so far? Some of the things we have learned are just reaffirming things we already knew about longtime players like Andrea Bargnani. Other things are more first impressions of new faces to the roster like Kyle Lowry and Landry Fields in addition to rookies Jonas Valanciunas and Terrence Ross.

Despite all the talk of change and the Raptors being a team to watch, they have not shocked the world with a 1-4 start. You want a shocking 1-4 team, you might want to check in on the L.A Lakers. Sadly, most, when looking at the Raptors' schedule, likely would not be all that surprised with their start to the season.

The bad news is, when you look ahead, things don't get any easier in terms of the schedule for the Raptors anytime soon. There have been some positives in this start to the year, but not as many as the Raptors would have hoped for.
























Bargnani Is NOT an All-Star
Ronald Martinez/Getty Images
Sorry to break it to you, folks, but Andrea Bargnani is back to being the same frustrating player he always has been, maybe even a little worse than the norm for him. Bargnani is even struggling with some of his strengths early in this season. Always considered a stronger shooter from beyond the three-point line, he is just 7-of-20 from beyond the arc..

He still can't rebound to anything close to acceptable levels for his position. He had a rare nine-rebound performance in Dallas, but even with that included, he is averaging just 4.4 rebounds and less than one of those coming on the offensive end.

In addition, his lack of ability to defend was on full display in the opener, with the Pacers' David West destroying him in the fourth quarter to help the Pacers rally to a win. Dwane Casey even resorted to going zone of late to try and hide Bargnani and others not cutting it on defense in the last few games.

In the end, Andrea Bargnani is who we thought he was, and Raptors fans are growing frustrated. His lack of effort is being noticed and called out by many on social media on a consistent basis. I had warned you this was coming in a past article here in the Bleacher Report.
Landry Fields Has Been Just Terrible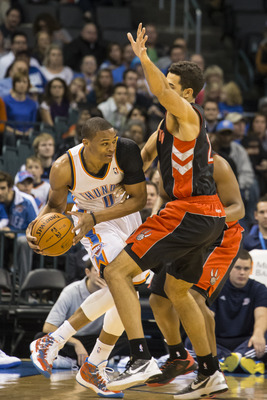 Shane Bevel/Getty Images
Landry Fields was always going to be in the spotlight based on the contract he signed with the Raptors and the reasons behind that contract offer. The question isn't if Fields is worth that contract. That has been clear in the first five games; he is not even close to worth it. It might be if he even belongs in the starting lineup for Toronto.

He has just been terrible in almost every aspect to this point. His offense has been almost non-existent in most games. Aaron Gray is averaging more points than Landry Fields. While that sinks in for you, let's also mention that his defense that was expected to help the Raptors has not exactly been stellar either.

He is digging a hole with fans of the Toronto Raptors that may be tough to dig out of, unless things improve fast. His fun-loving attitude and nice guy image is not going to protect him from the grim reality of his lack of production.

His big-money contract and the fact he dates a girl that makes most men try not to drool is not exactly helpful in building a case of sympathy for him either. Dwane Casey has preached he will be patient as far as Fields goes, but fans' patience may already be gone.
Kyle Lowry Is Very Good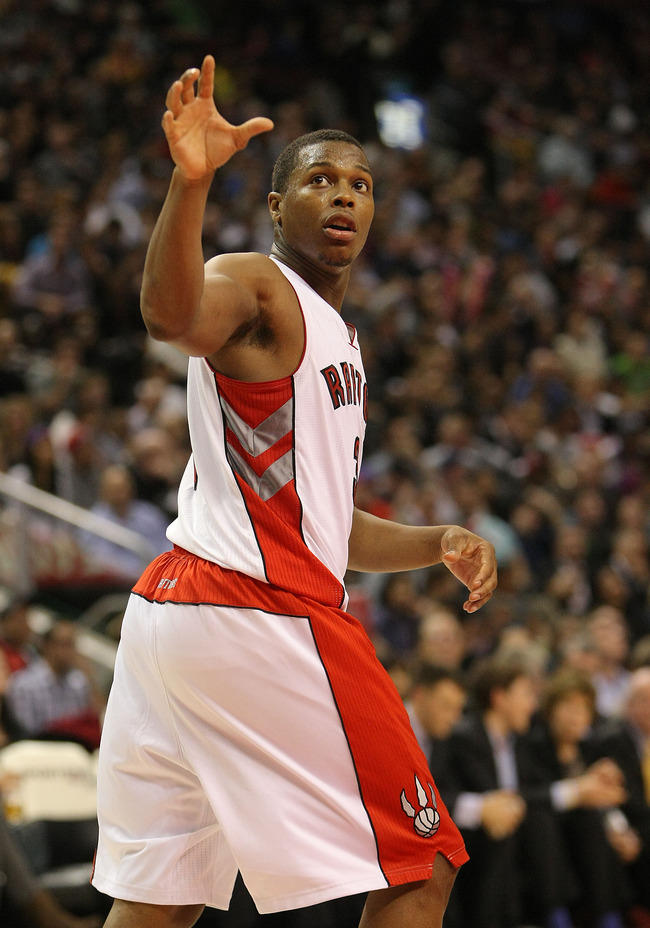 Dave Sandford/Getty Images
True, we all likely knew this to varying degrees. However, I would think even longtime Lowry fans have to be impressed with his start in Toronto prior to his injury. He became only the third player in NBA history to start a season with at least or more than 20 points, five assists, five rebounds and three steals in his first three games as a Raptor. The only other two guys to accomplish this were Kevin Garnett and Michael Jordan.

Lowry's impact has been massive, and you can have an honest debate on if any Raptor has ever had this quick of an impact on the fanbase in the franchise's 18-year history.

Longtime Raptors fans will see the similarities to Alvin Williams, who has been one of Lowry's mentors and likely played a role in advising the Raptors to get Lowry. Williams was a tough-minded leader that had no issue with putting his body at risk to get the job done on either end of the floor.

Lowry has been the heart and soul of the Raptors in the three full games he played. In the game he left injured and the one he sat out, his absence has been noticeable. He will likely be the biggest factor in any element of success the Raptors hope to have this season.
Slow Starts Remain an Issue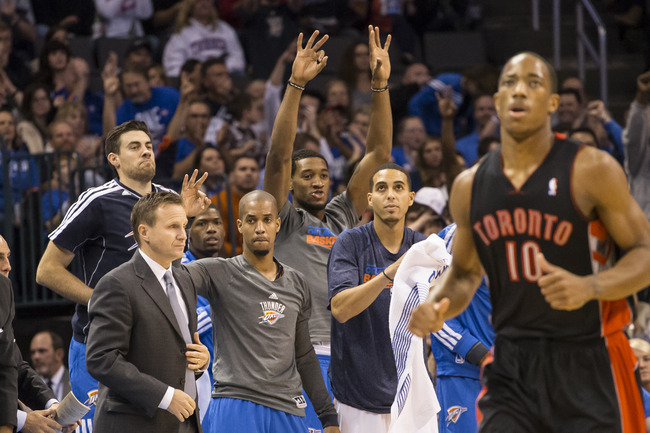 Shane Bevel/Getty Images
The Raptors struggled with slow starts in the preseason, and that aspect has leaked into the regular season. This is a team that most nights, will keep fighting and get back into games. Still, the fact they have to do it becomes a concern over the long haul of an NBA Season. It seems to take Dwane Casey getting angry to drive home the message of playing defense and fighting hard.

It really is a concern for a team that is not good enough to consistently deal with this. The Raptors' overall effort level seems greatly connected to their offensive production. If shots are falling, the Raptors' effort level on both ends of the floor is solid. If not, then the defensive effort suffers at the hands of their shooting percentage.

So, the Raptors get off to shooting 6-of-10 and they will bring it on both ends. They struggle to a start of, say, 2-of-10; it's likely the other team will find scoring easier. Their defense can help them hang around if the offense gets off to a slow start. The Raptors need to understand this and play well on defense regardless of results on the other end of the floor.

It should not require a Dwane Casey rant after a timeout, at the end of quarter or at halftime every game to get this message across.
Alan Anderson Could Play a Bigger Role?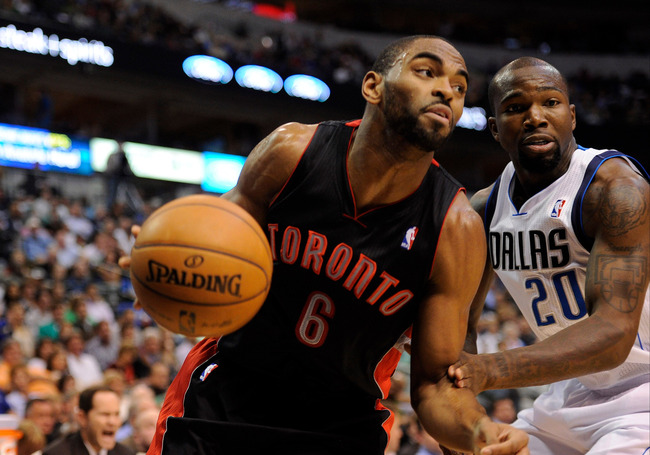 Jerome Miron-US PRESSWIRE
The Raptors, without much notice or attention, last season brought in Alan Anderson. He survived on 10-day contracts and remained till the end of the season. The fact he was offered a deal to return likely didn't mean a lot for even Raptors fans. It is a nice gesture from the organization for a guy in Anderson that has fought to make his way to the NBA for good.

It is becoming clearer that he could, and likely should, be more than that. Already we mentioned the struggles of Landry Fields. This has led to opportunity for Alan Anderson, and he has been taking advantage of it.

Linas Kleiza has been away from the team on a family issue, and it looks like Anderson is well-established in front of him in the Raptors' rotation. Next target for Anderson is Landry Fields? Perhaps not, but he has went from a guy on the fringe of this roster to a key member of its bench that is a heck of a job.

Anderson, in terms of just pure performance, has likely been the Raptors' best option at small forward on the roster. He defends, he makes shots and he has made an impact. We sometimes forget even guys like Anderson come from big-time college programs.

Could he have the same kind of success another grad from Michigan State named Morris Peterson did? This is way too early to be saying something like that at this point. Anderson, for now, is averaging close to 20 minutes a game and 7.4 points. Far more than anyone could have expected.
Terrence Ross Needs Time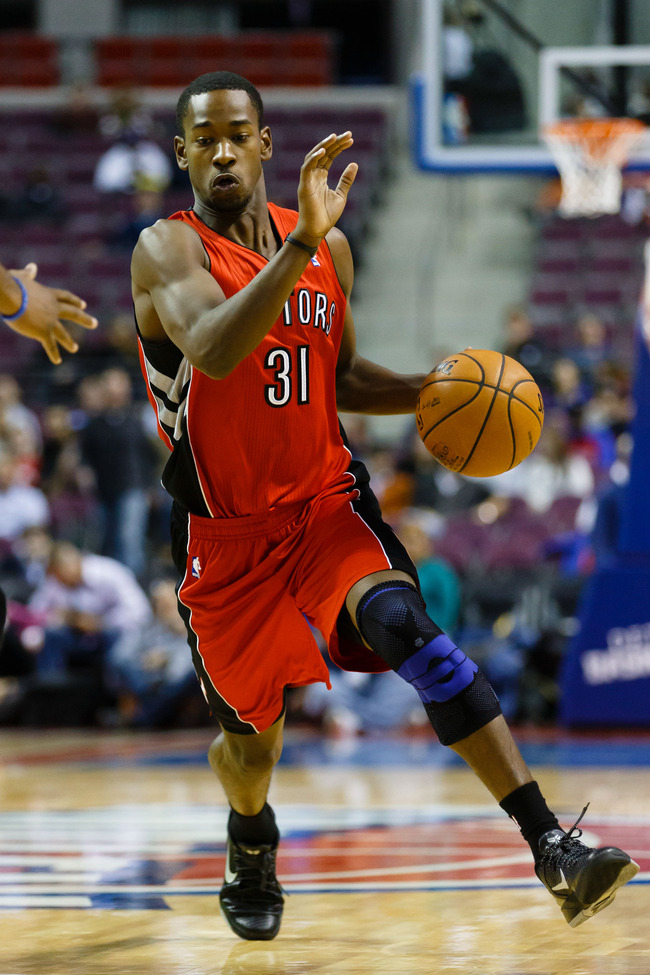 Rick Osentoski-US PRESSWIRE
Some people had some pretty crazy expectations for Terrence Ross this season. It is clear the Raptors were taking a much slower and guarded approach. They clearly did not see him as an instant replacement for DeMar DeRozan. They showed that in the form of a rather large extension to DeRozan prior to the season.

Ross has shown clear signs of the growing pains that you expect to see with a rookie. He was a DNP-CD in one game, and in the four others he did play, is has averaged just 8.8 minutes.

In talking about Ross, it was suggested by me that he began this season on the outside of the Raptors' rotation. The Raptors have gone a little deeper than we expected, so he has been seeing some time but not a lot.

He needs to continue to work hard in practice and earn more minutes as the season goes along. It would not be a tragedy if he spends a brief time in the NBDL in which you can almost guarantee Quincy Acy will. It may not happen, but if it did, this should not be seen as the Raptors blowing it with their first-round pick.

Ross does have the basic raw skill set to be an excellent option for the Raptors and play as DeMar DeRozan's primary backup going forward. He does the things that DeRozan struggles with, like making three-point shots and defending.

He just is not ready for that role at this point. You hope he is sooner rather than later.
Jonas Shows Signs of Bright Future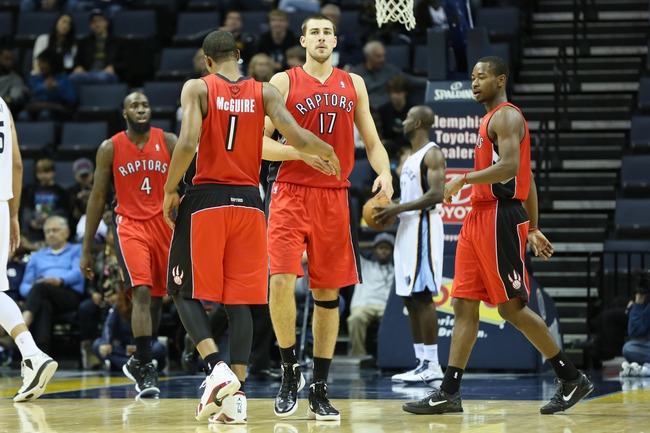 Nelson Chenault-US PRESSWIRE
While Terrence Ross has seen a small role in the Raptors' overall plans, that is not the case for Jonas Valanciunas. The Raptors expect more and are demanding more from their Lithuanian first-round pick from 2011. He has shown some of the same rookie moments that we have seen with Ross. However, he has also shown a lot more upside currently and an ability to work within the starting unit.

The major concern about Jonas for many was if he could avoid foul trouble early in his NBA career. It has been an issue of late, as he plays an aggressive brand of defense. Valanciunas has been considered a fast study by folks in the Raptors organization, including his coach, Dwane Casey.

It has been a mixed bag of results for Jonas, but his effort and competitive nature remains high. The Raptors hope to see him grow and improve and ultimately produce. The biggest factor in where they need him to step up is on the glass. While many will focus on his offense, that really is last on the list of what the Raptors need from him.

Given the fact he was thrown into the fire in the starting lineup, you have to feel fairly happy with how he has responded. What number the Raptors have to be happy about is the three offensive rebounds a game Jonas is averaging. What they hope to see go up is the overall rebounding number currently at just five a game.
Dwane Casey Not Afraid to Go with What Works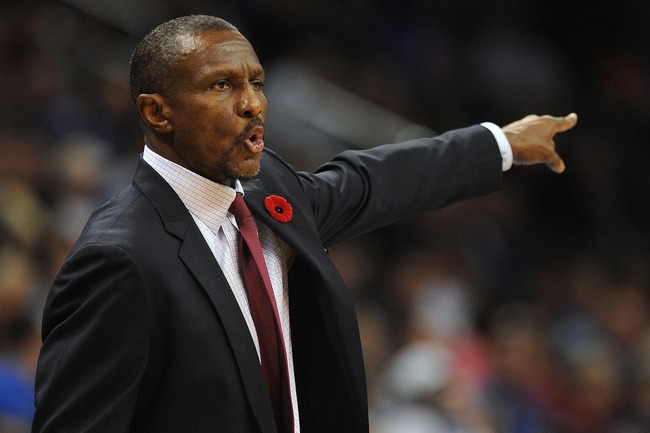 Mark D. Smith-US PRESSWIRE
You have to give Dwane Casey credit, for not allowing outside factors impact on his in-game decisions. Casey has not been afraid to throw out on the floor the players that are getting it done on a given night. Alan Anderson makes nothing compared to Landry Fields; doesn't matter if he is out playing him on a given night. Bargnani, if he is struggling, can find a seat on Casey's bench more than you would expect a player of his stature in the organization.

Basically, there is old-school accountability on this team, and if you are not doing what Dwane Casey needs from you, then your minutes totals will reflect that. This shows the amount of stroke that Casey has with the organization as whole.
He might not be to the point of a Jerry Sloan back in his days with the Jazz. However, he clearly is the leader of his group. He has the full support of management and has respect in his locker room from his players.

This will be vital, as the Raptors are having their issues early in this season. Still, the facts are clear that Casey has the stroke to make the moves he so desires to do in coaching games.

He also has played a role with the players that have been brought in to make up this roster. He was not on the same page with James Johnson, and the organization responded, trading him to the Sacramento Kings for less than what they paid to get it from Bulls.

This is Dwane Casey's team for better or worse.
Amir Johnson Is Healthy and Producing.
Jerome Miron-US PRESSWIRE
Last season, many people wondered what exactly was wrong with Amir Johnson. In covering the team last year, we were made aware of a personal situation Johnson was dealing with. It was never expanded on by Johnson or the team beyond that. He also was trying to deal with recovering from a number of injures he racked up the prior season.

This season, Amir seems more like his old self both on and off the floor and has been producing. In a loss to Dallas the other night, he recorded a double-double with 18 points and 11 rebounds off the Raptors bench.

He also is continuing to show his great chemistry with Jose Calderon, playing together in the Raptors' second unit. If Calderon is moved at some point this season, Amir Johnson will be the guy impacted by that move the most on this roster. These two have their pick-and-roll game down to a science at this point.

Johnson, who in good times and bad, has always been one of the faces that is constantly reaching out to fans, is giving those fans reasons to cheer for him.
Ed Davis Remains a Question Mark?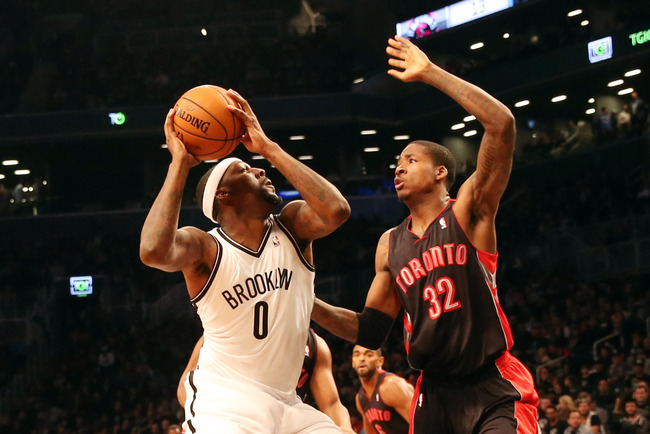 Anthony Gruppuso-US PRESSWIRE
Ed Davis put in a lot of work this offseason. The most notable change is he rebuilt his jump shot, and he is now very comfortable with it, as he has told me in past conversations this season. So far, he has been used sparingly, and that is in part because Amir Johnson has just been better.

Davis is averaging about 15 minutes a game and has appeared in all five games for the Raptors.

The Raptors have picked up the option on his contract and still remain hopeful that he can live up to his late lottery selection. Davis is more out going off the floor and really seems to have bought into the team concepts that Dwane Casey is preaching.

Davis is averaging 4.4 rebounds, which is the same amount that Andrea Bargnani produces in double the minutes. That said, rebounding and shot blocking need to be the big parts of what Davis brings to the table.

It is still too early to tell if Davis will be able to change minds about him and his progress as part of this young Raptors core group. He will need to be playing solid defense if he hopes to show off his improved jump shot more in games.


Keep Reading

Toronto Raptors: Like this team?