WWE: What You Missed on the Other 4 Shows; Another Survivor Series Match?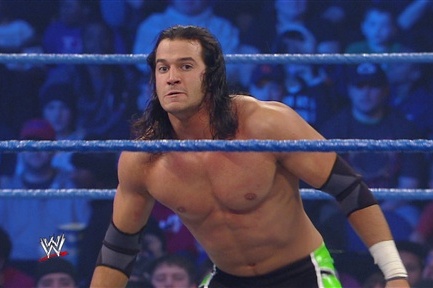 Credit: WWE.com
The WWE continues to build toward a successful Survivor Series while those superstars that are underutilized attempt to build their careers toward Raw or SmackDown. This is your weekly review of WWE's four shows: NXT, Main Event, Superstars and Saturday Morning Slam.
After giving you the rundown on the shows that you probably never watch, I take a deeper look at how the superstars showcased on these programs could improve the November pay-per-view. What is the best possible 5-on-5 traditional Survivor Series elimination match you could build using only performers we see on these lesser shows?
I'd really like to hear what my readers think (and that especially applies to you, Dustin's Diamonds).
My "notes" version of all four shows is below.
If it piques your interest enough to read on, the slideshow breaks down the shows individually, segment by segment, complete with my questions and predictions.
Notes
On NXT, Kassius Ohno defeated Trent Barreta in a rematch that will likely have at least a round three, and Big E. Langston made short work of Memo Montenegro. Vickie Guerrero announced she has placed a $5,000 bounty on Langston's head after he rejected her last weak. Chad Baxter tried to earn that reward but is easily thwarted by Langston.
Luke Harper debuted as the first member of the Wyatt Family, as Ray Wyatt sends him to defeat Jason Jordan. Ramon Reigns gives a weak promo, and Jinder Mahal defeats Bo Dallas, Justin Gabriel and Drew McIntyre in a Fatal Four-Way to earn a rematch against Seth Rollins for the NXT Championship next week.
On Main Event, Sheamus managed to get a victory over Wade Barrett as The Big Show watched from ringside, and a match between R-Truth and Heath Slater ended in a disqualification after Jinder Mahal got into the ring to break up a three-count.
The Big Show also laid out Matt Striker backstage, and it was announced that next week's episode will feature a WWE Tag Team championship match between Team Hell No and Team Rhodes Scholars.
On Superstars, Jimmy Uso starts things off with a victory over Jinder Mahal. Justin Gabriel gets a win over Tensai that really can't be thought of as an upset, considering the slight push Gabriel has received lately and the lack of push for Tensai. Two long Raw Rebounds prevent the show from hosting more than two matches.
On Saturday Morning Slam, the Usos open the show with a victory over the Primetime Players, while The Great Khali makes short work of Primo in the main event. The Video Vault segment shows highlights of WWE giants The Great Khali, The Big Show and Andre the Giant.
Now, if you care to read more about any of these happenings, please enjoy the slideshow.
Begin Slideshow

»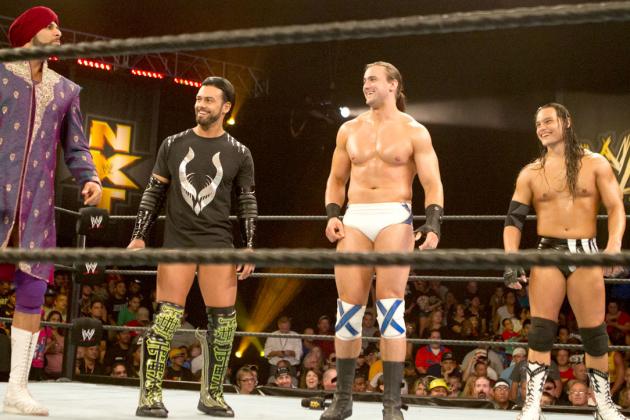 Credit: JG-Online.org
This week's episode of NXT kicks off with a recap of last week's No. 1 Contender Fatal Four-Way setup. That will serve as our main event tonight, a Fatal Four-Way between Jinder Mahal, Justin Gabriel, Drew McIntyre and Bo Dallas, the winner of which will be named No. 1 Contender for Seth Rollins' NXT Championship.
Tony Luftman, William Regal and Byron Saxton are on commentary as we prepare for Kassius Ohno vs. Trent Barreta, a rematch that was also set up last week.
Kassius Ohno vs. Trent Barreta (match length 6:11)
When these two faced off two weeks ago, Barreta got a win after Richie Steamboat provided a distraction to Barreta's advantage. You've got to believe Ohno will go over, unless Steamboat interferes again.
For the majority of the match, Ohno was in control. Barreta had a few spurts of offense, but in the end, Ohno hit the KO discus elbow smash and picked up the clean victory. During the match, the commentators reminded us that Barretta had only been back in the ring for a few weeks after a six-month injury vacation.
Postmatch, Ohno continued to attack Barreta, but not for long. Barreta manages to regain control, Ohno is sent out of the ring, and it looks like the feud between these two will continue to build even as Ohno is working a program with Steamboat. You've also got to believe that he will eventually challenge for the NXT championship unless he is sent up to Raw/SmackDown before he gets the chance.
When we return from commercial break, we get a brief promo for someone named Graves, who will be playing a tattooed street thug, as far as I can tell.
Big E. Langston vs. Memo Montenegro (match length 0:57)
Before the match even starts, Regal tells us that he doesn't know anything about Montenegro, a good signal that we're about to see a squash match. Montenegro is completely dominated during this match that lasted less than a minute. After hitting the Big Ending, Langston started to get upset with the referee when he called for the bell after a three-count. He hits Montenegro with another Big Ending and covered him for a five-count.
As he was getting to go for a third Big Ending, Vickie Guerrero came out to follow up with Langston after he rejected her last week. She informs Langston that she has put a $5,000 bounty on his head, which will go to anyone who can put Langston on the injured list. As Langston turned his attention back to the opponent he had already pinned twice, Chad Baxter rushes to the ring to try to collect the bounty. Instead, he just becomes another victim of the Big Ending, which sends us to another commercial break.
When we return from commercial break, Jason Jordan is getting ready for a match against Aiden English. But before English can be introduced, Ray Wyatt interrupts, going on a bilingual, nonsensical spiel about waking up from the lie everyone is living. He vaguely sounds like a pastor, but he's dressed like a tourist in Hawaii.
Jordan gets on the mic, challenging Wyatt to a match since he's already interrupting Jordan's scheduled match. Instead, Wyatt sends someone else to the ring in his place, someone who hasn't been seen on NXT and is not introduced, even though he starts the match with Jason Jordan.
Jason Jordan vs. Luke Harper (match length 2:20)
Wyatt's lackey is a big man, though not quite as large as Kane. He's wearing jeans and a tank top and has an unruly beard and disheveled, greasy hair. He just pounds on Jordan, taking control from the very beginning. Wyatt remains at the top of the ramp for the duration of the match. After the mystery man makes quick work of Jordan, he looks to Wyatt for approval, as if Wyatt is his leader. Wyatt announces that this man is the first member of the Wyatt Family and that his name is Luke Harper.
Immediately following the match, we get a reminder of Roman Reigns' successful debut on NXT last week, and Byron Saxton is at the top of the ramp to interview Reigns. The new guy tells Saxton he is not needed and takes the mic. He gives a pretty weak "I-am-awesome-and-I-can-do-anything" promo.
This sends us to commercial break before our Fatal Four-Way main event.
NXT Championship No. 1 Contender's Fatal Four-Way Match:
Justin Gabriel vs. Jinder Mahal vs. Bo Dallas vs. Drew McIntyre (televised match length 12:08)
Jim Ross and William Regal are on commentary for the final match. After just a minute or so, Gabriel runs and executes a plancha on all three opponents outside the ring, and we go to commercial break. When we return from the break, McIntyre and Gabriel are duking it out in the ring while Dallas and Mahal continue to recover outside the ring.
The first elimination comes when Dallas hits McIntyre with a spear. Immediately following that elimination, Gabriel goes to the top rope to attempt an aerial attack, but Dallas hits Gabriel with the spear in midair and scores a second pinfall.
As we head to commercial break, Seth Rollins has seated himself at the top of the ramp to see whether he will face Dallas or Mahal for his NXT Championship title defense next week. Mahal has Dallas outside the ring when we return from the commercial. He sends Dallas crashing into the steel steps, allowing Mahal to take control of the match.
After several minutes of Mahal's domination, Dallas shows a glimmer of hope as he fights back. He goes for his third spear of the contest, but Mahal avoids the spear and quickly manages to put Dallas in the Cobra Clutch. Dallas taps and Mahal earns a rematch for the NXT Championship against Seth Rollins next week.
Postmatch, Mahal puts a helpless Dallas back in the submission move made famous by the Iron Shiek, which prompts Rollins to charge the ring. Mahal attacks him as he slides into the ring and takes the NXT title. As Mahal is admiring the belt, Rollins gets back to his feet and sends Mahal out of the ring, holding his championship belt high as the show ends.
Prediction: Jinder Mahal will not win the NXT Championship next week. Okay, fine, that's too easy. After Rollins retains, his next opponent will be someone other than Bo Dallas, who will continue to argue that he deserves a shot until he gets one.

Question: How large will they allow the Wyatt Family to grow? And is there any chance the entire faction will eventually hit Raw or SmackDown?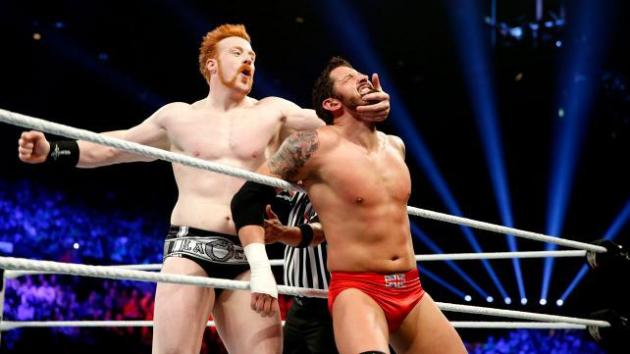 Credit: LOEWrestling.com
Michael Cole and The Miz welcome us to another episode of Main Event, and as they are doing so, World Heavyweight champion The Big Show makes his way to the ring to reserve a spot at the commentators' booth to watch the first match.
Sheamus vs. Wade Barrett (televised match length 16:14)
After The Big Show gets to ringside, we see a video of TBS attacking Sheamus and William Regal at a pub in England. Wade Barrett makes his way to the ring, and we are treated to a pre-taped Barrett promo. Barrett grabs the mic and tries to start talking about Survivor Series but is interrupted by Sheamus' entrance theme. Sheamus doesn't hop into the ring but goes around to attack Show. As Show retaliates and the referee tries to get things under control, we head to the first commercial break of the evening.
When we return from commercial break, Sheamus and Barrett are in the ring and Show is angry and sitting back down at the announcers' booth. The first few minutes of the match are filled with standard trying-to-take-control, back-and-forth action. The commentary between Cole, Miz and Show is actually more entertaining that the opening of the match. Barrett clobbers Sheamus, sending him from the apron to the floor, and Sheamus is down as we head to our second commercial break.
When we return from the break, Barrett is still in control, and both grapplers are back in the ring. The crowd in Birmingham, England is really hot, seemingly split down the middle between the Irish fighting machine Sheamus and their fellow countryman Wade Barrett. After Barrett maintains control for several minutes, Sheamus slowly begins to mount a comeback. He manages a powerful clothesline, leaving both men down on the mat as we head to another commercial break.
When we come back from the break, the competitors are exchanging big right hands in the middle of the ring to the delight of the incredibly responsive audience. Sheamus eventually takes control of things and you can feel the ending on the horizon. Barrett manages to get a nearfall after a brutal kick, which is followed up by an exchange of reversals and attempted signature and finisher moves. Sheamus kicks out of an impressive powerslam and Barrett kicks out of the Celtic Cross. After Barrett misses an elbow from the second rope, Sheamus hits the White Noise and the Brogue Kick for the win.
As Show holds up the World Heavyweight Championship belt above his head at the top of the ramp, we are treated to a WrestleMania promo (tickets are already on sale by the time you read this), and then we head to a commercial break.
When we return, we get a review of the night's drama between Sheamus and Show. Backstage, Matt Striker is waiting to ask Show for a comment about his title defense at Survivor Series. Show remains silent after Striker asks twice and begins to walk away. Striker asks one last time for a comment, and Show hits him with the KO punch. Then we suffer through a Raw Rebound reviewing the events that led up to Brad Maddux getting a chance to face Ryback and attempt to win a million-dollar WWE contract on the next episode of Raw.
R-Truth vs. Heath Slater (televised match length 7:03)
R-Truth makes his way to the ring alone for the next match, and his opponent Heath Slater is accompanied by fellow 3MB member Jinder Mahal, with an explanation for Drew McIntyre's absence promised to come after the commercial break.
When we return from the break, the match is already in progress with both men still feeling each other out. R-Truth eventually takes control, but after a few distractions from Mahal, Slater takes control from Truth outside the ring. The match moves along somewhat slowly, but Slater remains in control, and Mahal continues to be a timely distraction.
Truth begins to make a comeback, but Slater hits a swinging neckbreaker to put a temporary stop to that. However, as Slater celebrates with some air guitar, Truth hits what appears to be a new high-impact finisher. Before the three-count, Mahal interrupts the count, resulting in a DQ win for R-Truth. Postmatch, two thirds of 3MB continue to assault Truth, and we are told (apparently not for the first time, we must have missed it before) that McIntyre couldn't be at ringside because he's planning a concert tour.
Before the program ends, we are informed that Team Hell No will defend their tag titles against Team Rhodes Scholars on next week's edition of Main Event. A promo is shown for that match, and that's the end of the show.
Prediction: Between five and 10 years from now, The Miz will be seen as the newest version of JBL, a former world champion who revitalizes the commentary rotation with his unabashedly heelish tendencies.
Question: What can we expect from Main Event's main event next week when Cody Rhodes and Damien Sandow get another shot the WWE Tag Team championship? This will be the second title defense on the new show, and the last one resulted in a new Intercontinental Champion. Although I'm not ready for Daniel Bryan and Kane to drop the titles, it would serve as a reminder that Main Event is must-see WWE TV.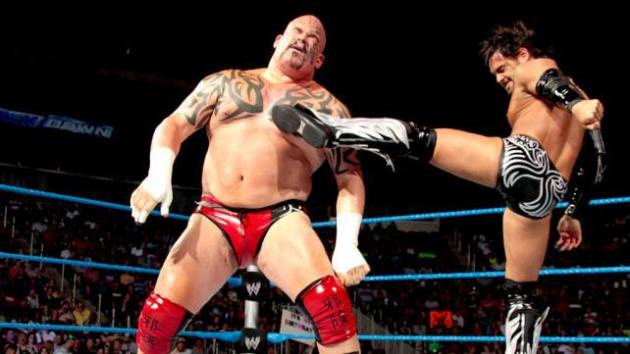 Credit: WWE.com
Josh Matthews and Matt Striker welcome us to this week's episode of Superstars as the Usos make their way to the ring for Jimmy's match that will be opening the show.
Jimmy Uso vs. Jinder Mahal (televised match length 7:24)

Just as he was missing from Slater's match at Main Event, Drew McIntyre is absent from ringside for Mahal's match. Mahal takes advantage early in the match, and chants of "3MB" can be heard from the WWE Universe. As we take a commercial break about four minutes into the match, Mahal remains in control as he puts Uso in a rear chinlock.
Shortly after we return from break, Uso breaks out of the hold and begins to mount a comeback, but Mahal shuts him down and puts him back in the rest hold, warming Uso up for his Camel Clutch finisher. After a few more minutes, Uso finally take a firm upper hand and echoes the Usos' tag finisher by winning the match with a splash from the top rope.
After the commercial break, we get a Raw Rebound recapping the Vickie/AJ/Cena drama. By the time this is finished, we're headed back to commercial break, but not before we find out Justin Gabriel will be facing Tensai next.
Justin Gabriel vs. Tensai (televised match length 6:52)
The commentary team acknowledges that Tensai's record hasn't been especially impressive as of late, even as he dominates the opening minutes of the match, playing up his obvious size and strength advantage. Gabriel makes a couple of short-lived comeback attempts, but Tensai remains in control as we head to a commercial break.
When we return from the break, Tensai has yet to relinquish control. The match has already lasted too long to qualify as a squash match. Gabriel looks like he's about to make his comeback, but Tensai stops that with a brutal clothesline and a close three-count shortly thereafter.
Although he never gets the chance to show off much of his impressive high-flying repertoire, Gabriel manages to counter an attempted powerbomb and gets the roll-up pinfall after Tensai misses a follow-up attack and launches himself into the corner turnbuckle.
I'm not sure if they'll give it enough acknowledgement for a rematch next week, but Striker does point out postmatch that it appears as though Tensai gets his shoulder up before the three-count.
The remainder of the show is another Raw Rebound reminding everyone of the Brad Maddux situation. It's a good thing we received the privilege of two lengthy Raw Rebounds. I wouldn't have wanted another match.
Prediction: Tensai will be going the way of Jack Swagger soon, jobbing until he hits an all-time low, then taken off-air for a reboot. You don't job on Superstars if WWE Creative has a legitimate plan for your future.
Question: How do they decide which storylines to promote during the Raw Rebounds? How is it that Brad Maddux and AJ Lee get more attention that WWE Champion CM Punk?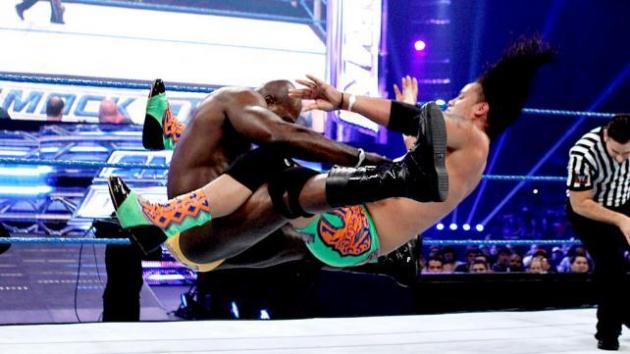 Credit: WWE.com
At the opening of this week's Saturday Morning Slam, an announcement is made that The Great Khali will take on Primo in the main event, but not before we are treated to the opening tag team match.
The Primetime Players vs. The Usos (televised match length 8:28)

Dolph Ziggler has returned from last week to once again join Josh Matthews on SMS commentary as we set up for a match between two teams still trying to establish a place in the pecking order of the recently revamped WWE tag team division. Jay Uso and Darren Young begin the match. It starts with a mildly amusing anecdote in which Uso steals Young's hairpick. After Titus is tagged in, Uso does a fairly humorous imitation of O'Neal's barking.
As we head to a commercial break, very little actual wrestling has taken place, and no one has the clear advantage. When we return, PTP are in control, using double-team moves and good in-ring tag team psychology, proving they deserve to be near the top of their division.
Great line from Dolph Ziggler: Josh, you're a smart young man. Have you ever seen me not back it up in the ring? And I don't mean Rikishi-style.
PTP stay in control for most of the match, meaning Jay will be making a hot tag very soon. When Jimmy finally gets tagged in, the momentum of the match instantly swings in the favor of the Usos, as they quickly take the win by hitting their top-rope Samoan Splash finisher.

When we return from commercial break, John Cena greets us for a brief segment thanking our veterans as November 12 is Veteran's Day. This is followed by the Video Vault segment. This week, we're taking a look at WWE "giants," both past and present. They show us clips and highlights of The Great Khali, The Big Show and Andre the Giant.
The Great Khali vs. Primo (match length 3:07)
Primo is accompanied by his cousin Epico but no Rosa. Is she leaving these guys behind as she apparently begins to work some sort of program with Alberto Del Rio? This match simply played to the Saturday morning crowd, emphasizing nothing other than how large Khali is. He actually wins the match without a single offensive move and does a celebratory dance in the ring postmatch. Khali remains vaguely relevant among the prepubescent portion of the WWE Universe.
Prediction: Now that Khali has made a "comeback" from injury, he'll get pushed for a couple of weeks as a legitimate threat before being squashed by someone like Ryback or The Big Show.
Question: Will WWE's writers ever be as good at tailoring Raw matches to the adult demographic as they are at tailoring the SMS matches to the younger demographic?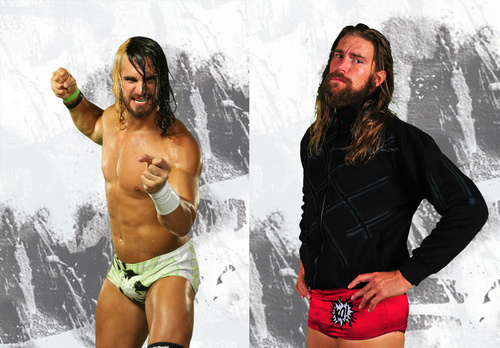 Image found: http://wwewrestlingsexconfessions.tumblr.com/
There's no arguing that shows like NXT, Superstars and even Saturday Morning Slam feature matches with guys who, if they make it to one of the big shows at all, do little more than job to the current flavor of the week. Despite their ability to work a solid match, many of them never earn a legitimate push.
What if we took some of these workhorses, mixed in some of the up-and-comers, and created one additional 5-on-5 match for the Survivor Series? Could we put together a match that would be more entertaining than Team Ziggler vs. Team Foley?
For the heel squad, I've got to put Kassius Ohno as the captain. He has the charisma and in-ring dominance to qualify for that spot.
The first teammate I'd select for Ohno is Tensai. Despite his recent lack of success, he's still a solid in-ring performer and adds a serious threat to any of his smaller opponents.
With three spots left to fill, I've got to give it to the members of 3MB: Slater, Mahal and McIntyre. Despite being booked as heels, they're really getting over with the WWE Universe, and all three of them could work a solid match in this environment.
On the opposing team, I select my fellow Iowa native Seth Rollins as captain. He is a future WWE main event wrestler, and in my opinion, on his way to being the total package.
I'd like to team him up with a couple of guys from WWE's roster than are absolutely great workers but have almost no chance at a great push in the near future: Tyson Kidd and Yoshi Tatsu. If these guys were given a PPV opportunity, you've got to believe they'd do everything they could to make everyone take notice.
In the final two spots, I'd bring up Rollins' NXT coworkers, The Ascension. As much as I feel Rollins is destined for big singles accomplishments, I can see The Ascension making a similar climb in WWE's tag team division.
Seth Rollins, Tyson Kidd, The Ascension, Yoshi Tatsu vs. Kassius Ohno, Tensai, 3MB
I would absolutely love to see a match like this on the pay-per-view, but I'm certainly not holding my breath.
Are there better options for building this sort of match from WWE's lower card? Can you come up with something that would be of more interest to the WWE Universe?
You can follow Dustin on Twitter, check out his blog or listen to his podcast.