Who Should Be the Next Superstar to Win Their First Major Title in WWE?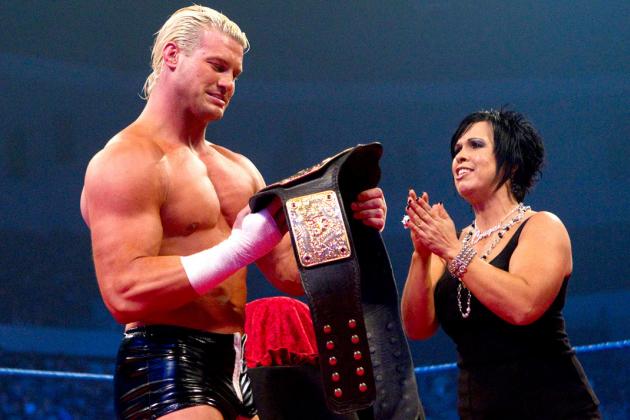 Photo: WWE.com
When you wrestle for any promotion, the main goal of every person on the roster should be to get good enough to be booked to win the top title.
The belts in wrestling might be given to whoever the booker feel is most deserving, which makes things subjective, but they also represent a milestone in a wrestler's career.
Just because you didn't win the belt in a real fight does not mean you did not earn it. Look at how Shawn Michaels reacted when he won his first WWE title. The tears flowed like the Mississippi.
WWE is filled with young wrestlers all looking to climb their way to the top and become champion.
Some of the best wrestlers in WWE have never won a major title in the company, but some of them have also not been around very long.
We can rule out Dolph Ziggler since he technically had the title handed to him for a short time, although many don't consider it a real title reign for the more-than-deserving Ziggler.
There are a few people who have what it takes to be a top champion who have yet to reach that level in WWE. Here are just a few people who could reasonably be the next first-time champion.
Begin Slideshow

»
The son of a son of a plumber is someone who is long overdue for a singles push in the main-event scene.
In 2011 and most of 2012, Rhodes was a force to be reckoned with in the mid-card division. He even took a terrible masked gimmick and made it interesting.
His feuds with the likes of Randy Orton and Rey Mysterio proved he can adapt to any style and put on an amazing match.
His current team with Damien Sandow has really forced Rhodes to take a back seat to the more verbal Sandow in their promos, but he is not forgotten.
I see big things in 2013 for Cody Rhodes, including a spot at the top with the WWE or World title at some point.
Speaking of Sandow, Cody Rhodes' partner is another prospect who might be able to jump past the mid-card superstars to the top.
His heel gimmick is really a breath of fresh air from all the typical evil/sneaky villains we have seen in recent years, and his in-ring ability is nothing to sneeze at, either.
Sandow has the support of all the right people backstage, according to reports, and this could help him go right to the main-event picture similar to how Alberto Del Rio and Sheamus went right to the top early in their runs.
The man behind the Barrett Barrage is an obvious choice for someone who is primed to win his first major title in WWE.
Barrett has been in feuds with most of the top babyfaces in WWE, and he has stood his ground with the best of them. He can even out-wrestle a few of them.
His recent feud with Orton was less storyline-driven than it was driven by the quality of their matches.
The few matches he had with Sheamus were some of the stiffer contests we have seen in WWE in awhile, and that kind of intensity could be what the title scene needs right now.
Barrett is more than just another solid worker. He is a great talker and excellent representative for the brand in general.
Being the first English WWE champion would be a great accomplishment for the former bare-knuckle boxer.
Seeing Barrett win the Royal Rumble and go on to WrestleMania to win the title would be a deserving way to put him at the top of the mountain.
One of the better gimmicks in the first half of 2012 belonged to R-Truth.
His insane character who hated all the little Jimmys of the world and occasionally wore a Confederate soldier outfit is more than capable of being a main-event star in WWE.
R-Truth has had what was a very interesting character turned into a watered-down babyface who, until recently, was in the tag team division.
A heel turn and a return to the paranoid ways of his former self would help push him further up in WWE than being a guy with an imaginary friend.
Truth just needs one good feud with a top star to show everyone why he would be a great heel champion in WWE.
Oh, did you think it would only be men on this list?
AJ Lee has shown over the past few months that she is one of WWE's best female assets.
No, I did not mean that kind of assets. I know you were thinking it. Knock it off.
AJ is a great in-ring competitor who proved just how deep her passion runs when she was on NXT. Since becoming a major character on Raw, she has gotten even better.
Whether she is in the ring putting on a clinic, every Diva should be watching, as she is switching from businesswoman to psycho. She is entertaining to watch.
Very few women have been able to break through in WWE over the past few years. It seems like since Lita and Mickie James left the company, there has been a void in the Diva's division.
AJ could fill that void and really help prove to WWE officials that women can put on good matches and be just as entertaining as the men can be.
I would not be surprised if AJ had the Divas championship before WrestleMania.
Thanks for reading, and please share your thoughts on who should be the next person to break through to the main event scene and capture their first major title.
Follow me on Twitter @BR_Doctor