Florida Football: NFL Draft Stock for the Gators' Top 10 Prospects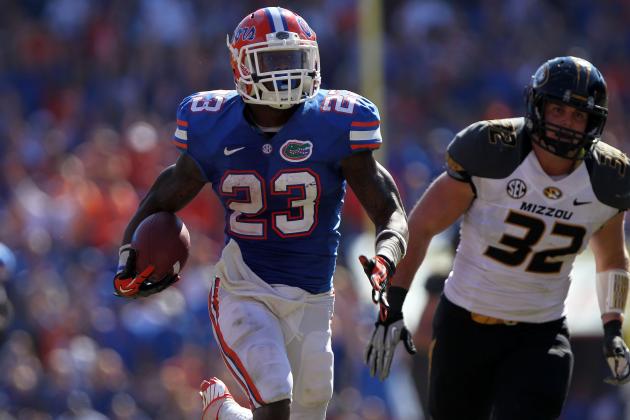 Kim Klement-US PRESSWIRE
No Gator has improved his draft stock as much as running back Mike Gillislee.
After producing just one first-round pick during the past two NFL drafts—including none last year—the Florida Gators have been resurrected from the dead and should once again be a talent pipeline for the 2013 NFL draft.
It used to be customary to see Gators flying off the board left and right come draft day, but the program's talent drop-off in the post-Tim Tebow era left the cupboard pretty bare come April.
However, this year's squad figures to produce at least seven draftees, and that number could grow if redshirt juniors like Jelani Jenkins or Jon Halapio decide to test the NFL waters.
While the Gators have to attest a good portion of their success to Will Muchamp and his excellent coaching staff, several players have taken giant leaps forward in 2012 and have seen their draft stock rise.
Let's take a look at the draft stock for the Gators' top 10 prospects.
Begin Slideshow

»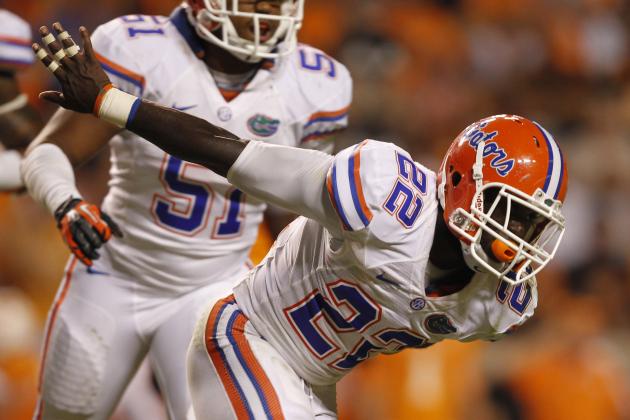 John Sommers II/Getty Images
Matt Elam is now considered a first-round prospect.
No prospect has experienced such a meteoric rise as safety Matt Elam.
The 5'10", 202-pound firecracker punishes ball carriers, feasts on quarterbacks' mistakes and has seen his draft stock improve by at least two rounds.
Once considered a third- or fourth-round talent, Elam now sits atop NFLDraftScout.com's board as the No. 1 strong safety prospect in the country.
Like former Gators Major Wright and Reggie Nelson, Elam is a versatile defensive back who can fill multiple roles in any defensive scheme.
With another year of eligibility remaining, the former Gatorade National Player of the Year is no lock to enter the 2013 NFL draft.
Prediction: Elam enters the draft and is a Top-40 pick.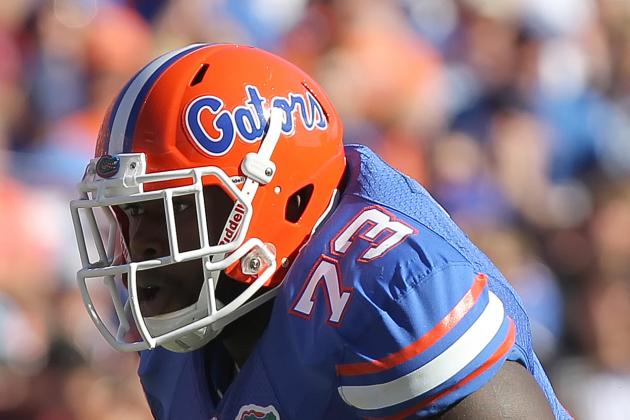 Kim Klement-US PRESSWIRE
Sharrif Floyd should be gone within the first two rounds.
Sharrif Floyd may be a gentle giant off the field, but once he puts his pads on, he morphs into a monster.
Measuring in at a stout 6'3", 303 pounds, the true junior is the Gators' most consistent dominant defensive lineman. Considering he plays next to former 5-star prospects in Omar Hunter and Dominique Easley, that's saying something.
Floyd has shown the ability to line up both inside and out and be productive at either spot.
After spending 2011 on the edge, he's returned to his natural spot at defensive tackle and been a dominant force.
The No. 3 defensive tackle on NFLDraftScout.com ranks fifth on the Gators with 35 total tackles and leads the team with 10 for loss.
Like Elam, Floyd could opt to return for his senior season, but he could very well be a high-round pick if he declares for the draft.
Prediction: Floyd declares for the draft and is a late first-round pick.
Kim Klement-US PRESSWIRE
Mike Gillislee's versatility will make him a high-round pick.
Mike Gillislee never has much to say, but his coaches and teammates can't stop raving about the Gators' workhorse.
In his weekly press conference, Florida offensive coordinator Brent Pease said of Gillislee, "He's got good hands. He's willing to block. He has all the phases that he can do at the next level—catching, running, blocking."
After sitting in obscurity behind current NFL backs Chris Rainey and Jeff Demps, Gillislee grasped the starting spot in his final year at UF and ranks fourth in the SEC with 797 rushing yards.
Before the season, Gillislee was no better than a late-round possibility, but now looks like a lock to be selected on the second day of the draft.
Prediction: Gillislee is the first senior running back selected and goes in Round 2.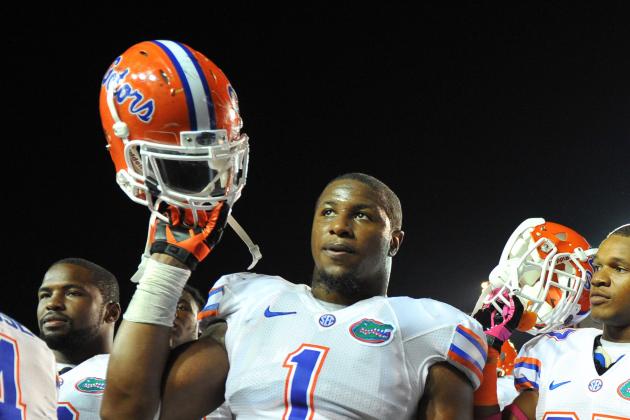 Don McPeak-US PRESSWIRE
Jon Bostic is a steady force in the middle.
While Jelani Jenkins' season has been marred by injuries, Jon Bostic has only improved in his second full season as a starter.
Tipping the scales at a solid 6'1", 246 pounds, the leader of the front seven has been invaluable for a linebacking unit that's been forced to rely on inexperienced guys like Antonio Morrison, Neiron Ball and Darrin Kitchens.
After leading the team with 94 tackles in 2011, Bostic ranks second on the team with 52 stops while chipping in three sacks, one forced fumble and a pick.
Although he isn't a dynamic athlete like Jenkins, Bostic's instincts, physicality and experience should appeal to NFL teams.
Prediction: Bostic is a third-round selection and will earn heavy snaps as a rookie.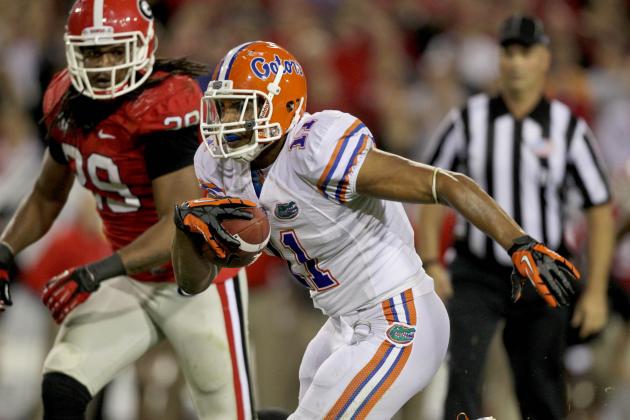 Rob Foldy-US PRESSWIRE
Jordan Reed is an athletic playmaker for the Gators.
Jordan Reed won't ever be compared to Rob Gronkowski, but he sure reminds people a whole lot of former Gator great Aaron Hernandez.
Like Hernandez, Reed is a Connecticut native who has excelled at Florida as a move tight end.
At 6'3", 243 pounds with 4.6 wheels, Reed is a perfect fit for the NFL's new breed of tight ends and should be a weapon in the passing game.
While he is rarely asked to block, Reed's overall upside is tremendous.
Prediction: Reed enters the draft and competes to be the first tight end selected.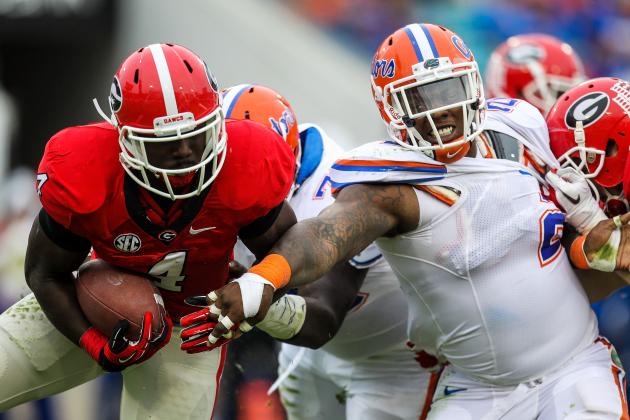 Daniel Shirey-US PRESSWIRE
Dominique Easley's production hasn't lived up to his talent in 2012.
Part of Florida's famed 2010 recruiting class, Dominique Easley appeared well on his way to stardom in 2011 before a torn ACL left a bitter mark on an otherwise fantastic sophomore campaign.
This season, Easley has played in seven games, but it's clear he isn't at 100 percent.
The lightning-quick defensive end has recorded just 15 tackles and 2.5 sacks in his first year on the edge.
Although he's definitely worth a draft pick, his stock has fallen compared to some of his other heralded teammates on defense.
Prediction: Easley returns for his senior season to improve his draft stock.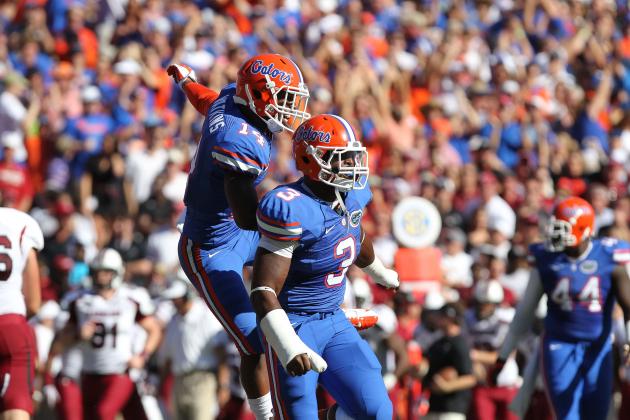 Kim Klement-US PRESSWIRE
Jelani Jenkins would be best served returning for his fifth year.
Jelani Jenkins has the speed and instincts to be an impact player in the NFL, but he isn't ready for the next step yet.
After arriving at Florida as a highly touted 5-star recruit, the 6'0", 237-pounder redshirted his freshman year before becoming a starter in 2010.
He went on to post 76 tackles, two sacks and a pick that year before posting a similar stat line of 75/2/1 in 2011.
However, a thumb injury and nagging hamstring have prevented the one-time mega recruit from taking the next step, and he's recorded just 16 tackles in six games.
With Bostic moving on to the NFL, Jenkins could assume a more vocal leadership role if he elects to return for his final year of eligibility.
Prediction: Jenkins comes back to Florida for his fifth year.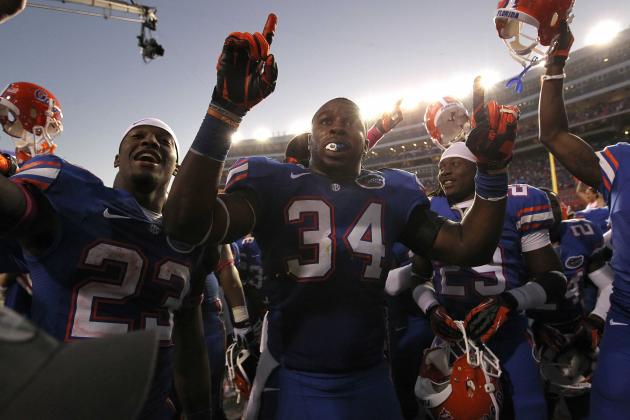 Kim Klement-US PRESSWIRE
Lerentee McCray's stock is stagnant since he's been unable to stay healthy.
After a hot start to the season, it appears Lerentee McCray's stock has cooled a bit.
The athletic Buck linebacker has all the physical tools to be a successful 3-4 outside linebacker at the next level, but his lack of production in recent weeks may keep him from being anything more than a mid-round pick.
It will be interesting to see McCray's height-weight-speed measurements in the pre-draft process, as they could cause him to plummet if he doesn't meet the NFL standards for the prototypical 3-4 edge-rusher.
Prediction: McCray is a fifth-round pick.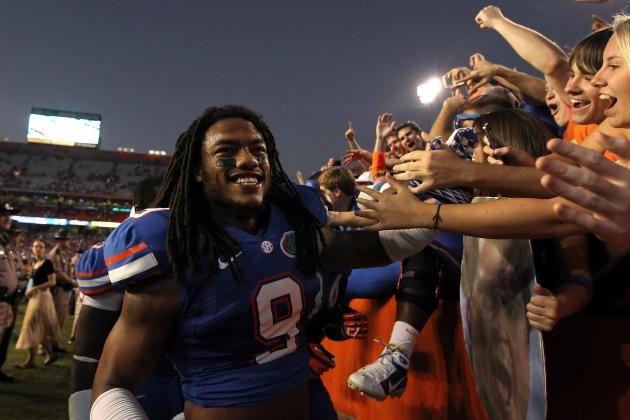 Kim Klement-US PRESSWIRE
Josh Evans has grown into a draftable prospect this year.
Entering this season, Josh Evans was one of my most overrated players on the Gators.
Nine games later, it appears I was wrong.
The 6'1", 200-pounder has clearly taken his game to a new level in his final year at UF, and he now looks like a prospect worthy of a late-round selection in April.
Evans paces the Gators with 62 tackles and has picked off two passes and sacked the quarterback twice.
Tony Pauline of Sports Illustrated named Evans as one of his risers back on Oct. 21 and had high praise for the senior free safety:
"Evans is a hard-hitting prospect who covers well between the numbers. He's a good fit as a late-round pick for a team which will employ him in a zone system."
Prediction: If he runs well, Evans will be selected by the sixth round and be an immediate special teams contributor.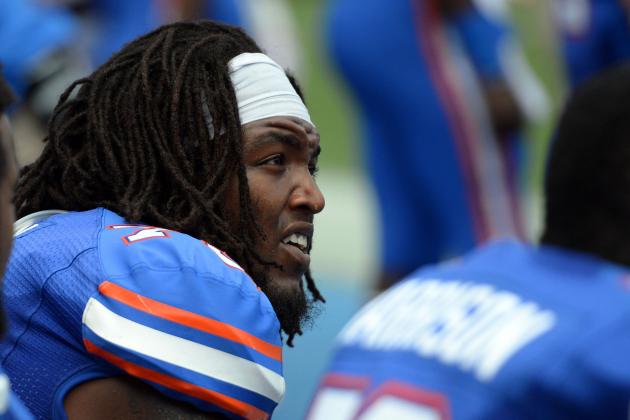 Jake Roth-US PRESSWIRE
Xavier Nixon's athleticism should appeal to NFL teams.
Besides Andre Debose, no player has been more frustrating for Gators fans and coaches than left tackle Xavier Nixon.
The former 5-star prospect was an instant impact player back in 2009, earning five starts as a true freshman, but has been a picture of inconsistency since his debut season.
Nixon has struggled to maintain weight and stay out of the training room, and his play on the field has been far from flawless.
Despite possessing an NFL frame and great overall athletic ability, his inability to anchor, poor hand usage and mental lapses have caused his stock to take a deep dip.
Prediction: Nixon will be selected on the final day of the draft as a developmental prospect.
Other Florida Prospects to Look Out For:
Omar Hunter, Defensive Tackle, Senior
Jon Halapio, Guard, Redshirt Junior
Jonotthan Harrison, Center, Redshirt Junior
Frankie Hammond, Jr., Wide Receiver, Redshirt Senior
James Wilson, Guard, Redshirt Senior