How the Dallas Mavericks Will Survive Dirk Nowitzki's Absence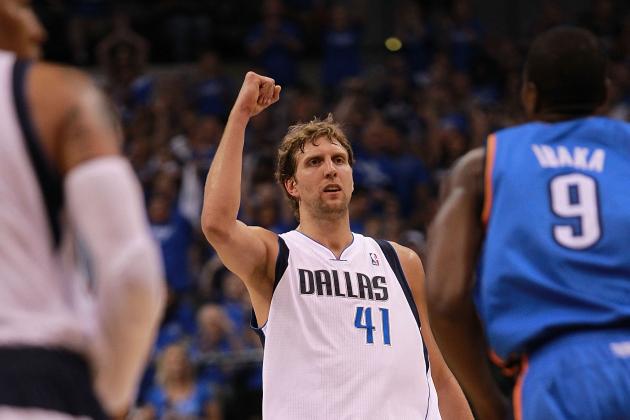 Ronald Martinez/Getty Images

When it was announced that Dirk Nowitzki would miss the first several weeks of the NBA season after undergoing knee surgery, many wondered if Dallas would even be able to keep their heads above water by the time he returned to the lineup.
The Mavericks haven't missed a beat with their superstar out of the lineup.
The Mavericks are 4-1 in their first five games of the season, including victories over the Lakers, Bobcats, Trail Blazers and Raptors. They are also averaging an astonishing 108.3 ppg, good for second in the NBA.
If Dallas is going to continue to thrive without Nowitzki, they will need to continue to succeed in some areas and make tweaks in others.
By the time Nowitzki gets back, the Mavericks could find themselves near the top of the standings, and a serious threat out of the West, if they do the following things well.
Begin Slideshow

»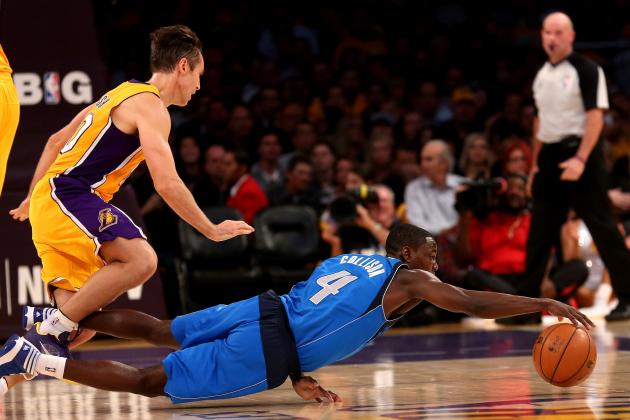 Stephen Dunn/Getty Images

When most people think of the Mavericks, they likely aren't thinking of a team who is a threat to get out and run the other team out of the gym.
Dallas has been able to do just that through four games, thanks in large part to their point guard, Darren Collison.
Collison's strengths are getting out in fast breaks and playing in transition. His great start has helped Dallas average 16.8 fast-break points per game, good for sixth in the NBA.
Dallas managed to score 24 fast-break points in Monday's win over the Blazers.
Collison has been playing at an All-Star pace, averaging 16.5 points and 8.5 assists per game (the latter is good enough for eight in the league). If he continues to thrive in Rick Carlisle's offense, he could easily have the best season of his career in Dallas.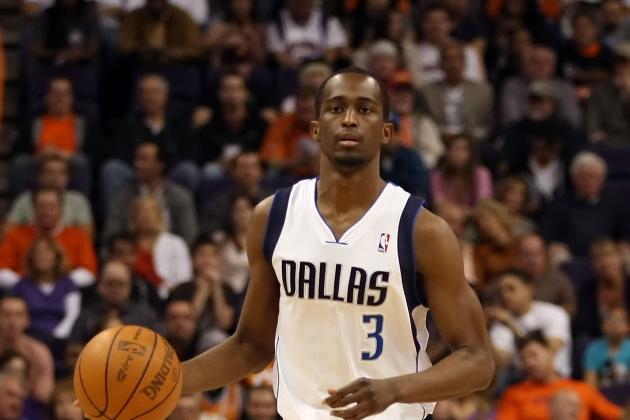 Christian Petersen/Getty Images

One of the Mavs' biggest strengths is that they have one of the deeper rosters in the NBA.
Dallas has the luxury of bringing guys like Vince Carter, Chris Kaman (at least for now), Roddy Beaubois and Jae Crowder off the bench. However, as the season goes on, Rick Carlisle will need to make more concrete decisions about exactly how he wants his rotation to play out.
Dallas has played 15 different players through four games.
Finding minutes for Troy Murphy, Dominique Jones, Jared Cunningham, Bernard James and Dahntay Jones is nice, but it is unlikely any of them will be huge contributors to the team this year.
Granted, much of it has to due with injuries. When the Mavs do return to full strength, they should be looking at a 10-man rotation, with Darren Collison, O.J. Mayo, Shawn Marion, Dirk and Chris Kaman. Brandan Wright, Carter, Beaubois, Crowder and Elton Brand should be coming off the bench.
Creating more minutes for key bench guys like Crowder and Beaubois now will get them more prepared for their role to expand later in the season.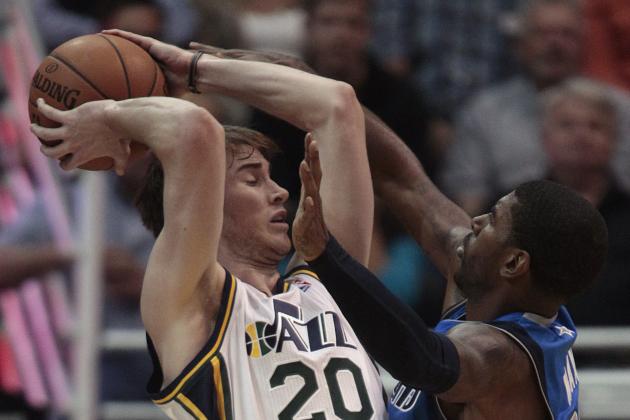 George Frey/Getty Images

O.J. Mayo was expected to be the Mavericks go-to option with Dirk Nowitzki out of the lineup, but it was still very unclear just how effective Mayo could be when relied upon to be the top guy on an NBA team.
If the first four games of the NBA season are any indication, Mayo will be just fine.
After back-to-back mediocre 12-point performances in the Mavs first two games, Mayo exploded for 30 points against Charlotte. He followed that up with a 32-point performance against Portland and 22 points against the Toronto Raptors on Wednesday night.
That puts Mayo at 21.5 ppg, good enough for 11th in the NBA. He easily leads the team in scoring.
Mayo has been scoring efficiently, shooting over 50 percent from the floor and a remarkable 18-of-27 from beyond the arc.
Mayo will of course cool down, but if he continues to be aggressive and take good shots from distance, he could stay above the 20-point line all year long.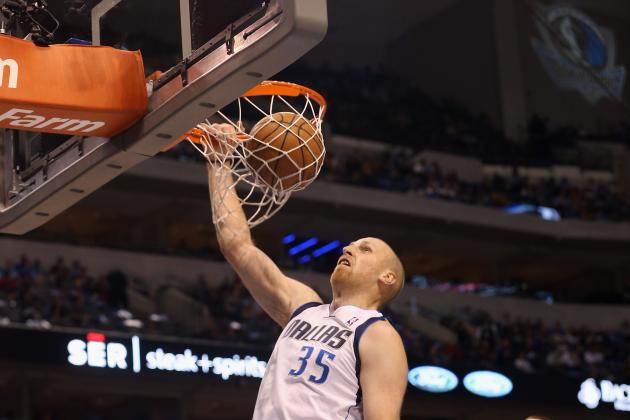 Ronald Martinez/Getty Images

Despite their strong start, one area where the Mavs have been a complete failure is on the boards.
Dallas ranks 21st in the NBA in total rebounds per game at 40, and they rank 28th out of 30 in the Association in rebounding margin at an abysmal minus 8.3 points per game.
Dallas cannot afford to get consistently out-rebounded if they are going to be among the league's top teams. Players like Brandan Wright, Chris Kaman and Shawn Marion will need to step up their game to ensure that opponents do not get enough second-chance opportunities to cost them games.
Dallas is getting away with not being a good rebounding team right now, especially without Dirk in the lineup, but it will eventually catch up to them if they do not turn it around.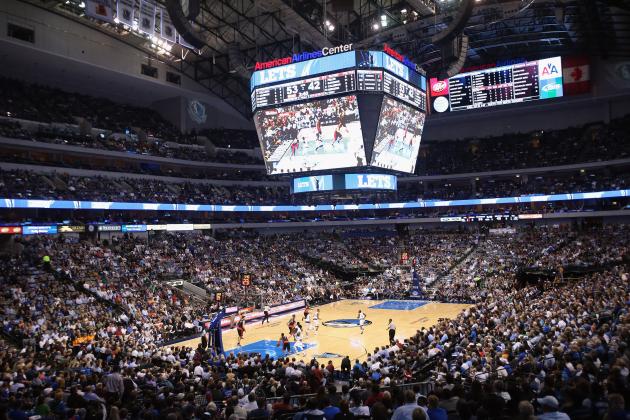 Ronald Martinez/Getty Images

While it's still too early to tell what NBA teams will be among the league's best this season, Dallas is projected to have a relatively favorable schedule for the next few weeks.
The Mavericks have already defeated two stronger teams out west in Los Angeles and Portland, while also defeating weaker teams in Toronto and Charlotte.
The Mavs will have a very tough test ahead on Friday as they take on the Knicks in Madison Square Garden. They have some very favorable games coming up in the next week-and-a-half before their schedule really gets tough.
The Mavs will get home games against the T-Wolves and Wizards before going on the road to Indiana and Cleveland before coming home to face Golden State. Dallas should be favored during that five-game stretch and could very well win them all.
The going gets a lot tougher after that, with a four-game stretch against the Knicks, Lakers, 76ers and Bulls. Dallas will want to have enough wins behind them going into those games to ensure that they'll have one of the league's top records when Dirk gets back.