UEFA Champions League: Chelsea Player Ratings Against Shakhtar Donetsk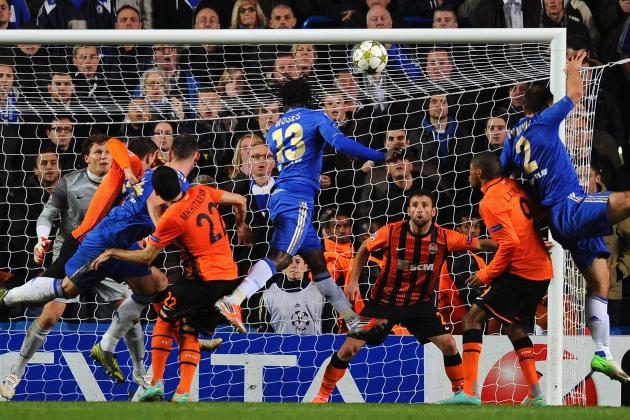 Mike Hewitt/Getty Images
Victor Moses scores the winner for Chelsea at the end of stoppage time
Chelsea faced Shakhtar Donetsk at Stamford Bridge in the fourth fixture of their campaign to retain the Champions League title having lost the reverse fixture in the Ukraine 2-1. The Blues had been outplayed from the beginning at the Donbass Arena and were three points adrift of group leaders Shakhtar at the halfway point, with Juventus only one point behind. A win was vital to keeping their future in this year's competition in their hands.
John Terry was left out of the starting 11 following his four-match FA ban, and after one minute of the game had been played, the defensive frailties that have haunted Chelsea during the skipper's absence looked to be continuing. Sloppy play from Ryan Bertrand gifted Shakhtar a corner, before David Luiz committed a needless foul on Adriano, conceding a free kick. It seemed a sign of things to come as, again, the Blues started on the back foot.
They got a break a few minutes later, however, as Fernando Torres was in the right place at the right time to capitalise on a defensive error, giving the hosts the lead.
It didn't last long, though, as two minutes later Shakhtar were level thanks to a goal from the totally unmarked, rumoured Chelsea transfer target Willian.
The first half continued along these lines, with a cracking game of end-to-end, skillful football unmarred by refereeing interference.
Both teams had plenty of positive possession, but it was Shakhtar who seemed to have more penetrative power. That might have been due to the fact that the Ukrainian side looked far more cohesive than the Blues, attacking and defending as a unit. The only Shakhtar player who looked out of sorts was the goalkeeper, and it was another mistake from him that allowed Oscar the chance to score another Champions League wonder-goal and gave the home side the lead going into half-time.
Two minutes into the second half, Willian was again left unmarked and the tie was level at 2-2.
After an hour, John Obi Mikel had the ball in the back of the net for Chelsea, but the goal was correctly ruled out for offside. This seemed to spur the Blues on, and Roberto Di Matteo's decision to replace Oscar with Victor Moses on 80 minutes was vindicated when the winger rose highest to head in Juan Mata's corner in the very last minute of an enthralling game.
Some Chelsea players were excellent throughout the match, but there were a few who had subpar-to-poor performances. Here are my Chelsea player ratings after this vital win.
Begin Slideshow

»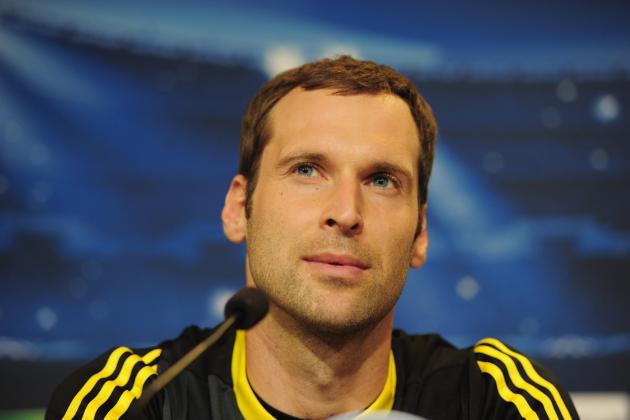 Shaun Botterill/Getty Images

The Chelsea shot-stopper was by far the better of the two goalkeepers, although the performance of Andriy Pyatov made that a relatively easy achievement.
Petr Cech made some fine saves as well as some scrappy last-ditch efforts involving the posts. He could have done better to save the first goal, although his defence was as weak on the left as it was strong on the right.
There was nothing he could have done about the second goal as his line of sight was completely blocked until the very last second.
A decent performance but the two goals still count against him.
Overall 6/10.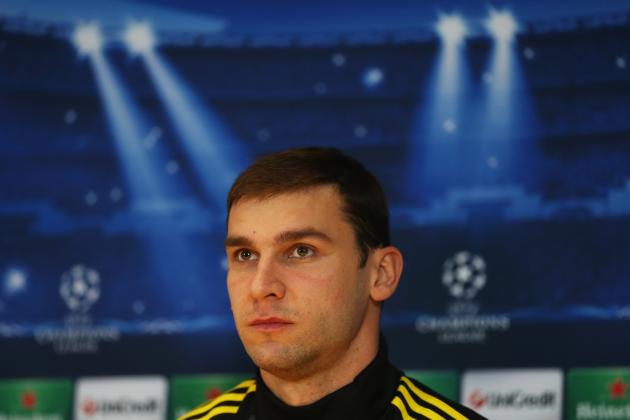 Bryn Lennon/Getty Images

The right-back had very little to do in the first half as Shakhtar exploited the far more vulnerable left side of the Chelsea defence.
He entered the game more positively in the second half and made some good, strong attacking runs as well as making his presence felt more at set pieces.
Primarily on the basis of his second half performance, I would give him an overall rating of 6/10.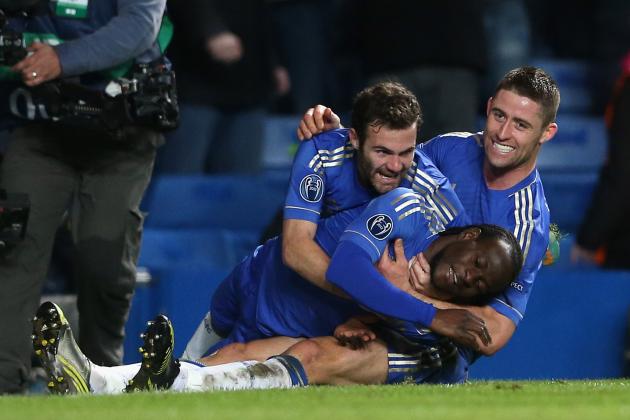 Scott Heavey/Getty Images

Compared with his partner in the centre of Chelsea's defence, Gary Cahill played a blinder. He looked much more threatening going forward and better at getting back into position than his colleague and was far more assertive in defence.
In the same way as Branislav Ivanovic, he came into the game more in the second half and made some good clearances throughout.
Overall I rate his performance 6/10.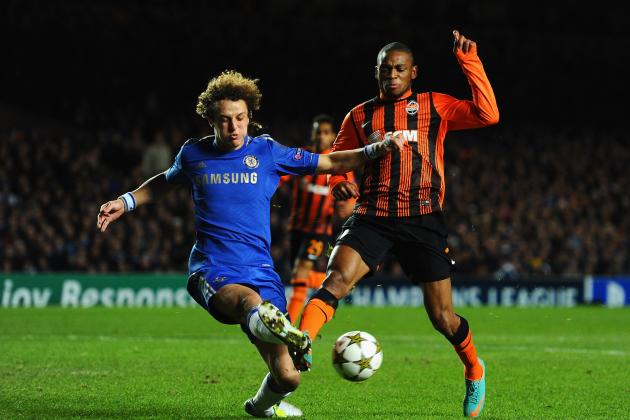 Mike Hewitt/Getty Images

The Brazilian centre-back had another poor night, allowing himself to be twisted and turned whilst misplacing passes all over the pitch.
He spent the first half making the sort of runs we have come to expect from Oscar, Eden Hazard and Mata, although his final ball was nowhere near that calibre. He had to cover a lot of ground to get back in position and was quite often left flapping in midfield while his teammates covered him.
Di Matteo obviously had a word at half-time as he constrained his forays into the opposition half to just the other side of the halfway line, but he still appeared out of sorts and lacked any real direction.
Luiz gets 4/10 for looking like he had no idea what was going on most of the time.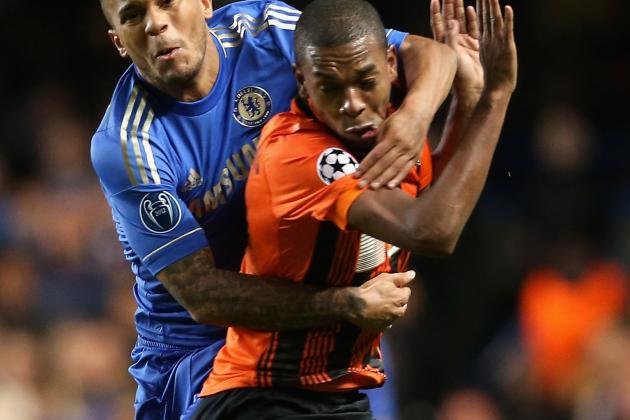 Scott Heavey/Getty Images

Ryan Bertrand played his best game for Chelsea in the Champions League final, playing just in front of Ashley Cole. The youngster is being introduced to the squad as the eventual replacement for the current first-choice left-back but was far from Cole's standard in this match.
He was twisted and turned by the Shakhtar wide men, and with David Luiz his nearest defensive partner, was left isolated for much of the game.
Overall his performance merits a 5/10.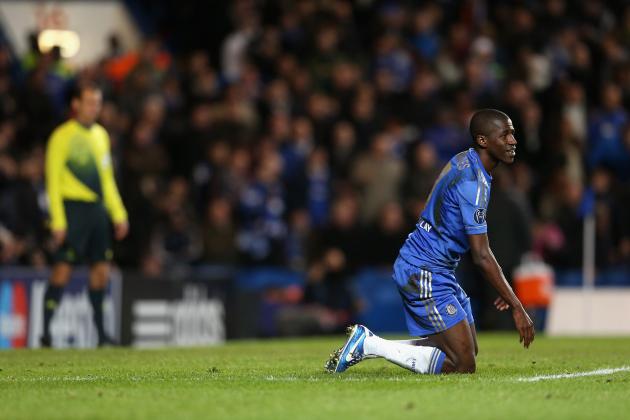 Scott Heavey/Getty Images

The attacking box-to-box Brazilian midfielder had a bad first half, taking some very heavy touches, misplacing passes and giving possession away too freely in the middle of the park.
He improved in the second 45 minutes and made some incisive forward runs, the best of which should have resulted in a penalty. However, he was still struggling to link up with Mikel and the attacking midfield trio in front of him.
Overall I rate him 6.5/10.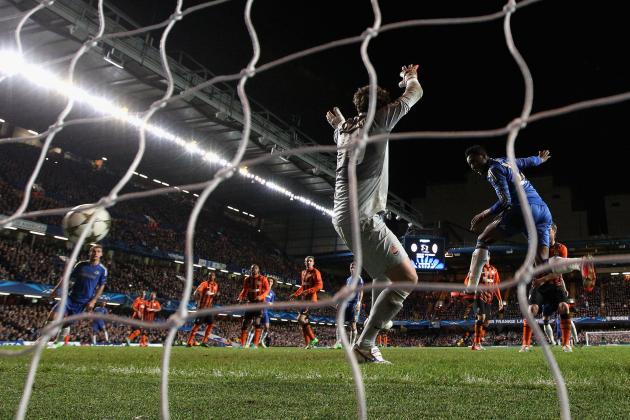 Scott Heavey/Getty Images

Mikel looked more composed than in recent games, but was at fault for both Willian goals as he should have been tracking the Shakhtar player's runs.
As the central defensive midfielder, the area around the D should be his to command. Instead, he preferred to watch as the Brazilian ran straight through the area he should have been guarding.
He looked brighter in the second half despite the goal and had a goal of his own disallowed, correctly, for offside before hitting the post.
I give Mikel a 6.5/10 rating.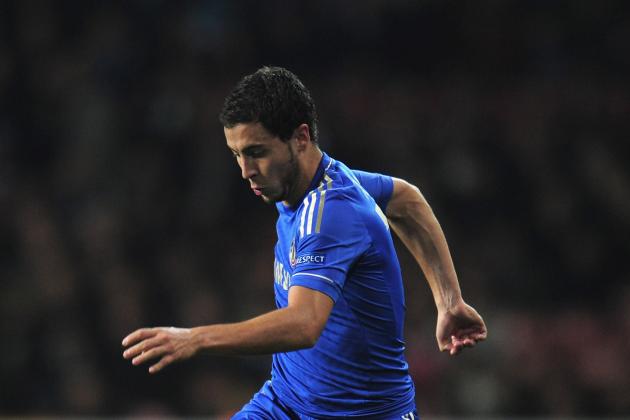 Shaun Botterill/Getty Images

Hazard had a quiet night by his standards and was not on his finest passing form.
He has set the bar that measures his performances very high since his arrival at Stamford Bridge, therefore a night where he isn't setting the pitch alight with his trademark blazing runs stands out as a poor one.
Hazard gets 6.5/10.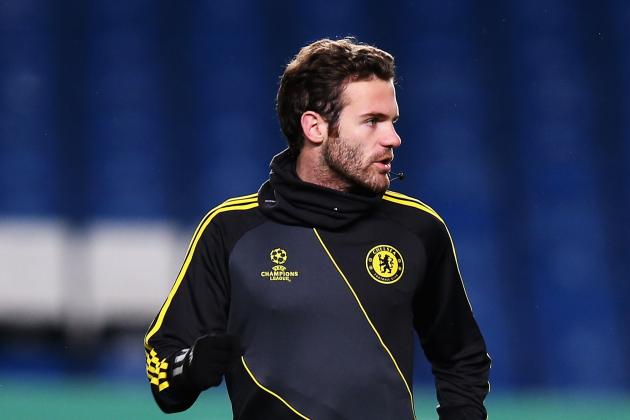 Bryn Lennon/Getty Images

After missing Chelsea's EPL clash with Swansea due to a strained hamstring, Mata lacked his usual cutting edge against Shakhtar. He still had his moments of brilliance, providing a lovely free kick that led to Mikel's offside goal, and swinging in the corner that led to the last-gasp winner from Moses.
Overall he was better than your average player but not as sharp as we have come to expect—a 7.5/10 rating for Mata.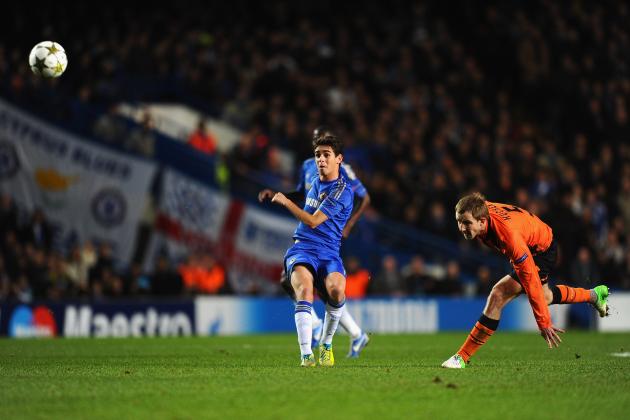 Mike Hewitt/Getty Images

The finest of the attacking midfield trio, Oscar showed some wonderful vision and movement during the first half, culminating in his audaciously beautiful lob of Pyatov. It took great confidence to take that shot on, even though the keeper was off his line, and it was great to see somebody willing to have a go.
He played his usual game, fading in and out of the contest, before being replaced by Victor Moses after 80 minutes.
I give Oscar a rating of 8.5/10.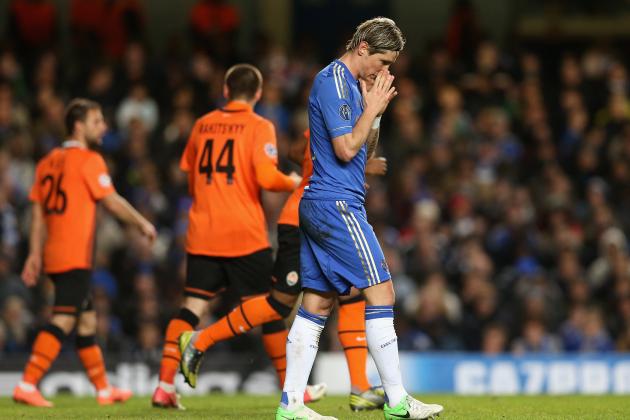 Scott Heavey/Getty Images

The much maligned Spanish striker appeared boosted by the recent presentation of his golden boot award from the Euro 2012 tournament, starting the game brightly and scoring within the opening five minutes despite missing yet another sitter. Oscar had weighted a beautiful ball into the area but Torres was unable to control it and ended up shuffling it straight to the keeper.
However, he looked hungry for a goal and managed to chase down a ball from goalkeeper to defender, scoring the opener.
In the second half, he was working very hard as provider down the wing rather than the more central role he had played so well in at the start and was replaced by Daniel Sturridge in injury time.
An overall 8/10 for Torres.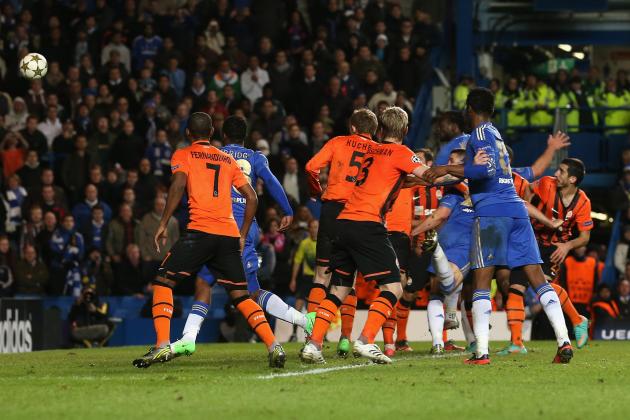 Scott Heavey/Getty Images

I can't give Daniel Sturridge a rating for his two minutes on the pitch, and I would normally struggle to rate somebody who only played the last 10 minutes.
However, the fact that Victor Moses came on for Oscar and nicked the winning goal with a brilliant header makes it easy to give him 8/10.