Iowa Hawkeye Football: 5 Keys to the Game vs. Purdue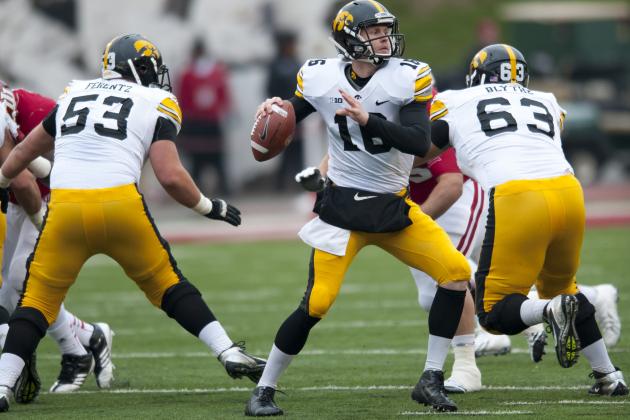 Jerry Schultheiss-US PRESSWIRE

Iowa is 4-5.
It has lost three straight.
There are no more questions about who this team is. This team is one of the three worst in the conference, and nothing short of a miraculous turnaround is going the change that.
The question is, can this team slip into bowl eligibility?
At this point, it is unlikely, with a road game looming against Michigan and a tough home game against Nebraska, which will end the season.
In order for the Hawkeyes to get to a bowl, they will have to pull a major upset against one of those two.
But before that, they will have to beat their most hated rival, Purdue, a team that is undergoing its own unraveling. On the other hand, unlike Iowa, this will mean the ousting of their head coach at the end of the season or possibly before.
Begin Slideshow

»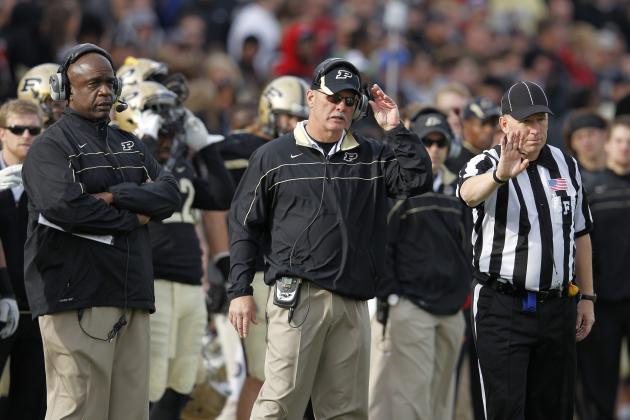 Joe Robbins/Getty Images

Head Coach: Danny Hope (fourth year as head coach)
Last Game: 9-34 loss to Penn State
2012 Record: 3-6 (0-5 in conference)
Previous Opponents: FCS Eastern Kentucky (W), at Notre Dame (L), Eastern Michigan (W), Michigan (L), Wisconsin (L), at Ohio State (L), at Minnesota (L), Penn State (L)

Combined Record of Previous FBS Opponents: 41-26
2012 Season, So Far, in 20 Words or Less: Entered 2012 with enough talent to win division, but has crashed worse than Iowa. Hope is through in West Lafayette.

Purdue Record, Last Five Years: 2011, 7-6; 2010, 4-8; 2009, 5-7; 2008, 4-8; 2007, 8-5

2012 Scoring Offense: 28.4 points-per-game (seventh in the Big Ten)
2012 Scoring Defense: 30.2 points-per-game (11th in the Big Ten)
Returning Starters: Eight on offense, seven on defense and one specialist
Offensive Scheme: Spread, balanced
Defensive Scheme: 4-3
Iowa's All-Time Record vs. Purdue: 34-45-3
Last Five Meetings vs. Iowa: 2011, 21-31; 2008, 17-22; 2007, 31-6; 2006, 17-47; 2005, 17-34
Key Injuries: WR Gary Bush, questionable; WR O.J. Ross, questionable; WR/KR Raheem Mostert, out; DT Brandon Taylor, questionable: CB Normondo Harris, questionable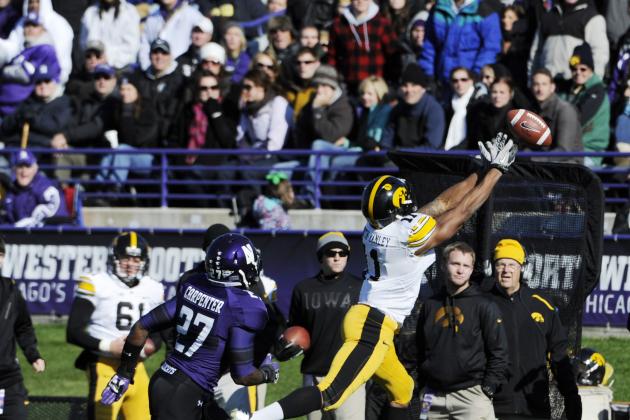 David Banks/Getty Images

There are three teams in the Big Ten that are crashing this year: Iowa, Purdue and Illinois.
All three have enough talent to obtain bowl eligibility, if not to win their respective divisions. However, all three are falling to pieces.
Iowa doesn't play the Illini, so a comparison between those teams is a non-issue.
However, Purdue vs. Iowa is essentially a battle for the second-worst team in the conference. That's right—three teams from states that begin with the letter "I" make up the three worst teams in the Big Ten, and none of them are Indiana.
The Boilers have the ability to handily beat the Hawks, but they had the ability to handily beat Minnesota, yet they lost.
This one will be a game of which team holds things together and doesn't shoot itself in the foot.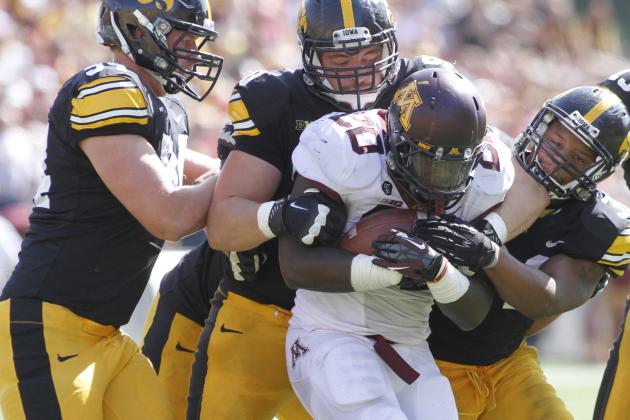 Matthew Holst/Getty Images

The 2012 Iowa defense cannot win games.
It is not the fault of the defense or the new defensive coordinator.
It is a young defense that hasn't yet figured out how to finish games.
In effect, if Iowa finds itself down by three points with 4:43 to go in the game, facing 4th-and-inches, punting is not a good idea.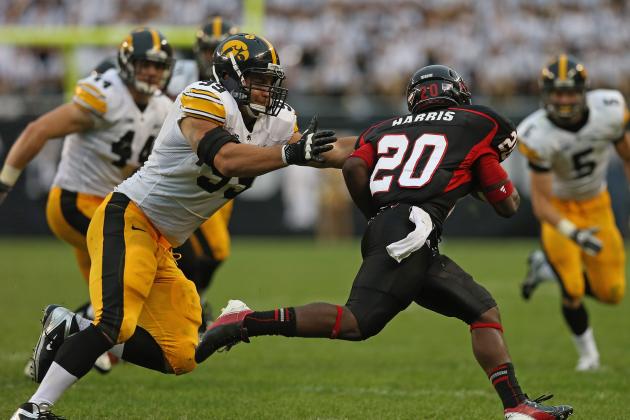 Jonathan Daniel/Getty Images

Purdue fans have the exact opposite problem Iowa fans have.
Iowa fans have watched as head coach Kirk Ferentz has refused to give backup Jake Rudock a few snaps, even in games where the outcome is well out of reach.
Meanwhile, Purdue coach Danny Hope regularly rotates his three quarterbacks, no matter who plays better and no matter who has the hot hand.
The Iowa defense will have to remain aware of who is under center. Moreover, no matter which quarterback does call the snaps, the Hawks will have to pressure, and, in the case of least used signal-caller Rob Henry, contain him.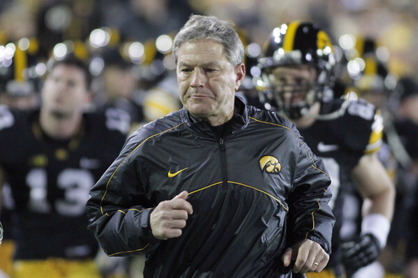 Matthew Holst/Getty Images

The Boilermakers are in a situation where, if they go down, they will not get back up.
If Iowa can put quick points on the board, and keep the points coming, sooner than later, Purdue will go down for the count.
Kirk Ferentz has to stop trying to be the original Karate Kid's Pat Morita and start fashioning himself after Martin Kove.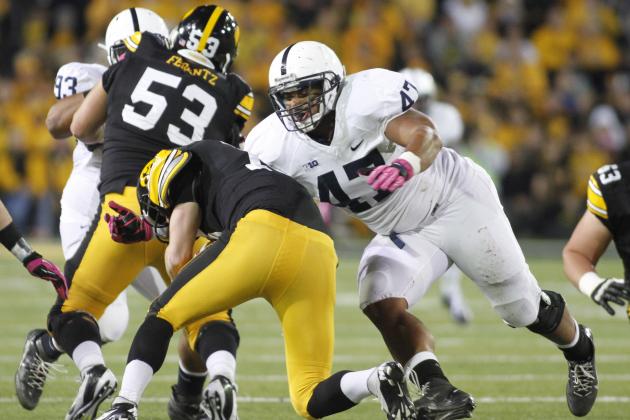 Matthew Holst/Getty Images

In the end, the keys to the game are pointless.
Iowa will either depend upon Purdue to stink up the field, or the Hawks will finally turn the mess that has been the 2012 Iowa Hawkeyes—and particularly the 2012 Iowa Hawkeye offense—around.
Despite some protestations to the contrary, Iowa has enough skill to beat Purdue, let alone any and all of the other opponents that they've played or will play.
After all, Northern Illinois is 9-1. The Huskies' one loss is to Iowa.
The difference between Iowa and NIU, as well as so many other teams, is that November's version of Northern Illinois is better than September's version.
November's Iowa hasn't gone anywhere since September.