Juventus vs. Nordsjaelland: Grading the Bianconeri in Their 4-0 Blowout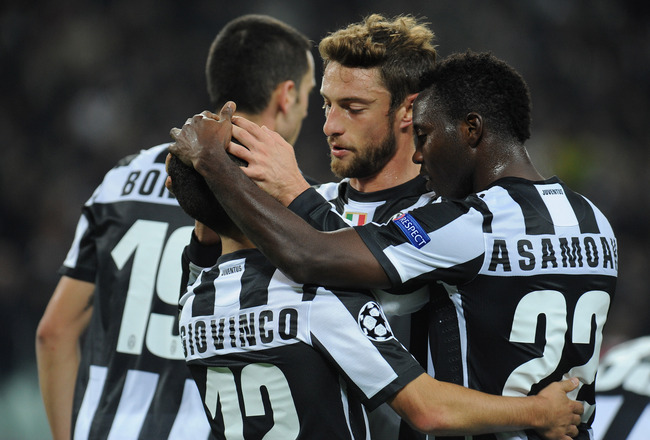 Valerio Pennicino/Getty Images
After a painful 1-3 defeat to Inter Milan, which saw Juventus' incredible unbeaten streak come to an end, many fans were left wondering how the Bianconeri would respond in their midweek fixture against FC Nordsjaelland.
Pretty well, I'd say.
Juventus put together a dominant performance against the Danish champions, winning 4-0. This result puts the team back in the race for a top two spot in Group E of the Champions League, good enough to qualify for the next round.
Grading players in a blowout win like this is always difficult, but this game provided us with some information on a few key players that we'll be analysing in this article.
Game Summary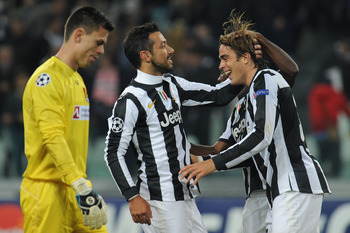 Valerio Pennicino/Getty Images
SCORING:
Claudio Marchisio (assist: Mauricio Isla); sixth minute
Arturo Vidal (assist: Mauricio Isla); 23rd minute
Sebastian Giovinco (assist: Andrea Pirlo); 37th minute
Fabio Quagliarella (assist: Alessandro Matri); 75th minute
Juventus took control of the game right off the bat and never relinquished it. Marchisio opened the score early on a low cross from Isla and had a great chance to double the lead, but his strike was blocked by Nordsjaelland goalkeeper Jesper Hansen.
Isla provided the assist for the second goal as well. Poor defending by Nordsjaelland gave Vidal the opportunity to slide the ball into goal from a tight angle.
Juventus were keen on adding a third before the break, but Sebastian Giovinco and Alessandro Matri saw their initial efforts blocked. The Bianconeri would capitalise on a quick counter, however, with Andrea Pirlo creating space for Giovinco, who calmly slotted the ball past Hansen.
Juventus gave Nordsjaelland more space after the break, but should have added yet another goal when Matri came face to face with Hansen. Marchisio also had a chance for a second, but it was Fabio Quagliarella who would score the final goal on a corner kick.
Nordsjaelland was clearly no match for the Bianconeri, only calling Gianluigi Buffon into action once on a long-range effort.
Gianluigi Buffon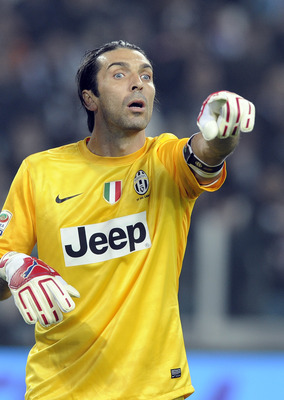 Claudio Villa/Getty Images
Grade: A
Buffon's toughest challenge on the night came when he had to decide which shoe to put on first.
Called into action just once, the veteran goalkeeper did well to punch the ball away. Outside of that one lone effort, Buffon spent most of his night thinking about the postgame interviews.
Giorgio Chiellini
Maurizio Lagana/Getty Images
Grade: B+
Giorgio Chiellini played a very strong game defensively, sniffing out any attack before it even crossed midfield. He tried contributing to the attack as much as he could, but was mainly occupied with recovering the ball as fast as possible.
To his credit, he was excellent doing just that. Chiellini played higher than any of his companions on the back line but was rarely caught out of position.
Chiellini's biggest contribution was probably not getting booked.
Solid as always, Chiellini was taken off late in the second half.
Andrea Barzagli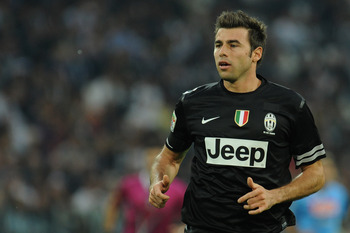 Valerio Pennicino/Getty Images
Grade: B+
Barzagli's night can be summed up in one word: solid.
His main responsibility was cleaning up when the guys in front of him made a mistake, and that was a rare occurrence. Still, when called into action, Barzagli did just that.
Barzagli is one of those players that is never noticed. As a central defender, that's a very good thing.
Leonardo Bonucci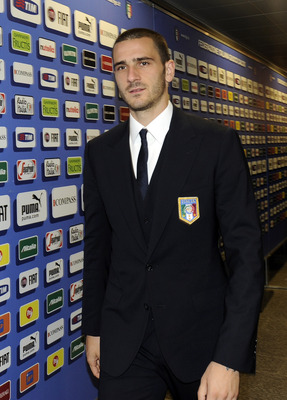 Claudio Villa/Getty Images
Grade: B
The only reason why Bonucci's grade is slightly lower than those of Barzagli and Chiellini are the fouls he committed early in the game. He caught the eye of the referee immediately and was fortunate not to get booked.
Other than that, Bonucci played a great game. His patented long balls found their target more often than not, and he played a mistake-free game, which is something we can't often say.
Bonucci will not be in the headlines tomorrow, but he put together a very solid performance.
Kwadwo Asamoah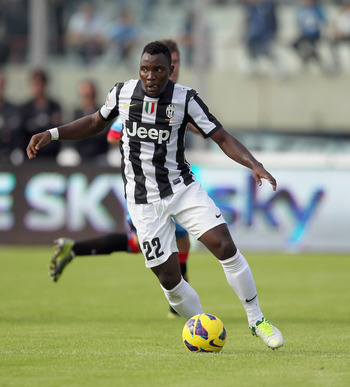 Maurizio Lagana/Getty Images
Grade: B-
Asamoah is one of my favourite players in the world, but tonight his performance was off.
While the Ghanaian was very solid on the defensive side, his offensive game was lacking. Though he was very active and involved, his crosses never seemed to hit the target.
Seemingly never out of breath, he played better after the half and became more dangerous as the Danish side started getting tired.
Asamoah did a fantastic job recovering the ball and was perfect defending the left wing, but we've come to expect more from him on the offensive end.
Mauricio Isla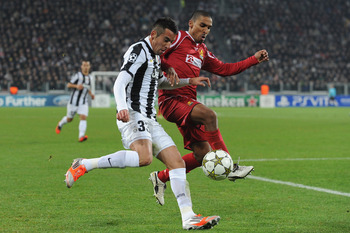 Valerio Pennicino/Getty Images
Grade: B
After a shaky start, Isla found his groove and put together his best performance of the season.
He worked incredibly hard, was dangerous every time he touched the ball and saw his efforts rewarded with two assists.
His game wasn't perfect, though. Many of his crosses were off target, and his play regressed in the second half.
But his two assists combined with the hustle he showed tonight are enough to warrant a high grade.
Isla should start against Pescara on the next Serie A match day. I'm curious to see whether this performance was the result of poor play by Nordsjaelland or Isla starting to turn the corner for Juventus.
Andrea Pirlo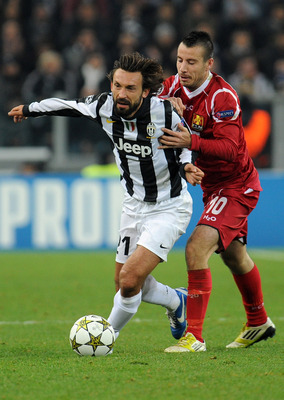 Valerio Pennicino/Getty Images
Grade: A+
The maestro.
Really, what can you say? Pirlo orchestrated like only he can.
Always on the ball, always distributing, Pirlo is the heart and soul of this team. Yet where he really shone today was on defense.
I don't think anyone recovered more balls than The Bearded One. He was phenomenal in assisting the defense and finished with more distance covered than any other player on the pitch.
His assist was the highlight of an excellent performance.
Arturo Vidal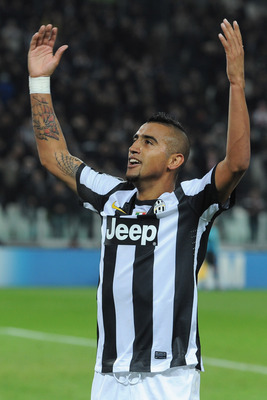 Valerio Pennicino/Getty Images
Grade: A
This was a trademark performance by Arturo Vidal.
Tasked with doing most of the dirty work of the MVP trio, Vidal played great in support of Andrea Pirlo and Claudio Marchisio. His passing was excellent, and his hustle and energy was on full display.
Vidal saw his efforts rewarded with a goal, a beautiful hustle play that gave Juventus a two-goal lead and all but secured the win.
With Paul Pogba turning heads in Turin, some fans seem to think that selling the Chilean would be an option if the Bianconeri asking price is met. But Vidal reminded everyone tonight just why he is so important to this team.
Juventus' leading scorer so far this season, Vidal always seems to be around the ball at the right time. And that is a rare quality.
Man of the Match: Claudio Marchisio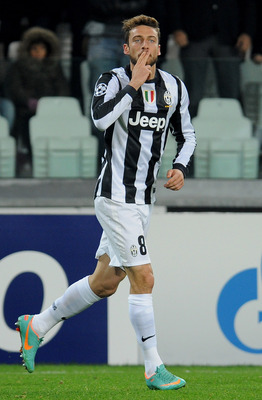 Valerio Pennicino/Getty Images
Grade: A+
Yes, Andrea Pirlo played a great game. But Claudio Marchisio was the best player on the field for the Bianconeri tonight.
Incredibly active and always useful, Marchisio was the most dangerous man on the field, and he was unlucky to score just once.
He was a nightmare for the Nordsjaelland defenders, drifting all over the field and making timely runs again and again. His early goal took the pressure off Juventus and will surely grab the headlines, but his efforts in providing the Bianconeri wingers with an option to pass the ball to at any given time is what really stood out.
Always setting up double teams and assisting on the wings, Marchisio's only bad moment came when he got booked in the second half. It was a very light foul, but a player of his calibre should know that it's not necessary to commit any fouls when leading by three goals.
Still, Marchisio is my man of the match.
Alessandro Matri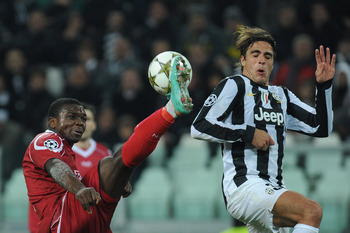 Valerio Pennicino/Getty Images
Grade: C
I was very happy to see Alessandro Matri get a full 90 minutes to prove himself to Antonio Conte, but his lack of minutes and confidence was very clear in this game.
Matri worked very hard and was very useful up front, holding on to the ball and creating space for the midfielders running at the goal, but ultimately, strikers are judged on their ability to score goals.
Matri provided the assist to Fabio Quagliarella for the fourth goal and was unlucky when his first-half header hit the crossbar, but he should have scored when he came face to face with Jesper Hansen.
I believe his poor performance on front of goal can be contributed to his lack of consistent game time, and he did make an impression by working very hard and never giving up.
He gets a passing grade because of this, but I can't give him any higher than a C because of his inability to score on multiple occasions.
Sebastian Giovinco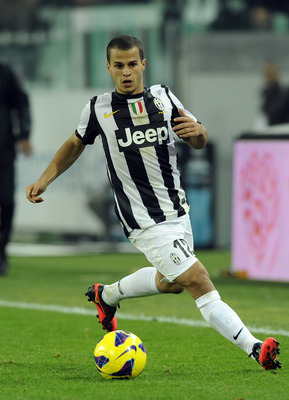 Claudio Villa/Getty Images
Grade: C+
Sebastian Giovinco scored, and I guess that's what attackers are supposed to do.
He's lucky he scored, though, because it hides the fact that he played a horrible, horrible game.
Giovinco spent most of the night unsuccessfully trying to dribble past defenders, playing bad passes and committing stupid fouls. Giovinco covered a lot of ground and was useful in helping the team recover the ball, but he was absolutely dreadful in possession.
Goal.com wrote a great story on Giovinco earlier this week that seemed to capture the sentiments of Bianconeri fans all over the world exactly, and the Atomic Ant did very little to prove his detractors wrong.
He gets this grade for finally scoring his first goal for Juventus in Europe, but he did not impress me at all.
Fabio Quagliarella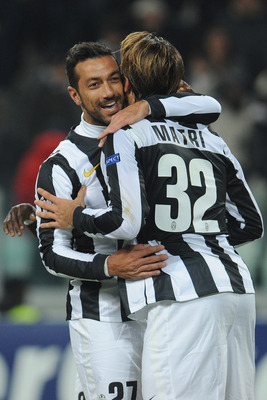 Valerio Pennicino/Getty Images
Grade: B+
Fabio Quagliarella remains Juventus' most effective striker.
Coming on as a substitute, he immediately added a lot of pace and depth to the Bianconeri strike force, and his activity in and around the box put a lot of extra pressure on the Nordsjaelland defenders.
He was exactly in the right place to head home an assist from Alessandro Matri and did a good job overall relieving the largely ineffective Giovinco.
With people talking about possibly trading "Quags" to Roma in exchange for Pablo Osvaldo, it is important to remember that Quagliarella is the only striker currently on the Juventus roster with a true nose for goal.
If reinforcements don't arrive in January, Quagliarella remains the Bianconeri's best option for success in the Serie A and Champions League.
Lucio and Paul Pogba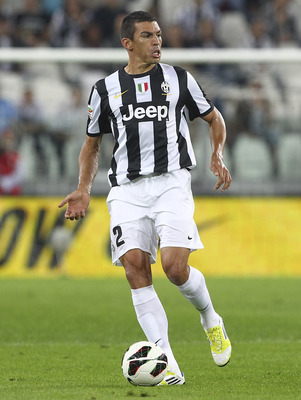 Marco Luzzani/Getty Images
Grade: Incomplete
Both players came on as late subs and hardly had an impact on the game.
I was surprised not to see Pogba come on to the field earlier, as this game could have provided the young Frenchman with some valuable Champions League experience.
Pogba will most likely start against Pescara.
Seeing Lucio back on the field made this writer very happy, and I must say he looked very solid in limited time. He tried a few crosses that were generally well placed and seemed very comfortable playing in the 3-5-2 next to Leonardo Bonucci.
Lucio could provide an excellent option down the road in relief of Andrea Barzagli or Giorgio Chiellini.
Coaching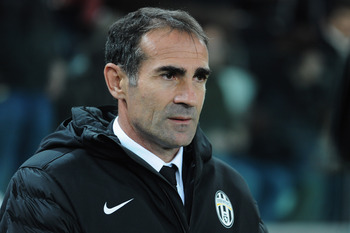 Valerio Pennicino/Getty Images
Grade: A
Juventus were prepared, executed the game plan to perfection and didn't make any stupid mistakes.
Unlike recent performances, the Bianconeri didn't take the foot off the gas until victory was certain, and the new names on the team sheet (Mauricio Isla and Alessandro Matri) proved that they were worthy of starting.
All in all, you can only applaud the Juventus coaching staff for a job well done.
So, why no A+?
Up by three goals, Andrea Pirlo should have been taken off at the half. Everyone could see Nordsjaelland were going to play with more intensity and aggression after the break, and Pirlo got fouled hard twice in the second half. No harm was done, but the results could have been disastrous.
Pirlo never gets to rest, as he is so important to this team. There was no need for him to stay in the game and risk injury.
Final Point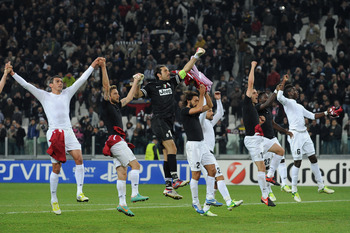 Valerio Pennicino/Getty Images
The Bianconeri did exactly what they had to do: dominate an inferior opponent and come away with three points.
Unfortunately, the news coming from London was not so good.
Chelsea was able to score the winning goal in the last minute of regulation, and as a result, Juventus are still in third place in Group E. Trailing both Chelsea and Shakhtar by a single point, the Bianconeri now have their destiny in their own hands.
With games against both sides coming up, this group looks like it will be going down to the wire.
For FC Nordsjaelland, it looks like their European adventure is over, but Juventus have to hope that the Danish side is able to steal some points from Shakhtar Donetsk or Chelsea.
The Bianconeri will host the current European champions in two weeks.
Keep Reading

Juventus: Like this team?