The Single Most Significant Move in the History of Each MLB Franchise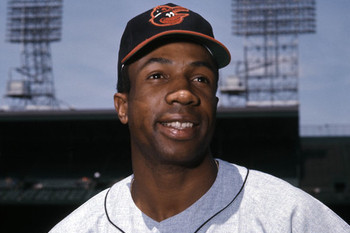 Photo Credit: US Presswire
The MLB offseason has begun, and that means teams will work to build their rosters into contenders through free agency and the trade market between now and spring training.
Every MLB franchise has made some legendary moves through the course of their history, both good and bad, that fans will always remember.
Here is a look at the most significant move in the history of each MLB franchise. To clarify, this is not simply the best signing/trade in the history of each team, but more specifically the signing/trade that had the biggest positive impact on team success.
Begin Slideshow

»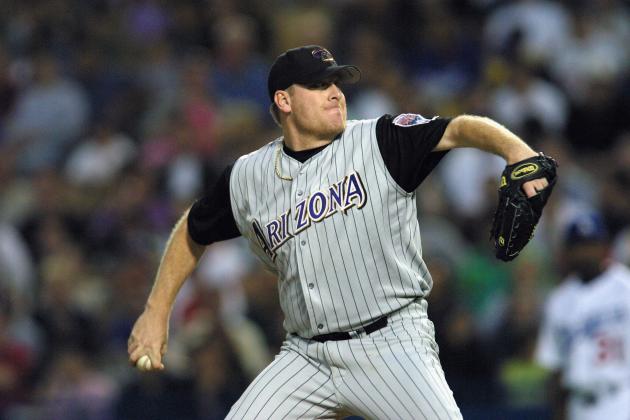 Stephen Dunn/Getty Images

The Diamondbacks' signing of Randy Johnson as a free agent prior to the 1999 season made them relevant. Their trade for Curt Schilling at the deadline in 2000 made them title contenders.
It cost Arizona four players, led by top prospect Travis Lee and a trio of pitchers in Vicente Padilla, Omar Daal and Nelson Figueroa, but the trade proved to be worth it almost immediately.
Schilling teamed with Johnson to win 85 games in their two seasons together, as they finished No. 1 and No. 2 in Cy Young voting.
More importantly, however, they led the team to a World Series title over the heavily favored New York Yankees in 2001, as the pair had a hand in all four of the Series wins—and it was the Schilling trade that pushed them over the top.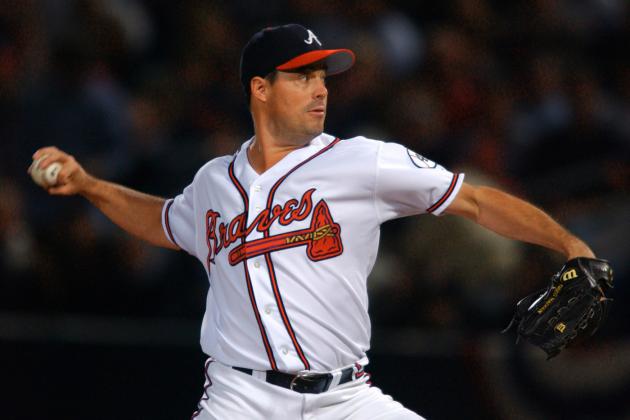 Doug Pensinger/Getty Images

The Cubs drafted right-hander Greg Maddux in the second round of the 1984 MLB draft, and by 1986 he was in the big leagues. By the time he hit free agency after the 1992 season, he had a 95-75 career record with a 3.35 ERA.
Not only that, but he was coming off his best season to date in 1992, going 20-11 with a 2.18 ERA to win the NL Cy Young. However, that was not enough for the Cubs to lock him up, as negotiations fell off and the Cubs instead signed the trio of Candy Maldonado, Jose Guzman and Dan Plesac.
Hotly pursued by the Yankees, Maddux eventually signed a five-year, $28 million deal with the Braves, where he would go on to pitch 11 seasons, going 194-88 with a 2.63 ERA and winning three more NL Cy Young awards.
He helped lead the Braves to 10 postseason appearances in that stretch, including three NL pennants and a title in 1995.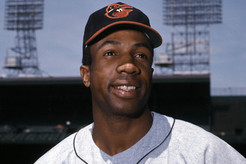 Photo Credit: US Presswire
Prior to the 1966 season, Reds owner Bill DeWitt made the decision to part with his 30-year-old superstar Frank Robinson in an effort to bolster his pitching staff, and he struck a deal with the Orioles to acquire right-hander Milt Pappas.
The trade was met with immediate outrage from the Reds' fanbase, and in an attempt to justify the move, DeWitt said (h/t thebaseballpage.com) that Robinson was "an old 30."
Robinson immediately made DeWitt eat his words, as he took home the AL Triple Crown with a line of .316 BA, 49 HR, 122 RBI in his first season in Baltimore, leading the team to a World Series crown and winning AL MVP in the process.
He went on to play six seasons with the Orioles, hitting .300 BA, 179 HR, 545 RBI over that span as the team won three more AL pennants and one more World Series title.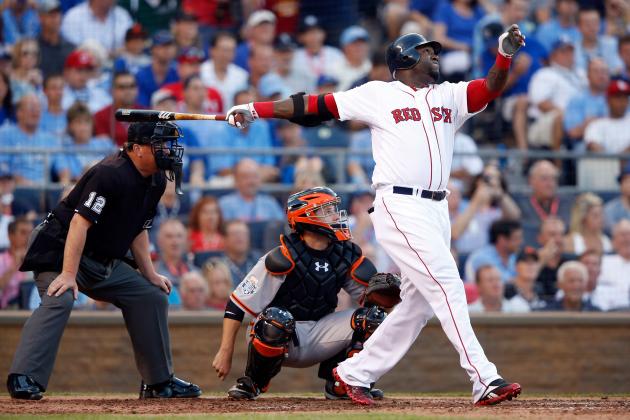 Jamie Squire/Getty Images

After a season in which he hit just .203 against left-handed pitching and only .240 with runners in scoring position, the Twins were looking to move DH David Ortiz before the 2003 season began.
While those peripherals don't look good, he did finish the season with a respectable line of .272 BA, 20 HR, 75 RBI, yet there were no takers on the trade market and the team wound up simply releasing him in December.
With starting DH Brian Daubach departing in free agency, the Red Sox decided to take a chance on Ortiz, giving him a one-year, $1.25 million contract and plugging him into an everyday role.
He rewarded them immediately with a .288 BA, 31 HR, 101 RBI season, and he would go on to be instrumental in the team's 2004 and 2007 World Series titles, developing into one of the best clutch hitters in all of baseball.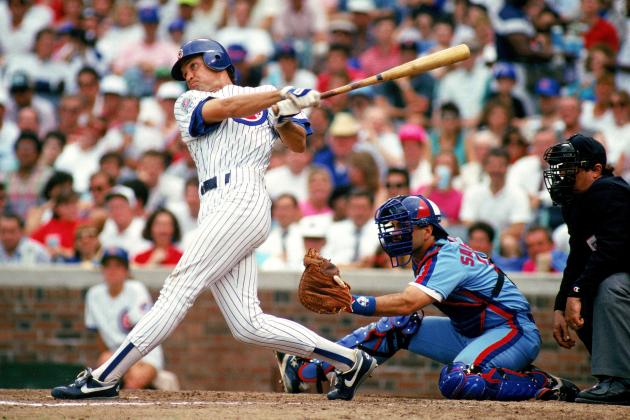 Jonathan Daniel/Getty Images

Phillies shortstop Larry Bowa was looking for an extension prior to the 1982 season, but rather than give him one the team instead shopped the 35-year-old and managed to find a taker in the Chicago Cubs.
Chicago shipped 27-year-old Ivan DeJesus to the Phillies in return, and though he was coming off of a rough season he had shown plenty of promise in previous seasons. The Cubs were able to convince the Phillies to sweeten the deal with a third-base prospect by the name of Ryne Sandberg.
The Cubs immediately plugged Sandberg into the starting lineup and moved him to second base; two seasons later he was the NL MVP after leading the Cubs to the playoffs.
He would finish his career as one of the best second basemen ever to play the game with an offensive line of .285 BA, 282 HR and 1,061 RBI to go along with nine Gold Gloves. Perhaps more impressively, he helped lead the Cubs to a pair of postseason appearances during his tenure, as the team enjoyed relevancy for the first time since the late 1960s.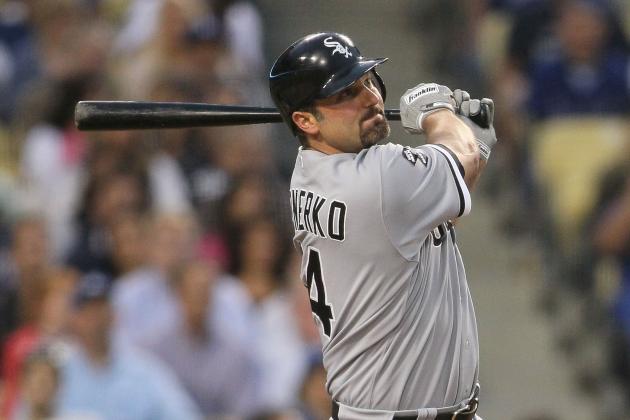 Victor Decolongon/Getty Images

Considering he was one of the top prospects in all of baseball, Konerko's MLB career got off to an odd start, as he was traded not once but twice before he finally found an everyday role with the White Sox.
Chicago sent toolsy center fielder Mike Cameron to the Reds for him straight up shortly after the 1998 season ended, and the Reds would later use Cameron as the centerpiece of their deal to acquire Ken Griffey Jr.
Konerko hit .294 BA, 24 HR, 81 RBI in his first season in Chicago, and quickly settled in as one of the league's most consistent middle-of-the-order run producers.
Still going strong, he enters the 2013 season having hit .285 BA, 415 HR, 1,307 RBI over the course of his 14 seasons with the White Sox as he's helped them to three postseason trips and a World Series title in 2005.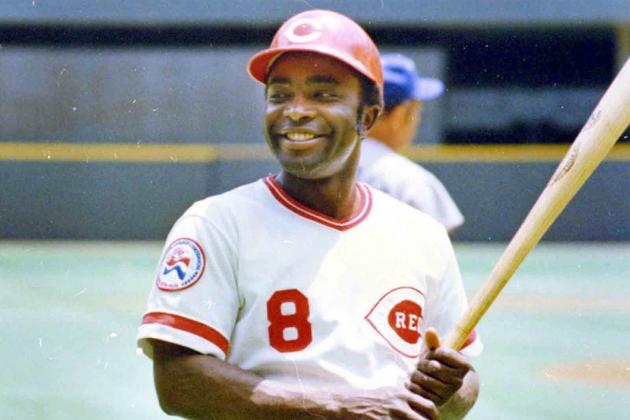 Photo Credit: CEI Sports
Following a 79-83 season, the Reds decided to shake things up and dealt star slugger Lee May to the Astros in what turned out to be an eight-player trade.
In return for May, the Reds got a starting right fielder in Cesar Geronimo, starting third baseman in Denis Menke and No. 1 starter in Jack Billingham, who would go on to anchor the Big Red Machine's staff.
However, the real haul of the trade was second baseman Joe Morgan, who would immediately raise his game to another level upon arriving in Cincinnati. He made the All-Star team eight straight seasons and won two NL MVP awards as the catalyst of the Big Red Machine.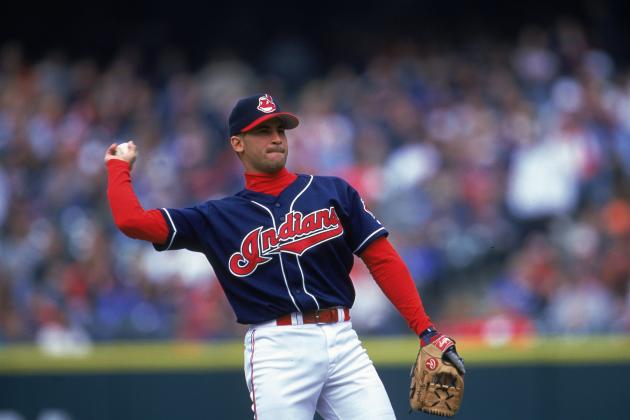 Harry How/Getty Images

Coming off the first Gold Glove of his career, Vizquel was already considered one of the top defensive shortstops in all of baseball in 1993, but with Vizquel's .252 career average the Mariners decided they could find a better option and put him on the trade block.
The Indians jumped at the chance to acquire him, sending Reggie Jefferson and Felix Fermin to the Mariners in the deal.
Vizquel soon became the Ozzie Smith of the American League, and his offense improved as well. In 11 total seasons with the Indians, he hit .283 and stole 279 bases while capturing an impressive eight more Gold Gloves.
Playing alongside Carlos Baerga and later Roberto Alomar, Vizquel was part of some of the best double play combinations in recent history and was as much a part of the Indians' success in the 1990s as anyone.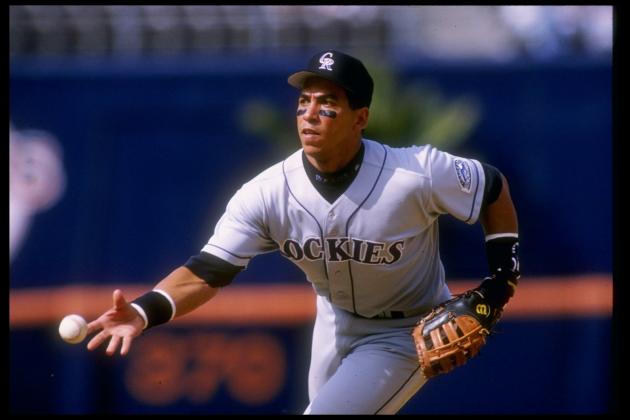 Stephen Dunn/Getty Images

Coming off of back-to-back poor seasons in which he hit .230 BA, 19 HR, 72 RBI over 700 at-bats, Galarraga got a second chance for his career when the Rockies inked him to a one-year, $500,000 deal.
He responded with a great bounce-back season, as he hit .370 BA, 22 HR, 98 RBI to win the batting title and earn himself a long-term deal with the Rockies to anchor their lineup.
In total, he spent five seasons in Colorado and hit .316 BA, 172 HR, 579 RBI while finishing in the top 10 in MVP voting each season, helping the Rockies to their first postseason appearance in 1995.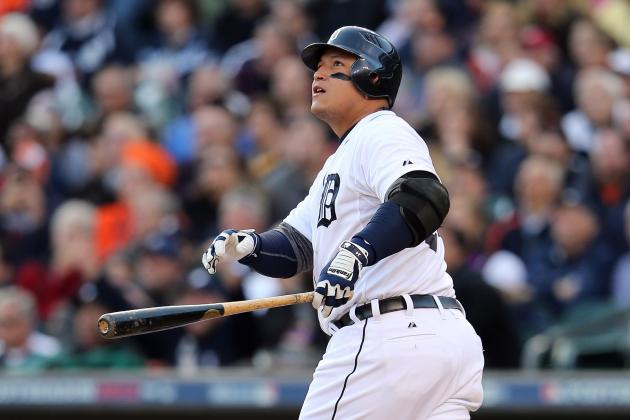 Leon Halip/Getty Images

Prior to the 2008 season, the Marlins shipped Miguel Cabrera and Dontrelle Willis to the Tigers for a five-player prospect package highlighted by center fielder Cameron Maybin and starter Andrew Miller.
In the end everyone outside of Cabrera proved to be a flop, as he has emerged as perhaps the best run producer in all of baseball.
In his five seasons in Detroit, he's posted an average line of .323 BA, 37 HR, 120 RBI, and he took his game to the next level this past season in winning the AL Triple Crown, giving him his second straight batting title.
He helped lead the Tigers to the World Series in 2012, and given the team he has around him, they have a great chance to get back there in the years ahead.
Tom Hauck/Getty Images

With a 6.5-game lead in the AL East division, the Red Sox made a move to bolster their bullpen in 1990, acquiring Astros veteran reliever Larry Andersen—who was in the midst of a stellar season with a 1.95 ERA in 73.2 innings of work—for first-base prospect Jeff Bagwell.
He was even better post-trade, with a 1.23 ERA in 22 innings, and while he did help Boston reach the postseason, they were swept in the first round of the playoffs and Anderson was gone in free agency the next season.
After spending the remainder of the 1990 season in the minors, the Astros made Bagwell their starting first baseman to open the 1991 season; he hit .294 BA, 15 HR, 82 RBI to win NL Rookie of the Year.
He would only get better from there, and before all was said and done, he had a career line of .297/.408/.540, 449 HR, 1,529 RBI over his 15-year big league career, all of which was spent with the Astros.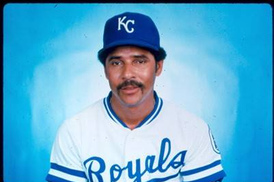 Photo Credit: Flickr
With a .178 average over 152 big league at-bats, Otis had not done much at the major league level to show he had a bright future during his time with the Mets.
However, the Royals saw something they liked and sent light-hitting veteran third baseman Joe Foy to the Mets for him and starting pitcher Bob Johnson.
Otis went on to spend 14 seasons with the Royals, hitting .280 BA, 193 HR, 992 RBI, 340 SB while playing terrific defense in center field and helping the Royals to five postseason appearances.
Johnson chipped in as well, going 8-13 with a 3.07 ERA in his only season in Kansas City before being traded to the to the Pirates in the deal that brought Freddie Patek to the Royals.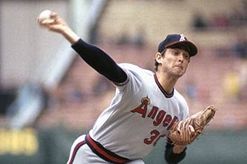 Photo Credit: Athlon Sports
While he would go on to become one of the most dominant pitchers in baseball history, the career of Nolan Ryan began with a good deal of uncertainty stemming from his control problems.
After posting a record of 29-38 and walking over six batters per nine innings in his five seasons with the Mets, Ryan was traded while his potential could still bring them some value.
Ryan immediately figured things out upon arriving in California, going 19-16, 2.28 ERA, 329 Ks in his first season with the then-California Angels. He would go on to win 138 games with a 3.07 ERA in eight seasons with the Angels.
In return, the Mets received six-time All-Star shortstop Jim Fregosi, who was still only 30 years old—and he promptly forgot how to hit a baseball as he hit just .233 BA, five HR, 43 RBI in 146 games over parts of two seasons before he was sold to the Rangers.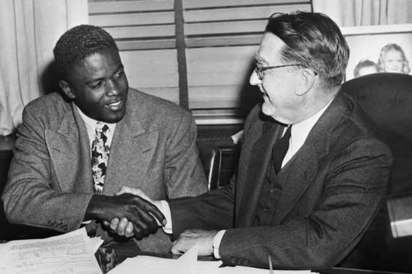 Photo Credit: Britannica
While baseball fans are quick to put an asterisk next to anything achieved during the steroid era, and rightfully so, the same issue can be taken with anything achieved prior to 1947. Until that time, baseball was segregated, and many of the best players in the world were not allowed to play Major League Baseball.
Negro League greats like Josh Gibson, Satchel Paige, Cool Papa Bell and countless others have their place in baseball history, but who knows where they would rank in the record books if baseball had been integrated from the onset?
Instead, it took until 1947, when Brooklyn Dodgers owner Branch Rickey inked former UCLA multi-sport star Jackie Robinson of the Montreal Royals (Brooklyn's Triple-A affiliate) to a major league contract, effectively breaking the color barrier in baseball.
Robinson put up fantastic numbers, but there is no way to measure the impact his courage had on making the transition easier for African-American players to come.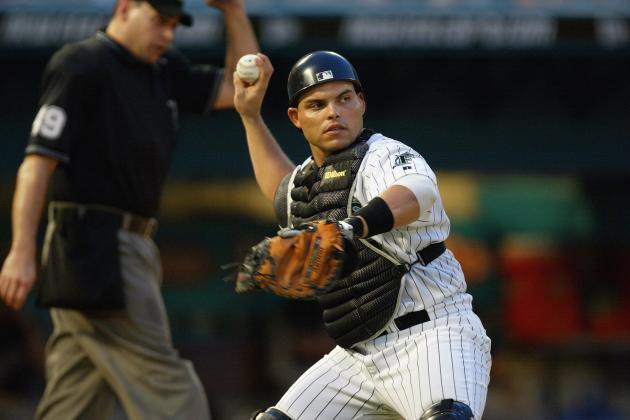 Eliot J. Schechter/Getty Images

The Marlins have a rich history of signing free agents for a postseason push, then selling them off or letting them walk shortly thereafter.
When the team inked Ivan Rodriguez to a one-year, $10 million deal for the 2003 season, it was clear they had one goal in mind—and he helped them reach it as the team defeated the Yankees in the World Series.
Rodriguez enjoyed a .297 BA, 16 HR, 85 RBI regular season, then hit .313 BA, three HR, 17 RBI during the team's postseason run, including a 10-RBI NLCS that earned him MVP honors.
He was gone to Detroit the following season, but there is no question the team got its money's worth in signing Pudge to a one-year deal.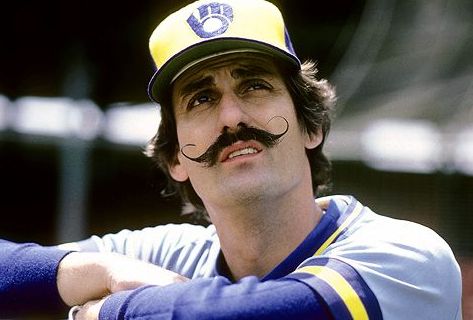 Photo Credit: Green Girl in Wisconsin
In a trade that saw the Brewers give up virtually nothing of value in a four-player package of Larry Sorensen, Dave LaPoint, David Green and Sixto Lezcano, the team managed to acquire three key contributors.
Rollie Fingers won the Cy Young and MVP in his first season with the Brewers and saved 29 games the following season for the eventual pennant winners.
Ted Simmons became a key veteran leader for the team and still had plenty of offensive firepower left as he hit .269 BA, 23 HR, 97 RBI in 1982 and then .308 BA, 13 HR, 108 RBI the following season.
The deal also landed Brewers starter Pete Vuckovich, who won the Cy Young in 1982 with an 18-6, 3.34 ERA, 105 Ks line. The year before, he led the AL with 14 wins and finished fourth in Cy Young voting, though he fell off mightily after his first two seasons with the team.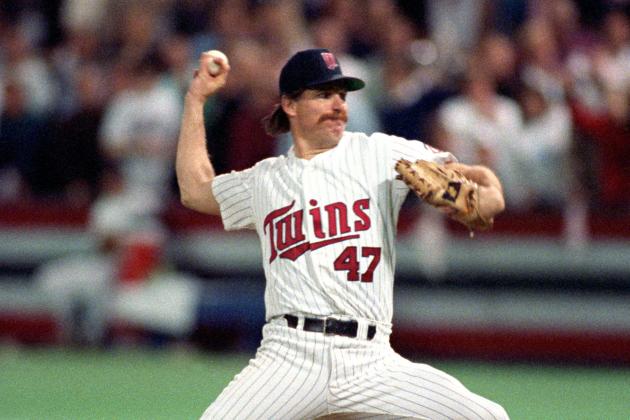 Rick Stewart/Getty Images

After 14 years and 198 wins with the Tigers, Jack Morris hit free agency prior to the 1991 season, and at the age of 36 no one was looking to sign the veteran long-term.
He eventually settled on a one-year, $3.7 million deal with the Twins. The team was coming off an 88-loss season, and while they had some nice pieces, they had no true ace to anchor their staff. Morris would be asked to fill that role; he did that and then some.
Morris posted an 18-12 record during the regular season, as he and 23-year-old Scott Erickson (20-8) helped turn the rotation into a strength, helping the Twins to turn things around in a big way to win their division.
Morris was not finished helping the team, though, as he won two games in the ALCS, then another two in the World Series, the biggest of all coming in Game 7 when he pitched 10 shutout innings to give the Twins the title in one of the single greatest postseason performances in baseball history.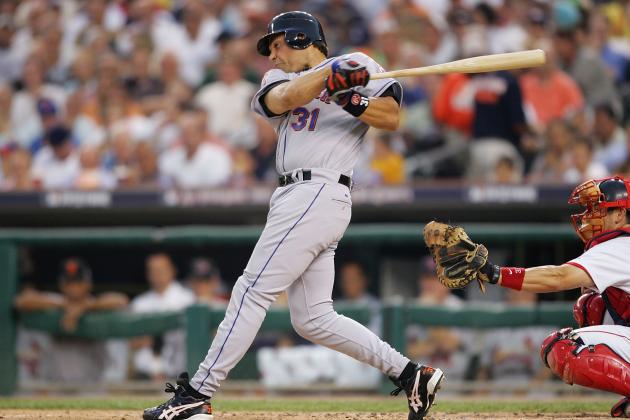 Elsa/Getty Images

The greatest offensive catcher of all-time, Piazza was traded from the Dodgers to the Marlins in May of 1998 in a seven-player trade that also involved Gary Sheffield.
Eight days later, he was traded again as the Marlins shipped him to the Mets for a package centered around five-tool outfielder Preston Wilson.
Piazza would go on to spend eight seasons with the Mets, hitting .296 BA, 220 HR, 655 RBI and helping lead the Mets to the NLCS in 1999 and the World Series in 2000.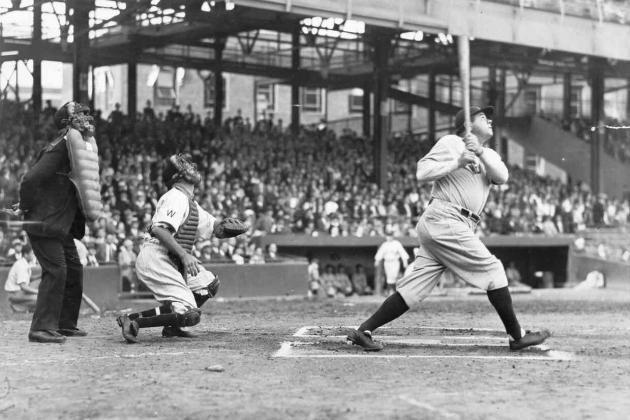 Photo Credit: Top Tenz
With a batting line of .322 BA, 29 HR, 114 RBI, and a pitching record of 9-5 with a 2.97 ERA over 133.1 innings, Babe Ruth's 1919 season was one for the ages, as there has never been a player with a more complete season than Ruth that year.
Whether it was Ruth asking for his salary to be doubled to $20,000 in 1920, or whether the stories that Red Sox owner Harry Frazee was trying to finance a theatrical production were in fact true, for one reason or another Ruth was put on the trade block following that incredible year.
The White Sox offered up $60,000 and "Shoeless" Joe Jackson for Ruth, but Frazee declined and instead took the Yankees' deal and the full $100,000 that he was seeking.
Thus, the Curse of the Bambino was born, as the Red Sox would go without a World Series title until the curse was broken in 2004. Meanwhile, the Yankees became baseball's most revered franchise and piled up titles with Ruth leading the way as the greatest player in the history of the game.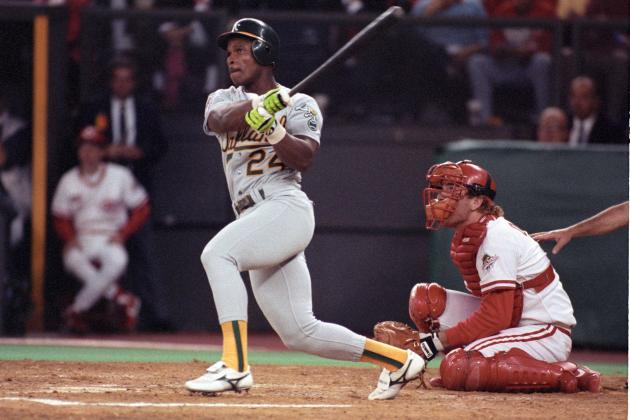 Jonathan Daniel/Getty Images

Henderson began his Hall of Fame career in Oakland, spending his first six seasons with the A's before being traded to the Yankees for a five-player package prior to the 1985 season.
However, just four-and-a-half seasons later, the A's re-acquired the speedster for their stretch run and he helped carry them to the 1989 World Series title.
The following season, he took home AL MVP honors and the A's returned to the World Series, though they fell to the Cincinnati Reds in a sweep.
He would leave Oakland and return one more time after that, but it was his time following his re-acquisition from the Yankees during which he made the biggest impact on the A's franchise.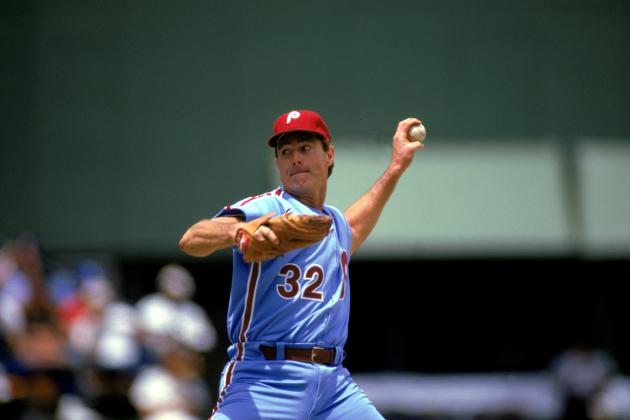 Stephen Dunn/Getty Images

There is no question that Carlton was a good pitcher from the start of his career, as he posted a 57-53 record in his first six seasons in the league with a terrific 2.98 ERA.
However, when he followed up a 1970 season in which he led the NL with 19 losses by going 20-9 in 1971, the Cardinals decided to deal the then-26-year-old when his value seemed to be at an all-time high, flipping him to the Phillies for Rick Wise.
Wise was solid, but Carlton would go on to be one of the best pitchers of the 1970s, starting things out with a 27-10 record, 1.97 ERA and 310 Ks in his first year in Philadelphia, winning the pitching Triple Crown and the first of four NL Cy Young awards.
With 329 career wins and 4,136 strikeouts, Carlton is a Phillies icon and one of the best left-handers ever to toe the rubber. He helped the team to six postseason trips in his 15 years in Philadelphia, including a pair of NL pennants and a title in 1980.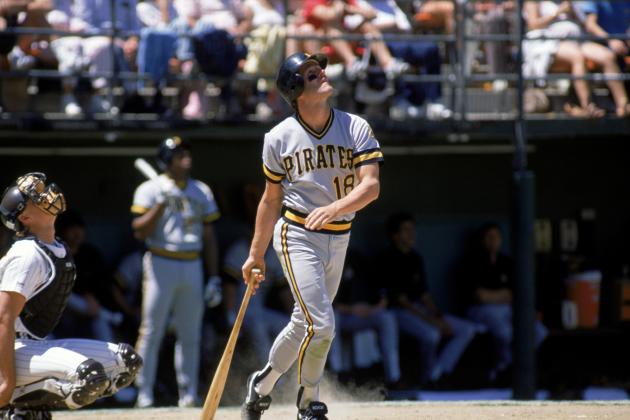 Stephen Dunn/Getty Images

Tony Pena spent the first eight seasons of his career with the Pirates, establishing himself as one of the game's top defensive backstops and one that had plus offensive skills as well.
When the Pirates decided to move him prior to the 1987 season, they received a terrific package of players from the Cardinals centered around Andy Van Slyke and also including Mike LaValliere and Mike Dunne.
Van Slyke quickly became one of the best outfielders in the game following the trade, hitting .283 BA, 117 HR, 564 RBI in eight seasons with the Pirates.
He made three All-Star games, won five Gold Glove awards and helped lead the team to the postseason three years straight from 1990-1992.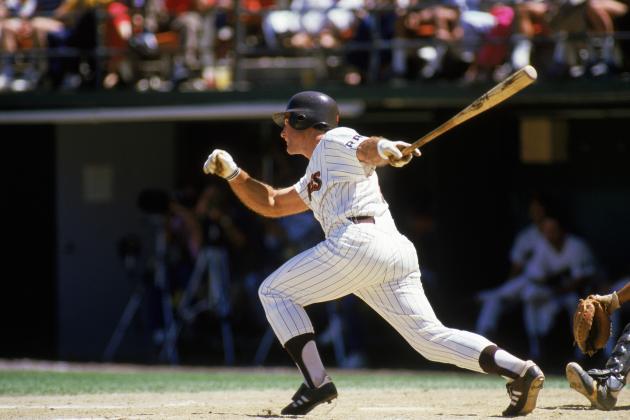 Stephen Dunn/Getty Images

After spending the first 14 seasons of his career with the Los Angeles Dodgers, Garvey joined the Padres on a five-year, $6.6 million deal prior to the 1983 season.
He still had plenty left in the tank at the age of 34, as he averaged a line of .278 BA, 15 HR, 77 RBI and made a pair of All-Star appearances during his first four years in San Diego.
In 1984, he helped lead the team to the postseason and won NLCS MVP with a .400 BA, one HR, seven RBI line in the five-game series with the Cubs as the Padres made their first World Series appearance in team history that season.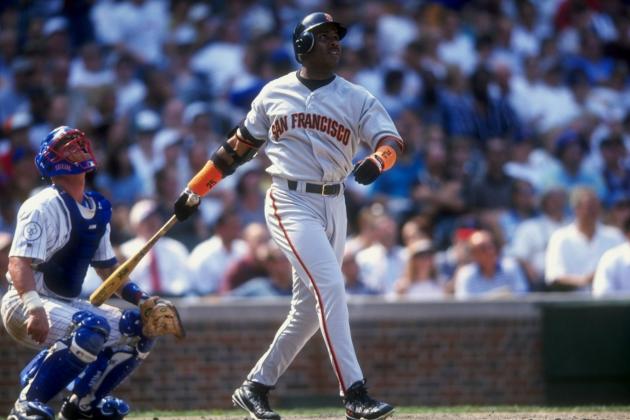 Vincent Laforet/Getty Images

Coming off the NL MVP award as a member of the Pirates in 1992, Bonds was arguably the best player in baseball when he hit the open market that offseason—and the Giants inked him to a then-record six-year, $43.75 million deal.
He won another MVP award in his first season with the Giants and went on to hit .312 BA, 586 HR, 1,440 RBI over the span of his 15 seasons in San Francisco.
He broke some of baseball's biggest records, led the team to the World Series in 2002 and became one of the most polarizing figures in sports as the face of the steroid era.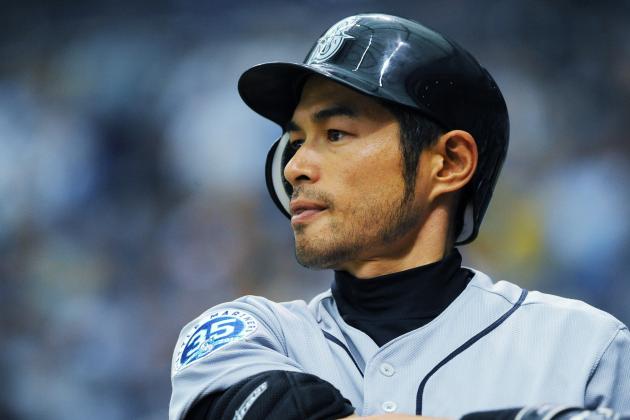 Al Messerschmidt/Getty Images

Already established as a superstar in Japan, Ichiro was 27 years old when he decided to make the move to the United States. The Mariners signed him to a three-year, $14 million deal that was accompanied by a posting fee of $13 million.
No one was sure what to expect in his first season, but it is safe to say he exceeded expectations as he hit .350 to win the AL batting title and took home Rookie of the Year and AL MVP honors.
That began a stretch of 10 straight seasons in which he would hit over .300 and top 200 hits, including an MLB-record 262 hits in 2004.
He joined the Yankees at the deadline in 2012 and enters the 2013 season with 2,606 career hits in just 12 seasons, as he has already secured his spot as a Hall of Famer here in the U.S.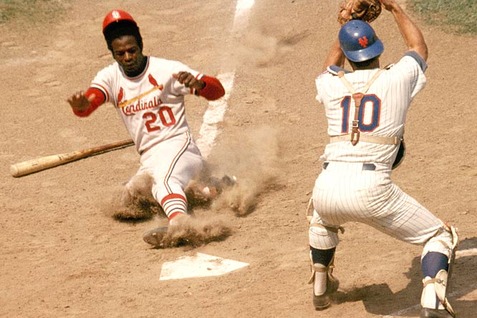 Photo Credit: Total Pro Sports
Heading into the 1964 season, the Cubs had seen flashes of brilliance from then-25-year-old Lou Brock as he averaged a line of .260 BA, nine HR, 36 RBI and 20 SB. However, with the team in need of pitching and Brock hitting just .251, the Cubs decided to deal him for a package centered around Ernie Broglio.
Something seemed to immediately click for Brock, as he went on to hit .348 with 12 HR, 44 RBI and 33 SB in 103 games after the trade. Broglio immediately showed what seemingly everyone outside of Chicago knew—that he had nothing left in his arm—and he was out of baseball two seasons later.
Brock would go on to play 16 seasons for the Cardinals, racking up over 3,000 hits and swiping 938 bases on his way to the Hall of Fame. He led the team to three World Series, winning a pair of titles as the most dynamic table-setter in baseball at the time.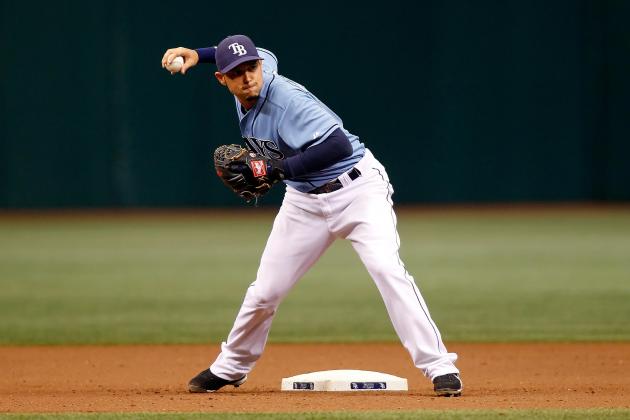 J. Meric/Getty Images

Once the top prospect in all of baseball, Delmon Young made his full-season debut in 2007 and hit .288 BA, 13 HR, 91 RBI as a 21-year-old rookie to finish second in AL Rookie of the Year voting.
The Rays decided to sell high on Young and traded him to the Twins for a package that included right-hander Matt Garza and shortstop Jason Bartlett.
Those two players then played a key role in the team making a surprise run to the World Series in 2008, as Bartlett hit .286 and finished 18th in AL MVP voting, and Garza went 11-9 with a 3.70 ERA and won ALCS MVP.
Neither player is with the team any longer, but they both played a huge role in the team's only AL pennant and both netted a solid return when the team opted to trade them.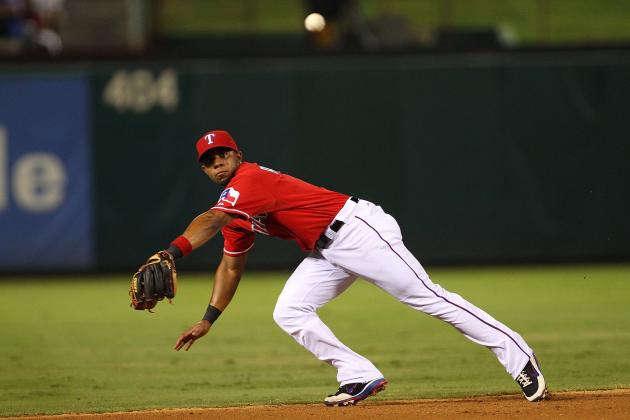 Rick Yeatts/Getty Images

It's not often a slugger of Mark Teixeira's caliber hits the trade block, and when he did the Braves went all-in to acquire him and make a postseason push.
They sent Elvis Andrus, Neftali Feliz, Matt Harrison, Jarrod Saltalamacchia and Beau Jones to the Rangers to land the first baseman, but in the end Atlanta did not make the postseason and Teixeira was traded again the following season to the Angels.
Meanwhile, Andrus has become one of the game's best shortstops, Feliz won Rookie of the Year as the team's closer and is working on transitioning to the rotation, Harrison was an All-Star last season as the team's top starter and Saltalamacchia has become an everyday catcher in Boston.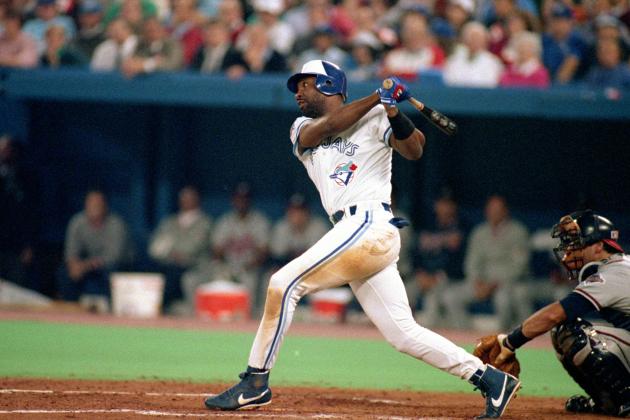 Rick Stewart/Getty Images

After finishing 86-76 in 1990 despite having one of the best pitching staffs in all of baseball, the Blue Jays decided an offseason splash was needed in order to overhaul their lineup.
With top prospect John Olerud ready to step in at first base, the Blue Jays traded the man that was blocking him and their top hitter in Fred McGriff, along with All-Star shortstop Tony Fernandez to the Padres.
In return, they received 23-year-old second baseman in Roberto Alomar, who was fresh off his first All-Star appearance, and an established slugger in Joe Carter to help fill the hole in the middle of the lineup left by McGriff.
The move worked to perfection, as the team won 91 games and captured the AL East title in 1991, then won back-to-back World Series titles in 1992 and 1993.
Alomar blossomed into one of the best second basemen in baseball history, and Carter continued to be one of the best sluggers in the game on his way to hitting one of the biggest home runs in baseball history to end the 1993 World Series.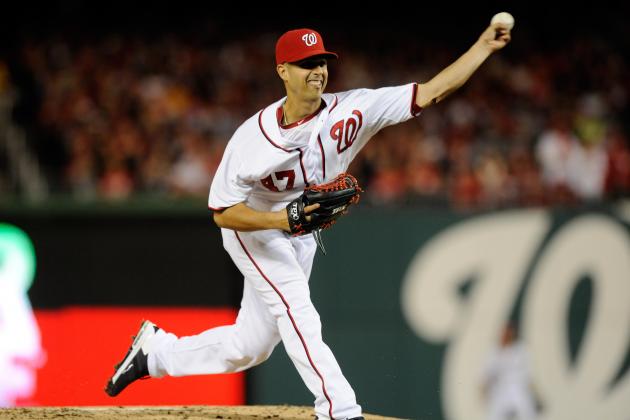 Patrick McDermott/Getty Images

The verdict is still out on what type of players A.J. Cole, Brad Peacock, Derek Norris and Tom Milone will become, and they all appear to have a bright future in Oakland.
However, Gonzalez had a fantastic first season in Washington in going 21-8 with a 2.89 ERA, 207 Ks and is a legitimate Cy Young candidate this season.
The fact that the team was able to get Gonzalez to agree to a five-year, $42 million extension following the trade added to how good of a deal it was. The Nationals appear to be in a great position to contend in the years ahead thanks to a terrific staff fronted by Stephen Strasburg and Gonzalez.