5 Ways the Cincinnati Reds Can Turn Drew Stubbs from a Liability into an Asset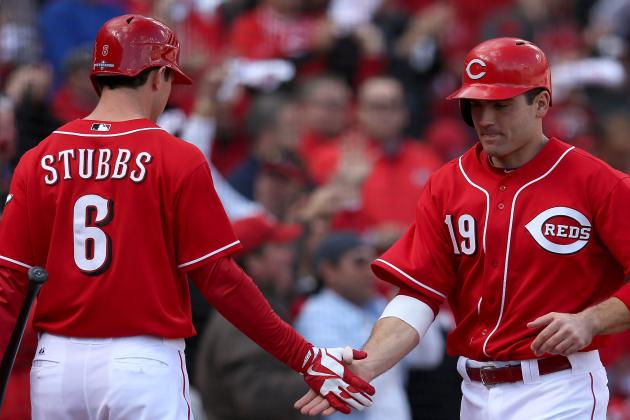 Jonathan Daniel/Getty Images

If there is one problem that looms above all others for Reds fans this winter, it is what to do with Drew Stubbs. His offensive production has fallen in each of his seasons in MLB. In 2011, he led the league in strikeouts, while this year he barely hit above the Mendoza line, leading many Reds fans to squeal for his trade or demotion.
Yet, Stubbs does still have assets. He is an excellent fielder with a strong arm and great speed and is a base stealing threat every time he gets on. He is also young, cheap, under team control and not likely to receive much of a raise in arbitration, due to his dismal year this year.
For the same reason, he is unlikely to have much trade value, especially in a market saturated with OF FAs. Besides, many teams, including contending teams, retain offensively sub-par players at defensively premium positions like center-field and shortstop.
So what makes Drew Stubbs such a special disappointment?
Much of Reds fans' ire over their center-fielder comes down to two things: first, his failure to materialize into the five-tool player he was scouted to be and, second, the black hole he has created at the top of the order. The first is a fact that management and fans will simply have to accept. Not all players pan out to be what we expect them to be when they are drafted. The second is a real problem that needs to be addressed by management.
But Stubbs has value for this team if management is able to recognize him for what he is and not what they hoped he would be and if they are willing to be a little more creative in how he is used. Trading or optioning him is not the answer.
So, how can the Reds transform last year's liability into this year's asset? By playing Drew Stubbs in ways that maximize his strengths while limiting his exposure to his weaknesses. Here are five suggestions…
Begin Slideshow

»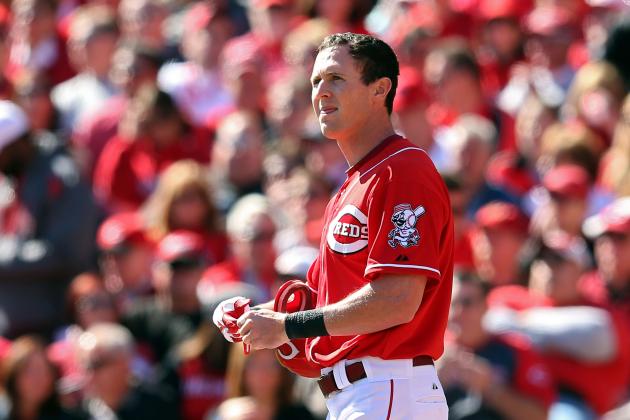 Andy Lyons/Getty Images

Batting Stubbs first or second in the order is criminal. He took up 544 plate appearances this season and led the team in strikeouts for the second year in a row. By midseason, the frustration was palpable when Stubbs came to the plate. It felt like the Reds were giving up their first out for free every game, which was even more frustrating in light of the fact that the center fielder spent most of the season batting either one or two spots ahead of Joey Votto.
But that doesn't mean he shouldn't be in the lineup. He is the fastest runner on the team. He swiped more than a third of the bags that the entire team got last season and twice as many as Brandon Phillips, the next highest contender. He has value in the lineup but needs to take up fewer at bats and give up fewer unproductive outs.
So, with that in mind, the proper place for him is last. Not eighth, but ninth. Hear me out. I am not suggesting that Stubbs is a worse hitter than most pitchers. I am saying that he can do more good in the ninth spot than in the eighth. By putting him there, you still limit the number of PAs he gets by a full one per game over batting him at the top, and you also reduce the leverage of those PAs by not putting him behind players who frequently get on base.
But when he does get on base (and, believe it or not, he does sometimes), who do you want coming to the plate to knock in your best baserunner, the pitcher or the top of the order? Statistically, the batters who hit immediately ahead of the pitcher are stranded more often than any other. By putting Stubbs in that position, the Reds would be squandering the offensive skills he does have, running and stealing bases.
The ninth spot is the perfect combination of fewer plate appearances, less pressure in those plate appearances and more opportunities to capitalize on his speed with the team's best singles hitters coming up behind him. It is the best of both worlds.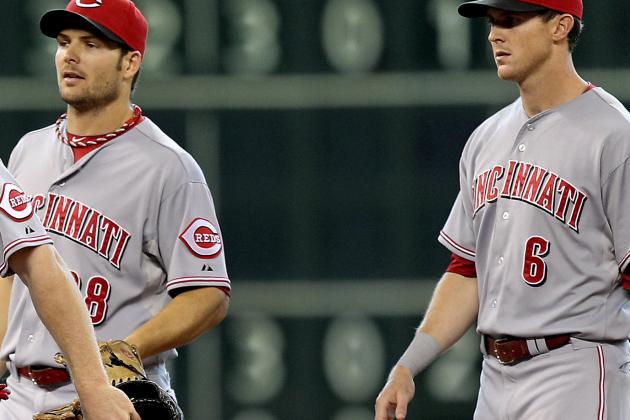 Bob Levey/Getty Images

There is no question that Drew Stubbs has struggled offensively in the past year, putting up an overall slash line of .213/.277/.333.
But these numbers belie a dramatic split between left-handed and right-handed pitching. Against right-handers, Stubbs batted an even more atrocious .186/.259/.282, while against lefties, he actually hit a more than respectable .283/.324/.464, for an OPS of .788. Were he to bat only against left-handed pitching, he would have had the fifth-highest OPS among Reds player, with at least 100 PAs, just behind ROY candidate Todd Frazier and ahead of fan favorite Brandon Phillips.
Stubbs is clearly a viable weapon against left-handed pitchers, and he should start against them. The only problem is that the vast majority of starting pitchers in the National League are right-handed.
So who takes all those other plate appearances in center field? Glad you asked.
Chris Heisey, though technically right-handed, has posted dramatic career splits like a lefty: .277/.332/.462 against right-handed pitching versus .214/.272/.376 against. lefties. While the gap in these splits shrank significantly this past season, this was mainly due to an increase in his hitting versus left-handers, not a reduction in the rate at which he crushes righties, and the principle of sample size suggests that the season numbers are probably more anomalous than the career numbers.
In short, neither Stubbs nor Heisey seems to be the everyday answer in center, due to being consistently baffled by pitchers of one handedness or the other. But put them together into a platoon, and you have a center-fielder who OPSs .788 versus lefties and .794 against righties. Any team in baseball would be happy with that, especially from a defensively premium position.
To put the icing on the cake, the Reds also have a left-handed fourth outfielder in Xavier Paul, who absolutely crushes right-handers at a .325/.385/.482 clip. Although weaker defensively in center than either Stubbs or Heisey, Paul could also be used to eat up innings against tough right-handers or to play left field, freeing Heisey for center.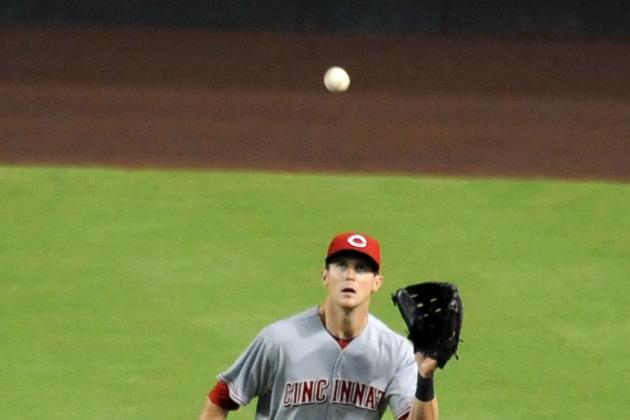 Norm Hall/Getty Images

Still, is it worth taking up a roster spot for a player who will only start against a comparatively small number of left handed pitchers? What other uses does Stubbs have for this team?
Well, lots.
For one thing, Stubbs is a superior defensive outfielder. Heisey is not, at least not in center. Stubbs' UZR of 6.8 for last season dwarfs Heisey's 1.0.
Not a believer in defensive metrics? All you have to do is watch a couple Reds games in which each plays center field. Balls that Stubbs swipes, Heisey plays off the wall, and nearly any ball Heisey dives for, Stubbs would have gotten on the run.
Much of the difference comes down to speed, but his instincts are better too. This is not to say Heisey is a bad defender, but Stubbs is a much much better one.
However, most fans would say that his lost puppy approach at the plate against right-handed pitching outweighs whatever defensive benefit he would contribute as a starter. And on that account, I would have to agree. Nine innings of Stubbs in the field are not worth four throwaway outs. But would you trade four innings of superior defense for one difficult to watch PA? I would.
Reds fans, I am here to tell you that you can have your cake and eat it too. Bringing Stubbs into the game as a defensive replacement in the half-inning immediately following Heisey's third plate appearance maximizes his time in the field (strength), while minimizing his time at the plate (weakness).
Having him on the bench to bring him into a game later also allows management to play situationally. If the team has a lead to protect (defense more important, offense less), bring him in. If, on the other hand, they have ground to make up (defense less important, offense more), leave in Heisey.
This type of situational platoon allows the best of both worlds: Maximum flexibility, and a situation where, over the course of the season, the better hitter takes a majority of the plate appearances, while the better defender takes more of the innings in the field.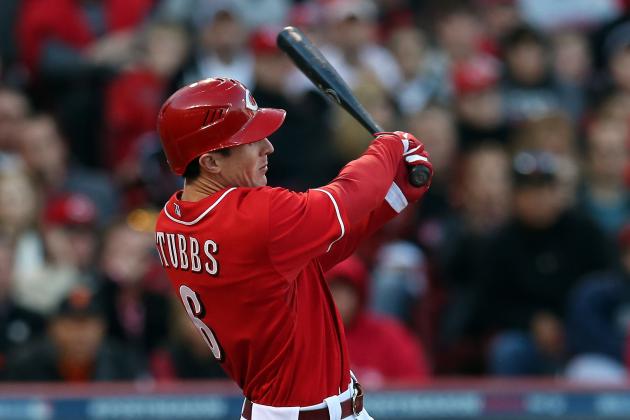 Jonathan Daniel/Getty Images

Even if he isn't the strongest hitter overall, he is still better than any pitcher the Reds have not named Mike Leake. And even at his worst, Stubbs is more consistent than the cellar dwellers the Reds used to eat plate appearances for most of the 2012 season (Cairo, Valdez, Harris, Costanzo, etc.)
Using Stubbs as a pinch-hitter, like platooning him, also gives the Reds the ability of maximizing the proportion of his ABs that are against left-handed pitching by using him when a southpaw reliever is on the mound. As demonstrated above, when limited to lefties, Stubbs suddenly becomes a solid MLB hitter and, thus, a good pinch-hitting option.
Pinch-hitting also has the advantage, if part of a double switch, of putting him in the ninth spot in the order, which as I stated earlier, is the ideal spot for him to be. He can be left in the game, which, like a defensive substitution, gets him into center field for the later innings, all of which are good things.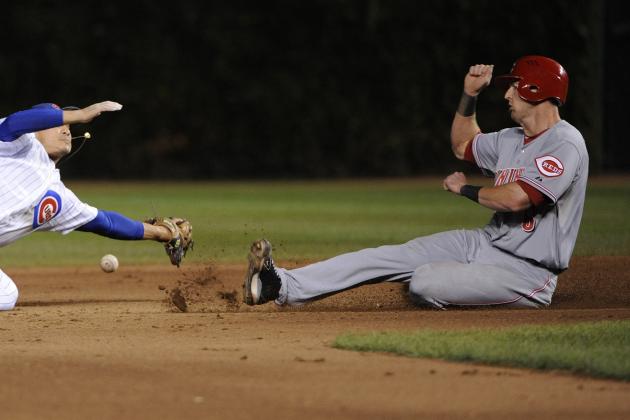 David Banks/Getty Images

Better yet, put him in the game in a position where the hard part has been done for him. Just as platooning Stubbs with Heisey improves the overall production in center field by putting each in the position to take best advantage of his skills, using Stubbs as a pinch runner can utilize his talents without exposing him to his weaknesses.
There are two distinct skills required to score a run in baseball. The first is getting from home plate to first base, which is where most of Stubbs' problems lie. The second is exactly the opposite, getting from first to home, and in this area, he excels—more so, in fact, than any other player on the team.
Pair him with a player who has the opposite skill set. I'm thinking specifically of Ryan Hanigan, who is very good at getting on base (actually the best on the team in the players-not-named-Votto category), but is far from the world's fastest runner and can hardly be considered a base-stealing threat. Late in a close contest, switching Stubbs for Hanigan as a runner at first base could be a game changer.
He could also run for players like Ryan Ludwick (if the Reds are able to re-sign him), who is also a great hitter but whose age is catching up with him on the base paths. Stubbs for Ludwick is an easy switch to make because accommodating it on the field requires no more finagling than shifting Heisey from center to left, a position he also has extensive experience with.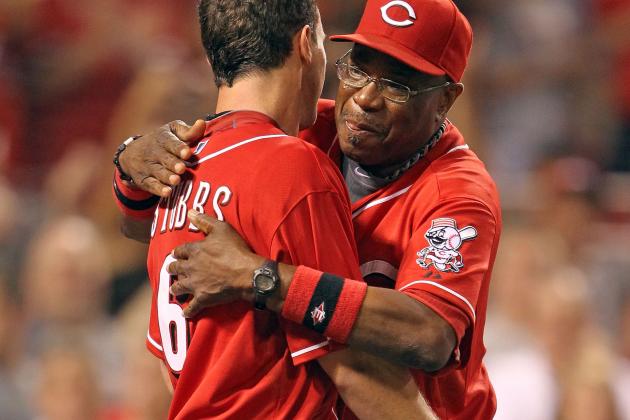 Andy Lyons/Getty Images

The ways Drew Stubbs was used last year, starting most games and batting first or second, were a drain on the Reds overall. There is very little room to argue on that point. Reds fans are justly irritated, and taking that frustration out on Drew Stubbs, who never did materialize into the player everyone wanted him to be, is understandable.
But that doesn't mean he isn't a valuable piece of the team if used correctly. Depending on how he is managed, he can either be an important asset or continue to be a liability. Unfortunately, those decisions rest with Dusty Baker, who has demonstrated time and again, including with his management of Drew Stubbs, that he is utterly incapable of thinking unconventionally about the skills his players have or of changing course in the face of insurmountable evidence that what he is doing is not working.
The question is not whether Stubbs has value, but whether he can be Dusty-proofed enough to realize that value for the Reds. On that front, I am significantly less optimistic.
All statistics from fangraphs.com