The Pittsburgh Panthers are currently the leaders for 5-star offensive tackle Dorian Johnson's commitment, but will they be able to remain on top after the talented tackle visits his other favorite school, Ohio State?
The odds are not in the Panthers' favor.
According to Jared Shanker of ESPN.com, Johnson is going to officially visit both schools:
ESPN 150 offensive tackle Dorian Johnson (Belle Vernon, Pa./Belle Vernon) will officially visit Pitt the weekend of Nov. 16. His official visit to Ohio State will take place the weekend of Dec. 7, he told ESPN.com in a text message.

Johnson has Pitt as his top school with Ohio State close behind.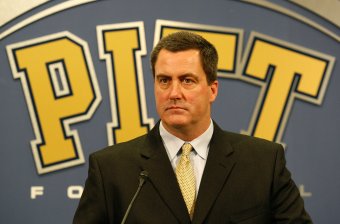 Jared Wickerham/Getty Images
While it's going to be invaluable for Paul Chryst and his staff to be able to recruit the 5-star offensive tackle in an official capacity, one has to truly wonder if that's going to be enough to stave off what Urban Meyer and the Buckeyes will be able to offer Johnson on their official visit.
From a football standpoint, there is absolutely no comparing the two programs.
Ohio State is currently undefeated at 10-0, and although it will be hampered by its one-year bowl ban, there's no doubting that the Buckeyes are back near the top of the college football world. Pitt, on the other hand, is trudging through a 4-5 season with a 1-3 record in the Big East, and it's impossible to consider it nationally relevant to the college football world as a whole. The Panthers may even struggle to remain relevant in their own conference.
On paper, Meyer and the Buckeyes should be the overwhelming favorite for Johnson's commitment, but the fact that the recruit is from Belle Vernon, Pa., which is under an hour away from Pitt, seems to be a huge factor in his decision.
Pittsburgh has the lead right now according to Johnson's interest list on 247Sports, and it can pad that lead when Johnson officially visits the school, but the odds of Pitt holding on to its advantage are extremely small once the 5-star offensive tackle officially visits OSU.
The advantages the Buckeyes have over Pitt are almost unfair.
Meyer is arguably one of the best coaches in college football. His 2013 recruiting class is very good and will only serve to make OSU even better in the future, and OSU can provide Johnson with the chance to compete for not just the Big Ten championship, but to be relevant in the national championship scene.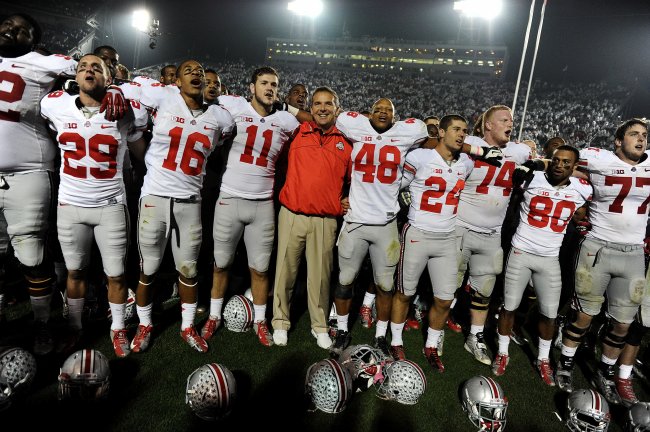 Patrick Smith/Getty Images
Those talking points alone should be able to convince Johnson that Ohio State is the better choice despite the fact that Pittsburgh is much closer to home. If it comes down to a recruiting standoff between Chryst and Meyer, I dare say the Buckeyes will have a gigantic advantage.
What are the odds that Pitt remains the leader for Johnson after his visit to OSU?
Saying that the odds are small would be an understatement.