US Men's National Team: Best Starting XI to Do Damage in World Cup Qualifying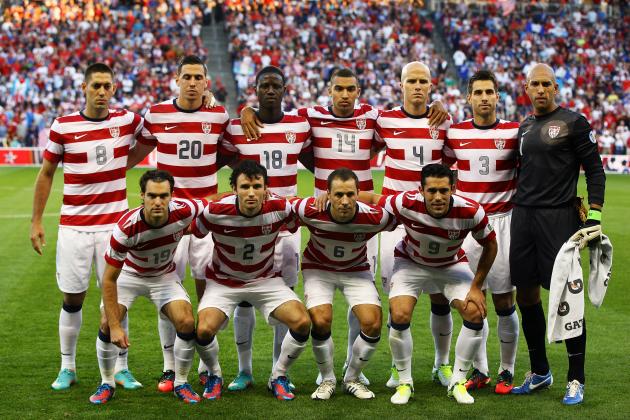 Jamie Squire/Getty Images

Now that the United States Men's National Team is through to the hexagonal, they will begin facing more stern tests as they battle Mexico, Costa Rica, Honduras, Jamaica and Panama in the next round of qualifying.
Assuming everyone is healthy and available, what is the best starting XI the U.S. can put on the field?
Begin Slideshow

»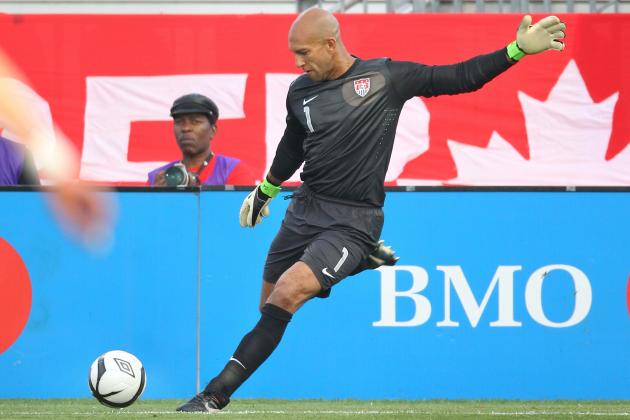 Tom Szczerbowski/Getty Images

Anyone who has seen Nick Rimando and Brad Guzan's clubs play of late will know that should Tim Howard go down, the U.S. net will be in good hands.
However, Howard is still the unquestioned No. 1.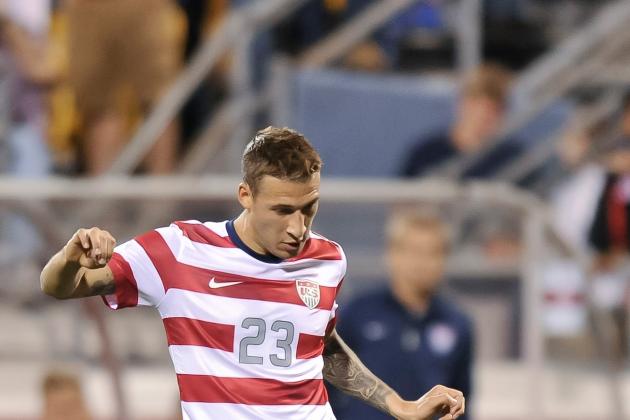 Jamie Sabau/Getty Images

Although he only has nine caps for the USMNT, Fabian Johnson is unquestionably the left-back of the future for the team.
He has been fantastic in all of his appearances, particularly in his ability to add an attacking dimension out of the back.
This weekend, he added another assist at the club level.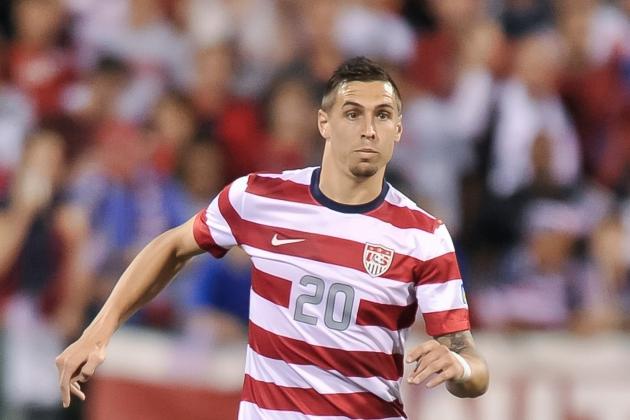 Jamie Sabau/Getty Images

Although he has been routinely deployed as a right-back for Stoke City, Geoff Cameron is still the default center-back choice for the USMNT.
He was fantastic in the August friendly against Mexico, clearing service after service out of danger.
The one drawback for Cameron is that he is still beatable in one-on-one situations; he should expect to be pushed to keep his starting role by youngsters Omar Gonzalez and John Anthony Brooks.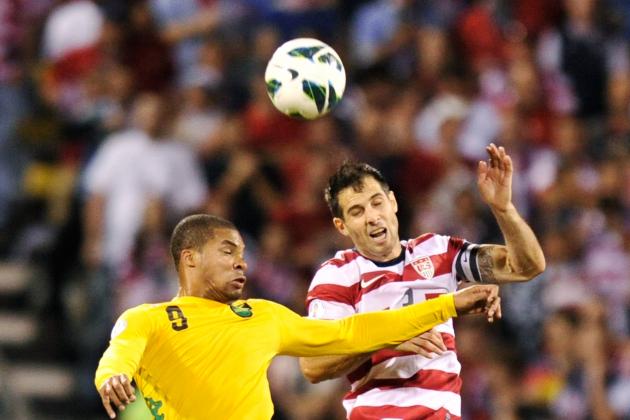 Jamie Sabau/Getty Images

Despite being 33 years old and not as fleet of foot as he used to be, Bocanegra's experience and leadership in the back is still vital to the U.S.' success.
When he is not in the lineup, the U.S. back line looks disastrously organized.
However, Bocanegra, like Cameron, should expect competition from Gonzalez and Brooks in the near future.
Jamie Sabau/Getty Images

A lot of USMNT fans continue to dismiss Cherundolo because of his age, especially because he plays a position that is not for the slow-footed.
However, to lose his spot, someone is going to have to take it from him, something no one in the U.S. pool has come close to doing so far.
In two of the U.S.' last three games, Cherundolo was one of the best players on the field for the U.S., earning man-of-the-match honors in those two games from many.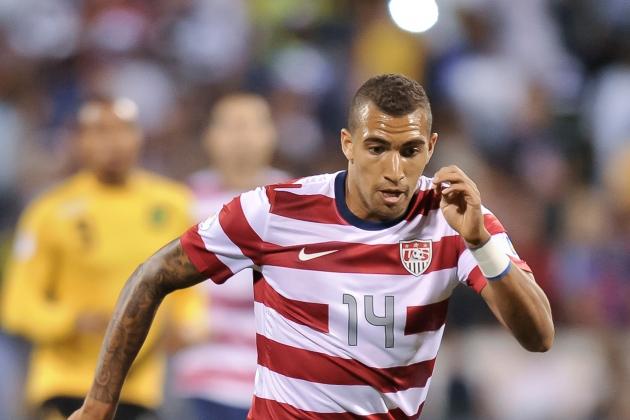 Jamie Sabau/Getty Images

Williams, like Fabian Johnson, despite being relatively inexperienced internationally, has become a vital piece of the USMNT puzzle.
His work sitting in front of the back line and recycling possession has been key to two of the U.S.' last three wins.
His work also allows Michael Bradley, the team's maestro, to go further forward to contribute to the attack.
Williams has also locked down a starting role with Hoffenheim this season, getting much valued first-team experience in a top European league.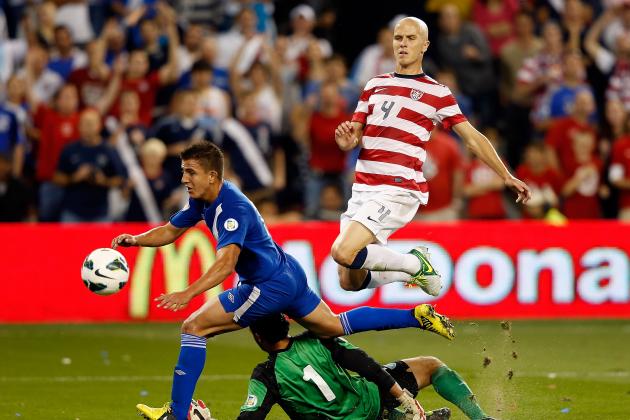 Jamie Squire/Getty Images

After missing the September qualifiers, USMNT fans were reminded of how important Bradley is to the team after watching him boss the midfield in the October qualifiers.
In just over a year in Italy, Bradley has seen his game grow to the point that he has become the class of the USMNT. He dictates play for the Nats in much the same way the greats of the game like Andrea Pirlo do.
And, despite only being 25 years old, Bradley already has an impressive 71 caps for the team.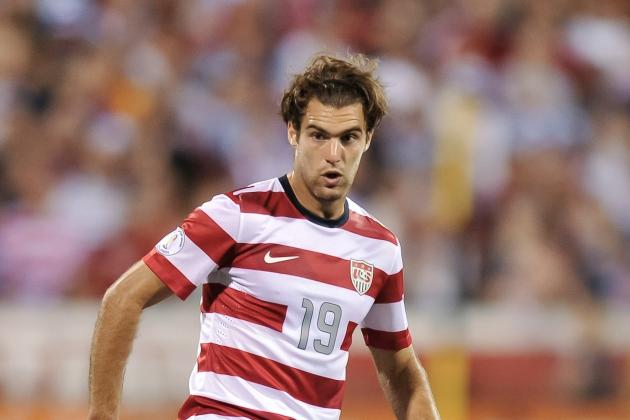 Jamie Sabau/Getty Images

The outside midfield position remains an enigma for the United States. While there seemingly is a lot of depth at the position, most of these players are unproven over long periods of time.
Zusi is one of those players, as he has only six caps for the USMNT, but has looked bright in his last few appearances and it is his job to lose.
Zusi is active, provides good service from the flank, has already developed a good understanding with right-back Steve Cherundolo and can also score goals.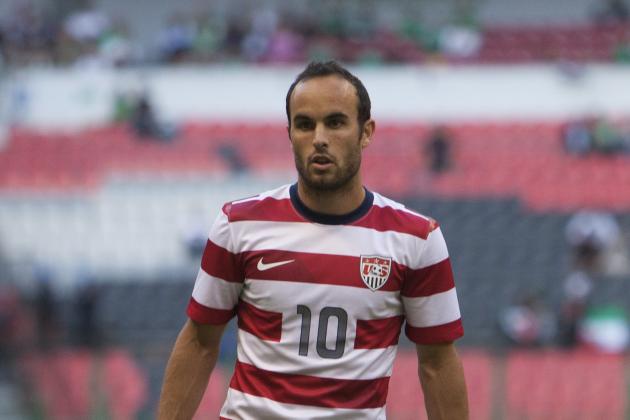 Miguel Tovar/Getty Images

If, and it's a big if, Landon Donovan is healthy AND his heart is in it, he is still one of the top three American players.
When he plays with the Galaxy, his combination play with teammates Robbie Keane and David Beckham is fantastic.
With the USMNT, Donovan usually has to take on a bigger role, but with the continued development of Clint Dempsey and Michael Bradley, that is changing.
Despite the critics, Donovan still has pace in his legs, an unquestioned ability to score and top-class passing.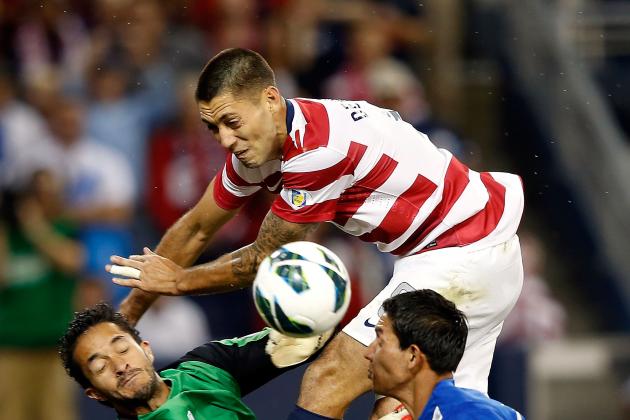 Jamie Squire/Getty Images

His role with the USMNT under Jurgen Klinsmann has changed, as Dempsey has most often been deployed as a withdrawn forward instead of on the wing as he usually played under Bob Bradley.
Watching his recent work at Tottenham as the withdrawn forward/attacking midfielder, one could argue that Dempsey's best position is still out wide where he specializes in ghosting into the area late and unmarked.
However, with the USMNT, his role is likely to continue as the forward who comes back for the ball to combine with Michael Bradley and the outside midfielders to build the attack.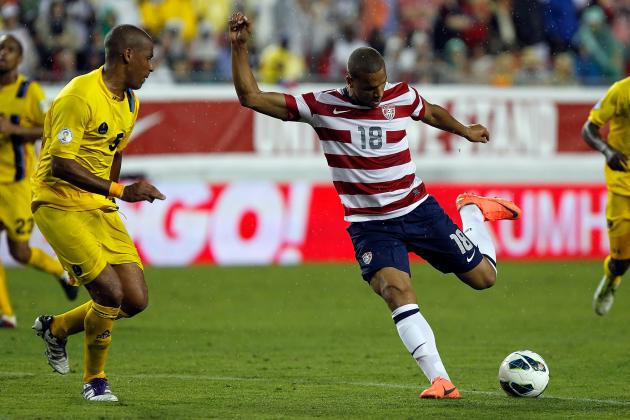 J. Meric/Getty Images

This spot most likely remains Herculez Gomez' to lose, but Terrence Boyd could provide an added dimension to the U.S. attack.
Gomez has had some mixed performances with the USMNT of late. He was unquestionably one of the worst players on the pitch in the October Antigua and Barbuda game and had a quiet first half against Guatemala three days later.
However, Gomez picked things up in the second half against Guatemala and started combining much better with his teammates to pep up the U.S. attack.
Gomez is also scoring fairly regularly with Santos Laguna.
Boyd, however, brings many of the same qualities as Gomez, with some additional benefits. Boyd's work rate is just as good as Gomez' and Boyd's finishing is top class, as he has demonstrated this season with his new club Rapid Vienna.
The added benefit of Boyd is the physical aspect he can also bring to the game and his ability in the air, which is top notch.
It's Gomez' spot to lose, but expect Boyd to start mounting a serious challenge to Gomez over the next six months.
Follow me on Twitter @AmerTouchline
Follow me on Facebook www.facebook.com/AmericanTouchline