5 Reasons Why Jack Wilshere Can Lead Arsenal Back to the Top 4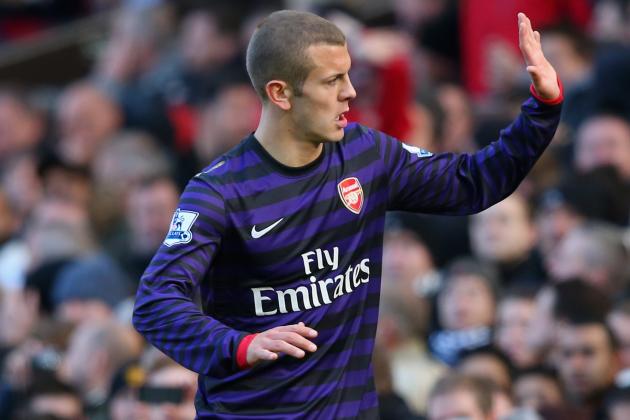 Alex Livesey/Getty Images

It's been a sobering month for Arsenal. Having played terrific ball prior to the international break, the team that has taken the field in subsequent matches has often looked lost, and without inspiration.
Despite Jack Wilshere's promising first game back in a Gunners jersey, he looked a step slow against the likes of top sides Manchester United and Schalke 04. But if Arsenal are going to climb back into the top four this season, strong performances from Jack Wilshere may well be the leading reason for such success.
Begin Slideshow

»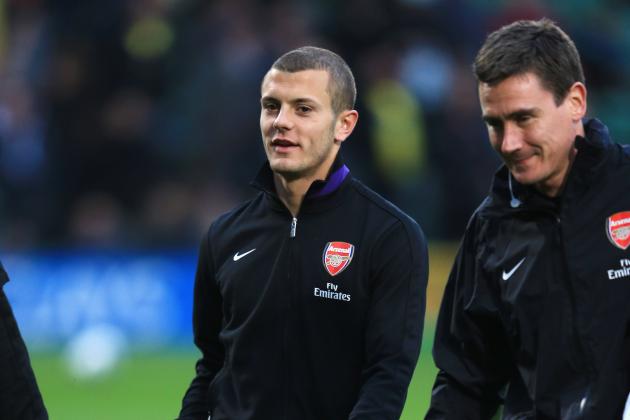 Richard Heathcote/Getty Images

Having been out of the fold for so long, it was a dream start for Wilshere when he played 67 minutes against Queens Park Rangers, a side with the joint lowest point total in the Premier League. His movement, aggression and passing efficiency was a welcome sight for fans used to seeing Aaron Ramsey ineffectively deployed in a box-to-box role in between Mikel Arteta and Santi Cazorla.
But his performances have largely been middling since then, with the young Englishman looking particularly labored against Manchester United. A step slow, and making rash tackles in an effort to make up for it, he did not look anything near the footballing prodigy that we have come to expect.
With additional match time against more modest competition, it's certain that his performances will improve. As he regains his match fitness and better understanding with his current teammates, the question will be how high his upside is.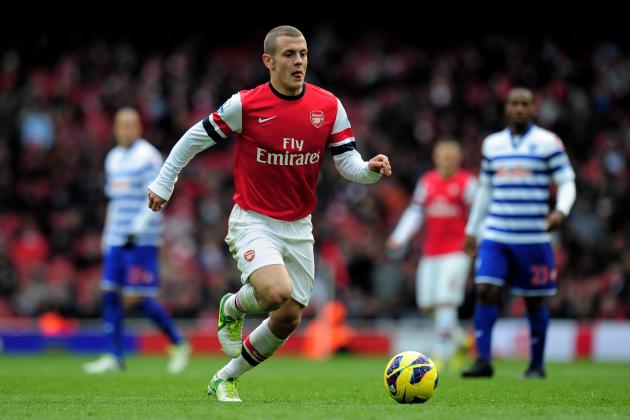 Shaun Botterill/Getty Images

In his current deployment between Arteta and Cazorla, Wilshere's role is equal parts defense and attack. This suits his dynamic nature, but it's clear that the midfielder is more comfortable playing deeper, where he can tackle and disrupt the opposition before distributing or striding into the center circle.
Arsene Wenger's 4-2-3-1 system is hardly a change from his long preferred 4-3-3 formation. It was simply an adaptation of tactics due to the available personnel. With Wilshere and Cazorla in the same midfield trio, I suspect that as the season wears on, Wilshere and Cazorla will operate in tandem with one another ahead of Arteta. Wilshere will stay further forward, and be able to exert more of an influence in the final third, a trait that he did not have during his breakout season in North London.
As he and Cazorla gel, the duo will provide more opportunities going forward, and provide more chances for Arsenal's attacking trident. For Wilshere, the goals and assists will come, and to Arsenal's great benefit.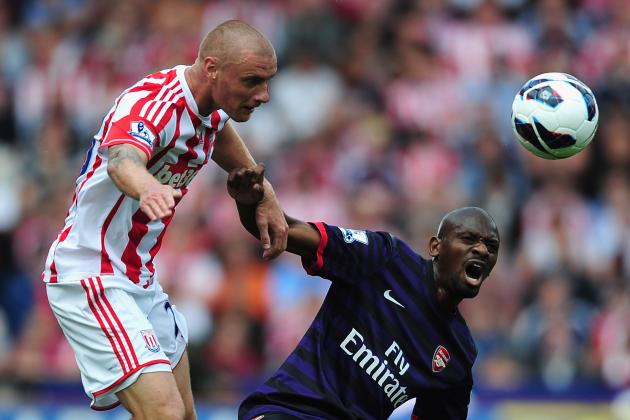 Laurence Griffiths/Getty Images

Unlike one lanky French international midfielder that Arsene Wenger has at his disposal, Wilshere is not injury prone. He played 49 games in his first full season in the Premier League, and knock on wood, will prove robust this campaign.
The importance of this quality cannot be overstated. Without the consistent, shrewd guidance of Mikel Arteta over the past 15 months, Arsenal's fortunes in the league and Europe would be markedly worse. His presence on the field, even when below his best, is more beneficial than having a carousel of players occupy his role.
For Wilshere, his consistent presence is necessary in what has the potential to be a dominant midfield. With Abou Diaby returning from injury, and Francis Coquelin seeing more of the field, there's enough competent depth to give Wilshere the occasional breather that will preserve his fitness until the end of the season.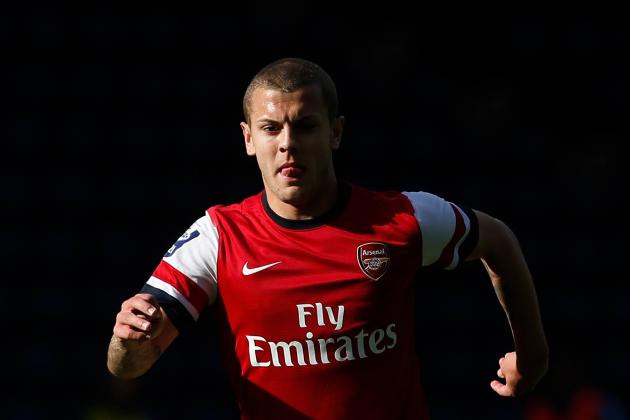 Paul Thomas/Getty Images

There are a great number of players out there with terrific technical qualities. There are some players whose footwork is sublime, some whose vision on the field is demonstrably better than their peers and some who never seem to tire.
It's rare to find those qualities in one player, as is the case with Wilshere. But it's rarer still for such a confluence of talents in a player whose personality and eagerness are palpable. The midfielder is not a player who gives up, and he's largely tamed the over-aggression that marred his game prior to breaking into the first team.
As a few Manchester United players can attest, Wilshere is a player who is willing to make a tackle, whether it's five minutes into a game, or 85 minutes into a game. He wants the ball, and when he has it he likes to drive at the opposition. He's fiery, he's aggressive on and off the ball and, in time, he will be a winner in some form or another. Such success will breed more, for Arsenal or England, and will only build on what is already a strong foundation.
That Arsene Wenger gave Wilshere the No.10 jersey is a testament to the faith the Frenchman has in him. That Wilshere accepted it is a testament to his confidence, as a 20-year-old, that he is ready to shoulder the responsibilities that generally go along with it.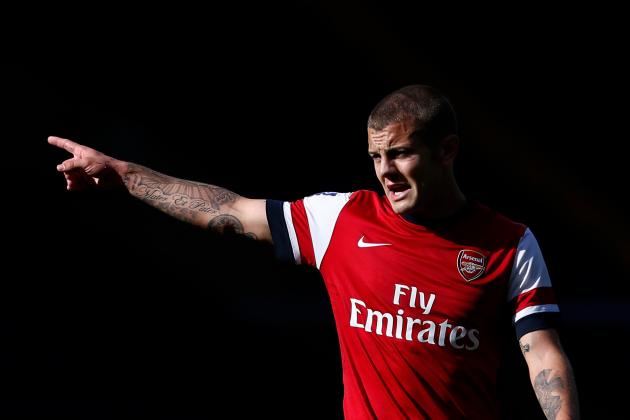 Paul Thomas/Getty Images

Strong defenses ensure that you don't lose many games. Strong offenses help you to win games. But a strong midfield is a prerequisite for either, and is the keystone upon which any successful side is built. A midfield dictates games. It sets the tempo for play, helps to guide pressure away from the back line when out of possession and sets attacking play in motion when in possession.
Last year, Mikel Arteta was as important to Arsenal as Robin van Persie. Without him, Arsenal would not have dominated possession in the manner that they did, and allowed players like Alex Song and Theo Walcott to provide the service they did to Van Persie. Without question, Arteta will once again play an important role for the Gunners this season.
But Wilshere has the opportunity to be the final piece of the Spanish-inspired midfield. Arteta and Cazorla have earned a great deal of praise for their play. If Wilshere can perform to his potential, then Arsenal should be competitive in every game they play this season, and may even be able to overcome the lack of incision and goals from Arsenal's front line.
If he stays healthy, there's no reason why Arsenal cannot comfortably secure fourth place in the Premier League this year, and have one of the league's deepest and most capable midfields. Upon such a foundation, in Arsene we trust to build a team that can challenge for grander honors.