Indiana Basketball: 5 Ways Cody Zeller Must Improve to Lead IU to a Title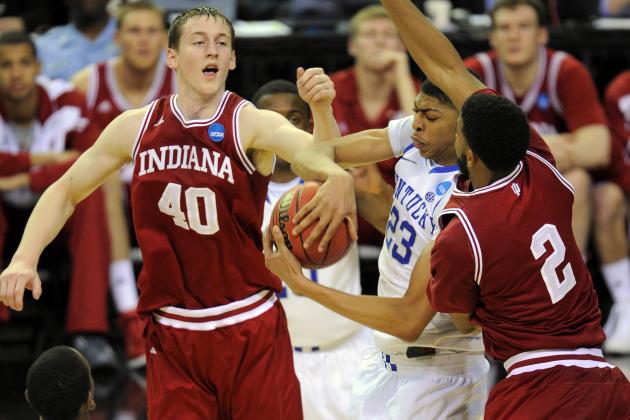 Daniel Shirey-US PRESSWIRE

The Indiana Hoosiers have been selected as the No.1 team in both the AP and USA Today's Coaches Poll. Cody Zeller has been named the preseason college player of the year.
But neither IU's current ranking or Zeller's projected award guarantees anything. Tom Crean's team will still have to win their championship the old-fashioned way. They will have to earn it.
Because Zeller will play an enormous role in how the Hoosiers fare this year, here are five ways that Cody Zeller must improve if IU is going to win it all in 2012-13.
Begin Slideshow

»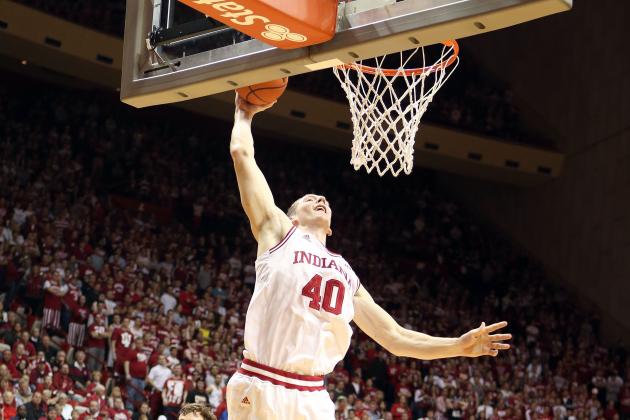 Andy Lyons/Getty Images

I'm sure that Cody Zeller is a nice young man who is polite to his mom and dad, and respectful to his elders.
That's all commendable, but the 7'0" sophomore needs to get mean on the O-glass. Last year as a freshman, Zeller grabbed 87 offensive rebounds.
That's not bad. Kentucky's Anthony Davis had 119 and his older brother, Tyler had 146 for the Tar Heels.
Zeller has size, skills and seems to be able to anticipate where the ball is going when it comes off the rim.
He simply needs to be more aggressive to track down those missed IU shots so that he can get some easy second-chance buckets.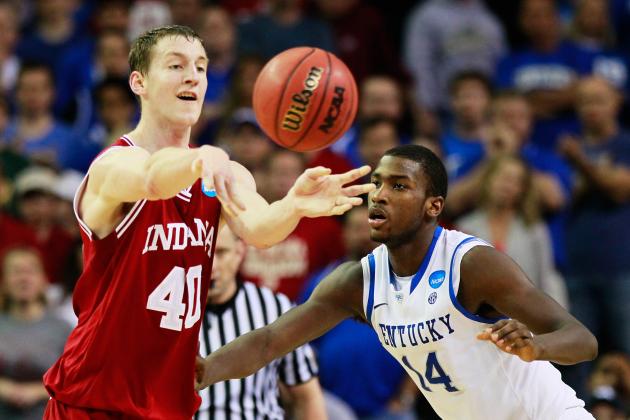 Kevin C. Cox/Getty Images

IU's opponents will look to limit Zeller's scoring down low this season.
They will most likely double-down when one of his Hoosier teammates feeds him on the block. When this happens (and even when he's single-covered), Zeller needs to be a shrewd passer and make them pay.
Delivering the ball to teammates spotting up on the perimeter or cutting through the lane will make whoever is facing IU play him more honestly. When he does that, he will get more open looks.
Zeller had 45 assists (1.3 apg) last year. Bumping that up to 90 dimes might be a lofty goal but it would greatly help the Hoosiers especially once they get into their Big Ten schedule.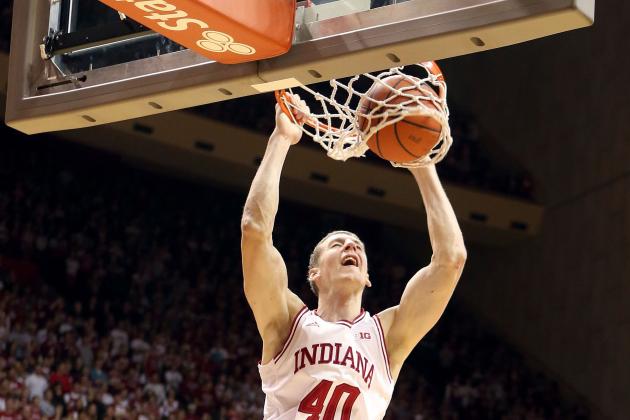 Andy Lyons/Getty Images

Cody Zeller worked hard in the offseason to build up his body so he can bang on the block:
"Our strength and conditioning coach was really good. A lot of lifting weights and a lot of eating everything. I put on a lot of muscle," Zeller said when asked about his offseason training regimen. "We did a body fat test and I think I gained nine and a half pounds of muscle and lost two pounds of fat. It was good weight, too. So I don't think I've lost any mobility and I can still run."
One of the best ways to take advantage of his newly-developed strength is to be more assertive when going to the hole. Zeller should be able to absorb contact better and finish stronger.
When he does, he will overpower even some of the biggest Bigs that he will face this season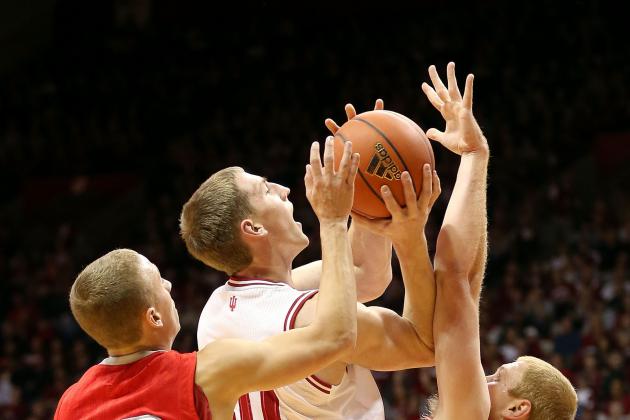 Andy Lyons/Getty Images

Connected with getting to the rim is going to the line. And Zeller makes his opponents pay when they put him on the stripe.
Cody Zeller knocked down 163-of-216 free throws last year. That's 75.5 percent. Not too many other 7-footers are putting in 3 of every 4 FTs.
The fact that Zeller's 216 attempts ranked him at No. 28 in the nation shows that he's no slacker, but what would happen if he added two or three more FTs per game. That would not only transfer into more points scored but also it would get his opponents' in foul trouble more frequently.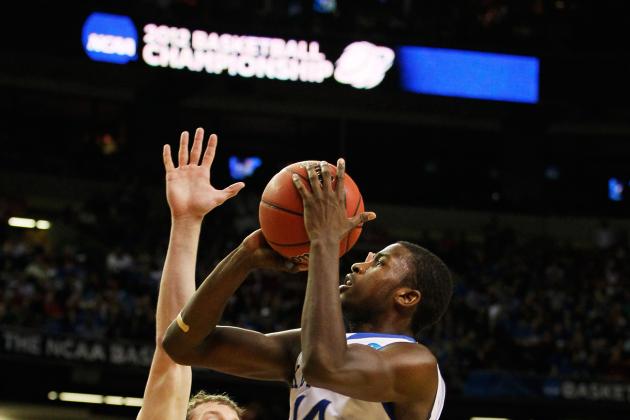 Kevin C. Cox/Getty Images

The first four areas of suggested improvement for Zeller focused on offense. The final place where he can take steps forward is in imposing his will on D.
Zeller is actually undervalued when it comes to defense. He works hard to get good position when he is guarding opponents in the post. He has good technique in boxing out.
Though Zeller only blocked 42 shots as a freshman, I believe that he could become a premiere eraser in the mold of Kansas' Jeff Withey. He uses good anticipation to swat shots. Withey's 140 blocks last year was No. 2 in the nation.
Even if Zeller doesn't throw back 140 of his opponents' shots in 2012-13, increasing his block count will help enhance the Hoosiers interior presence and make everyone think twice about coming into the paint.