Breaking Down the Road to NFL Playoffs for the Houston Texans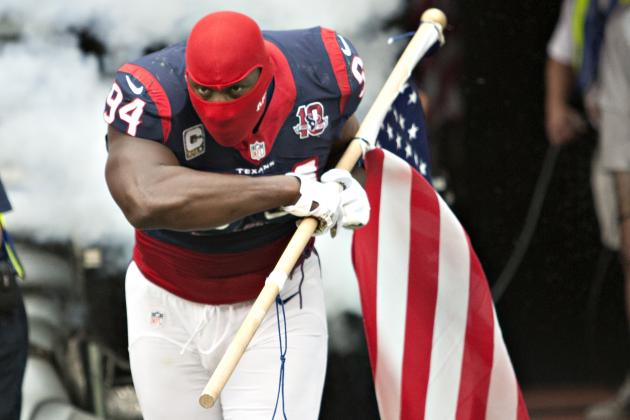 Bob Levey/Getty Images

The Houston Texans are 7-1 as they look ahead to a pivotal meeting with the Chicago Bears on Sunday night.
The only one-loss team in the AFC, they also happen to hold the tiebreaker over the 6-2 Baltimore Ravens. Every other legitimate contender in the conference has at least three strikes in the "L" column.
Things are going so well, the organization could put it on cruise control and coast home with the top record and home-field advantage. But with over half the season left to play, it is too early to assume everything will go according to plan.
That being said, the assumption of continued health for key personnel is a given. The loss of Matt Schaub, Arian Foster, Andre Johnson, J. J. Watt or Johnathan Joseph would be more than "Next Man Up" sloganeering could overcome.
The same holds true for improvements on special teams. They may not account for one-third of the game as many old-school coaches claim. But on this team, they have accounted for about two-thirds of the headaches that have marred this otherwise efficient operation.
Without access to the strategies being concocted behind closed doors, the actual plan can only be surmised. It should include some of the following elements if it is going to succeed.
Begin Slideshow

»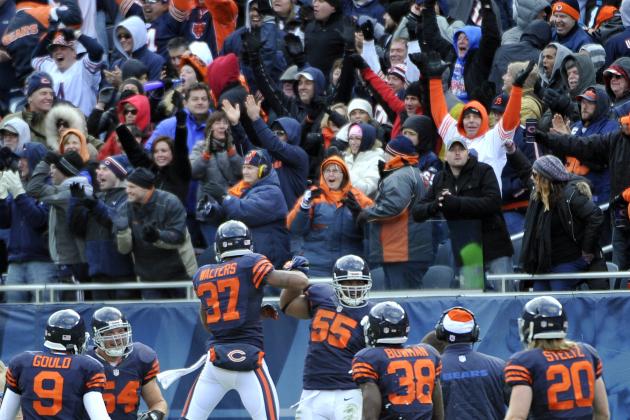 David Banks/Getty Images

Five of the remaining eight games are on the road. The Texans have won all three away games in 2012, but two of those went down to the wire in Denver and New York.
Under Gary Kubiak, the Texans are 21-30 on the road overall. Since their transformation into a legitimate threat last year, their mark is a more respectable 8-3.
Everyone talks about how important it is have all your playoff games at home. In truth, four of the last six Super Bowl champions have been road warriors.
Only the 2008 Pittsburgh Steelers and 2009 New Orleans Saints did not have to play at least one road game in the playoffs. In 2010, the Green Bay Packers did not host a single playoff game at Lambeau Field.
So get used to waking up in a hotel bed and taking a bus to the game. The most severe test will come on Thanksgiving Day in Detroit—not because the Lions are so tough, but because of the two days of preparation Houston will have after playing Jacksonville at Reliant Stadium the previous Sunday.
That Jaguars contest at home will be sandwiched in between a four-game stint in various hostile environments, including Chicago, Tennessee and New England. So everyone in the organization had better have their Samsonites loaded and at the ready.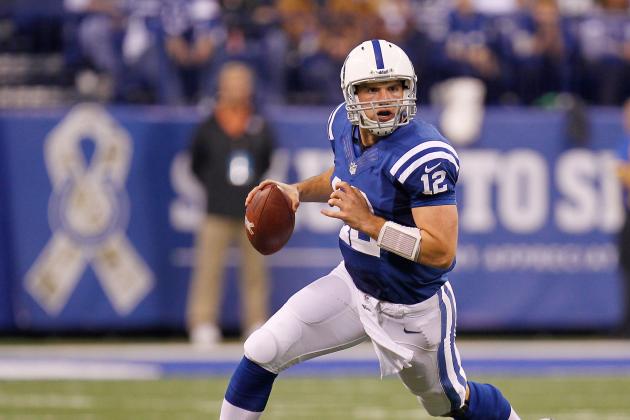 Gregory Shamus/Getty Images

If the Texans come out of those eight games with three losses, don't fret over it. They will have a 12-4 record and that precious tiebreaker over the Ravens.
For anyone else in the conference to threaten their status in this circumstance, two of the four 5-3 teams in the AFC would have to go 7-1, and get a win over Houston in the process. Denver is already out of the picture, having dropped one to them in September.
Those two teams are Indianapolis and New England. Unless the Colts win both encounters with the Texans, taking seven out of eight is unlikely for them. New England has only one toughie down the stretch versus San Francisco, making their one-loss scenario a possibility. That turns the Monday Night matchup pitting the Texans and Patriots into a must-win for Belichick's boys.
Which leaves the Steelers, who share Baltimore as a common opponent with the Texans. They could have a Colts-like task ahead of them, having to triumph in both Ravens games to stand a chance. On the other, the Ravens could go on a 7-1 roll, end up 13-3 and it's a done deal.
If anything has been proven over the last few years, hitting on all cylinders once you are in the playoffs matters more than how you get there. So no one should hit the panic button if their record in second half of the season falls short of their record in the first.
Jamie McDonald/Getty Images

If home field and a bye week do end up in the Texans' ledger, do not succumb to the siren's song of not giving it your all.
Remember those Saints from 2009, who took home-field advantage all the way to victory in Super Bowl XLIV? It is the only instance that supposed benefit has paid off in the last eight seasons. Too many times, the team with the top record would sleepwalk through the last two games. And usually keep their starters on the bench in Week 17 rather than risk injury.
Then they would come up against some desperate band of overachievers who had been fighting for their playoff lives—and promptly fall flat on their faces. Victims include the 2006 Baltimore Ravens, 2007 Dallas Cowboys, 2008 Tennessee Titans, and the New England Patriots and Atlanta Falcons of 2010.
Each lost in the second round of the playoffs after watching the runners-up in their conference have to duke it out in the first round. Whatever got them to the top of the charts was lost in just a few short weeks.
Which makes them the NFL equivalent of a "one-hit wonder."
To keep rest from turning into rust lies in doing the same thing that got them there in the first place: play every game as if your entire season depended on the outcome.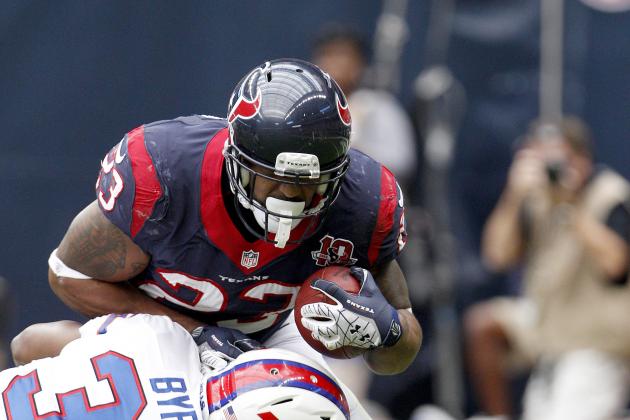 Thomas B. Shea/Getty Images

How many carries can one man handle? If your name is Arian Foster, the answer appears to be, "As many as it takes to win."
That philosophy has put the leading rusher of the Texans on pace for 384 rushes and 408 touches overall. Not the record-setting course he was on at one point, but still over that fateful threshold.
The curse is simple cause and effect. Every time an NFL running back exceeds that 370 carry level, his production goes down the following year. In every case, his career is either shortened by injury or is sent into permanent decline.
We may already be seeing its effects. In assessing his performance against the Buffalo Bills, John Maney of Pro Football Focus wrote:
"Arian Foster gained 111 yards on the ground, despite not breaking any tackles, with only 26 of his rushing yards coming after initial contact."
If Foster is the horse Houston must ride to make it to the promised land, then his fate may be sealed. In a league where the average career is a little over three seasons, history would say he could be living on borrowed time in 2013.
With the big contract and its guaranteed money already banked, his financial future is of little concern. If his legacy was to be an integral part of a championship team, and this is the year to go for it, the curse might be the price of accomplishing that goal. To borrow a quote from the movie Blade Runner, "The light that burns twice as bright burns for half as long."
Here's hoping it burns just long enough.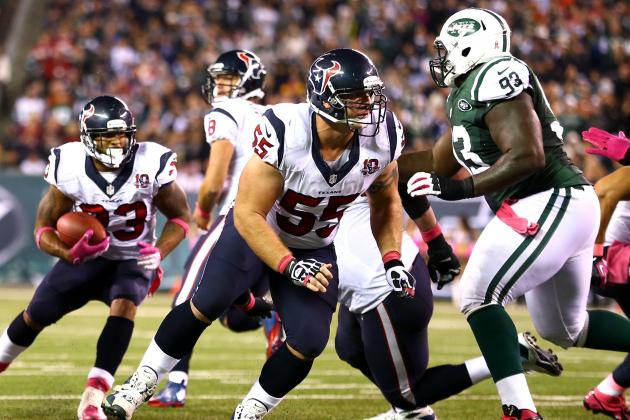 Al Bello/Getty Images

The biggest loss would be Chris Myers. The ripple effect of this loss would be incredibly disruptive.
Ben Jones would have to curtail his education at guard and shift over to his natural position at center. Antoine Caldwell could take over at RG, but Jones has not put a single snap in Matt Schaub's hands the entire regular season.
There is an adequate fill-in at the every other position. But dropping a rookie into a spot where the previous occupant called blocking assignments for the line is something no one wants to see. And something no one could remedy so late in the season.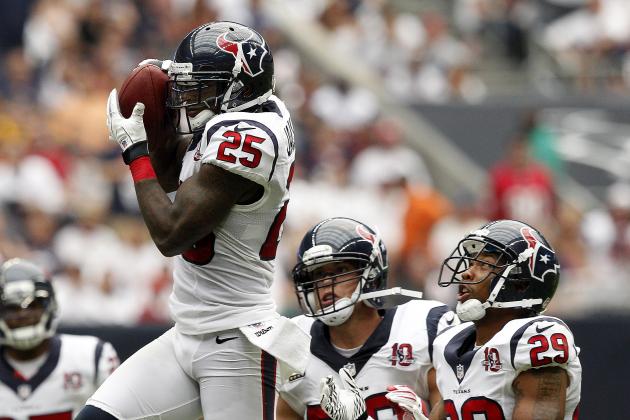 Bob Levey/Getty Images

In the NFL, defenses are ranked by yards and points allowed. While it does not hurt to place high in those standings, only two of the last six Super Bowl winners have been top five or better.
In reality, turnover margin is a more critical indicator of winning teams. The Texans rank second in points per game (29.6), but are 12th in yardage gained. The reason why is largely due to +9 turnover margin, which places them sixth overall.
Turnovers shorten the field and offer more scoring opportunities. An even better example is the Chicago Bears, the upcoming opponent for Houston. Their offense is third in points per game but only 25th in yardage. But they lead the league in this vital statistic, which also compensates for the pedestrian 85.3 passer rating of perennial sourpuss Jay Cutler.
You have heard the saying, "It is better to be lucky than good." When it comes to turnover margin, they are one and the same.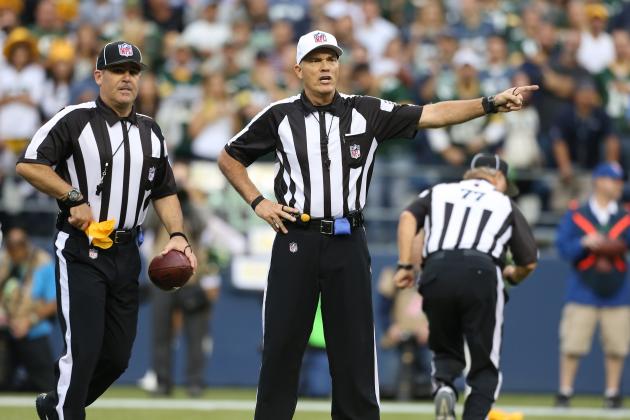 Otto Greule Jr/Getty Images

Teams that play mistake-free football are expected to be winners most of the time. As just described, the correlation between turnovers and winning is very high. When it comes to penalties, the link is not nearly as significant.
In 2012, Jacksonville is third in penalties per game yet their record is 1-7. Chicago is 23rd and they are 7-1. So why call attention to it at all?
Consider the Texans are 12th in penalties at 6.2 per game. That figure breaks down to 4.8 at home and a whopping 8.7 on the road. Among Super Bowl winners, 1.7 is the biggest gap between home and away in the previous six seasons. With Houston that gap is 3.9, an embarrassing difference.
With so many road games left to play, a gaffe will cost them dearly at some crucial juncture, unless they learn to play like the champions they want to become.